Opinion | Roy Moore is going to win
I have bad news. Roy Moore is going to win.
There was a lot of cheering and back-slapping among Alabama Democrats and other Alabamians with morals and decency last week when Moore officially announced that he was running for U.S. Senate again.
The thinking was clear: Doug Jones beat Moore once. He can do it again.
But that's foolish.
I'll explain why, but first, I need to get one big caveat out of the way: Moore's toughest fight will be for the Republican nomination. And I'm not convinced he can win for one reason — he lost to Jones last time.
That's a pretty big L to tote around, and it makes for easy talking points for opponents. It's so easy that Donald Trump Jr., a walking bottle of Axe Body Spray, already landed on it.
Up against a real challenger — someone like Bradley Byrne or Jeff Sessions — Moore's base might not be enough to push him over the edge if other far-right Republicans are convinced he could lose again.
That said, the one thing Moore has going for him is that the entire Republican establishment — from Mitch McConnell to Richard Shelby — is very publicly against him, and they're threatening to "do everything" they can to beat him.
For better or worse, Alabama voters HATE being told who to vote for. Even if they're constantly being fooled into voting for criminals, con men and carnival barkers, they like to believe that they're the ones making the decision.
If the Trumps and others keep pushing against Moore, they'll end up pushing him to another win.
And if that happens, I'm sorry to say that Roy Moore will be the next U.S. senator from Alabama.
That's not a prediction. It's a guarantee.
I say that because the numbers are easy. Jones beat Moore by just a little over 20,000 votes last time in a special election held in December with no one else on the ballot.
This time around, there will be a presidential race at the top of the ballot, driving voters to the polls, and there will be a straight-ticket Republican option on the ballot.
Alabamians love straight-ticket voting. We love anything that keeps us from thinking too much. No matter how bad it might be for us.
In last year's midterms, an astonishing 60 percent of Alabama voters used that option. And as the rest of the country voted in more progressive candidates that have worked to make the lives of the common American better, Alabama voters handed an even bigger supermajority to a group of Republicans that has seen seven of its members indicted, including the governor, the speaker of the House and the House majority leader.
Those voters selected that option despite the fact that the Republicans they voted for presented exactly zero plans for addressing any of those voters' major concerns.
Didn't matter. They were on the team.
Voters were promptly rewarded by an effort to kill the state's ethics laws — THE top priority, allegedly, among conservative voters in the state — and a massive tax increase that an overwhelming majority of conservative voters were against.
None of that matters, though.
Roy Moore, should he win the nomination, will be wearing the R jersey. And Doug Jones will not.
And that's all that matters.
Makes no difference that Jones, in his brief time, has done more for regular Alabama workers than Jeff Sessions did in two decades. Makes no difference that Jones' record and his campaign promises will be far, far more appealing to 90 percent of Alabama voters.
All that matters is the little R beside the candidate's name, even if that name is Roy Moore.
Print this piece
Moore legal team files motion for Judge Rochester to recuse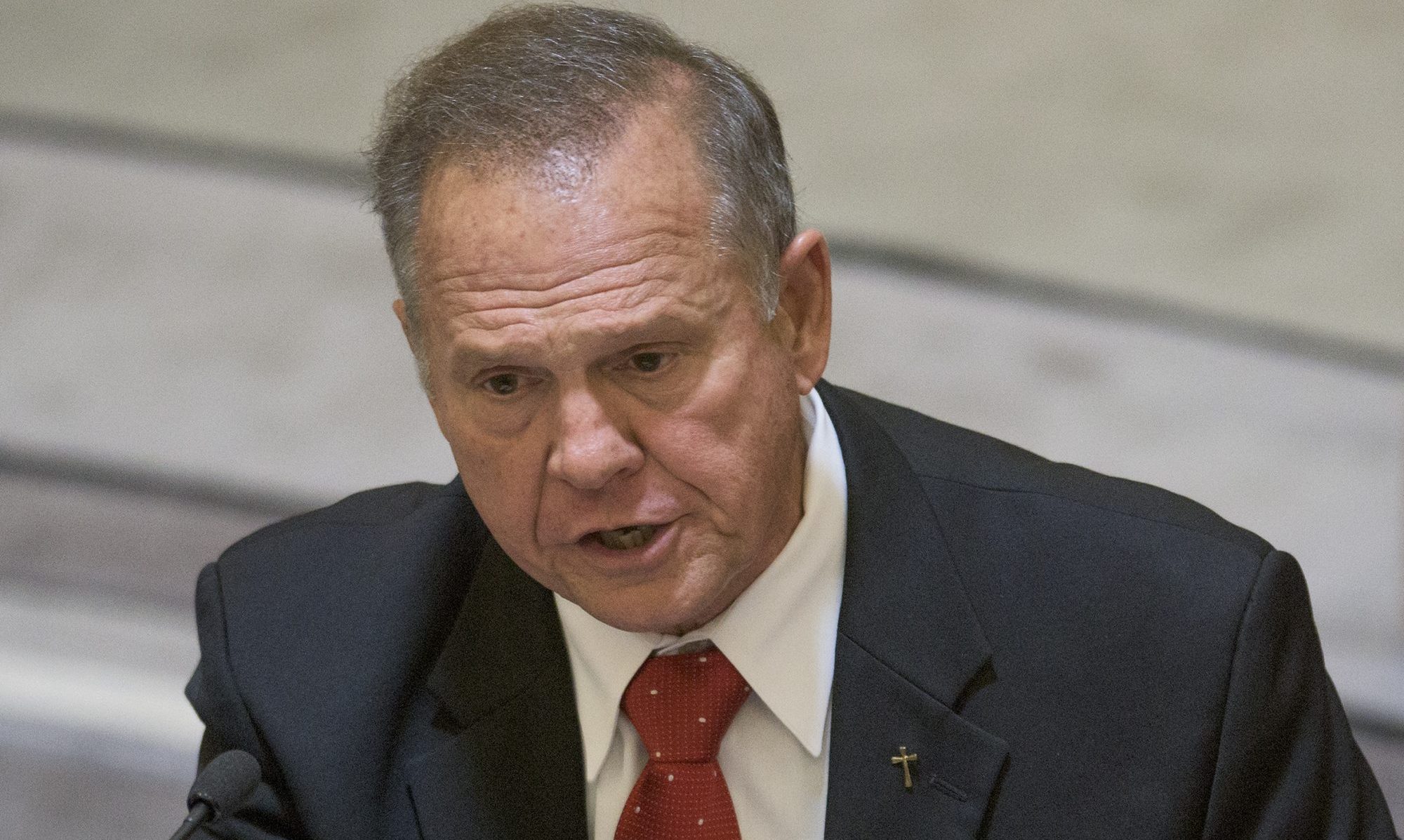 Attorney Melissa Isaak filed Thursday on behalf of her client, Judge Roy Moore, a motion to recuse Judge John Rochester from further consideration of the legal case between Moore and his accuser, Leigh Corfman.
The Moore team said that is the case due to the following reasons: "Judge Rochester's continued decision to preside over this case despite the fact that his appointment was "temporary" and expired on January 14, 2019 over a year ago, Judge Rochester's untimely delay of approximately five months in ruling on dispositive motions in this case brought only to accuse Judge Moore of defamation for merely denying false allegations against him, which is not even a valid cause of action, Judge Rochester's open friendship, support, and financial contributions for Doug Jones in his 2017 Senate campaign against Judge Moore, according to his own personal Facebook account, Open and virulent criticism of Judge Moore by Linda Rochester, wife of Judge John Rochester during the 2017 Senate campaign on her own personal Facebook page, Judge Rochester's criticism and mocking of Christianity on his Facebook page with full knowledge of Judge Moore's strong belief in God, Judge Rochester's political animus against the Republican Party and President Donald Trump who supported Judge Moore in the 2017 general election, Judge Rochester's obvious political bias in his quick response to set a trial date in this case, within two weeks of the upcoming Republican primary which will determine the opponent in the general election against Doug Jones."
Moore claims, "As stated in Attorney Isaak's motion, any individual would have a solid basis for questioning Judge John Rochester's impartiality, political motivation, and bias in presiding over this case."
Moore is claiming that Judge John Rochester's friendship, support, and financial contribution to Doug Jones in combination with his wife's open criticism of Judge Moore during the 2017 special election for US Senate in which Judge Moore was a candidate, mandates immediate recusal of Judge John Rochester in this frivolous action.
Moore has also objected in the past to this case being in Montgomery County court, when Corfman's allegations of improper sexual conduct between her and Moore in 1976 allegedly occurred in Etowah County.
Corfman claims that Moore and her engaged in inappropriate touching through their underwear in 1976 when Corfman was just 15 years old. Under Alabama law, then as now, the age of consent for sexual activity is 16, not 15. Corfman's allegation, along with allegations by women dating from decades ago were released in an article by the Washington Post after Moore had won the Republican nomination for U.S. Senate in 2017. The shocking allegations were trumpeted by the national press as well as by Democrats. Moore narrowly lost the December 2017 special election to Clinton era U.S. Attorney Doug Jones (D), the only time a Democrat has won any statewide election in Alabama since 2008.
Moore has steadfastly denied the allegations. Corfman sued Moore in Montgomery Court after the election for defamation of character. Moore has since sued Corfman, the other accusers, and the architects of the Reed Hoffman financed, illicit Russian style tactics, which Moore claims were largely responsible with depressing Republican turnout and increasing the efforts by GOP moderates to defeat Moore by writing in the name of some candidate other than Moore.
While many Republicans accepted the accusations against Moore as "credible" they rejected similar accusations against Supreme Court Brett Kavanaugh.
Moore was twice elected Chief Justice of the Alabama Supreme Court and is a current candidate for the Republican nomination for the U.S. Senate seat, currently held by Jones.
The Republican primary is on March 3.
Print this piece