Jones, Collins lead bipartisan effort to bring Military Widow's Tax Elimination Act to a vote in Senate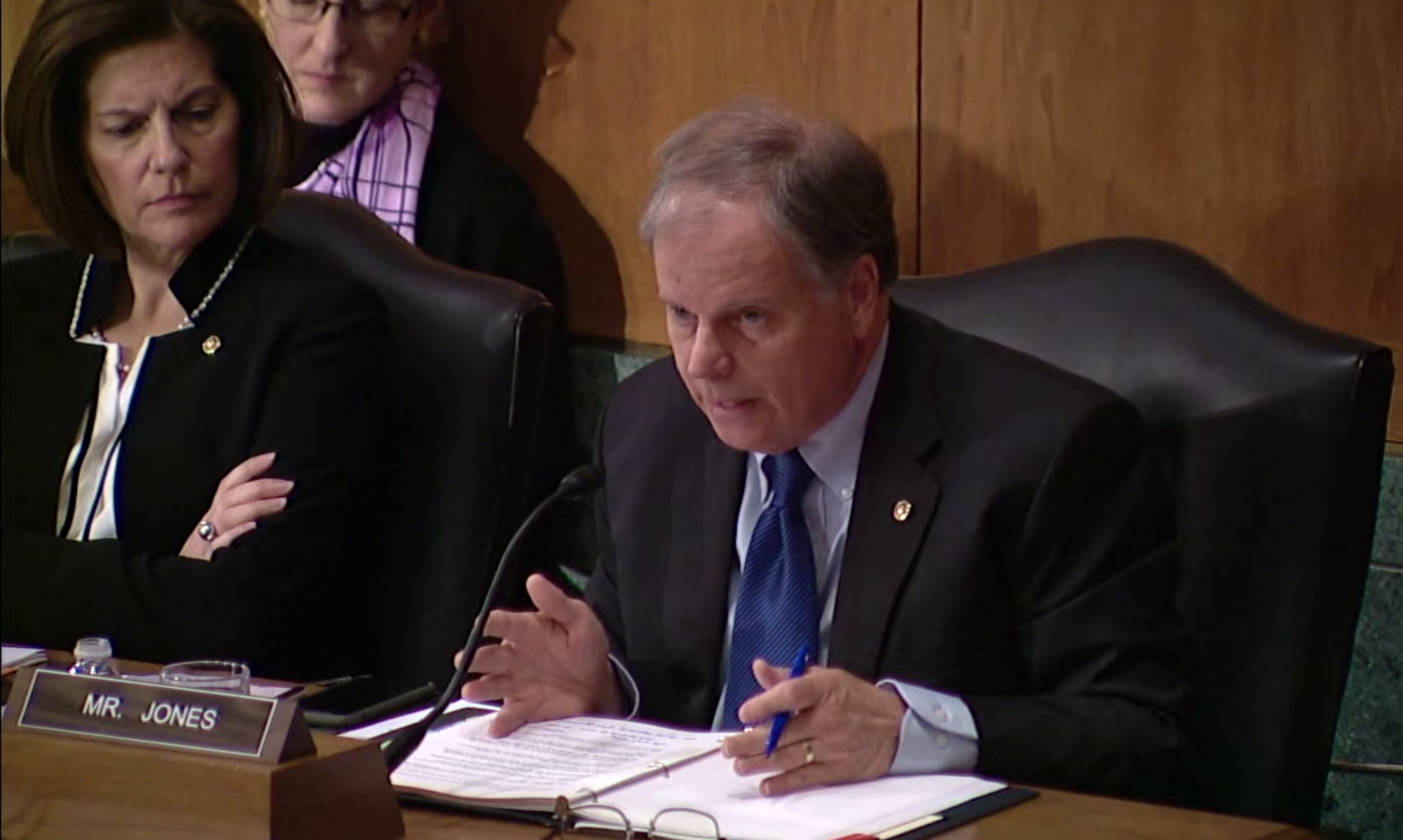 U.S. Sens. Doug Jones and Susan Collins led a bipartisan effort on the Senate floor Monday calling for their legislation, the Military Widow's Tax Elimination Act of 2019, to be brought to a vote as an amendment to the FY2020 National Defense Authorization Act.
Their bill currently has a record-high 75 cosponsors in the Senate and 352 in the House of Representatives.
The legislation would repeal the law that prevents as many as 65,000 surviving military spouses nationwide from receiving their full Department of Defense (DoD) and Veterans Affairs (VA) survivor benefits. Jones and Collins argue that this is unfair. Currently, military widows and widowers who qualify for the VA's Dependency and Indemnity Compensation (DIC) are forced to take prorated annuities from the Survivors Benefits Plan (SBP), even though they elected to pay into the program.
"We obviously can never fully repay these families for the sacrifices that they have made…but it is our duty to try and to do all that we can," Jones said. "And we can dang sure stop the government from robbing them of the benefits that they have paid for and earned."
"Military commanders often say that you 'recruit the soldier,' but you 'retain the family,'" Collins said. "We have an obligation to make sure that we are taking care of our military families who have sacrificed so much for our country. To fulfill this obligation, I am proud to join Senator Jones in urging our colleagues' support for our amendment that would repeal the Military Widow's Tax. This unfair offset is currently preventing as many as 65,000 surviving spouses—including more than 260 from Maine—from receiving the full benefits they deserve. This problem goes back decades, but this year we can finally solve it once and for all."
"I hope that our colleagues…will continue their support for our veterans and widows and work with our leaders to ensure that this amendment gets a vote during the NDAA deliberations," Jones added. "This is our chance to right this wrong once and for all."
Under current law, the surviving spouse of a retired member who dies of a service-connected cause, or a service member killed on active duty, is entitled to DIC from the VA. If the military retiree was also enrolled in SBP, the surviving spouse's SBP benefits are reduced by the amount of DIC (currently $1,319 per month). This leaves many widows and widowers with as little as $2,200 of the $3,525 per month they had expected to receive to support their families after their loved one's passing. Each case varies depending on rank and the year of service-related death, but the average DIC offset to SBP pay is $925 per month. The Military Widow Tax Elimination Act would repeal this required offset and authorize payment of both SBP and DIC in the case of a service-connected death.
Senator Jones is a member of the Senate Armed Services Committee.
Jones was elected to the Senate in a special election in 2017.
To see video of Collins and Jones making their case on the Senate floor, click here.
Print this piece
Doug Jones praises end of state Democratic Party lawsuit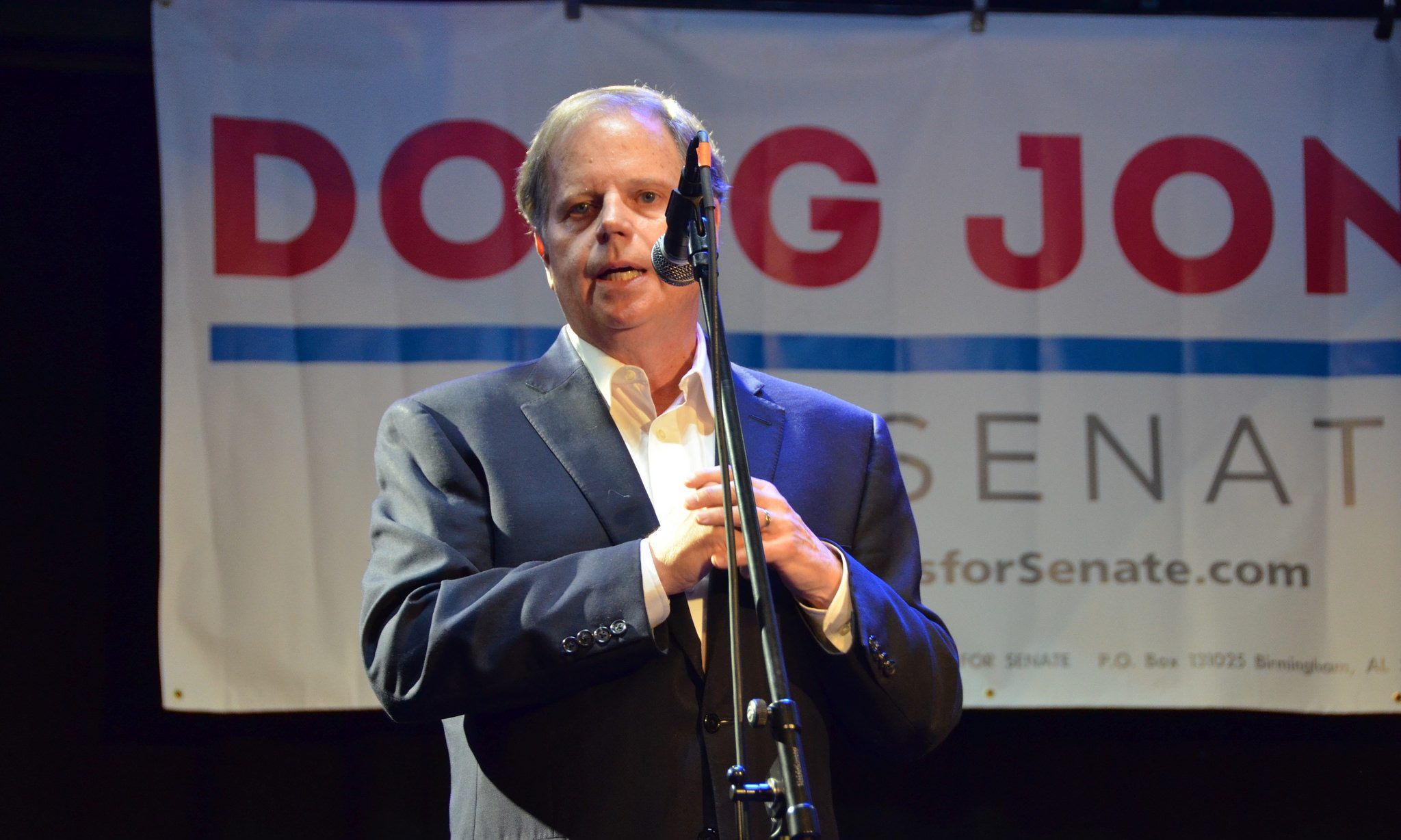 U.S. Senator Doug Jones, D-Alabama, on Thursday applauded the end of a lawsuit over control of the state Democratic party. 
Montgomery County Circuit Judge Greg Griffin on Thursday dismissed a lawsuit filed by former Alabama Democratic Party chairwoman Nancy Worley, which means that state Rep. Chris England, who was picked to lead the state Democratic party by a reform group championed by Jones, is the party's chair. 
"This is a great day for Alabama and her Democratic Party. Throughout much of last year, countless Democrats in our state worked to create a more open and diverse state party, while recognizing and being true to the crucial and historic role held by African-American voters," Jones said in a statement Thursday.
"The by-laws of the Alabama Democratic Party now reflect the growing diversity in our state — including representation for Hispanic voters, Native American voters, Asian voters, voters with disabilities and voters from the LGBTQ community. And most importantly, the Alabama Democratic Party has dramatically increased leadership opportunities for young voters. Around 70 new caucus members were added to the state party Executive Committee last year—many of them young people from diverse backgrounds throughout the state. I'm proud to continue to work alongside a more unified, diverse and inclusive state party. 
"With the dismissal of this lawsuit, it is time that all who have been involved in this challenge, resolution, and expansion of the Democratic Party come together for a common good. Our state benefits from the ideas and engagement of a competitive two-party system. We have now demonstrated that we have the ability to be inclusive within our own party while working to expand the number and experiences of people who play a role in moving it forward.  
"Chairman Chris England and First Vice Chair Patricia Todd have my complete support and I call on Democrats throughout the state to unite behind them as we move forward in modernizing, re-invigorating, and expanding the Alabama Democratic Party.," Jones said.
Print this piece