Ivey announces request for qualifications for new prisons
Alabama Gov. Kay Ivey and the Alabama Department of Corrections announced Thursday the next step in the procurement process for new prisons with a Request for Qualifications. It is Ivey's intention to build three mega prisons and then lease them back from their corporate developers for $78 million a year.
"It is imperative that we work tirelessly to address the long-standing challenges that plague our prisons in Alabama, and I am confident that the development of these facilities will be a major step forward," Ivey said. "These improvement efforts are an integral part of the Alabama solution that our prison system needs, and I am thrilled with the progress and anticipated trajectory of the procurement process."
Ivey announced that Alabama is revitalizing its corrections system by replacing prison facilities that pose the greatest risk to public safety, place the largest financial burdens on taxpayers and inhibit development of programs for inmate rehabilitation.
The governor said she is fulfilling campaign promises to improve the state's infrastructure and reduce public safety risks.
The Alabama Department of Corrections is working with Alabama-based public works professionals, HPM, which has partnered with national prison and correctional system experts, CGL.
Corrections officials say these improvements are part of Alabama's commitment to reduce overcrowding and facilitate statewide prison reform which will save money, make prisons safer, reduce recidivism and improve public safety.
For companies that want the contract to build the new prisons, participation in the RFQ phase is mandatory. ADOC is requiring that interested developer teams submit a Statement of Qualifications, which demonstrates the team's financial capacity and technical expertise. Responses will be due by Aug. 2, 2019.
The RFQ is intended to provide structure to protect the interests of the state of Alabama, ensuring that only qualified developer teams are permitted to participate in the proposal process.
Prior to the RFQ, a request for Expressions of Interest was released for response; however, EOI submissions are not mandatory nor obligatory for participation in the procurement process.
The ADOC, Department of Finance and Division of Construction Management, with support from third-party experts HPM and CGL, will evaluate the SOQs and notify those who are selected to receive the Request for Proposal. The RFP is expected to be released in the third quarter of this year. This qualification process is similar to the pre-qualification process used on many Alabama public works construction projects.
"We are proud to work closely alongside Gov. Ivey to propel Alabama's prison plan forward," said ADOC Commissioner Jeff Dunn. "This process will inform who is selected to participate in the proposal process and bring us one step closer to breaking ground on new, sustainable facilities. In alignment with our strategic plan, the ADOC is encouraged by this continued momentum to positively impact corrections in Alabama."
To view the RFQ, click here.
Ed Whatley is the contact person for firms interested in submitting an RFQ.
ADOC is building three prisons. Two will have 3,072 beds and will be 759,762 square feet. The third will be larger and will contain ADOC's special services — medical, mental health, aged care and inmate reception. That larger facility will be located in the central part of the state and will have 3,960 beds and be 1,114,722 square feet.
ADOC is building these three new super prisons with an intended 50-year design life. The state is looking for qualified developers who can build the three prisons on land owned by the developer. It is not the intention of ADOC that just one firm do all three facilities. The state will then lease the facilities back from the developer for $78 million a year. According to the RFQ, this may be tax exempt income. These contracts will be for the developers to provide all of the land, buildings, furniture, fixtures and equipment.
It is not known at this time whether the Legislature will be given any input into any of this by the Governor's Office. The Legislature has done nothing to advance a plan to pay for new prisons, despite requests to do so from both Ivey and her predecessor, former Gov. Robert Bentley. There is speculation that Ivey may prepare a plan and then call the Legislature back for a special session to ask for a bond issue to pay for it. It is also possible that Ivey will simply sign a contract with corporations to do this and cite her executive authority as governor and then ask the Legislature to pay for it going forward out of the state general fund.
Ivey says she has prioritized road improvements and replacing most of the state's existing 27 prisons and work camps with new facilities.
Print this piece
Speaker McCutcheon standing with governor on gaming workgroup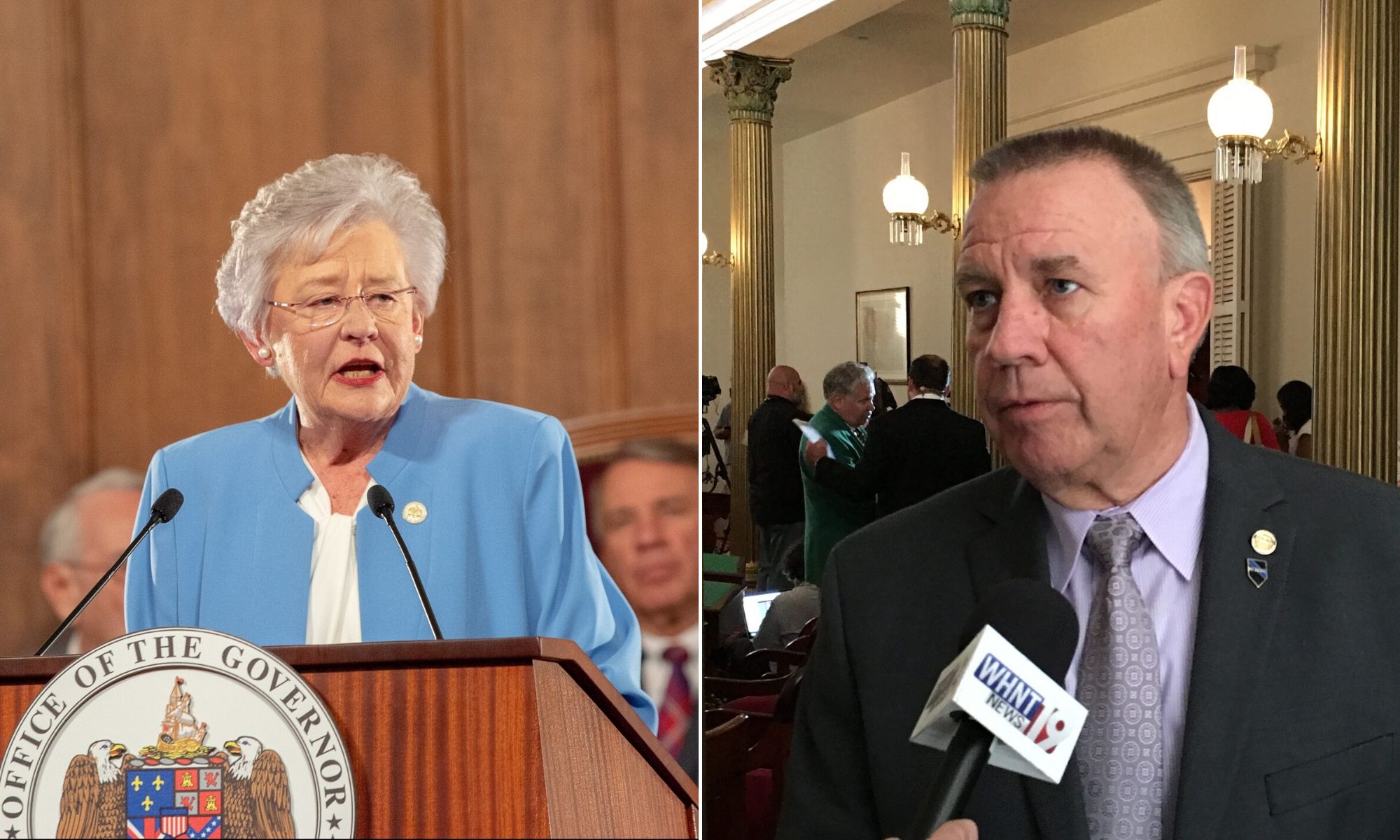 During her 2020 State of the State address, Gov. Kay Ivey said she would be signing an Executive Order to establish a small working group to gather all the facts on how much money the State could gain if some form of gaming expansion occurred. She also asked the Legislature to give her time for the group to come back with an answer.
Whether lawmakers would grant Ivey's request for time has been an important question swirling around the halls of the State House.
Speaker of the House Mac McCutcheon answered that question on Wednesday when APR reached out to his office with a request for clarification.
APR's email wrote, "Speaker McCutcheon recently made the statements quoted below."
"I am not a big gambling guy; but if you are going to vote for a lottery, that's gambling, then don't be a hypocrite and let's get the biggest bang for the buck," McCutcheon said. "Let's address a lottery, the Poarch Creek Indians, and these counties that want a one-armed gambling. Put them all in a room and hammer out a deal."
The Speaker warned, though, that if he cannot get a grand deal between all the parties on gambling, then there likely would not be any gambling bill brought forward in 2020.
"Does he still stand by these statements?"
The following is the response APR received from the Speaker's office:
"Since the Speaker made the statement, the Governor will be signing an Executive Order to bring people together to evaluate the facts on how much money the State could gain if some form of gaming expansion occurred. The Speaker will be working with the Governor in her efforts."
Ivey said once the working group had completed its task, she would "bring these facts to the 140 members of the Legislature and the people of Alabama. And we will then, once and for all, be in a position to determine whether or not this is a path we want to pursue."
That McCutcheon is in  alignment with the governor should signal to all interested parties that no further movement on gaming legislation will happen until the working group has completed its evaluation.
Some have been slow to hear Gov. Ivey's entreaty.
Even after Ivey's call for more time to gather facts, the Poarch Creek Band of Indians continues to flood television, internet and social media with a massive advertising campaign touting their billion-dollar plan in exchange for a tribal-state compact and exclusive right to Vegas-style casino gaming in the State.
PCI lobbyists, including tribal council vice-chair Robbie McGhee, are being very pro-active at the State House.
On Tuesday, Madison County Republican Rep. Rex Reynolds said, "We're gonna move forward on a lottery. We clearly got that message during our conference meeting yesterday. I think it's the right thing to do. The people want to vote on a lottery and I think we need to give them an opportunity to," according to a report by WAFF.
Rep. Steve Clouse, R-Ozark, the House budget chairman, recently said that he planned to file legislation that would create an education lottery in Alabama.
Clouse's bill would create a paper lottery with scratch-offs and PowerBall options only.
Opinion | Prepare for more gambling debates in the 2020 Legislative Session
A day after Ivey issued her State of the State request to the Legislature to stand down on gaming, Senate President Pro Tem Del Marsh held a meeting with representatives of the Poarch Creeks and two of the State's dog tracks to discuss moving ahead on a proposed lottery and gaming bill.
Marsh holds meeting with gaming interests day after Ivey calls for the Legislature to stand down on gaming
These various statements and actions have added confusion as to what is happening with gaming this session.
Now that McCutcheon has made his position known, maybe it will put to rest the rumors, activities and behind-the-scenes maneuvering that go against Ivey's wishes.
Print this piece