Brooks opposes bipartisan border bill, says it rewards undocumented immigrants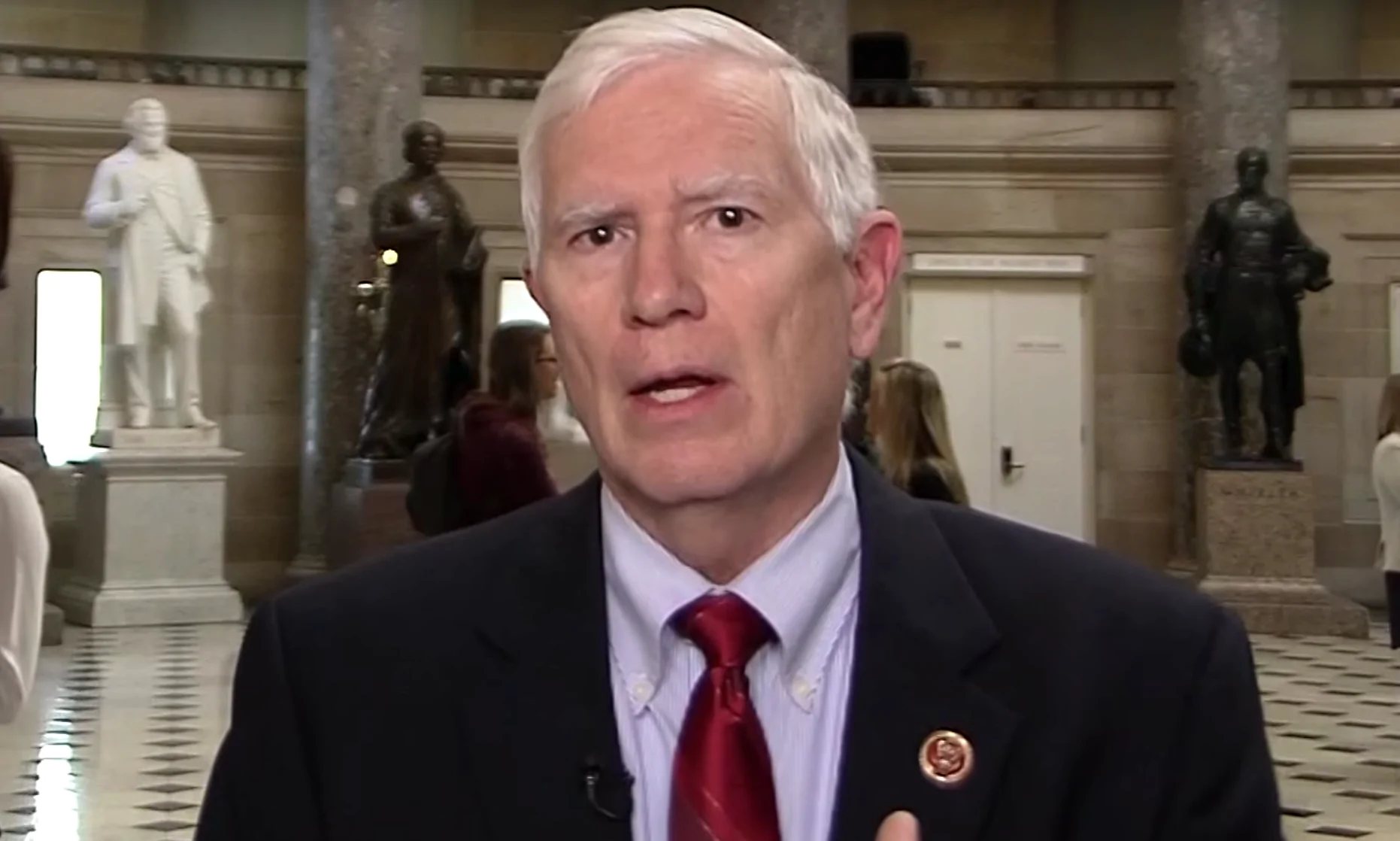 Congressman Mo Brooks, R-Huntsville, announced Thursday that he voted against the Senate's bipartisan border crisis spending bill, incorporated into H.R. 3401, that spends billions of taxpayer dollars. Brooks said it rewards undocumented immigrants who break America's laws.
"There are two principal reasons why the Senate's $4.5+ billion 'emergency' spending bill is horribly bad for America," Brooks said in a statement. "First, as is so often the case, the Senate's spending bill blows through $4.5+ billion in taxpayer money that is not paid for in any way, shape, or form. As is so often the case, the one bipartisan thing Washington power brokers and special interest groups agree on is spending money America does not have, has to borrow to get and cannot afford to pay back."
"America has a $22+ trillion debt and an estimated $900 billion deficit for this year," Brooks explained. "Both risk a national debilitating insolvency and bankruptcy that will destroy America's economy and, in the process, take countless American lives. Washington politicians are far too often totally, blissfully and dangerously economically ignorant of the threat these deficits and accumulated debt pose to America's future. It has often been said that Washington is a math-free zone. Apparently, this bill and others like it, establish that Washington is also an economics-free zone."
"Second, and as I stated earlier this week about an equally bad socialist democrat bill, illegal alien tsunamis swamp Customs and Border Patrol resources on America's porous southern border," Brooks continued. "Why is the problem so bad? Because Washington financially rewards and encourages illegal aliens to break our laws as their first act on America soil."
"This so-called 'bipartisan' Senate monstrosity is all too symptomatic of the problem," Brooks added.  "While marketed as a border security bill, the fact is that only roughly 1 percent of $4.5+ billion spent in this bill arguably helps with border security. The other roughly 99 percent of spending makes America's border security problem worse by rewarding illegal aliens who break America's laws. In this legislation, American taxpayers are expected to shoulder the burden of paying border patrol agents to help, yes, help, illegal aliens come into America and, once here, reward them with free 'Welcome' mats, free health care, free 'Happy Meals,' free clothing, free shelter and free transportation into America … all at American taxpayer expense."
"The result of these horrific policies is a humanitarian and border security crisis. In the first half of Fiscal Year 2019, the number of illegal alien family units captured by Border Patrol roughly tripled over the previous year," Brooks said. "Worse yet, the number of captured illegal aliens topped 100,000 in each of March and April. Further, the numbers of illegal alien caravans have skyrocketed from two in FY 2017, to 13 in FY 2018, to 104 large illegal alien caravans of 100 or more individuals — totaling 17,242 illegal alien captures — in just the first six months of FY 2019."
"The American people are baffled why Washington has failed so badly to provide Americans with the border security they deserve," Brooks concluded. "Bills like this monstrosity are the problem. And, Congressmen and Senators who support it are the cause of the problem."
The bill passed the House, but Congress members on both sides of the aisle opposed the bill.
The Democratic controlled House of Representatives had passed a much more progressive humanitarian aid package for the border almost entirely on party lines Tuesday; but when it went to the Senate, Senator Richard Shelby (R-Alabama) substituted that bill for a bipartisan compromise that he and the Appropriations Committee had written and passed 30 to 1 before the House had finalized their bill. That substitute passed the Senate 88 to 8 putting pressure on House Democrats to cave to the Senate.
When it went back to the House, where the Progressive Caucus of Democrats opposed the bill. The more centrist Problem Solvers Caucus of Democrats urged passage of a clean version of the Senate bill.
This prompted the Chairman of the Progressive Caucus Rep. Mike Pocan, D-Wisconsin, to ask when the Problem Solver Caucus became the child abuse caucus.
That prompted a furious exchange on the House floor between Pocan and two freshmen members of the Problem Solvers Caucus.
"This is a solid bill; it provides the resources needed to address the crisis we face," Shelby said. "It contains no poison pills, and it is poised to pass the Senate with strong bipartisan support, unlike the version that came out of the House last night. So I say to our colleagues in the House, now that there is bipartisan acknowledgment that the crisis on our southern border is real, do not derail the one bipartisan vehicle with a real chance of becoming law. Those who want to alleviate the suffering on our southern border will soon have a bipartisan path forward in the Senate bill. Those who choose to obstruct over partisan demands will soon have a lot of questions to answer when this crisis escalates further. There is no excuse for Congress leaving town at the end of the week without getting this done. Let's come together and do our job."
The bipartisan package provided $4.59 billion in emergency supplemental appropriations to address the humanitarian and security crisis at the border, includes: $2.88 billion for the Department of Health and Human Services to provide safe and appropriate shelter and care for children in its custody; $1.1 billion for Customs and Border Protection to establish migrant care and processing facilities, provide medical care and consumables, and pay travel and overtime costs for personnel; $209 million for Immigration and Customs Enforcement to fund transportation costs and medical care for detainees, conduct human trafficking operations, and pay travel and overtime costs for personnel; $30 million for Federal Emergency Management Agency to reimburse states and localities for expenses they have incurred related to the massive influx of migrants; $220 million for the Department of Justice to help process immigration cases and provide badly needed resources to the U.S. Marshals Service for the care and detention of Federal detainees; and $145 million for the various branches of the U.S. military who have incurred operating expenses in support of multiple missions along the border.
Ninety-five Democrats voted against the measure, but it passed the House 305 to 102. Brooks is one of just seven Republicans who opposed the bill.
"What happened today is unacceptable, and we will not forget this betrayal," the Congressional Hispanic Caucus said in a statement.
The bill now goes to President Donald Trump. He is expected to sign it.
Brooks represents Alabama's Fifth Congressional District.
Original reporting by Politico and Fox News contributed to this report.
Ainsworth returns to work after testing positive for COVID
Ainsworth's office on Sept. 21 announced he had tested positive earlier that week, having been tested after someone in his Sunday school class tested positive for the disease. 
Alabama Lt. Gov. Will Ainsworth on Wednesday announced that he was returning to work that day and had met public health requirements for quarantining after testing positive for COVID-19 some time last week.
Ainsworth's office on Sept. 21 announced he had tested positive earlier that week, having been tested after someone in his Sunday school class tested positive for the disease. 
"While many have battled with coronavirus, my symptoms never progressed beyond some mild congestion that I usually experience with seasonal allergies," Ainsworth said in a statement. "During the quarantine period, I participated in several Zoom calls, caught up on some office work, spent some quality time with my family, and completed a number of overdue projects on my farm."
Members of Ainsworth's staff who were in close contact with him haven't tested positive for COVID-19 but will remain in quarantine for a full 14-day period as a precaution, according to a press release from Ainsworth's office Wednesday. 
"Ainsworth once again urges all Alabamians to practice personal responsibility, which may include wearing masks, maintaining social distancing whenever possible, and taking other precautions to lessen chances of exposure to COVID-19," the press release states.
Ainsworth still disagrees with Gov. Kay Ivey's statewide mask mandate, he said. According to the release, he considers such orders "a one-size-fits-all governmental overreach that erodes basic freedoms and liberties while removing an individual's right to make their own health-related choices." 
The wearing of cloth or medical masks has been proven to inhibit the spread of COVID-19 and the more people who wear masks, the better. While not perfect, masks limit the spread of respiratory droplets that may contain infectious virus shed from the nose and mouth of the mask wearer.
It is possible — even likely — for symptomatic, pre-symptomatic and mildly symptomatic people to spread the virus. That's why it's important to wear a mask even when you're not sick.
Cloth masks offer only minimal protection from others who are not masked, meaning that masks are not simply a matter of personal safety but safety of others. Masks are also only effective when worn over both the mouth and the nose. [Here's a guide on how to wear masks properly.]
Dr. Deborah Birx, coordinator of the White House's coronavirus task force, told Ivey after she announced the statewide mask order that it was a "brilliant" idea. The order has been credited by Alabama infectious disease experts as having dramatically reduced the number of cases, hospitalizations and deaths in the weeks after the order went into effect. 
Dr. Don Williamson, president of the Alabama Hospital Association, told APR on Tuesday that from personal observation he is seeing more people not wearing masks, or wearing them improperly, and said the state could dramatically reduce the risk of COVID-19 if the public regularly wore masks and wore them properly.
Hospitalizations of COVID-19 patients in Alabama on Monday crossed the 1,000 mark for the first time since Aug. 31 — a sign that Alabama may be headed for another peak in hospitalizations as the state prepares for winter and flu season.