Merrill becomes the candidate to watch in U.S. Senate race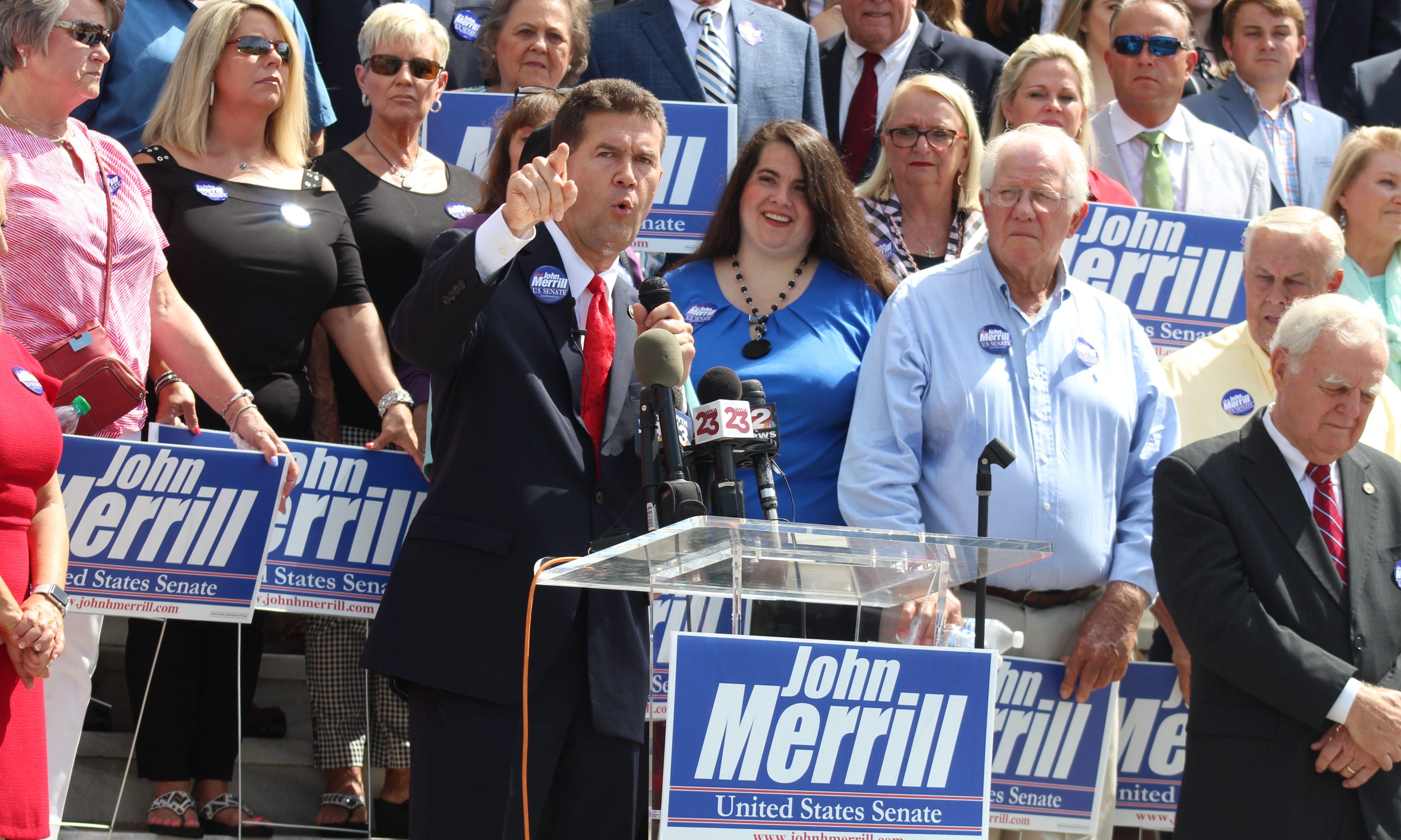 In his opening bid to become the next U.S. Senator from Alabama, Secretary of State John Merrill hit all the right notes to appeal to Republican primary voters.
In an approximately 90-second video, Merrill took on the liberal left, touted his conservative record and slammed his closest Republican opponents Congressman Bradley Byrne, former Auburn football coach Tommy Tuberville and Judge Roy Moore.
"From the Shoals to the shores in Alabama, we're known for winning," Merrill said in his introductory statement. "Lately liberals have been empowered because Republicans promote candidates who can't win."
With not so subtle jabs, Merrill said, "Some walked out when the money called," pointing out that Tuberville's career choices saw him leave one team after another in a money chase.
He then pivoted to Byrne, saying, "Some asked others to walk out when liberals got tough," referring to Byrne calling for then-candidate President Donald Trump to drop out of the 2016 Republican Primary after the Access Hollywood tapes broke in which Trump was caught making sexist remarks. Byrne quickly walked back those comments going on to support Trump.
Lastly, Merrill targeted Moore saying, "Some walked out on our conservative values," reminding Republican voters that Democrat Doug Jones beat Moore in the 2017 Special Election.
Without missing a beat, Merrill listed his fights against liberals Alexandria Ocasio-Cortez, Chuck Schumer, the ACLU and other left-leaning bogeymen.
Nearly a decade younger than his rivals, and in some cases two, Merrill looks and sounds fresh compared to Moore, Byrne and Tuberville.
His well-crafted roll-out shows Merrill has a reliable team behind his campaign.
But in a six-way race, name ID and money is critical.
Byrne has the money while Moore and Tuberville have high name recognition.
But it's doubtful that any of the declared candidates will outwork Merrill.
Taking a page from Alabama's senior U.S. Sen. Richard Shelby's playbook, Merrill has visited all of the state's 67 counties twice.
He has also turned the antiquated Secretary of State's office into a model of modern efficiency.
Not only has his office set a high standard in government effectiveness, but Merrill may also be the last public official who is actually fighting for strong ethics laws. Merrill has tracked and filed numerous campaign finance violations against PACs, lobbyists and candidates.
Despite push-back from the Ethics Commission and the state's elites, Merrill continues to charge ahead with his mission to hold those who violate the state's campaign finance laws accountable.
Merrill now becomes the Republican candidate to watch as the battle to defeat Jones intensifies.
Print this piece
Opponents accuse Tuberville of supporting amnesty for undocumented immigrants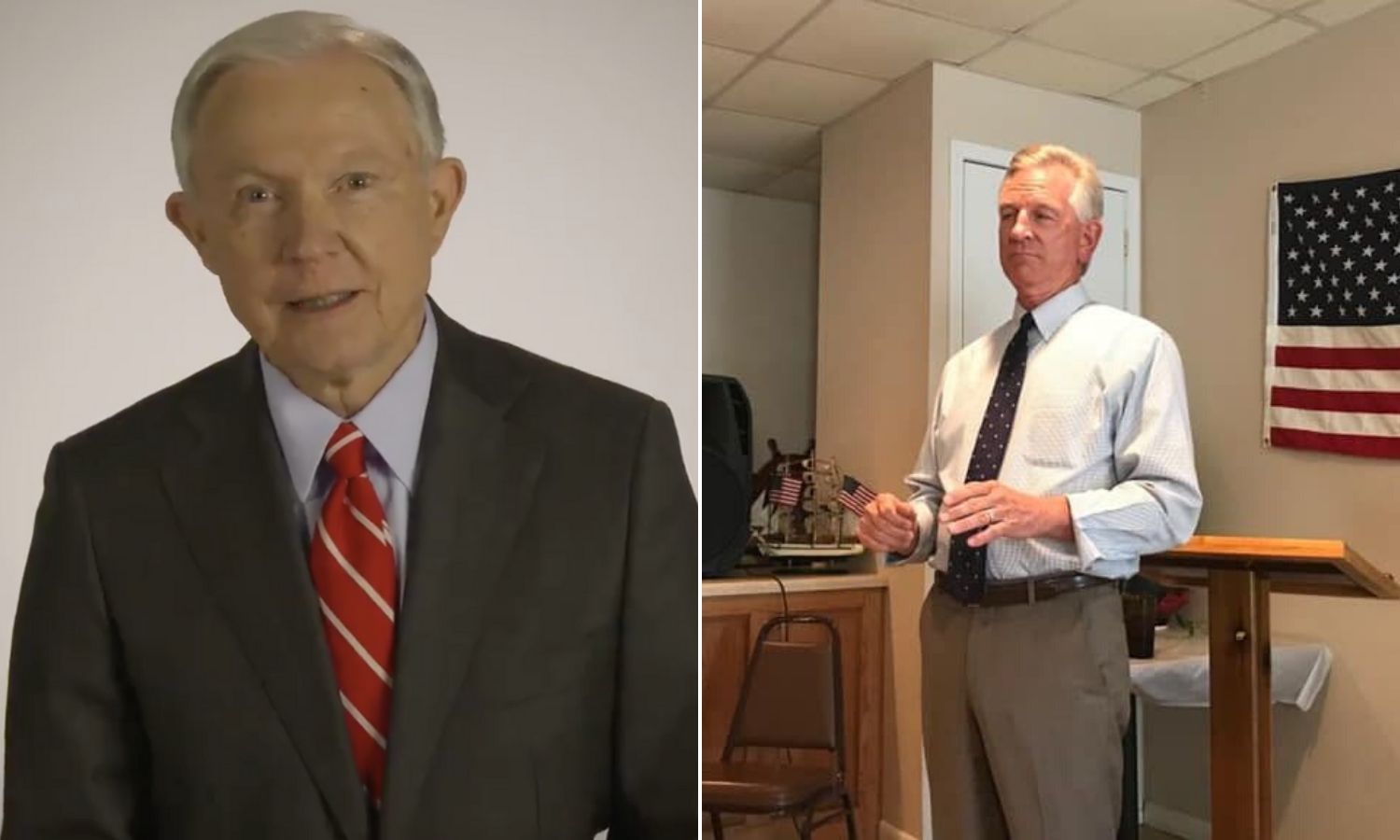 The Senate campaign is heating up as the top three candidates are all going negative. Former Auburn head football coach Tommy Tuberville has attacked Congressman Bradley Byrne (R-Montrose) and former Attorney General and Senator Jeff Sessions of being career politicians. Both Byrne and Tuberville have attacked Sessions for not having adequately served President Donald J. Trump (R) while Attorney General. Byrne has even attacked Tuberville's coaching abilities. The latest attacks on Tuberville accuse him of supporting amnesty for illegal aliens. Sessions even accused Tuberville of being a "tourist."
Wednesday, Sessions announced a new television ad called "Tuberville for Amnesty."
Byrne and Tuberville point to an August speech by Coach Tuberville when he said: "There are people coming across the border that need jobs… and we want them to come over here… Let em' come in and become citizens like we all became citizens."
The Tuberville campaign called the attack "fake news" on Twitter.
Sessions' campaign manager Jon Jones said, "Tuberville is claiming that his own words are 'fake news.' All of them? Tommy Tuberville needs to read the transcript. It is clear that Tuberville supports immigration amnesty, and he is attempting to trick Alabama voters to believe otherwise. In contrast, Jeff Sessions has done more than just say he wants to fix the border – he has already worked alongside President Trump to stop illegal immigration."
The new Sessions ad reads: "Tuberville is trying to trick you, hiding his support for immigration amnesty." Then plays an audio clip of the Tuberville comment from August
Tuesday, Byrne told reporters in Trussville: "I can tell you right now this issue about Tommy Tuberville's position on amnesty is a key issue. And so we're going to keep telling people about his position on that and let him explain why he doesn't think that's amnesty."
"Let em' come in and become citizens like we all became citizens," Tuberville is quoted in the ad.
Tuberville has denied supporting amnesty and says that he supports President Trump's immigration agenda.
The Sessions ad further charges: "And Tuberville's not even from Alabama, he's a tourist here. He lives, pays taxes and even votes in Florida."
On Tuesday, the Tuberville campaign responded with an attack ad of their own.
"The career politicians are desperate to hang on to their paychecks and power, so they have started airing negative ads full of false attacks and baseless distortions," Tuberville said. "Our new commercial allows us to respond with some hard truths about which candidate wants to drain the D.C. swamp and is tough enough to actually help President Trump get the job done."
The Tuberville ad has Byrne with former Secretary Hillary Clinton and Sessions with Congressman Adam Schiff (D-California) who led the impeachment effort against President Trump. The ad even connects Sessions and Byrne with Sen. Mitt Romney (the only Republican in either House of Congress who found that the President did anything wrong.)
State Representative Arnold Mooney, former Chief Justice Roy Moore, Ruth Page Nelson, and businessman Stanley Adair are also running for the Republican nomination for the Senate seat currently held by Doug Jones (D).
The Republican primary is March 3.
Print this piece