Merrill becomes the candidate to watch in U.S. Senate race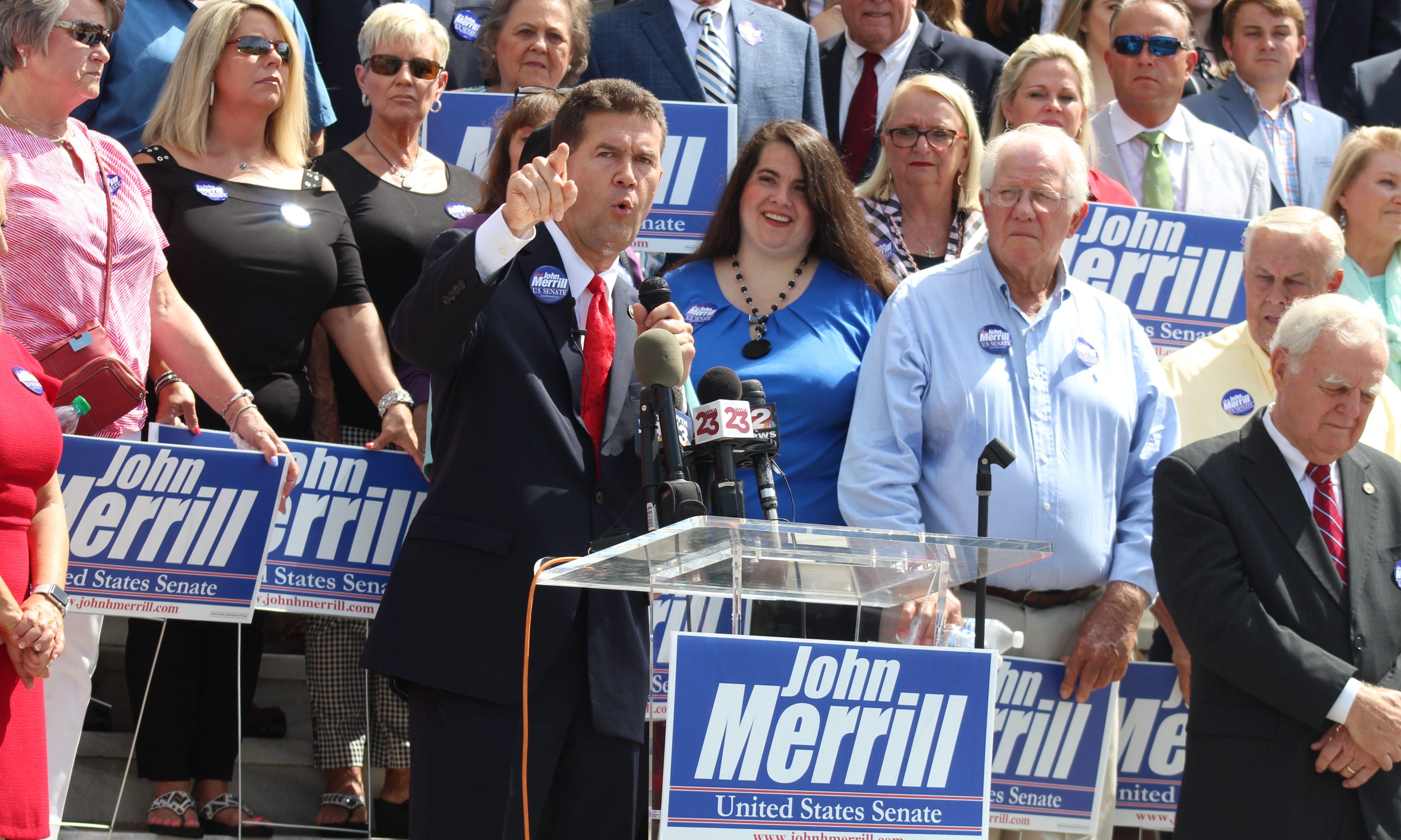 In his opening bid to become the next U.S. Senator from Alabama, Secretary of State John Merrill hit all the right notes to appeal to Republican primary voters.
In an approximately 90-second video, Merrill took on the liberal left, touted his conservative record and slammed his closest Republican opponents Congressman Bradley Byrne, former Auburn football coach Tommy Tuberville and Judge Roy Moore.
"From the Shoals to the shores in Alabama, we're known for winning," Merrill said in his introductory statement. "Lately liberals have been empowered because Republicans promote candidates who can't win."
With not so subtle jabs, Merrill said, "Some walked out when the money called," pointing out that Tuberville's career choices saw him leave one team after another in a money chase.
He then pivoted to Byrne, saying, "Some asked others to walk out when liberals got tough," referring to Byrne calling for then-candidate President Donald Trump to drop out of the 2016 Republican Primary after the Access Hollywood tapes broke in which Trump was caught making sexist remarks. Byrne quickly walked back those comments going on to support Trump.
Lastly, Merrill targeted Moore saying, "Some walked out on our conservative values," reminding Republican voters that Democrat Doug Jones beat Moore in the 2017 Special Election.
Without missing a beat, Merrill listed his fights against liberals Alexandria Ocasio-Cortez, Chuck Schumer, the ACLU and other left-leaning bogeymen.
Nearly a decade younger than his rivals, and in some cases two, Merrill looks and sounds fresh compared to Moore, Byrne and Tuberville.
His well-crafted roll-out shows Merrill has a reliable team behind his campaign.
But in a six-way race, name ID and money is critical.
Byrne has the money while Moore and Tuberville have high name recognition.
But it's doubtful that any of the declared candidates will outwork Merrill.
Taking a page from Alabama's senior U.S. Sen. Richard Shelby's playbook, Merrill has visited all of the state's 67 counties twice.
He has also turned the antiquated Secretary of State's office into a model of modern efficiency.
Not only has his office set a high standard in government effectiveness, but Merrill may also be the last public official who is actually fighting for strong ethics laws. Merrill has tracked and filed numerous campaign finance violations against PACs, lobbyists and candidates.
Despite push-back from the Ethics Commission and the state's elites, Merrill continues to charge ahead with his mission to hold those who violate the state's campaign finance laws accountable.
Merrill now becomes the Republican candidate to watch as the battle to defeat Jones intensifies.
Jones to attend Auburn student forum, Tuberville hasn't yet responded to invitation
Jones has agreed to attend the forum, but it was unclear whether Tuberville planned to attend.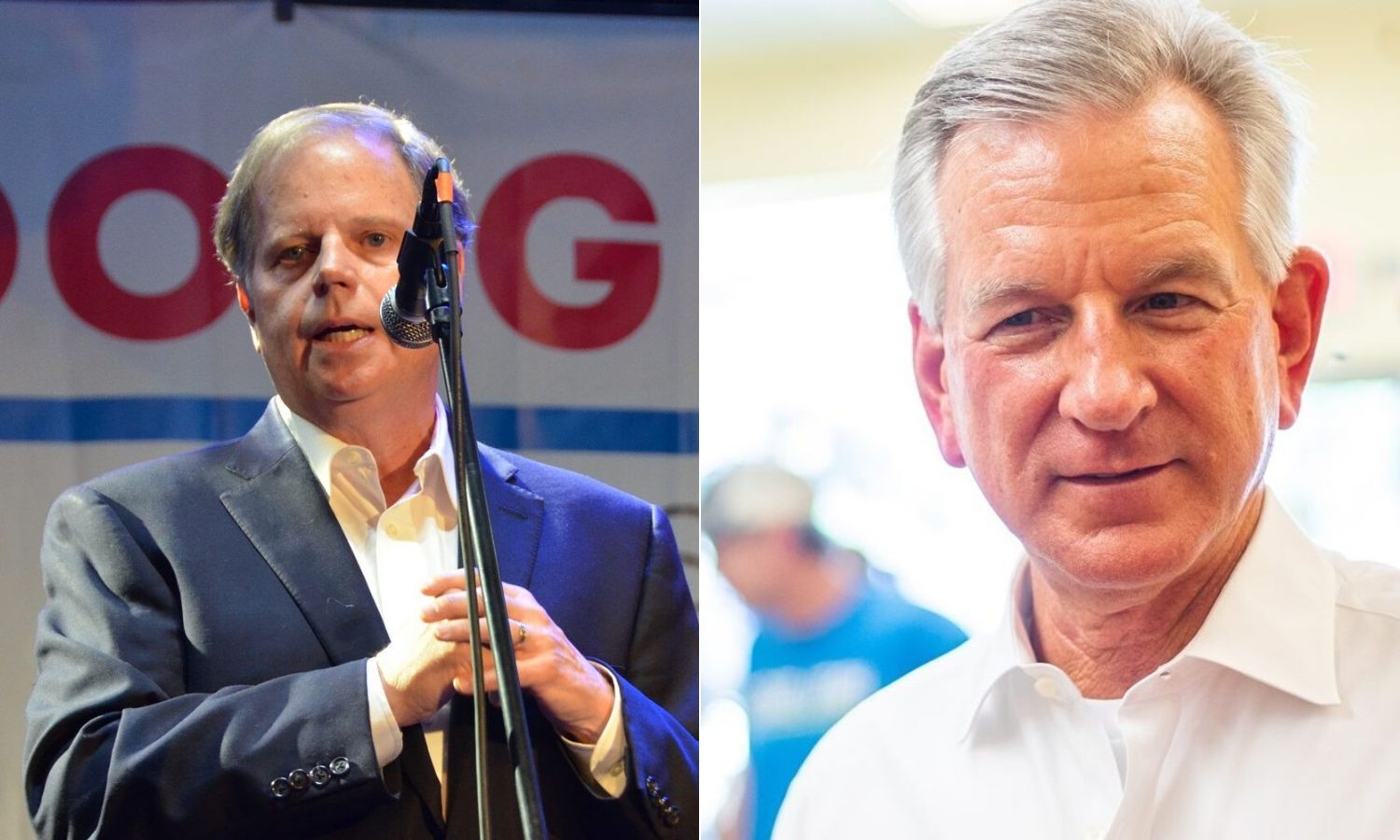 The College Democrats at Auburn University and the College Republicans at Auburn University have asked U.S. Senator Doug Jones, D-Alabama, and his Republican opponent, Tommy Tuberville, to attend a student forum on Wednesday.
"We are excited to invite the candidates running for our U.S. Senate seat and provide this opportunity for any Auburn student to hear directly from them, and we hope it will inform our student bodies' decisions with the November 3rd election only days away," said Carsten Grove, president of the College Democrats at Auburn University, in a statement.
Jones has agreed to attend the forum, Auburn University College Democrats confirmed for APR on Sunday, but it was unclear whether Tuberville planned to attend. The student organization  was still awaiting a response from Tuberville's campaign.
Jones has for months requested Tuberville join him in a debate, but Tuberville has declined.
"AUCR takes great pleasure in coming together with AUCD to co-host the Alabama Senate candidates in this forum. We are looking forward to a very informative and constructive event," said Lydia Maxwell, president of the College Republicans at Auburn University.
Dr. Ryan Williamson, assistant professor of political science, is to emcee the forum, which will be open to all Auburn University students in the Mell Classroom Building at 6 p.m., according to a press release from the College Democrats at Auburn University.
Students will be permitted 30 seconds to ask a question of either candidate, and each candidate will have two minutes to answer, according to the release.
Capacity at the forum will be limited and precautions taken due to COVID-19. Any student with an Auburn ID is welcome and attendance will be first come, first served.