The Battle of Gettysburg was fought 156 years ago today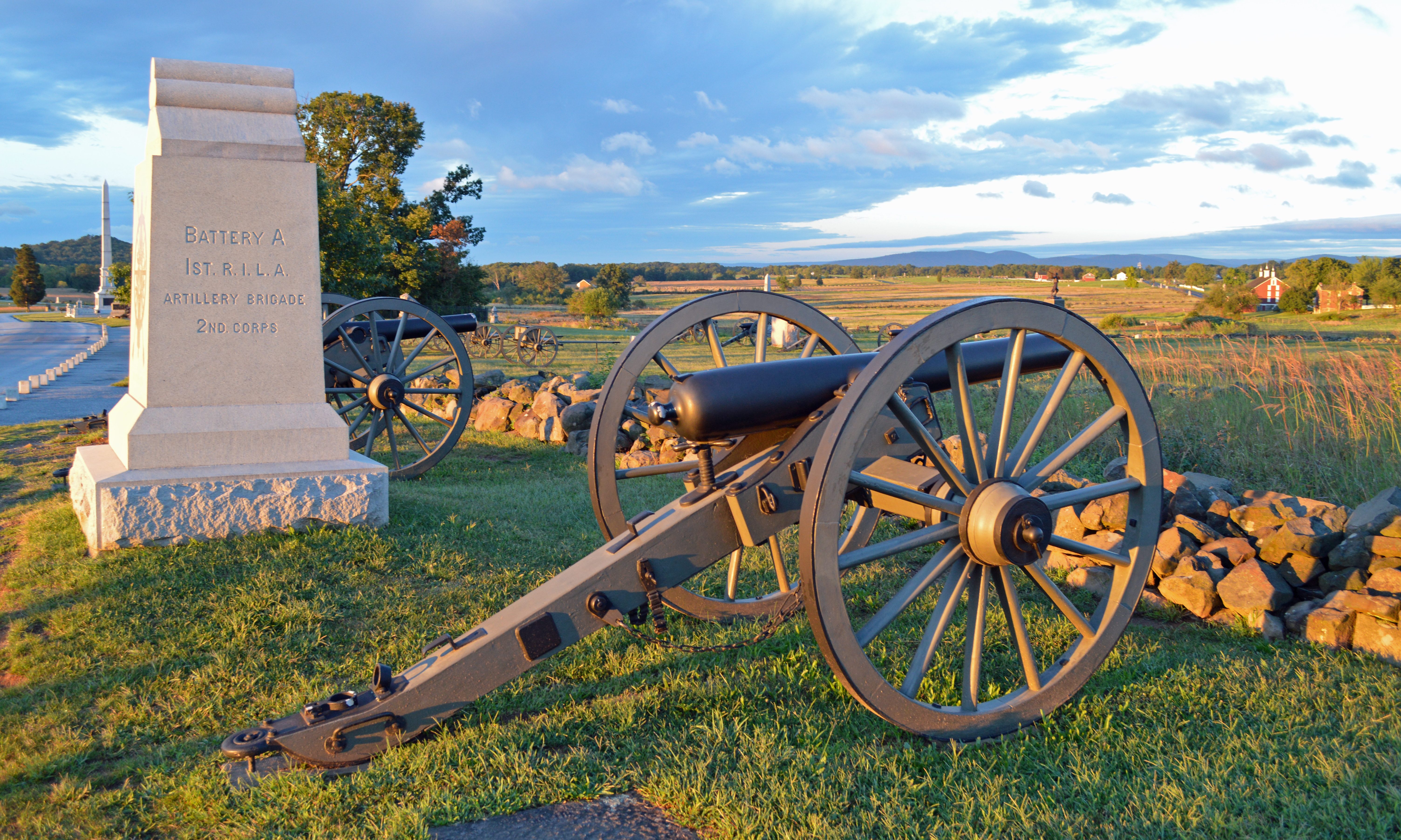 On July 1, 1863 the Confederate Army of Northern Virginia met the Union Amy of the Potomac at the town of Gettysburg, Pennsylvania.
This was the second time that Confederate General Robert E. Lee invaded the Northern states. Lee hoped to defeat the Union army on Northern soil, in hopes that it would force the Lincoln administration to negotiate for peace.
President Abraham Lincoln (R) had replaced Major General Joseph Hooker with Major General George G. Meade in late June.
It was also becoming increasingly difficult for Lee to support his army from the war-ravaged farmland of Virginia. A foray north was seen as an opportunity to gather supplies, including horses. Even things like shoes were becoming hard to find in the Confederate Army.
Lee had hoped to catch the Union by surprise and be in position to threaten Washington D.C. before the Union were aware of his presence and had time to move sufficient force to defend the capitol; however the Army of the Potomac was aware of Lee's movement north and was on an intercept course.
Lee's cavalry commander Maj. Gen. J.E.B Stuart had not kept Lee properly informed of Union movements. On the morning of July 1st, 1863, the 8th Illinois Cavalry, part of Brigadier General John Buford's Cavalry Division fired on the forward elements of General Robert E. Lee's Army of Northern Virginia outside of Gettysburg. In the fighting that followed that day, Union Major General John Reynolds was killed scouting at the front.
It is rare for high ranking U.S. Army generals to be killed in combat. Reynolds joins Major Generals James B. McPherson, Joseph K. Mansfield, and John Sedgwick as the highest-ranking U.S. Army officers killed in the Civil War. Maj. Gen. Edward Canby was killed during peace negotiations by Modoc Indians in 1873 in Northern California, the highest-ranking army officer killed in the Indian Wars. Lt. General Simon Bolivar Buckner Jr., killed at the battle of Okinawa, was the highest-ranking U.S. Army officer killed in World War II. Maj. Gen. John Albert Dillard Jr. was the highest-ranking U.S. Army officer killed in the Vietnam War when his helicopter was shot down in 1970. Lt. Gen. Timothy Maude was killed in 2001 during the 9-11 attack on the Pentagon. Maj. Gen. Harold Greene was the highest-ranking U.S. Army officer killed in the War in Afghanistan in 2014 when allied Afghan troops changed sides and attacked suddenly.
The Confederate army swept the Union army from the fields west and north of town, but were unable to secure Cemetery Hill and Culp's Hill to the south. On July 2nd re-enforcements arrived on both sides. Lee attacked on the heights and also at Little Round Top further south, but failed to dislodge the defenders.
Many historians credit Colonel Joshua Lawrence Chamberlain's, commanding elements of his 20th Maine Volunteers and the 83rd Pennsylvania, desperate repulse of the attack by Colonel William C. Oates and his 15th Alabama with being the decisive action in the battle. Chamberlain would go on to become Governor of Maine and Oates the 29th Governor of Alabama.
By July 3rd, it was apparent that the Union, which had successfully held the Confederate forces at bay, were going to prevail. An exclamation point was added to the Union victory when Confederate General George Pickett's out manned force charged the Union lines. They were cut to pieces.
Lee was able to extricate the surviving elements of his army and return South. Meade did not pursue, angering President Lincoln was furious, Ge felt that more aggressive action by Meade would have destroyed Lee.
Lee's second invasion of the North ended in failure. There were heavy casualties on both sides. 3,155 Union soldiers were killed. 3,903 Confederate soldiers were killed. 14,259 Union soldiers were wounded. 18,735 Confederate soldiers were wounded. 5,365 Union soldiers were missing or captured. 5,425 Confederate soldiers were captured.
The victory did lift spirits in the North where many had begun to lose hope after Confederate victories like Chancellorsville.
Most people in the know, thought that Gettysburg combined with the surrender of another Confederate Army at Vicksburg, Mississippi would spell the end of the Confederacy. They were wrong. The South would fight on for nearly two more years, but the South could never muster the force that it had in the first half of 1863, while Union forces were increasingly bolstered by the recruitment of African-Americans eager to join the cause for the emancipation of the slaves.
Today the Gettysburg battlefield is a National Battlefield Park. This week Park Rangers and Licensed Battlefield Guides will provide a series of free guided walks and talks that discuss, explore, and reflect on this important chapter in our nation's history on the 156th anniversary of the battle.
https://www.nps.gov/gett/index.htm
(Wikipedia and the BBC were consulted as part of this work.)
Print this piece
Opinion | It's time for Alabama Democrats to learn from Alabama Republicans
Democrats never seem to learn from Republicans. 
All around the country, and all around the state of Alabama, Democrats are still playing by the rules. Still listening to the cries and outrage from the other side. Still entertaining the idea that compromise and diplomacy are important to Republicans on some level. 
Still watching Lucy jerk that football away at the last moment. 
It's time that stopped. 
It is time — actually, well past time — for Democrats to adopt the attitudes of their GOP colleagues, and just do whatever the hell you want to do. 
Whatever goal you set, go achieve it. Whatever policy is important, implement it. Whatever action you believe is right, take it. 
This is how Republicans have governed now for years. It is how they have wrestled control of the U.S. Supreme Court — just don't hold a hearing for a duly appointed candidate — and how they have stolen elections — keep blocking attempts to secure elections. It is how they control half of Congress — thanks, gerrymandering! — despite representing nearly 20 million fewer people and how they have managed to offset a growing minority vote — put up every roadblock short of a poll tax. 
In Alabama, it has how they adopted the AAA act to funnel tax money to private schools — just completely rewrite the bill in the dead of night — and how they passed the most restrictive abortion ban — just ignore promises and public opinion. It is how they have stopped attempts to pass gambling legislation — by straight up lying about the law — and how they have steadily cut into ethics laws — pretend that no one can understand the laws they wrote themselves — and how a House Speaker convicted on 12 felonies still isn't in prison three years later — just don't send him. 
They don't care. 
About rules. About the law. About public perception. About basic decency. 
And it's time for Democrats, especially in Alabama, to adopt the same attitudes. 
Because if Republicans can behave this way to implement racist bills and roll back ethics laws and protect the income of the elites, then Democrats shouldn't think twice about doing it to protect rural hospitals or new mothers' health or workers' rights or decent public schools. 
Now, this will be a big change for Democrats, so let me explain how this would look in practice, using the ongoing saga of Confederate monuments. 
Republicans shoved through an absurd bill last year that protects the state's monuments to those who fought to enslave other human beings, and they're shocked — shocked and outraged — that African Americans in Alabama might find it offensive to honor the men who enslaved their ancestors. 
The bill they passed last year was a dumb bill, right down to the portion which levied a fine on cities if those cities removed or damaged a monument. The bill completely screwed up the fines portion, failing to penalize cities for moving or damaging monuments over 40 years old and failing to place a per-day fine on those cities. Instead, the Alabama Supreme Court said the cities would be subject to one $25,000 fine. 
Birmingham has a monument that it desperately wants to move. It has already boarded up the monument in Linn Park, and the ALSC, in the same ruling, ordered the boards to come down. 
And this is the first opportunity for Mayor Randall Woodfin to approach this with a new attitude. 
Tear it down. 
Write out one of those big "Price is Right" checks for $25,000, hold a press conference and award that money to Steve Marshall like he just won at Plinko. 
At the same time, workers should be taking that monument apart piece by piece and moving it to the Birmingham Civil Rights Institute, where it can be viewed for its historical significance instead of serving to honor traitors and racists. 
No apologies. No shame. Don't even entertain their complaints. 
A similar approach should be taken by the city of Montgomery in regards to its occupational tax, which Republicans are attempting to stop through legislative action. 
Montgomery is going broke, and it can't put enough cops on the streets. Part of that is because every day about 70,000 people flood into the city to go to work, and then they leave each afternoon and spend their money in — and give their tax dollars to — surrounding cities and counties. 
Montgomery has to do something to offset the costs, so an occupational tax has been proposed. But just as quickly as it was, the ALGOP — the kings of handouts to people who don't need them — passed a bill to block it. 
So, some creativity is required.
Instead of an occupational tax, pass a public safety tax. 
If you work within the city limits of Montgomery, but live outside of those city limits, your paycheck will now be taxed an extra 1% to offset the cost of the police and fire services that you might use while in the city every day. 
No apologies. No shame. Don't listen to GOP complaints. 
It's a shame that things have to be like this, but they do. Democrats have tried for decades to force rational debate and to promote the value of compromise. Those pleas have fallen on deaf ears, which have been attached to toddler-like brains that have justified atrociously selfish behaviors and awful governance. 
At this point, it has gone on so long and been so successful for Republicans, the only thing that might break through is a taste of their own medicine. 
Give it to them.
Print this piece