Ivey provides update on Alabama's workforce development efforts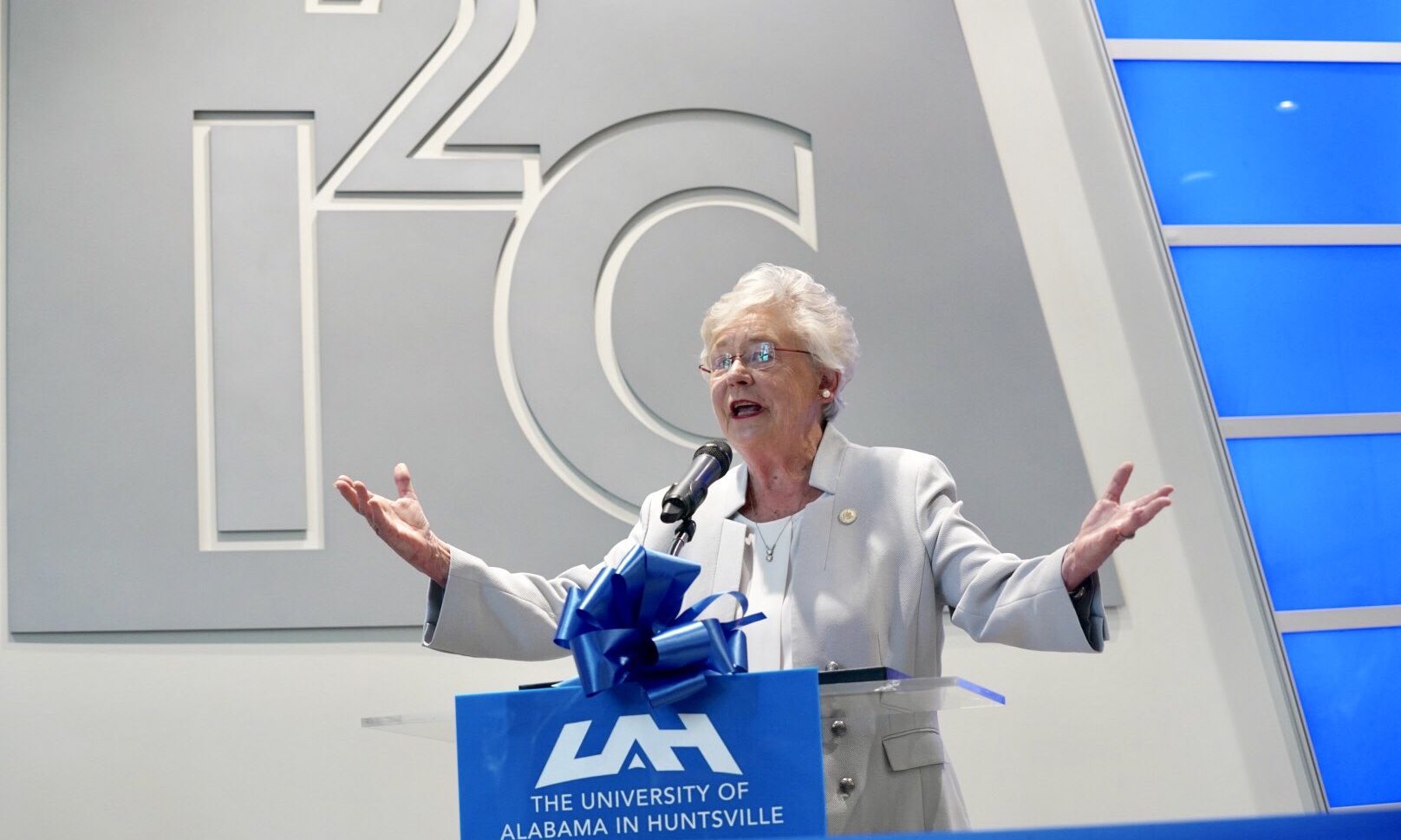 Tuesday, Alabama Governor Kay Ivey (R) provided an update on her efforts at improving the state's workforce development.
The Governor promises that through her 'Strong Start, Strong Finish' initiative, she is making improving Alabama's education system a top priority for the state.
The initiative, announced in July 2017, focuses on three stages of education: 1) early childhood education, 2) computer science in middle school and high school, and 3) workforce preparedness.
"In order to meet the current and future demands of business and industry, more must be done to develop a workforce development system that offers a seamless educational journey for individuals to enter in-demand career pathways at every stage of life," Governor Ivey said.
To create the most effective workforce development program for Alabamians across the state, the Governor recently established the Governor's Office of Education and Workforce Transformation (GOEWT).
"Already, Alabama is taking the lead in workforce development efforts, which catches the attention of companies from around the globe and ultimately provides more opportunities for Alabamians," Gov. Ivey added.
On June 10, 2019, Gov. Ivey signed Senate Bill 295 into law.
SB295 was sponsored by State Senator Arthur Orr, R-Decatur.
SB295 expands the Apprenticeship Alabama Tax Credit by providing an additional $500 for hiring in-school youth apprentices. SB295 also modifies the Apprenticeship Alabama Tax Credit to increase the base tax credit from $1,000 to $1,250 and increases the number of apprentices one employer may claim from five to 10, as well as the tax credit cap from $3 million to $7.5 million. SB295 also establishes the Alabama Office of Apprenticeship (AOA).
"Getting both new high school graduates and existing workers prepared for the workforce with certified and marketable skills will not only provide better job opportunities, but also enhanced wages that can have a permanent, positive impact on the worker and their family," Sen. Orr said.
When officially recognized by the U.S. Department of Labor, the Alabama Office of Apprenticeship (AOA) will be Alabama's state apprenticeship agency. The AOA will answer directly to the Alabama Department of Commerce and will serve as a registration agency for registered apprenticeships in the state of Alabama.
Gov. Ivey said that she is proud to share that the U.S. Department of Labor has granted the Alabama Community College System a $12 million grant to build its partnership with the National Association of Manufacturers. Industry partners will provide partial matching funds to the institutions to develop in-demand skills as part of their programs.
"Alabama's 24 community colleges are working every day within their local communities to ensure students, from high schoolers to adults looking to advance their skills, have a pathway to success through education and skills training," ACCS Chancellor Jimmy H. Baker said. "We are proud that our most recent efforts to expand apprenticeships and work-based learning opportunities for thousands of Alabamians have been recognized by the U.S. Department of Labor. This expansion will help individuals gain the real-world experience that business and industry is seeking as they hire for well-paying, in-demand jobs."
In June, the state of Alabama received a $1.2 million federal grant to expand funding for state apprenticeships. Coinciding with the federal grant, the Alabama Legislature budgeted $1 million to offset the costs associated with dual enrollment courses and credential fees for apprentices. The grant coupled with the state investment will be used to provide scholarship for a dual enrollment or community college course that is part of the apprentice's related technical instruction.
"Alabama is a state so full of potential, both in the workforce opportunities we are seeing develop, as well as in the preparedness of its citizens to fulfill those workforce opportunities," state Superintendent of Education Dr. Eric Mackey said. "The aggressive advances we are seeing in workforce development efforts will open doors for professional, economic and industrial growth in our great state. We look forward to the shared vision of Alabama being the hallmark of a state booming with progress, and an education system primed to produce students who are well-equipped to meet the demands of a thriving workforce."
On June 24, 2019, Credential Engine awarded Alabama a $50,000 technical grant to support credential transparency. The Alabama Department of Commerce will serve as the fiscal agent and manager of this project.
"Thanks to the leadership of Governor Ivey and the Alabama Legislature, we are moving to the next level of apprenticeship program development in our state," AIDT Director Ed Castile added. "Partnering with many Alabama companies, the Alabama Community College System, K-12 Education, the Alabama Workforce Council and our 7 Regional Workforce Councils we will be extremely successful in developing our skilled workforce through this new Alabama Office of Apprenticeship. It is another 'tool in the tool box' to assist us in reaching the goals set forth in the Governor's Success Plus plan."
Economic developer Dr. Nicole Jones told the Alabama Political Reporter, "There is an intense competition for talent at the local, state, and global levels, and companies want to make sure that we have a quality and skilled workforce to meet their needs. This is where partnerships between high schools, community colleges, and universities come in. It is the communication between industry and education that helps ensure that students receive coursework and practical applications that will prepare them for future jobs."
Ivey said that the Department of Commerce, the Governor's Office of Education and Workforce Transformation, and a myriad of state education and workforce development agencies will collaborate to publish all of the certificates, licenses, traditional degrees and non-degree credentials offered in Alabama to the credential registry.
"One area that we need to work on recruiting again are the skilled trades," Jones told APR. "Collectively, we can help current generations overcome the stigma associated with working in the trades by talking with students and parents and helping them realize that it is honorable and respectable to be able to feed your family as a plumber, or a welder, or an electrician. The 20-year gap with no emphasis on trades has led to many jobs being left unfilled. As Alabamians, as United States citizens, we need to change our messaging."
The state is currently enjoying a booming economy and the lowest unemployment in state history, but plentiful work opportunities can lure some workers into neglecting to improve their skill set.
Gov. Ivey recognizes that when the economy is as strong as this economy is and when unemployment is less than four percent, the challenge is reaching those individuals who need further preparation to re-enter the workforce.
Ivey is using her apprenticeship expansion efforts to attempt to position the workforce development programs across the state to work in the best interests of Alabamians. Governor Ivey's goal is to overcome the state's obstacles and aid the men and women of this state to overcome their own barriers and be on the way to earning a family-sustaining wage.
Business and industry will identify the skills that they need and the schools will try to recruit and train the workers, both in the Two Year College system and in the high schools to fill those specific needs. Students will earn experience and certificates through apprenticeships.
"Communication between businesses and school systems is a two-way street and must be a reciprocal, continuous process," Dr. Jones added. "Under the leadership of Governor Ivey and her administration, the State of Alabama has taken proactive steps to facilitate communication between industry and education. These initiatives will help bridge skills gaps and create more availability of skilled labor that the business community desires, which can ultimately result in more jobs created and more positions filled."
Alabama GOP chair: "We expect our elected officials to follow the law" after Dismukes arrest
"Will Dismukes matter: We expect our elected officials, regardless of Party, to follow the laws of our state and nation," Alabama GOP chair Terry Lathan said on Twitter.
Alabama Republican Party Chair Terry Lathan said Thursday that Alabamians expect their leaders to follow the law. Her comments came in response to news that an arrest warrant had been issued for State Rep. Will Dismukes, R-Prattville, on the charge of felony theft.
"Will Dismukes matter: We expect our elected officials, regardless of Party, to follow the laws of our state and nation," Lathan said on Twitter. "No one is immune to these standards. It is very disappointing to hear of these allegations. This is now a legal matter and it must run its course."
Will Dismukes matter:
We expect our elected officials, regardless of Party, to follow the laws of our state and nation. No one is immune to these standards. It is very disappointing to hear of these allegations.This is now a legal matter and it must run its course. #alpolitics

— Terry Lathan (@ChairmanLathan) August 6, 2020
Speaker of the House Mac McCutcheon, R-Monrovia, said Friday in a statement that Dismukes will get his day in court.
"As a former law enforcement officer, I have faith in the criminal justice process and trust that he will receive a full and fair hearing," McCutcheon said. "Both Democrats and Republicans have been accused of similar crimes in the past, and we cannot tolerate such behavior whether the lawmaker involved has a D or an R beside their name."
Dismukes has been charged by his former employer, a custom flooring company, of felony theft charges. Dismukes left that employer and started his own custom flooring company.
Dismukes, who is serving in his first term and is one of the youngest members of the Alabama Legislature, has been heavily criticized for his participation in a birthday party for Confederate Lt. General Nathan Bedford Forrest in Selma. Forrest was also the first grand wizard of the Ku Klux Klan.
The party in Selma occurred the same week that Congressman John Lewis's funeral events were happening in Selma. Dismukes resigned his position at Valley Baptist Church when the Southern Baptists threatened to disassociate the Prattville Church if they retained Dismukes. He has defiantly refused to step down from the Legislature, but if convicted of a felony, he would be automatically removed from office.
Both Democrats and Republicans have called for Dismukes to resign from the Alabama House of Representatives over his being the chaplain of the Prattville Sons of Confederate Veterans and his Facebook post lauding Forrest. The investigation into the theft predates the controversies surrounding Dismukes's glorification of the Confederacy and Forrest.
Republican State Sen. Clyde Chambliss, who also represents Prattville, has called on Dismukes to resign.
"Since first being elected in 1996, I've had a policy of not publicly criticizing other elected officials, but at this time I am making an exception since Rep. Dismukes is MY state representative. He does not represent my views or the views of the vast majority of people of District 88," Chambliss said. "The post is bad enough, the timing is even worse, but the real problem is that an elected official in 2020 would attend a celebration of the life of someone that led a group that terrorized and killed other human beings. He has had 24 hours to understand why people are so upset, but his interview on WSFA a few moments ago confirms that he is lacking in understanding and judgment — he should resign immediately."
Alabama Democratic Party Chairman State Rep. Chris England, D-Tuscaloosa, has repeatedly called for Dismukes to resign from the Alabama House of Representatives.
The Alabama Democratic Party recently said in a statement, "Will Dismukes is morally unfit for office. Republicans and Democrats statewide seem to agree. Unfortunately, despite the mounting calls for his immediate resignation, Will intends to stay in office and seek re-election without penalty from the Republican Party."
"While Alabama Republicans hope this will be a distant memory when Dismukes runs for re-election in 2022, we are not going to let him off the hook," the ADP wrote. "The Alabama Democratic Party is going to leverage every tool we have to send Will packing when he comes up for re-election in two years."
"In our darkest hours in life there is still light in Christ!" Dismukes wrote on social media Wednesday. "As the storm continues to blow with heavy force, there is yet a peace that this too shall pass. I guess sometimes we find out if we have built our house on sand or the solid rock of Christ. Psalm 23."
When Speaker of the House Mike Hubbard, R-Auburn, was indicted on 21 charges of felony ethics violations, he did not resign and actually remained speaker until a jury of his peers in Lee County convicted him on 12 counts.