Opinion | America's most sensitive man is hosting an ego-soothing extravaganza. Don't watch it.
Don't watch it. 
Don't spend a second of your Fourth of July on the gaudy, misguided, un-American and ego-soothing monstrosity that will be Trump's Independence Day celebration. A military extravaganza created by a man-child that would soothe even the most craven dictators of the world — men who the U.S. president is now oddly friendly with. 
But don't watch it. Don't let your children watch it. Don't excuse it as normal behavior. 
And for God's sake, don't ever pretend that this is normal for this country. 
Because it's not. In fact, it's the opposite of what this country has always stood for, the opposite of how we've behaved, the opposite of the image we've portrayed to the world. 
We've never needed to flex. Because the might of the U.S. has never been in question. 
It still isn't. 
We've just managed to elect as president a man so damaged and deranged, so unapologetically insecure that he finds some weird level of satisfaction in watching the U.S. military parade past him, like a teenager on YouTube showing off his assault rifles and handguns. 
It's pathetic. 
A number of American presidents prior to Trump — both Republican and Democratic — have explained why this country doesn't have such shows of military strength, but no one said it better than general-turned-President Dwight Eisenhower. 
"Absolutely not," Eisenhower told his aides, according to historian Michael Beschloss, when such a parade was proposed. "We, the United States, are seeking peace, we are the pre-eminent power on earth. For us to try to imitate what the Soviets are doing in Red Square would make us look weak."
That's why, on our Independence Day, we have celebrated not with tanks and marching soldiers, but with apple pie, hot dog eating contests, fireworks and beer. 
Our Independence Day has been a time for us to celebrate the country we have, to gather with family and friends and laugh, to enjoy the freedoms and riches that this country provides. 
What better way to demonstrate the values of freedom and democracy to the rest of the world than by celebrating our most important war victory with pie and songs rather than phony demonstrations of military might. 
I guess it shouldn't be a surprise that President Bone Spurs doesn't understand this. Any man who would separate 4-month-old children from their parents, and stuff desperate and scared people into cages and treat them like animals, undoubtedly struggles to comprehend the basic tenets upon which this country was built and has maintained its standing for going on 250 years. 
Kindness, compassion and love have been the values we've sold to the world, right up until the very moment we could no longer do so. 
We took our role as the moral compass of the world so seriously that we planted a gigantic statue in our most famous harbor with a sign that encouraged the tired, the hungry, the poor, the huddled masses yearning to breathe free from any country to come to our door. 
We welcomed the immigrant, and then told stories with pride of how this country gave them and their future generations immeasurable riches. We didn't fear them, we didn't demean them and we damn sure didn't take their children and demoralize them. 
Every day, it seems, Trump and his band of nazis and rapacious clowns seek to undermine another foundation of this country and demonstrate to the world that we are not that "beacon on a hill" that President Ronald Reagan described. 
Thursday will be just the latest attempt by Trump to project a more callous, cruel and insecure America. 
I'm begging you. Don't help him.
Opinion | Counting on good Neighbors
Even though Neighbors is likely a long shot, he's at least got a shot. The people of District 4 need to vote in their best interest this year, not to help Aderholt get richer off the taxpayers' hard-earned money.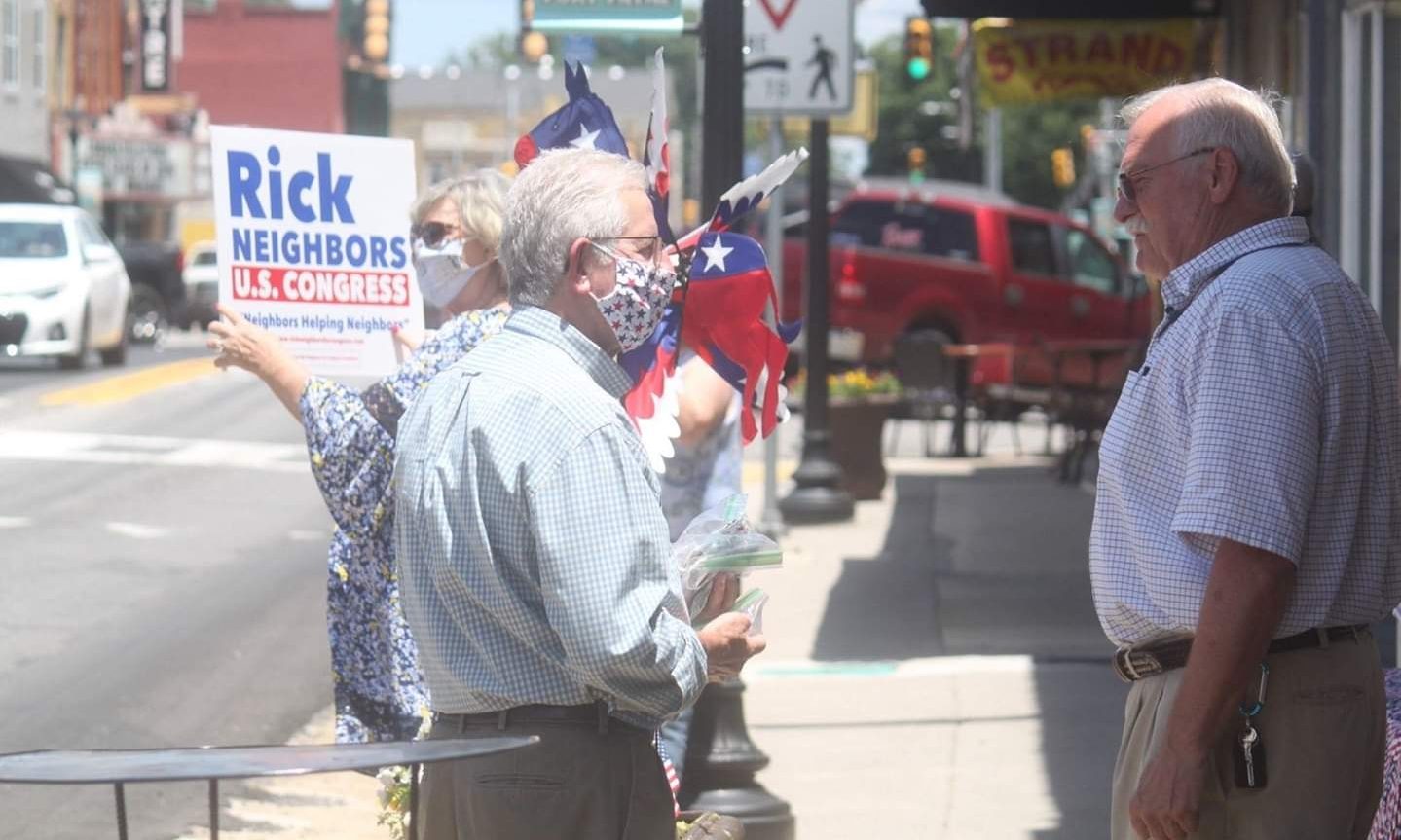 There's a lot of reasons we know it's an election year — political ads on television, presidential debates, Donald Trump super-spreader campaign rallies.
Editor's note
This is an opinion column and represents the opinion of its author. The Alabama Political Reporter does not endorse political candidates.
Oh, and Republican U.S. Rep. Robert Aderholt is back in his congressional district. Every couple years, Aderholt shows up. So he can "appear" connected to Alabama's 4th Congressional District.
The 4th Congressional District starts just north of Birmingham and stretches horizontally across the state. The district includes Colbert, Cullman, DeKalb, Etowah, Fayette, Franklin, Lamar, Lawrence, Marion, Marshall, Walker and Winston counties as well as parts of Blount, Cherokee, Jackson and Tuscaloosa counties.
Aderholt pops in for a few campaign events, and then pops out to his real residence in suburban Washington D.C. He's no more an Alabamian than Florida's Tommy Tuberville.
Aderholt does have opposition this year in Democratic nominee Rick Neighbors, a Vietnam veteran who truly helps his neighbors. Early in the pandemic, Neighbors was passing out masks door-to-door in the district. He's continued to help his neighbors throughout the pandemic with anything he can do.
"Being in Congress means being here and working with the people," Neighbors says on his website. "In 24 years, Rob Aderholt has left us behind to focus on his radical agenda and gotten rich in Congress."
That's from a campaign website, but it's absolutely true. Aderholt is still talking about expanding broadband access in his rural district. It's one of the few issues he talks about every two years, for 24 years, without ever getting anything done.
Seriously. Name something Aderholt has done for his district or Alabama in the more than two decades he's been in Congress. I won't hold my breath.
And if you don't think Neighbors's campaign isn't a little worrisome for Aderholt supporters, why are all the Neighbors signs disappearing from his district?
Adults, acting like sixth-graders, love to pull up political signs. Even in my comfortably Democratic neighborhood, some Doug Jones for Senate signs disappear. And, oddly in my neighborhood, I saw an actual Tommy Tuberville sign that had been pulled down in front of some misplaced person's yard. It happens on both sides.
But in the 4th Congressional District, and especially in the Cullman County area, it's hard for Neighbors and his staff to keep signs in place.
"Cullman has come down, and we have had to replace almost all our signs in Winston County," said Neighbors's campaign manager Lisa Ward. As for Winston County, Ward said, "we were told those are gone again."
Can anybody be more junior high?
"We've seen places where our sign was, and it's been replaced by Aderholt signs," Ward said. "When we put signs out, we leave his and put ours next to his. We joke and say everyone needs friendly neighbors around."
The Neighbors campaign does have the right spirit. They just work to replace the signs that disappear. But it is aggravating, to say the least.
"Someone told us that Aderholt is really worried if people find out he has an opponent or doesn't live here he could struggle," said Ward. "That's why he's not mentioning (Neighbors's) campaign. And why we think they're taking his signs down. So people don't know. It's really about people not getting a chance to know they have a choice. And there is no time to hear who he is."
Well, here's who he is: Neighbors served three tours in Vietnam during that war, enlisting when he was 17 years old. After the service, he got a college degree, then spent 35 years in the apparel business in North Alabama.
Neighbors and his wife, Judy, have three children, and Neighbors recently earned an MBA from the University of North Alabama.
Neighbors would be a breath of fresh air for Alabama in Washington. He won't live there. He'll be grounded in the 4th Congressional District.
If Aderholt wins, we won't see him again until 2022. Twenty-four years in Congress is plenty of time to get something done. But with Aderholt, there's not much to show for all that time.
And even though Neighbors is likely a long shot, he's at least got a shot. The people of the 4th District need to vote in their best interest this year, not to help Aderholt get richer off the taxpayers' hard-earned money.