John Merrill: Voter registration hero or villain?
In Secretary of State John Merrill's announcement video for his 2020 Senate bid, Merrill said, "Doug Jones does not represent Alabama values."
On most political issues, Merrill is a strict conservative, like many Alabamians. His beliefs about voter registration are no exception.
Merrill has said he views voting as a constitutional right, but one that requires some effort. See, for example, this video where he says, "As long as I'm Secretary of State of Alabama you're gonna have to show some initiative to become a registered voter in this state," and "Just because you turned 18 doesn't give you the right to do anything." 
Since becoming the top election official, Merrill has positioned himself as a strong proponent of strict voter ID laws and enforcement of those laws. In 2011, Merrill was a co-sponsor of the bill that eventually became Alabama law requiring citizens to present a valid form of state-issued photo ID in order to vote.
"We think that it's important to emphasize that our desire is to have each and every eligible U.S. citizen that's a resident of Alabama register to vote and have a photo ID," Merrill said. 
In an interview with NBC in 2015, Merrill defended Gov. Robert Bentley's decision to close 31 driver's license offices across the state, many of which were in Alabama's "black belt" counties. Every single one of Alabama's counties where the black population made up at least 75 percent of the total county population suffered a closing. A federal investigation found that the move caused "a disparate and adverse impact on the basis of race," which was likely especially harmful when considering that Black and Latino citizens are already almost twice as likely to lack acceptable photo ID. 
Merrill made it clear, though, that the move was based on budget cuts, and that all voters still had the opportunity to gain an official voting-only ID at no cost at their local registrars office in all 67 counties in the state. In addition, Merrill has long touted mobile units the state sends for citizens to obtain an ID, free of charge.
He is an opponent of automatic voter registration, claiming that it is not right to force into the system those who do not want to be registered voters. "Why do things that aren't beneficial?" Merrill said in a phone interview on July 1 when asked whether he would support an opt-out automatic voter registration system. 
"Well, I think [automatic voter registration] is a party matter, and probably, this is the party line. Because automatic voter registration is something that is catching on in the predominantly democratic states," said Robert McCurley, adjunct professor at both the Cumberland School of Law and the University of Alabama Honors College.
In the seven states and Washington D.C. that have "been operating the [automatic registration] program long enough for meaningful results to be available," voter registration rates have increased 37.9 percentage points on average, when compared to registration estimates if the automatic system not been adopted, according to a study by the Brennan Center for Justice.
In other ways, Merrill has shown a willingness to expand the right to vote. 
In 2017, Gov. Kay Ivey signed a law that enfranchised thousands of people who had been convicted of felonies, and advocates praised the move as a positive step for voting rights. It is estimated that around 60,000 people were affected by this legislation, and Merrill took steps to ensure that those affected by the law are allowed to register to vote if they attempted to do so. He notified registrars and set up a training with them to make certain that felons that are eligible under the new law are allowed to register.
Merrill, however, refused to launch a public awareness campaign to alert eligible voters about their restored voting rights."Do you know who wrote that bill?" Merrill asked. "That would be me," he said. Merrill said that he organized the committee that studied the issue and also worked to move the Definition of Moral Turpitude Act through the legislature. 
Once the bill passed, Merrill said he and his office worked with law enforcement, sent out press releases and spoke to different special interest groups to make sure they all knew that it had passed. 
"I don't know what more I'm expected to do, because if it weren't for me, it wouldn't even happen. We had a team that put that effort together and we had a team that worked to make sure that it was accomplished. And that's what we did, and that's it," he concluded.
Instead, he said his focus would remain on reaching the general population and promoting the opportunity for every citizen to obtain a photo ID.
 "We don't favor any group, we don't promote any group. We work for everybody, every group, all across the state," Merrill said.
While some of his actions may raise eyebrows of sharp-eyed citizens, voter registration has increased under Merrill's tenure as Secretary of State. Merrill said that 96 percent of eligible African-Americans in Alabama are registered to vote, and 94 percent of the total eligible population is registered. Alabama boasts a state record 3,495,143 registered voters now, Merrill said. In 2014, one year before Merrill took office as Secretary of State, there were only 2,948,786 registered voters in Alabama.
Merrill has taken genuine steps to encourage the general population to participate in the political process, like sending out a mobile unit across the state to give free photo IDs out to citizens and ensuring local election offices are open during the same hours of the courthouse in every county. And according to a 2018 article from The Auburn Plainsman, he has even gone to individual homes to deliver photo IDs to people who were unable to visit local offices or the mobile unit when it is in their county. He also makes it a point to visit all of Alabama's 67 counties, speaking to groups large and small stressing the importance of registering. 
"I think he's made it easier to register, it's just a matter of motivation," McCurley said.
U.S. Supreme Court rules Alabama can ban curbside voting
"The District Court's modest injunction is a reasonable accommodation, given the short time before the election," the three dissenting justices wrote.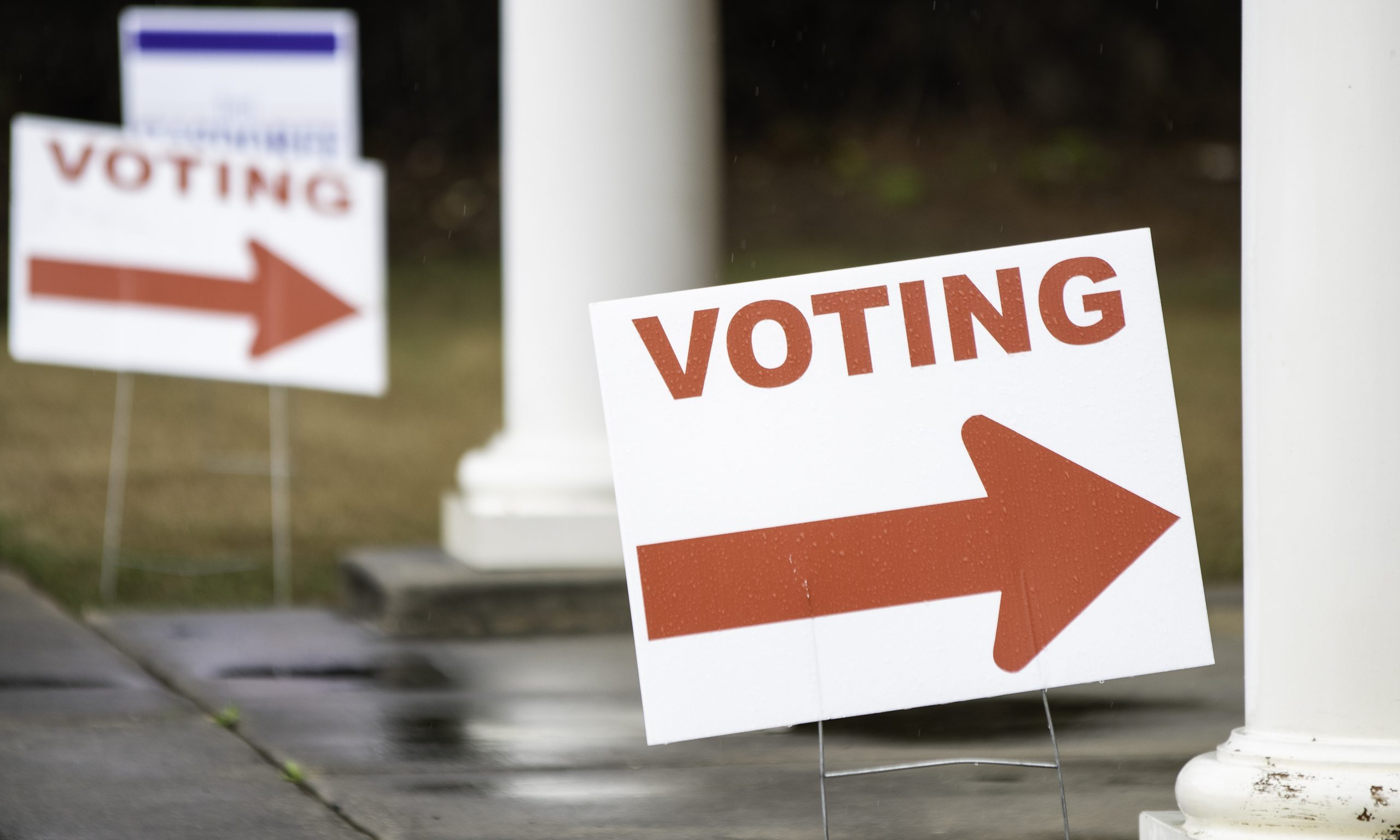 The Supreme Court, in a 5-3 decision, allowed Alabama Secretary of State John Merrill to ban curbside voting, staying a district court injunction that had allowed some counties to offer curbside voting in the Nov. 3 election amid the COVID-19 pandemic.
The Supreme Court's majority in its order declined to write an opinion, but Justices Stephen Breyer, Elena Kagan and Sonya Sotomayor's five-page dissent is included.

The lawsuit — filed by the NAACP Legal Defense and Educational Fund, Southern Poverty Law Center, American Civil Liberties Union, ACLU of Alabama and Alabama Disabilities Advocacy Program — was brought on behalf of several older Alabamians with underlying medical conditions.
"The District Court's modest injunction is a reasonable accommodation, given the short time before the election," the three dissenting justices wrote. 
Sotomayor, who wrote the dissent, closed using the words of one of the plaintiffs in the case. 
"Plaintiff Howard Porter Jr., a Black man in his seventies with asthma and Parkinson's disease, told the District Court, '[So] many of my [ancestors] even died to vote. And while I don't mind dying to vote, I think we're past that – We're past that time,'" Sotomayor wrote. 
Alabama Secretary of State John Merrill on Wednesday applauded the Supreme Court's decision. 
"I am proud to report the U.S. Supreme Court has now blocked a lower court's order allowing the fraudulent practice of curbside voting in the State of Alabama," Merrill said in a statement. "During the COVID-19 pandemic, we have worked diligently with local election officials in all 67 counties to offer safe and secure voting methods – including through the in-person and mail-in processes. I am glad the Supreme Court has recognized our actions to expand absentee voting, while also maintaining the safeguards put into place by the state Legislature."
"The fact that we have already shattered voter participation records with the election still being 13 days away is proof that our current voting options are easy, efficient, and accessible for all of Alabama's voters," Merrill continued. "Tonight's ruling in favor of election integrity and security is once again a win for the people of Alabama."
Sherrilyn Ifill, president and director-counsel of the NAACP Legal Defense and Education Fund, expressed frustration after the ruling in a tweet.
"Another devastating loss for voters and a blow for our team fighting to ensure safe voting for Black and disabled voters in Alabama. With no explanation, the SCOTUS allows Alabama to continue making it as hard as possible for COVID-vulnerable voters," Ifill wrote.
Curbside voting is not explicitly banned by state law in Alabama, but Merrill has argued that because the practice is not addressed in the law, he believes it to be illegal. 
A panel of federal appeals court judges on Oct. 13 reversed parts of U.S. District Judge Abdul Kallon's Sept. 30 order ruling regarding absentee voting in the upcoming Nov. 3 elections, but the judges let the previous ruling allowing curbside voting to stand. 
In his Sept. 30 ruling, Kallon wrote that "the plaintiffs have proved that their fears are justified" and the voting provisions challenged in the lawsuit "unduly burden the fundamental Constitutional rights of Alabama's most vulnerable voters and violate federal laws designed to protect America's most marginalized citizens."
Caren Short, SPLC's senior staff attorney, in a statement said the Supreme Court's decision has curtailed the voting rights of vulnerable Alabamians.
"Once again, the Supreme Court's 'shadow docket' – where orders are issued without written explanation – has curtailed the voting rights of vulnerable citizens amidst a once-in-a-century public health crisis. After a two-week trial, a federal judge allowed counties in Alabama to implement curbside voting so that high-risk voters could avoid crowded polling locations," Short said. "Tonight's order prevents Alabama counties from even making that decision for themselves. Already common in states across the South and the country before 2020, curbside voting is a practice now encouraged by the Centers for Disease Control and Prevention (CDC). It should be a no-brainer to implement everywhere during a pandemic; the Alabama Secretary of State unfortunately disagrees, as does the Supreme Court of the United States."