John Merrill: Voter registration hero or villain?
In Secretary of State John Merrill's announcement video for his 2020 Senate bid, Merrill said, "Doug Jones does not represent Alabama values."
On most political issues, Merrill is a strict conservative, like many Alabamians. His beliefs about voter registration are no exception.
Merrill has said he views voting as a constitutional right, but one that requires some effort. See, for example, this video where he says, "As long as I'm Secretary of State of Alabama you're gonna have to show some initiative to become a registered voter in this state," and "Just because you turned 18 doesn't give you the right to do anything." 
Since becoming the top election official, Merrill has positioned himself as a strong proponent of strict voter ID laws and enforcement of those laws. In 2011, Merrill was a co-sponsor of the bill that eventually became Alabama law requiring citizens to present a valid form of state-issued photo ID in order to vote.
"We think that it's important to emphasize that our desire is to have each and every eligible U.S. citizen that's a resident of Alabama register to vote and have a photo ID," Merrill said. 
In an interview with NBC in 2015, Merrill defended Gov. Robert Bentley's decision to close 31 driver's license offices across the state, many of which were in Alabama's "black belt" counties. Every single one of Alabama's counties where the black population made up at least 75 percent of the total county population suffered a closing. A federal investigation found that the move caused "a disparate and adverse impact on the basis of race," which was likely especially harmful when considering that Black and Latino citizens are already almost twice as likely to lack acceptable photo ID. 
Merrill made it clear, though, that the move was based on budget cuts, and that all voters still had the opportunity to gain an official voting-only ID at no cost at their local registrars office in all 67 counties in the state. In addition, Merrill has long touted mobile units the state sends for citizens to obtain an ID, free of charge.
He is an opponent of automatic voter registration, claiming that it is not right to force into the system those who do not want to be registered voters. "Why do things that aren't beneficial?" Merrill said in a phone interview on July 1 when asked whether he would support an opt-out automatic voter registration system. 
"Well, I think [automatic voter registration] is a party matter, and probably, this is the party line. Because automatic voter registration is something that is catching on in the predominantly democratic states," said Robert McCurley, adjunct professor at both the Cumberland School of Law and the University of Alabama Honors College.
In the seven states and Washington D.C. that have "been operating the [automatic registration] program long enough for meaningful results to be available," voter registration rates have increased 37.9 percentage points on average, when compared to registration estimates if the automatic system not been adopted, according to a study by the Brennan Center for Justice.
In other ways, Merrill has shown a willingness to expand the right to vote. 
In 2017, Gov. Kay Ivey signed a law that enfranchised thousands of people who had been convicted of felonies, and advocates praised the move as a positive step for voting rights. It is estimated that around 60,000 people were affected by this legislation, and Merrill took steps to ensure that those affected by the law are allowed to register to vote if they attempted to do so. He notified registrars and set up a training with them to make certain that felons that are eligible under the new law are allowed to register.
Merrill, however, refused to launch a public awareness campaign to alert eligible voters about their restored voting rights."Do you know who wrote that bill?" Merrill asked. "That would be me," he said. Merrill said that he organized the committee that studied the issue and also worked to move the Definition of Moral Turpitude Act through the legislature. 
Once the bill passed, Merrill said he and his office worked with law enforcement, sent out press releases and spoke to different special interest groups to make sure they all knew that it had passed. 
"I don't know what more I'm expected to do, because if it weren't for me, it wouldn't even happen. We had a team that put that effort together and we had a team that worked to make sure that it was accomplished. And that's what we did, and that's it," he concluded.
Instead, he said his focus would remain on reaching the general population and promoting the opportunity for every citizen to obtain a photo ID.
 "We don't favor any group, we don't promote any group. We work for everybody, every group, all across the state," Merrill said.
While some of his actions may raise eyebrows of sharp-eyed citizens, voter registration has increased under Merrill's tenure as Secretary of State. Merrill said that 96 percent of eligible African-Americans in Alabama are registered to vote, and 94 percent of the total eligible population is registered. Alabama boasts a state record 3,495,143 registered voters now, Merrill said. In 2014, one year before Merrill took office as Secretary of State, there were only 2,948,786 registered voters in Alabama.
Merrill has taken genuine steps to encourage the general population to participate in the political process, like sending out a mobile unit across the state to give free photo IDs out to citizens and ensuring local election offices are open during the same hours of the courthouse in every county. And according to a 2018 article from The Auburn Plainsman, he has even gone to individual homes to deliver photo IDs to people who were unable to visit local offices or the mobile unit when it is in their county. He also makes it a point to visit all of Alabama's 67 counties, speaking to groups large and small stressing the importance of registering. 
"I think he's made it easier to register, it's just a matter of motivation," McCurley said.
Print this piece
Sanders campaign seeking Bernie Victory Captains in Alabama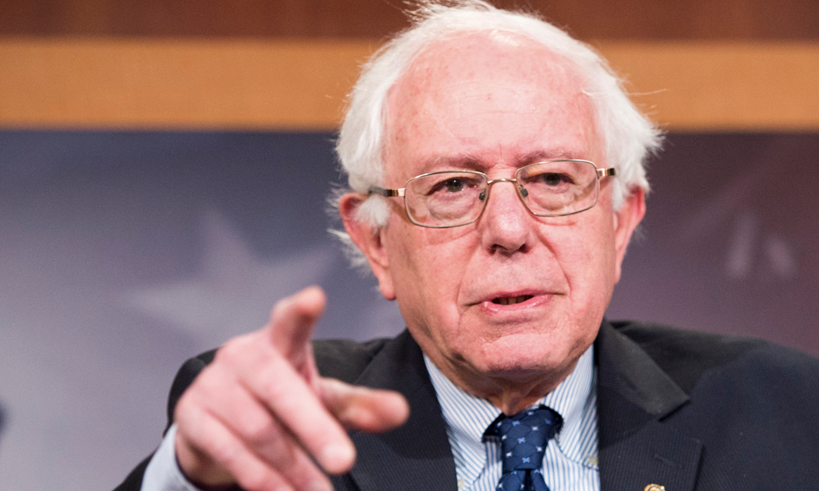 Saturday the Bernie Sanders for President campaign announced that they are seeking Bernie Victory Captains in Alabama who will host at least one Bernie event every week between now and the Alabama presidential primary on March 3.
"As a Bernie Victory Captain, you will host voter contact events like phone banks and Bernie Journeys to the states that vote before us that are vital to securing support for Bernie and our movement," the Sanders campaign wrote in recruiting emails. "You will be working with world-class organizers and dedicated supporters across the country."
"Voting for the Democratic nominee who will take on Trump is well underway," the campaign continued. "We won Iowa and New Hampshire, and mail-in and early voting ballots are being cast across the country. Before we know it, it will be your state's turn to vote! So we're looking for supporters in Alabama to join our Bernie Victory Captain program. Bernie Victory Captains are supporters who can commit to hosting one event a week between now and the Alabama primary."
Bernie Victory Captains are leading teams of people canvassing neighborhoods. They also played important roles in Sanders' win in New Hampshire and close second place finish in Iowa. Sanders had more votes in Iowa than South Bend Mayor Pete Buttigieg; but the Iowa Democratic Party ruled that because Buttigieg won more caucuses that he was the winner of Iowa and not Sanders.
"A volunteer I hosted on a Bernie Journey to New Hampshire this weekend just emailed to tell me she wouldn't have volunteered if she didn't see the event near her. Heartwarming," on Bernie Victory Captain wrote.
"Conquered my fear of canvassing. Hosted my third canvass yesterday and it went GREAT!!" another wrote.
Sanders is a U.S. Senator from Vermont. Though Sanders is an independent and a self-proclaimed socialist he caucuses with Senate Democrats.
The pro-Bernie group: Our Revolution wrote in an email: "The corporate media and the billionaire class have escalated their propaganda against Bernie and our movement."
"Chris Matthews had a near hysterical breakdown on MSNBC about being "executed" in Central Park if Bernie is elected," the group continued. "The former head of Goldman Sachs said that Bernie would "ruin" the American economy. MSNBC pretended that Buttigieg, Klobuchar, and Biden are one candidate to justify not admitting that Bernie is the frontrunner in the presidential primary race."
"As our vision of a just government that represents working people continues to gain momentum, their attacks will only become more vicious," the group continued. "Our Revolution is organizing all over America to support Bernie and a wave of progressive candidates who share our values. Rush a donation now to help us fight back against increasingly desperate corporate propaganda and organize to win in Nevada and all over the country!"
Former Vice President Joe Biden (D) had appeared to be the Democratic frontrunner; but his campaign was rocked by disappointing finishes in both Iowa and New Hampshire. Biden has been stung by GOP criticism that his son Hunter Biden profited from lucrative overseas deal in Ukraine and China off of Biden's tenure as Vice President.
Former New York City Mayor billionaire Michael Bloomberg has assembled a large campaign apparatus that includes hundreds of the Democratic Party's top operatives and strategists. He has spent more than $350 million of his own fortune into a months-long national advertising campaign that has lifted him in the polls as Biden has struggled in the early contests that Bloomberg ignored.
Bloomberg needs one more national poll sanctioned by the Democratic Party to show that he has ten percent support or more for him to participate in the next Democratic debate on Wednesday in Los Vegas. Sanders, Buttigieg, Biden, and U.S. Senators Amy Klobuchar (Minnesota) and Elizabeth Warren (Massachusetts) have already qualified to be on the debate stage.
Congresswoman Terri A Sewell, D-Selma, and U.S. Senator Doug Jones (D) have both endorsed VP Biden. The Alabama Democratic Conference and its leader Alabama Democratic Party Vice Chair for Minority Affairs Joe Reed has endorsed Bloomberg.
The Alabama Democratic Presidential primary will be on March 3.
People in states like California and South Carolina with early voting are already casting their ballots.
Original reporting by the Hill contributed to this report.
Print this piece