Tuberville discusses the issues with APR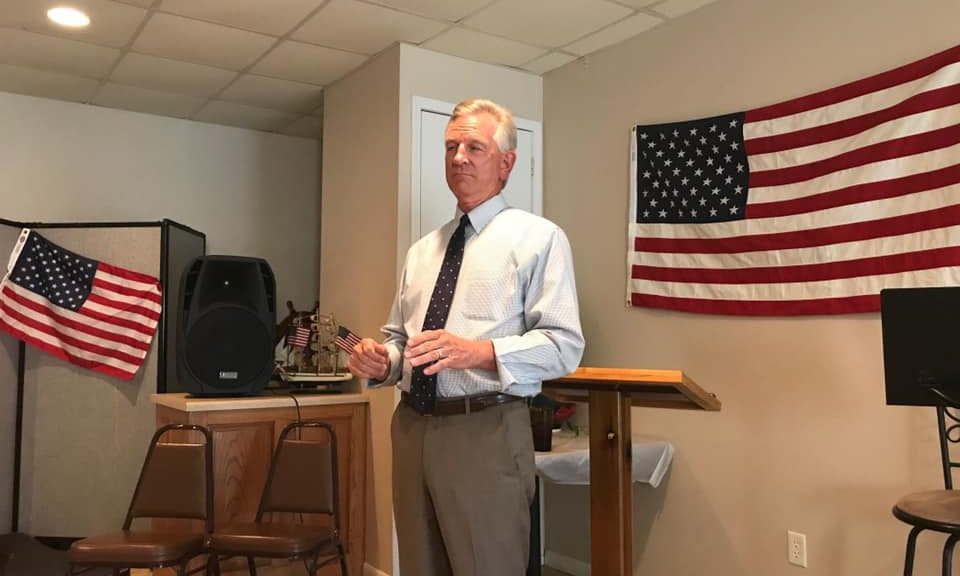 Former Auburn football coach turned U.S. Senate candidate Tommy Tuberville was in Clanton at the Hickory Chip Restaurant for a meet and greet with Chilton County community leaders Friday. Tuberville is running for the Senate seat currently held by Sen. Doug Jones, D-Alabama.
Tuberville agreed to speak to the Alabama Political Reporter about his positions on the issues facing this country.
APR asked Tuberville: You could still get a head coaching job somewhere, maybe at a smaller school, or you could get a job as an athletics director somewhere. Why are you running for the U.S. Senate?
"I am doing it for the country," Tuberville said. "I don't need the money, and I don't need a job. The people in Washington have become so consumed with partisanship that they are not worried with doing what is best for the American people anymore."
Tuberville said Washington needs people who can bring people together, which is what he said he has done throughout his career as a football coach.
APR asked: The president has proposed a 25 percent tariff on automobiles and automobile parts. Alabama has become a national leader in building automobiles, many of them with imported parts and those plants would be adversely impacted if those tariffs were implemented.
Tuberville said he is opposed to tariffs and called them "a tax on the American people."
Tuberville however expressed confidence that President Trump "knows what he is doing" on the trade negotiations and that the Senate should support him and his efforts.
Tuberville said intellectual property rights are the main thing, and foreign competitors like China are killing us on intellectual property.
APR asked if we would soon be at war with Iran.
Tuberville thought that a long protracted war with Iran was unlikely.
"The president did the right thing," Tuberville said. "They shot down one of our drones. That cost a lot of money."
But Tuberville agreed with the decision not to escalate to a full-blown attack on Iran in response.
"There are two things Iran cannot do," he said. "They can't attack our military, and they can't be allowed to get a nuclear weapon. They can't handle a nuclear weapon."
Tuberville said the regime in Iran has run their country into the ground and so wrecked their own economy that they are provoking us to deflect attention away from how bad things are there domestically.
APR asked: In 2016, Republicans ran promising to repeal and replace Obamacare, they didn't. Now many Democrats, including Sens. Bernie Sanders and Kamala Harris are running on replacing the Patient Protection and Affordable Care Act with a single payer model. Where do you stand on healthcare?
"It has been a disaster, even the Democrats know that, which is why they are moving on to something else," Tuberville said. "In most states, there is only one health insurer left."
Tuberville said he supports free-market reforms creating competition among healthcare insurers.
Tuberville said a government takeover of healthcare would be a disaster.
"Look at the V.A.," he said.
Tuberville said veterans have earned their benefits but aren't getting the care that they deserve, and he supports vouchers to allow veterans to go get the care that they need.
Tuberville said we can't afford single payer. The government is taking in over $4 trillion a year and is spending $5 trillion a year and that the national debt is $22 trillion going on $25 trillion.
Tuberville was a head football coach for 21 years compiling a 159 and 99 record, including an 85 and 40 record at Auburn. His best season was 2004 when he went 13 and 0 and won both the SEC Championship game and the Sugar Bowl. Tuberville also was the head coach at Ole Miss, Texas Tech and Cincinnati. He lives in Auburn.
Tommy Tuberville joins a crowded Alabama Republican primary field that includes businessman Stanley Adair, former Chief Justice Roy Moore, Secretary of State John Merrill, Congressman Bradley Byrne, R-Montrose, and State Rep. Arnold Mooney, R-Indian Springs. State Auditor Jim Zeigler is exploring running for Senate. John Paul Serbin and Marty Preston Hatley have both filed forms with the FEC as Republicans but have not announced. The Rev. Jarmal Jabbar Sanders has filed FEC forms exploring running as an independent but has made no announcement.
Jones is now the only candidate running in the Democratic Primary. The Washington Post recently declared Jones the most vulnerable Senate incumbent.
The Republican primary is March 3.
Trump Truck and boat parades this weekend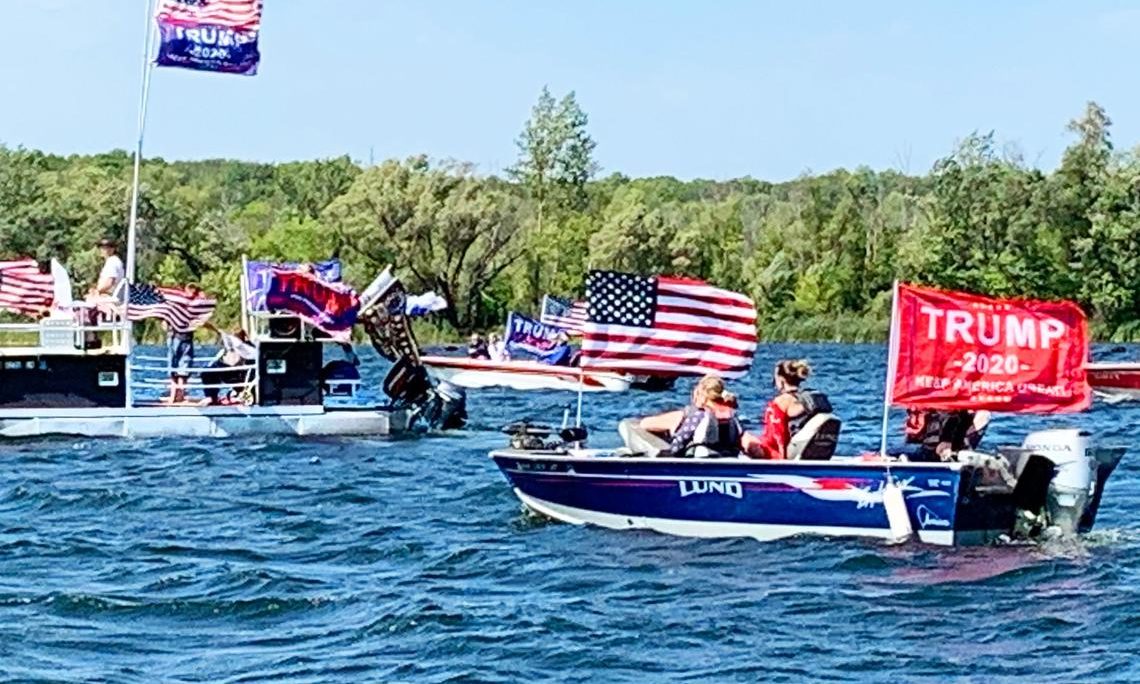 As Election Day draws near, Alabama Republicans are excited about promoting the re-election of Donald J. Trump as President and the election of Tommy Tuberville for U.S. Senate. This weekend two pro-President Trump events are happening in the state. There will be a truck parade from Ashland to Phenix City on Saturday sponsored by the Clay County Republican Party, while there will also be a boat parade on Wilson Lake in the Shoals sponsored by the Colbert County Republican Party on Sunday.
The pickup trucks will assemble at the Ashland Industrial Park in Clay County, 8240 Hwy 9, Ashland. There is a pre-departure rally at 10:00 a.m. central standard time. The trucks will depart at 11:00 a.m. and then proceed on a parade route that will take them into the bitterly contested swing state of Georgia. The Trump Pickup Parade will wind through east Alabama and West Georgia traveling through LaGrange and Columbus before concluding near the Alabama/Georgia line in Phenix City, 332 Woodland Drive, Phenix City at approximately 2:00 p.m. central time. Speakers will begin at 3:00. Trump flags will be on sale at the event.
The Phenix Motorsports Park will be hosting what sponsor hope could possibly the world's largest Pickup Tuck parade in U.S. history that is routing over 50 mile through Georgia in effort to "pickup" President Trump's numbers in GA.
A number dignitaries have been invited to address the Phenix City rally, including Coach Tuberville. Former State Sen. Shadrack McGill, Trump Victory Finance Committee member former State Rep. Perry O. Hooper Jr., and Paul Wellborn, the President and CEO of the largest Family owned Kitchen Cabinet manufacture in the USA are among the featured speakers who have committed to speak at the event.
Entertainment will be provided by: Charity Bowden, an up and coming country music singer who was the runner up on "The Voice". Charity will sing 'I am Proud to be an American' as well as songs from her Voice performances. The McGill Girls will also perform. The three beautiful and talented sisters will be singing patriotic songs in three part harmony. Geoff Carlisle, a professional DJ will be keeping the crowd pumped with music and entertainment.
Following the speakers and the entertainment there will Trump truck-vs- Joe Bidden truck races down the drag strip for the finale.
The Northwest Alabama boat parade will be on Sunday. The boats will gather at 2:00 p.m. near Turtle Point and then the flotilla will parade around the open waters of Wilson Lake til 3_00 p.m.. There will be a contest for best decorated Trump boats.
Trump supporters have held a number of large boat parades across the state to show their support for the re-election of Pres. Trump.
Boat parade sponsors say that this parade will be: pro-American, pro-law enforcement, pro-military.