Brooks votes against defense authorization act
Congressman Mo Brooks, R-Huntsville, on Friday, voted no on H.R. 2500, the FY 2020 National Defense Authorization Act on the House floor. Brooks said the bill was "hyper-partisan" and "badly-flawed."
The FY20 NDAA passed the House 220 to 197. Eight democrats and every republican voted against the bill.
The NDAA has been signed into law 58 consecutive years, and the House of Representatives usually passes the NDAA by an overwhelmingly bipartisan vote. For example, when Republicans were in charge, the House passed a bipartisan FY19 NDAA on a 351 to 66 vote with 131 Democrats voting in favor.
"America faces grave global threats. Iran is increasingly aggressive. China is building up its military," Congress said. "Russia is working to undermine NATO at every turn. America cannot afford to weaken our military standing. The relative world peace of the past seven decades relies heavily on America maintaining its military strength."
"Frankly, it's dangerous for Socialist Democrats to weaken national security at this time," Brooks continued. "I joined my republican colleagues and voted 'No' on the FY20 NDAA because, on the whole, it undermines America's border security and national security. It's unfortunate socialist democrats in the House in bad faith refused to support constructive republican floor amendments that were repeatedly and overwhelmingly voted down on party-line votes."
President Donald Trump has issued a veto threat against the FY20 NDAA.
"While the FY20 NDAA has good parts, ALL republican members of Congress, including myself, concluded that this FY20 NDAA simply puts too many American lives at risk," Brooks stated. "For starters, socialist democrats — blinded by their hatred for President Trump and crass lust for political power — blatantly used the FY20 NDAA to promote open borders by attacking, thwarting and undermining President Trump's existing border security powers and policies. To be clear, border security IS national security. The FY20 NDAA blocks President Trump from using existing law and existing funding to build a border wall or otherwise promote border security that protects and saves American lives. In so doing, socialist democrats support the deaths of over 30,000 Americans each year (2,000+ American deaths/year via homicides by illegal aliens on American soil [per Immigration and Customs Enforcement data] plus another 30,000+ American deaths/year from overdoses on poisonous drugs shipped across America's porous southern border [per Center for Disease Control and Drug Enforcement Agency data])."
Brooks said more Americans have died as a result of the porous southern border than have been killed in any American military conflict, excepting World War II and the Civil War.
"Socialist democrats insist on promoting their own electoral prospects by enticing and importing illegal aliens — and poisonous drugs they bring — to America," Brooks added. "Further dangerous weaknesses in the FY20 NDAA include, but are not limited to:
The FY20 NDAA is $17 billion below President Trump's defense budget request for Fiscal Year 2020. Socialist democrat spending cuts include hypersonic weapons development, ballistic missile defense, and the Ground Based Strategic Deterrent program— all of which are vitally important to America and the Redstone Arsenal defense community."
Brooks complained that the FY 2020 NDAA moves terrorists from Guantanamo Bay to the U.S. main-land, eliminates funding for the deployment of low-yield nuclear weapons needed to deter attacks by near-peer adversaries and "takes aim at Redstone Arsenal's Missile Defense Agency by preventing MDA from developing the space-based ballistic missile intercept layer that helps protect America from nuclear missile attacks."
"A space-based intercept capability is likely the best, and perhaps only, opportunity America has to employ boost-phase missile defense measures for nuclear-tipped intercontinental ballistic missiles, or hypersonic weapons, fired from nations with strong anti-access/area denial systems, including Russia and China," Brooks explained. "MDA should have the option to pursue a wide range of technologies in missile defense and must have the flexibility to research and develop systems that work, no matter if the platform is air-based, sea-based, land-based or space-based."
While Brooks opposes the bill as it is written, there are some provisions that the Huntsville congressman supports. These include $38 million is authorized for construction of an Aircraft and Flight Equipment Building on Redstone Arsenal, $40 million for construction of a new air traffic control tower and airport terminal on Kwajalein Atoll — a key component of America's missile defense assets, a Department of Defense report to Congress on progress made to enable accelerated integration of new missile capabilities into the Army Integrated Air and Missile Defense program, full funding for the development of the Army's Precision Guidance Kit – Anti-Jam, a Department of Defense briefing to defense committees regarding on board vehicle power technology and a Department of Defense report validated by MDA to the defense committees on the conduct and results of the Lower Tier Air and Missile Defense Sensor sense-off.
Brooks also applauded the bill's authorization of the Space Corps, popularly known as Space Force, lifting of the prohibition on standing up U.S. Space Command, support for the MDA's request to develop a space sensor layer to detect and track hypersonic weapon threats and a provision ensuring the Phase 2 National Security Space Launch program remains on schedule.
"It is unfortunate socialist democrats refused to work in a bipartisan manner — as republicans did when we held the House majority — to craft a bill that both republicans and democrats could support," Brooks concluded. "After voting 'No' on the FY20 NDAA in the Armed Services Committee, I held out hope the bill would be improved on the House floor. Unfortunately, the bill was made even worse by radical democrat amendments that were accepted and pro-defense republican amendments that were rejected by the majority party."
The NDAA now goes to the Senate where major changes are expected.
Sen. Jones: Millions for Alabama priorities in annual defense bill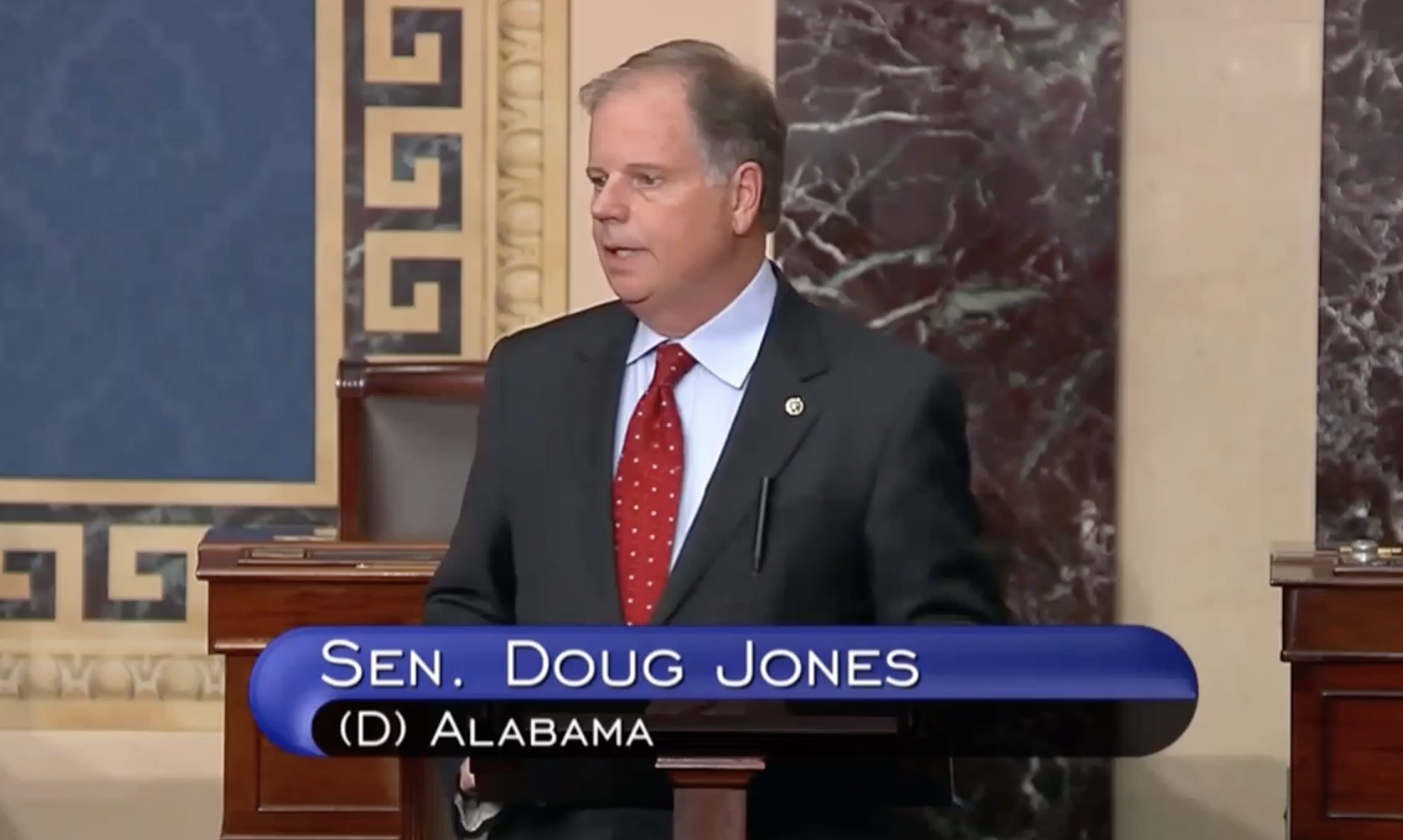 Sen. Doug Jones, D-Alabama, on Thursday highlighted how the latest National Defense Authorization Act could positively impact Alabama service members, state universities and businesses that work with the U.S. military.  
The fiscal year 2021 National Defense Authorization Act (NDAA), approved on Thursday by the Senate Armed Services Committee, now goes before the full Senate for a vote. 
"Alabama is an undisputed leader in securing our nation and this legislation recognizes that by providing significant funding for our troops, including a three-percent pay raise, and continued funding for our defense assets," Jones, a member of the Senate Armed Services Committee, said in a statement. "Each year, this bill is an example of the kind of work we can do when we come together on a bipartisan basis around a common goal – protecting our country and supporting our service members and their families. This bill provides the support and funding needed for Alabama to continue to lead in this effort, and I look forward to its passage in the full Senate soon."
Jone's office in a press release noted that the latest NDAA provides a three-percent pay raise for service members for a second year in a row, and addresses several quality of life issues for military children and spouses. 
Key provisions in the FY 2021 NDAA for Alabama's servicemembers and their families, military installations, and contractors and research institutions are listed below.
 Strengthening Alabama's Defense Infrastructure and Industry
$24 million for advanced electrical generation and storage facilities at Fort Rucker in Dale County;

$23 million for next generation fighter aircraft (F-35) facilities at Maxwell Air Force Base;

$18 million to construct a small arms parts demilitarization facility at the Anniston Army Depot;

$10 million to help steel manufacturers meet future defense needs, protecting current and future employment of thousands in Birmingham;

$5 million to improve efficiency and readiness at the Army's Aviation and Missile Center in Huntsville; and,

$2 million for the Aerospace Education Research and Innovation Center (AERIC) at Tuskegee University, and a $5 million increase overall for Historically Black Colleges and Universities.
Funding for Alabama's Contribution to the National Defense Strategy
$349.7 million for an additional THAAD ballistic missile defense battery, key parts made in Troy;

$35 million for Long Range Anti-Ship Missiles (LRASM), made in Troy;

$10 million for research into lightweight power sources for Navy ships. The University of Alabama conducts leading edge research and development of silicon carbide power sources;

$7.3 million for continued research and development of advanced plastics technology. The Mobile area is home to a company that is pioneering thermoplastic tailorable composite manufacturing;

$5 million for research into advanced repair and modification processes. The University of Alabama is currently working with the DoD to develop these technologies;

$5 million to complete development of new satellite technology. Huntsville is home to companies that are leaders in this field and are well-positioned to compete for these funds;

$5 million to accelerate the Army helicopter modernization program. Bell Helicopter, in Ozark, is participating in this program;

$3 million to develop a hypersonic missile testing facility. Huntsville is home to a number of companies that contribute to the Defense Department's hypersonics research and development;

$10.5 million to build a high energy laser system lab to help with the Army's weapons modernization programs. The Army's high energy laser program is headquartered at Redstone and works with a number of Huntsville companies; and,

$3 million for hybrid additive manufacturing research and development to help with the Army's weapons modernization programs. The additive manufacturing industry is robust and growing in Alabama, with research and development ongoing in Birmingham. 
Support to Improve the Safety and Health of Military Housing and Bases
Requires the Secretary of Defense to implement within 90 days all applicable security and emergency response recommendations to protect U.S. military installations, which follows a

call by Senator Jones to increase base security

after Enterprise, Alabama native Joshua Kaleb Watson was killed during a terrorist attack at Naval Air Station Pensacola last year; and,

Requires the Secretary of Defense to ensure that each installation conducts or develops a plan to conduct regular live emergency response training with first responders.
Funding for Coronavirus Response
Increases funding to support the Defense Department's coronavirus vaccine research and to integrate with other vaccine research programs; and,

Authorizes hazard pay for troops deployed in response to the coronavirus.
Expanding Support and Opportunity for Minority Service Members
Authorizes pilot programs to reduce barriers to participation in satellite ROTC programs and to provide flight training scholarships at HBCUs;

Takes steps toward identifying and eliminating barriers to minority participation in elite units in the armed forces; and,

Supports continuing and expanding the Air Force JROTC pilot training scholarship program to increase diversity in the pilot ranks and address the pilot shortage.
 Support for Military Spouses and Children
$50 million for Impact Aid to schools that serve military children;

$20 million for aid to military children with disabilities;

$15 million for Science, Technology, Engineering, and Math (STEM) youth educational programs (STARBASE);

Authorizes a pilot program to expand eligibility for attendance at DoD schools for military dependent children living off-base;

$4 million to continue development of interstate agreements on licensed occupations for military spouse; and,

Increases reimbursement to military spouses for state licensure and certification costs resulting from relocations.