Byrne addresses Shelby County Republican Women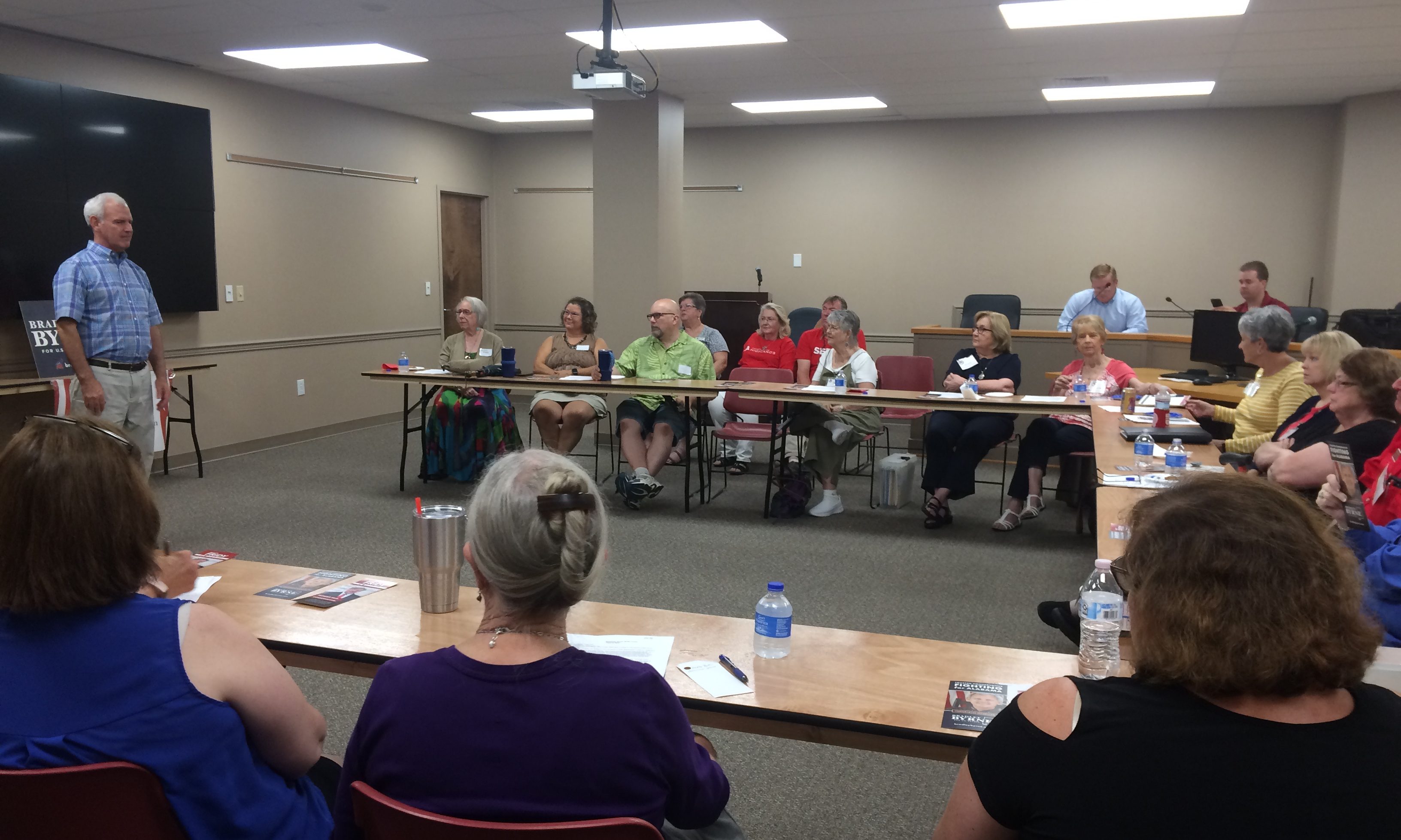 Congressman and U.S. Senate candidate Bradley Byrne, R-Montrose, addressed the Republican Women of Shelby County on Saturday.
Byrne said the fight between Republicans and Democrats in Washington is not just a fight over policies, but a fight over the fundamental values of this country.
"Their values are not our values," Byrne said. "They aren't American values."
"The Judeo-Christian value system that is the bedrock of America," Byrne said. "They find that offensive to them."
"They voted to repeal the Religious Freedom Restoration Act," Byrne said. "They view religious liberty as a secondary right, if it is a right at all."
"They are in a different culture than the one we live in," Byrne said. "We have a tradition in my family every Fourth of July to read the Declaration aloud."
"Governments are instituted to protect the rights of men, and by that the founders meant men and women," Byrne said. "My job is to make sure that government protects those rights."
"They are not evolving to be socialists, they are leaping to be socialists," Byrne said of congressional democrats.
Byrne said democrats are rushing to embrace Medicare for all.
"I am just a few months from 65, so this is something I really am interested in," Byrne said. "The people who are the trustees for the Medicare Trust Fund tells us that the fund only has a few years left, but instead of shoring it up to protect it for those Americans who have paid into the system for all of those years, they want to open it up to everyone. That will cost between $30 to $35 trillion. If you are on a private health insurance plan, you will be forced off of that plan. They think the government knows better than you or I how to run our lives."
"This room feels pretty good," Byrne said. "That is because of air conditioning, which comes from electricity from Alabama Power. They generate it by burning coal or natural gas. I kind of like this power."
Byrne said that the democrats want to take away power generated from coal or gas. The deans of two of the state engineering schools were up in Washington. "Can we get America off of coal and gas in ten years?" Byrne asked them. One said that you can, "but you are going to be cold in the winter, hot in the summer, and you are going to walk everywhere. And there won't be any cows."
"This is crazy," Byrne said, "But they are not unserious about this."
"They also don't value patriotism," Byrne said. "We are debating whether it is OK whether or not to show the Betsy Ross flag. It has never been controversial. The Betsy Ross flag was flown at Barack Obama's first inauguration, but now it is controversial because Colin Kaepernick says so. We all need to boycott all Nike products."
"They also don't value our men and women in uniform," Byrne said. "We had a vote last week to give them a four percent raise. All the republicans were voting for and the vast majority of democrats voting against."
"It is not so much a fight over policy, though that is part of it; it is a fight over values," Byrne said.
"We made a mistake in Alabama in 2017," Byrne said. "We elected somebody to the Senate who does not share our values."
"He voted against Judge (Brett) Kavanaugh," Byrne said of Sen. Doug Jones. "He voted against the Pain Capable Unborn Child Act."
"I want a senator who represents the people of Alabama," Byrne said. "My job is not to be Chuck Schumer's best friend."
"I am a sixth-generation Alabamian," Byrne said. "I live just a few miles away from where my ancestors settled in Baldwin County in the 1780s. The Byrnes have not gone far because we love it here."
"I am ready to fight for our values," Byrne said.
Byrne said he has a record as a fighter, citing when former Gov. Bob Riley asked him to run the state's Two Year College System.
Byrne said the two-year college system at the time "was at the heart of the corruption in Alabama's education system. And it was run by the AEA. The Alabama Education System was a much different one than the one we have today. They were controlled by Paul Hubbert and every day was a fight. I also had to cut $75 million from the system. I cleaned up a swamp."
"Our country's economy has not been this good since 1969, if it was that good then," Byrne said. "We are respected abroad, not liked in some quarters, but we are respected."
"I like being in the fight," Byrne said. "I need your support and your vote. I have to earn it. I am going to work as hard as possible. It is critical to the country. We made a mistake in 2017. We are not making that mistake in 2020."
Dawn Ray is the President of the Shelby County Republican Women. They meet monthly in the Shelby County Services Building in Pelham.
The Republican Primary is March 3.
Print this piece
Five patients with COVID-19 have died at EAMC hospital in Opelika
UPDATE: East Alabama Medical Center said Sunday that its death toll has increased to six.
Death toll at East Alabama Medical Center increases to 6
The number of patients who have died from COVID-19 at East Alabama Medical Center in Opelika since Friday has increased to six, the hospital said in a statement Sunday.
---
Five patients who were being treated for COVID-19 at East Alabama Medical Center in Opelika, Alabama, have died since Friday, the hospital said in a statement Saturday.
"Our hospital family expresses its collective condolences to the families of these five patients," said Laura Grill, EAMC President and CEO.  "As everyone knows, this virus has taken a toll on our nation and world, and our community is not exempt from that. Our hearts and prayers are with these families at this very difficult time."
Three of the patients were from Chambers County and two were from Lee County. The Alabama Department of Public Health is still investigating the deaths and has not updated their website to reflect them.
Hospital officials and ADPH are working through the process for official state determination before adding them to the COVID-19 death count.
"The ICU staff, respiratory therapists and physicians who worked most closely with these patients are especially struggling and we ask that the community lift them up today just as they have been lifting up our whole organization the past two weeks," Grill said.
EAMC is currently treating 19 patients hospitalized with a confirmed COVID-19 diagnosis. Five patients who were previously hospitalized with COVID-19 have been discharged. There are 22 patients who are currently hospitalized at EAMC with suspected COVID-19.
The number of hospitalized patients has more than doubled from seven on Tuesday. It anticipates more.
The county had at least 56 confirmed cases of COVID-19 by Saturday afternoon, more per capita than Jefferson County, Shelby County and Madison County. That number has also continued to grow. To the north, Chambers County, which falls under EAMC's service area, has the most cases per capita in the state, meaning there are more confirmed cases per person than any other county. That county's total stands at 17.
Many of the patients who have tested positive, according to EAMC, had a common "last public setting" in church services.
"While there are no absolute patterns among the confirmed cases in Lee County, one nugget of information does stand out a little—the last public setting for a sizable number of them was at church," East Alabama Medical Center said in a statement Friday night.  "Not at one church, or churches in one town, but at church in general."
The hospital has urged churches to move online and cancel in-person services. Some churches have continued to meet, as recently as last Sunday, despite "social distancing" directives from the Alabama Department of Public Health that prohibited non-work gatherings of 25 or more people.
EAMC is urging the public to act as if they are under a "shelter-in-place" at home order, as the state has so far refused to issue such a directive.
"EAMC is asking everyone to shelter in place at home," the hospital said in a statement Friday night. "Sheltering in place means you stay at home with immediate family members only and should not leave your home except for essential activities such as food, medical care, or work. You should not host gatherings of people outside of your immediate family. You should also maintain a 6-foot distance from other people as much as possible, wash your hands frequently for at least 20 seconds each time, and frequently disinfect high-touch surfaces."
It's also asking businesses that have access to personal protective equipment like gowns, masks, latex gloves and hand sanitizer to bring those items to a collection site outside of EAMC's main lobby. The site is open from 9 a.m. to 4 p.m. on weekdays.
This story is developing and will be updated.
Print this piece