Opinion | The new angry white mob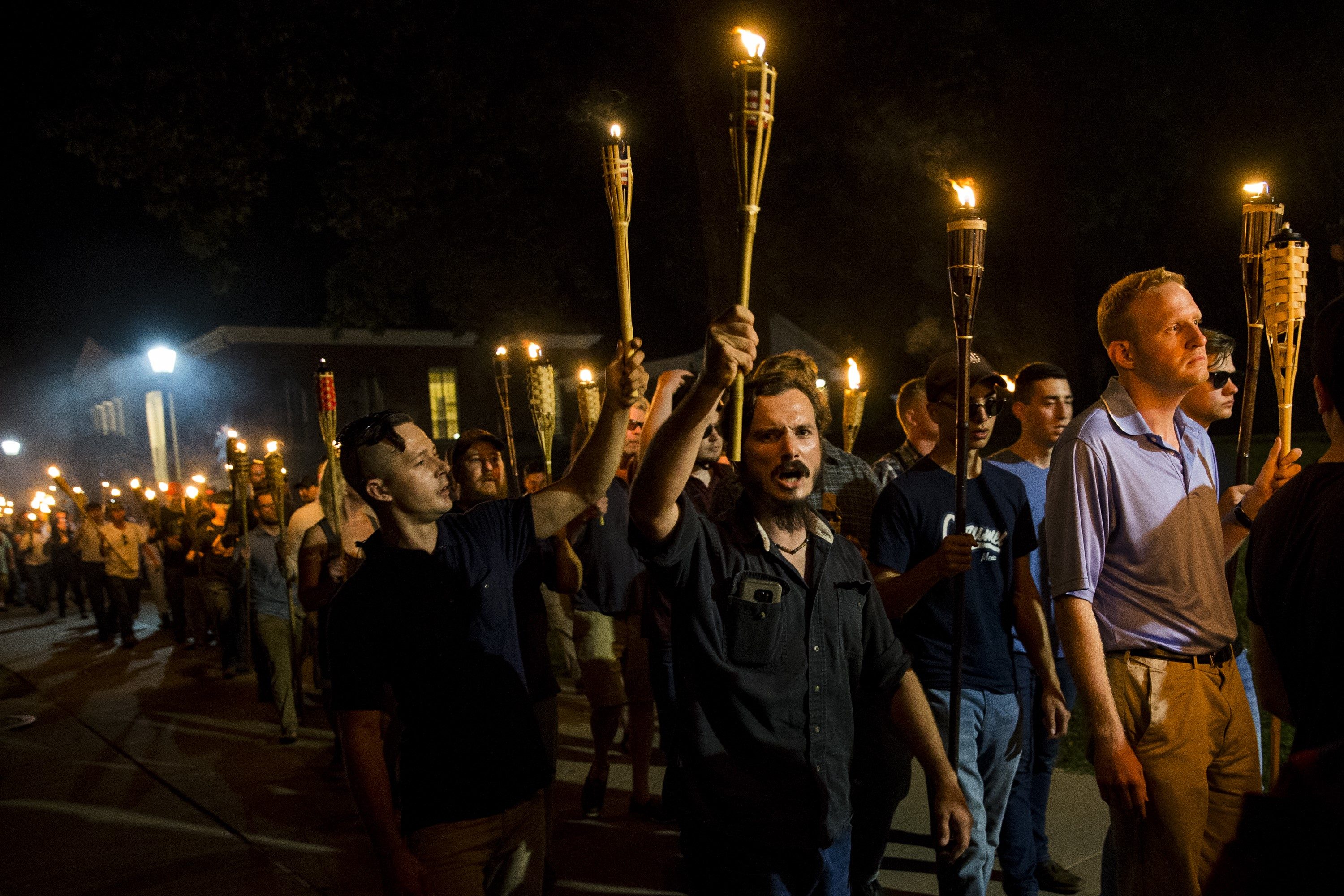 Growing up in Alabama, pictures from the Civil Rights Era were an almost daily part of life. 
Hardly a day in school went by without a picture of a famous civil rights icon or some famous event finding its way into a lesson. And it seemed no matter where you went in the state, there were famous landmarks from the Civil Rights Era, usually with black-and-white photos to remind everyone what took place at that location. 
Those photos stuck with me. To this day, I can remember even the smallest details about them.  
Because they were so confusing to me. 
Crowds of white people screaming at small black children, who were merely attending a school. Crowds of white people violently attacking black teens, who were merely sitting at a lunch counter. Crowds of white people assaulting black and white bus riders, who were merely on the same bus together. 
Most of the white people in those photos knew the camera was present. They knew other people could see them, would see them forever. 
But they didn't care. 
That made no sense to me. Not then, as a small kid. And not now, as an adult. 
That sort of red hot hatred for another human — a human whose only sin was a different skin color — was a concept I simply couldn't wrap my head around. 
I mean, there we were some 40 or 50 years after that photo was taken, with black Americans living and working with the same rights as white Americans, and things were pretty OK. Turns out, simply having black skin didn't make anyone less of a person.
That anyone thought it would be different was incredibly stupid. And that anyone — much less a large portion of the country — thought it was OK to demean, mistreat and denigrate other humans based solely on their ethnicity and origin was even more stupid. 
And yet, here we are today. 
With a whole new photo collection of angry white people screaming at other humans, justifying vile and demeaning mistreatment and turning a blind eye to horrible injustices — all because the angry mob has deemed their origins unworthy of equality. 
That America still makes no sense to me. 
But like George Wallace and the other white warriors of the the Civil Rights Era — the white men who stood for segregation and preached that God made the white man superior and proclaimed that any person who didn't like Jim Crow laws could go back to Africa — there is a whole new crop of pandering politicians, racists at their core, who have chosen to ride the mob rather than stand for the values and principles that have made America the greatest country on Earth. 
Leading this Neanderthal pack is, amazingly, Donald Trump — a self-pimping ego maniac of the highest order, but a man who is, oddly enough, probably not a racist himself. Because he is too dumb and self-centered to be a racist. 
Racism is an ideology. You need deeply held beliefs to be a racist. Trump does not hold any such beliefs. He merely believes whatever nonsense he needs to believe today in order to achieve whatever personal goal that will benefit him. 
Currently, stoking the flames of racism helps him retain his base of poor, white voters who lack a college degree. And so, he has stuffed Hispanic men, women and children — some as young as a few months old — into cages, denied them basic human rights and justified it all by pointing out that these people, who came to the U.S. because they were literally running for their lives, aren't born here. 
On Sunday, after many Democrats challenged him on these practices — and on his many, many awful comments — Trump responded by telling certain non-white, female members of Congress to, essentially, go back where they came from (even though all but one of them were born in the U.S.).  
Now, such comments, you would hope, given the photos and history that I mentioned earlier — and the way so many people now view those screaming white people in those pictures — would elicit a strong rebuke from all people in any position of power in America. 
But if you hoped that, you would be disappointed. Because instead of condemning Trump's comments, many of his Republican colleagues voiced support. It should not be a surprise to you, either, that these people used a tactic familiar to those in the Civil Rights Era — they turned the criticism of racism into criticism of America. 
As if demanding that all men, regardless of ethnicity and heritage, be treated equally and fairly is anything but the most American you can be. 
Regardless, by late Monday, there they were, ready for someone to snap the photo and freeze them in place forever. Alabama's Rep. Bradley Byrne was among them, offering to fly U.S. citizens — properly elected U.S. Representatives — to the countries they "came from," and not caring at all how amazingly ignorant that made him appear to anyone with a working brain.  
My only hope is that 50 years from now, some kid will look at the 2019 image and be just as confused as I was.
Opinion | Somebody, please, take the lead
Just like Donald Trump on the national level, Gov. Kay Ivey has bungled containing the novel coronavirus COVID-19. Alabama is showing record cases and hospitalization levels.
But while Ivey extended the Safer-at-Home order though July 31, she didn't add any new restrictions. The governor says requiring masks is simply too difficult to manage and enforce.
Nobody said fighting the virus would be easy. The problem is neither Ivey nor many other governors, along with the White House, didn't really make containment much of a priority.
Testing is still inadequate, nearly a half-year after the pandemic started. Alabama's first diagnosed case was March 13. Since then – as of Wednesday – Alabama has racked up more than 30,000 cases with more than 900 deaths. Nationally, there have been more than 2.6 million cases and nearly 130,000 deaths.
When the pandemic was young, Ivey responded well, ordering everybody to stay home except for essential workers. She did much better than the governors in the state's surrounding Alabama. But just as with most states across the Southeast, after a few weeks Ivey's resolve cracked. Like the governors of states like Georgia and Florida, which are also seeing a spike in infections and are setting records.
Ivey should tighten up the restrictions, including closing the state's beaches over the July 4th weekend. Bars, gyms, and other places where large crowds gather, usually not social distancing and many without masks, should be restricted.
Yes, such measure will continue to cause economic pain, but such restrictions would slow the spread of the virus. We've already seen that not just in the United States, but across many parts of the world.
Ivey and health officials also need to increase testing and contact tracing.
Yes, all of that is difficult, but what are the consequences? More deaths. Just how many deaths are acceptable? Is it 1,000 (we're almost there), or 2,000, or 5,000? Is any number unacceptable. It doesn't suffice for elected officials to claim even one death is too many when, through their own actions, thousands and thousands have died in Alabama and across the nation.
And those numbers don't include infected and once hospitalized patients who are left with permanent organ and lung damage.
Cities like Birmingham and Montgomery have mandatory mask laws, and they need to be enforced because a lot of people are going out without their masks. Still, there are many laws on the books that are difficult to enforce; that doesn't mean those laws don't have value. A statewide mandatory mask order if, nothing else, would lead more people to wear masks, plus it would give support to businesses who refuse to allow people inside without masks.
UAB is planning to bring students back on campus when the fall semester begins in late August, but there will be strict safety measures to follow, including wearing masks, social distancing, handwashing, and regular health checks.
Ivey says if the rate of cases and hospitalizations doesn't slow, she'll enact more stringent measures. But when she finally gets around to making those decisions, it could very well be too late.
Indeed, it may be too late already.
We've seen what indecisive leadership does during a pandemic. What we need to see – in Alabama and nationally – is a more determined response that helps put the virus in check. That includes mask wearing, increased testing, and contact tracing.
Every day that doesn't happen, more people will get sick and die when they didn't have to.
Joey Kennedy, a Pulitzer Prize winner, writes a column every week for Alabama Political Reporter. Email: [email protected]