Roby reports strong financial position going into next year's election
Congresswoman Martha Roby, R-Montgomery, reports solid fundraising numbers and does not have an opponent in sight as the 2020 election cycle is drawing near.
The situation was much more dire coming into the 2018 election. Roby looked then like the most vulnerable member of Alabama's congressional delegation. Her denunciation of President Donald Trump in the 2016 election for sexist comments on a video almost a decade earlier had earned her the wrath of Trump supporters. Conservatives like former Roy Moore campaign manager Rich Hobson, Tommy Amason and former State Rep. Barry Moore, R-Enterprise, were challenging Roby in the GOP Primary.
She was also facing a challenge from her predecessor, former Congressman and Montgomery Mayor Bobby Bright, who had switched to the Republican Party and was challenging her for GOP moderates in the Republican Primary. Roby had narrowly unseated Bright, then a conservative Democrat, in the 2010 General Election.
In the 2018 election cycle, a revitalized Democratic Party had scoured the map to find vulnerable Republican House seats so they could retake control of the House of Representatives. The Democratic Congressional Campaign Committee was targeting Roby's seat as a possible Democratic pickup. Two Democrats, Tabitha Isner and Audri Scott Williams, were campaigning to take Roby's place in Congress.
Roby's fourth term in Congress was undoubtedly her most challenging. Roby mended fences with the Trump White House and appealed to Right to Life and conservative groups in Washington as well as to the Alabama Farmer's Federation and Business Council of Alabama for help. In the five-way primary, the three conservative challengers failed to make the Republican runoff. Trump and Vice President Mike Pence then endorsed Roby over Bright. Roby went on to decisively beat Bright in the runoff and Isner in the general election.
Roby reported receipts of $216,272.50 in the first half of this year. She reported expenditures of $138,794.85, leaving her with a cash balance of $419,160.66 coming into July.
Roby reported $216,272.50 in total contributions. Roby received $53,775 in contributions from individuals and $161,500 from committees' contributions.
Roby has received no money from Republican Party committees as the party does not get involved in Republican primaries.
Martha Roby has 41 itemized contributions from individuals ranging in size from $2,800 to $250. 29 are from out of state, and 12 are from Alabama. Charles Schwab from San Francisco, California has made two $2,800 contributions to Roby's campaign. Schwab is the Chairman of the Charles Schwab Corporation. Randy Kendrick of Paradise Valley, Arizona has made two $2,800 contributions to Roby. Kendrick is the managing partner of the Arizona Diamondbacks, a Major League Baseball team. Earl Kendrick of Paradise Valley, Arizona has made two $2,800 contributions to Roby. Kendrick is a part-owner of the Diamondbacks baseball team. Ray Hunt of Dallas, Texas has made two $2,800 contribution to Roby. Hunt is an executive with Hunt Consolidated. Joseph Gibson of Washington D.C. has made a $2,800 and a $2,200 contribution to Roby. Gibson is an executive with the Gibson Group.
Roby has received 84 contributions from other committees ranging in size from $5,000 to $500. The largest of these are: the Protective Life Corporation Federal PAC – $5,000, Delloitte PAC – $5000, The Caterpillar Inc. PAC – $5,000, American Bankers Association PAC – $5,000, Value in Electing Women PAC – $5,000, United Parcel Service Inc. PAC – $5,000, International Paper PAC – $5,000, E-PAC – $5,000, L3Harris Technologies Inc. PAC – $3,000, and Comcast Corporation & NBCUniversal PAC – $3,000.
Roby's campaign made no loans. The campaign reported $997.50 in offsets to operating expenses.
There is no Democratic or Republican challenger who has filed papers with the Federal Elections Committee. Isner is running for chairwoman of the Alabama Democratic Party. Rich Hobson is now working as the administrative director of the Alabama Court System.
The Alabama Political Reporter is not getting any of the flow of attacks on Roby from Democratic Congressional groups that we were getting in the 2018 election cycle.
Republicans gained control of the Second Congressional District in 1964, with the election of William Dickinson who held the seat for 14 terms. Republican Terry Everett held the seat for eight terms. When he retired, Bright defeated state Rep. Jay Love for the open seat. Roby defeated Bright in 2010.
Print this piece
Alabama Republicans upset with Jones' "no" vote on coronavirus stimulus bill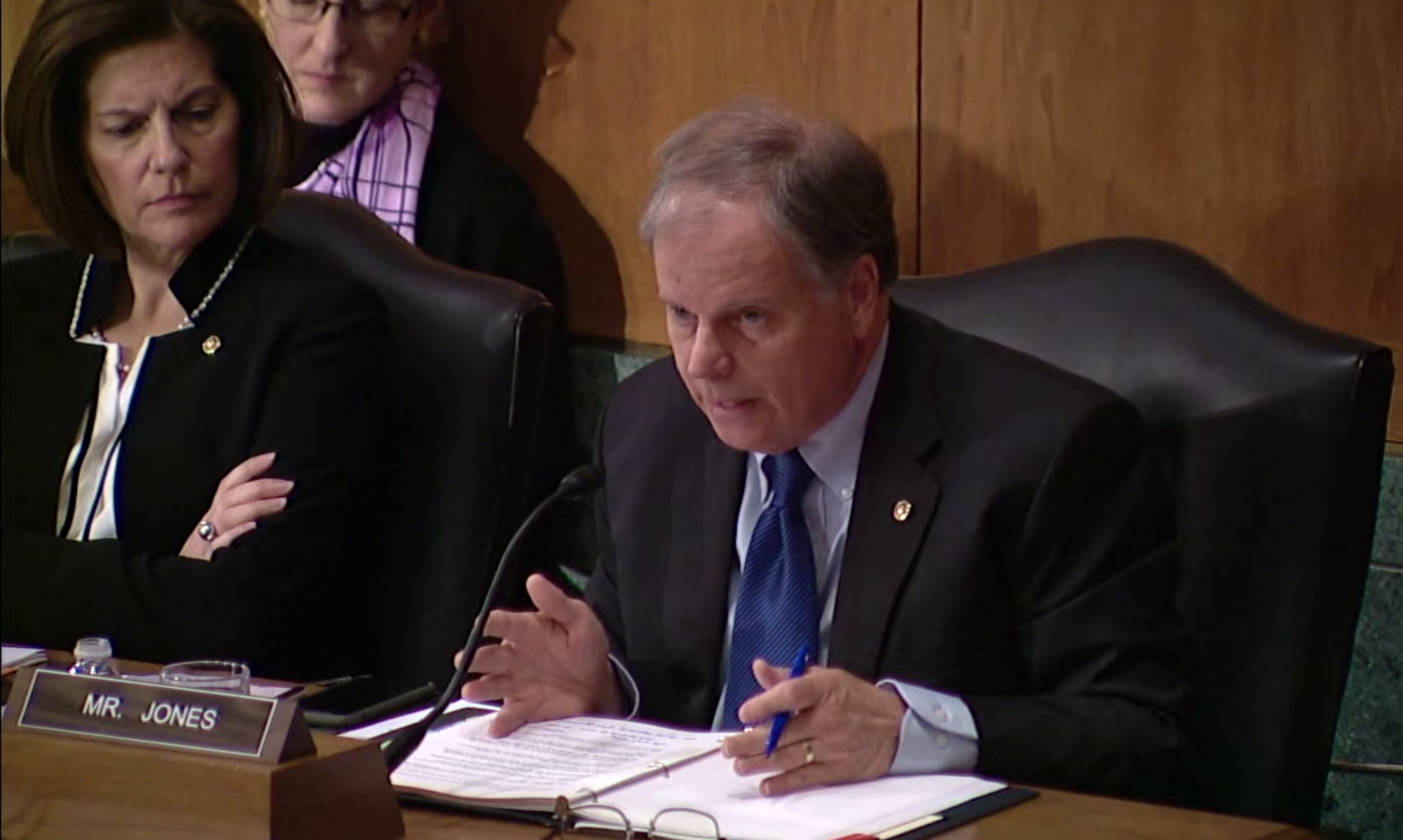 Alabama Republican leaders on Monday condemned U.S. Sen. Doug Jones' procedural vote to prevent the coronavirus stimulus bill from coming to a vote.
On Sunday, Democrats blocked action on the comprehensive stimulus package — the third of the legislative response to the coronavirus outbreak. The bill is still being negotiated and the vote was not a vote on whether to pass a final version of the stimulus package.
"I voted against it yesterday because I wanted to make a point," Jones said. "We had lost the negotiating and bipartisan progress for about 24 hours. And I felt very strongly that we need to get that progress back. So I voted no on a procedural motion to proceed, and guess what happened, they got down to negotiating, and in the last 24 hours, more progress has been made in the last 24 hours and than there was in the 24 hours before that."
We've made a lot of progress in the last 24 hours and so today I voted to move the process forward—but make no mistake this bill needs major changes before it would earn my full support, including:

✔️ $$$ for our cities/counties
✔️ ️full transparency for the $500B relief fund pic.twitter.com/3ZWqwVP8ko

— Doug Jones (@SenDougJones) March 23, 2020
By Monday, Jones decided to vote yes another similar procedural vote, a vote to move forward with the legislative process but said that does not mean he will vote for the final product if changes aren't made.
"We need to get the clock ticking," Jones said. "We have got to get this thing moving. I felt it very important to tell my leader as well as leader McConnell that we need to get it together."
But Republicans in the state are not happy with Jones's procedural vote. Alabama Republican Party Chairman Terry Lathan said, "This is not the time for politics."
"Senator Doug Jones needs to follow the example of Democrat New York Governor Andrew Cuomo – who has put his political differences aside and is working across the aisle with President Trump during this crisis – instead of being Nancy Pelosi and Chuck Schumer's partisan puppet," Lathan said in a statement. "His NO vote Sunday night has had serious ramifications on the people of Alabama and our country. The Democrats helped craft this emergency unprecedented legislation and then, like Charlie Brown and the football, yanked away desperately needed help for America."
The deal was originally negotiated by Treasury Secretary Steven Mnuchin and Speaker Pelosi. Democrats had agreed, but the deal had been held up last week by conservative Republicans balking at the price tag – all of this will be paid for with deficit spending and no plan to pay any of it back in the foreseeable future.
The Republican position in the Senate was weakened further when Republican Senator Rand Paul, R-Kentucky, announced he was infected with the novel strain of the coronavirus, SARS-CoV-2, though he is showing no symptoms of COVID-19, the illness caused by the virus.
46,148 Americans have been confirmed as having the virus. The virus has killed 582 Americans, 140 of them on Monday alone.
"Doug Jones has let the majority of our state down in an uncertain time," Lathan said. "We needed him – and he ignored us AGAIN. "
Sen. Richard Shelby, R-Alabama, voted in favor of ending debate and bringing the stimulus bill to a vote.
"Thank you to President Trump and Senator Richard Shelby for putting America and Alabama first," Lathan concluded. "We continue to lift our leaders up in prayer as their burdens and decisions weigh heavy."
Republican Senate candidate Jeff Sessions said, "I've seen this play before too many times. Just as the Senate was ready to pass a bi-partisan bill providing support for American workers… Senator Chuck Schumer & House Speaker Nancy Pelosi blew it up at the last minute, trying to add unrelated spending to a bill with already too much spending. Amazingly, Pelosi wants to use this time of crisis to breath new life into the Green New Deal!"
Republican Senate candidate Tommy Tuberville said, "America is at war with an enemy we can't see, and we currently have no weapon that can kill it. To win this war against the Coronavirus, salvage the U.S. economy, and provide needed financial help to millions of Americans, Doug Jones and other Senate Democrats are going to have to put their partisanship and hatred of President Trump aside and support a bipartisan stimulus package. Now is the time to work together as Americans first and save the partisan political battles for when this crisis is resolved."
The president, with bipartisan support from Congress and the governors, issued recommendations that led states to shut down their schools and most businesses beginning a week and a half ago.
The question for most business owners now is will they make payroll or just lay off their workers. Mnuchin's deal included loans that small businesses would not have to pay back if they used it to make payroll and pay overhead. It also included cash payments for Americans. The average family of four would receive about $3,000 under the plan.
"We need to get the money into the economy now. If we do that, we think we can stabilize the economy," Mnuchin said on Sunday. "I think the president has every expectation that this is going to look a lot better four or eight weeks from now."
"This isn't the financial crisis that's going to go on for years," Mnuchin added. "We're going to do whatever we need to do to win this war."
Former State Representative and Member of the National Trump/Victory Finance Committee Perry Hooper said that he is confident the Coronavirus Stimulus Legislation will pass.
"One of the most important parts of the Bill is addressing the needs of Small Business and the employees," Hooper told the Alabama Political Reporter. "Small Business is the backbone of America. Any Republican or any Democrat would be insane voting against the Trump Stimulus Legislation."
Print this piece