Shelby announces $125 million grant for I-10 Mobile River Bridge project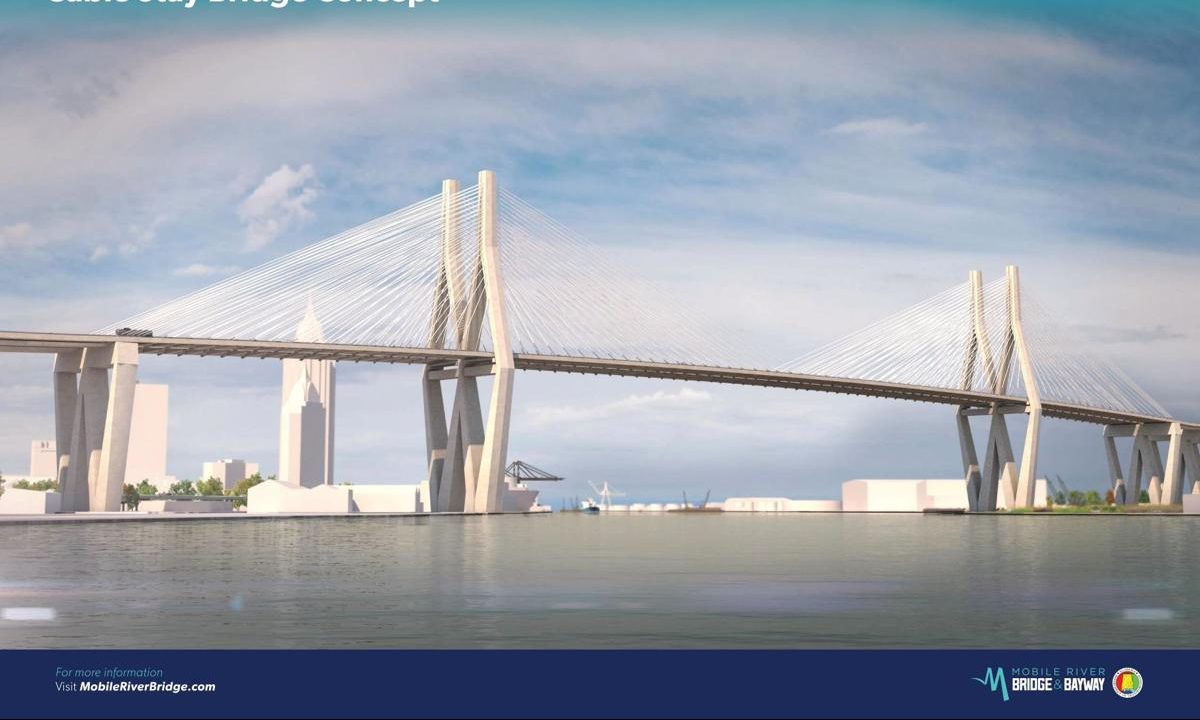 Monday, U.S. Senator Richard Shelby, R-Alabama, announced that the U.S. Department of Transportation has awarded two Infrastructure for Rebuilding America grants to fund projects for infrastructure improvements in Alabama.
The largest of the two DOT INFRA grants contains $125 million for the Alabama Department of Transportation to assist in the construction of the I-10 Mobile River Bridge and Bayway project. This is one of the largest competitive federal grants awarded to the state of Alabama. The second DOT INFRA grants for Alabama has been awarded to the City of Tuscaloosa in the amount of $6.87 million to replace an overpass bridge located on University Boulevard and U.S. Highway 82.
"I am proud to announce that Alabama is receiving two major INFRA grants to assist in construction and completion of important infrastructure projects in Mobile and Tuscaloosa," said Senator Shelby. "Both of these projects will help improve safety, alleviate traffic congestion and concerns with overcapacity, and promote increased economic development opportunities across the state. Investing in essential infrastructure in Alabama and across the country promotes a more prosperous future for our nation. I thank Secretary Chao for her attention to these projects and look forward to continuing my work to ensure that our state is well represented in any effort to fund federal transportation priorities."
The INFRA grant for the Mobile River Bridge project will provide $125 million for efforts to assist in the design and construction of a cable-stayed bridge and additional roadway on I-10.
"This is outstanding news for the people of Southwest Alabama! Fighting for federal funding for this bridge has been one of my top priorities in Congress, and I am glad the Trump Administration has come through with this grant award," Congressman Bradley Byrne, R-Montrose, said. "I am very appreciative of the help from our entire Alabama congressional delegation, especially Senator Richard Shelby."
ALDOT estimates that the full cost of the bridge and bayway replacement at a staggering $2.1 billion. The $125 million grant would only be 5.95 percent of the total money needed for the bridge, the largest cable-stayed bridge ever built on this continent.
Over 35,000 South Alabamians have joined a Facebook group opposing ALDOT's controversial plan to turn I-10 between Mobile and Baldwin Counties into a toll road.
"Today is a positive step toward making this project a reality, but our work is not over," Congressman Byrne said. "The current tolling proposal for this project is unacceptable, and I will continue leading the fight against tolling and working to ensure this project helps – not hurts – the people of South Alabama."
Opponents of tolling the Mobile River Bridge argue that it will have a devastating effect on residents of the Mobile area, many of whom are of very modest means. The median household income in Mobile is only $46,023. An estimated 78,300 people in Mobile County lives below the federal poverty line. The federal poverty line is $25,465 for a family of four with two children, and $17,308 for a single parent of one child. Toll opponents say that $90 a month in extra bills to get back and forth to work or to apply for work would be devastating to these families.
Some toll opponents are saying that it would be better to have no bridge than to have a toll bridge. ALDOT would also allow the conglomerate building the bridge to toll the existing Wallace Tunnels that go under the Mobile River.
The $6.87 million INFRA grant to Tuscaloosa will allow for the replacement of aging infrastructure and provide critical vehicular and pedestrian access improvements.
INFRA grants program were established by DOT in 2017 to advance the Trump Administration's principles and goals of rebuilding our nation's infrastructure. Further, the INFRA program works to increase the total investment in infrastructure improvements by state, local, and private partners.
Print this piece
Today, the last Monday in May, is the day we set aside to remember all of the many soldiers, sailors, airmen, and Marines who have died defending this country in this nation's many wars over the last 245 years.
Memorial Day is a state and national holiday. There will be no mail service and banks, courthouses, and many government buildings, as well as many offices and businesses, will be closed today.
Many people have the day off and are spending the holiday with family and friends.
A number of Alabama leaders have released statements paying their respects to America's fallen heroes.
"Memorial Day is a time for all of us to pause and remember the courageous Americans who made the ultimate sacrifice to defend this great nation," said Congresswoman Martha Roby (R-Montgomery). "Everyone should take this opportunity to honor and reflect on those men and women in uniform who lost their lives fighting to protect the freedoms we enjoy. "
"I realize that Memorial Day is the unofficial kickoff to summer. However, I hope you will take time to remember what the holiday is truly about," said Congressman Robert Aderholt (R-Haleyville). "Veterans Day in November is about honoring all veterans, but Memorial Day is specifically for those who gave the ultimate sacrifice and died for our country."
"On Memorial Day and every day, it's important to remember and honor the sacrifice made by the members of our military – those who gave their lives in service to our country, the veterans who are still with us today and those who have passed, and the brave men and women who are currently wearing the uniform," Rep. Roby said. "I extend my sincere condolences to those who lost a family member in the line of duty and my gratitude to those who served or are currently serving. America continues to shine as the Land of the Free, even in the midst of a global pandemic, because of the heroic men and women who sacrificed their lives for our country's future and prosperity."
"It's great that we're able to be out of our homes this Memorial Day," said Second District Congressional District candidate Barry Moore. "Hot dogs and hamburgers on the grill are incredible, but as good as they are we don't need to forget what this day is about. Memorial Day is our special day to honor those who have given their all in the service to our great nation, and May–Military Appreciation Month–is the month dedicated to letting our Veterans and serving military personnel know that we appreciate them and their service. As a Veteran from a family with a strong and proud history of service, and a new father-in-law to an Army Ranger 1st Lieutenant, this day and month have special meaning to me."
"I'm thankful we have a President whose example we can follow in honoring our fallen," former State Rep. Moore continued. "In February, when President Trump traveled to Dover Air Force Base and saluted the coffins of Sgt. Javier Jaguar Gutierrez and Sgt. Antonio Rey Rodriguez when they returned home, he showed the reverence and respect these two young men were due. This Memorial Day we all need to be equally diligent in showing that respect for those who have borne the battle. Take time today to think about what this day means, and if you get the chance during the rest of this month, tell a Vet or serviceman or woman that you're thankful for them. God Bless our troops and those who gave the ultimate sacrifice."
"Together, our nation pays immortal tribute to the extraordinary courage, unflinching loyalty, and unselfish love, and supreme devotion of the American heroes who made the ultimate sacrifice," said President Donald J. Trump (R) on Thursday. "It's the ultimate sacrifice, and it is indeed. They laid down their lives to ensure the survival of American freedom. Their names are etched forever into the hearts of our people and the memory of our nation. And some of you, it's been very close — very, very close. It's very close to your heart. We'll cherish them and our Gold Star families for all time. We take good care of them. They're very special to us. Just as we'll always remember the nearly 82,000 Americans missing in action."
Here is a video that Aderholt and his team put together a few years ago to honor the fallen from Alabama's 4th District.
Print this piece