Ivey: Revitalizing state's infrastructure critical to moving forward
Alabama Gov. Kay Ivey and U.S. Secretary of Transportation Elaine Chao officially announced that Alabama has been selected for two Infrastructure for Rebuilding America grants totaling close to $132 million.
USDOT Secretary Elaine Chao and the USDO announced a wave of grant awards Thursday. Alabama received two allocated $6.87 million for an infrastructure project in Tuscaloosa and $125 million for the controversial I-10 bridge Mobile River Bridge and Bayway project in Mobile.
"Revitalizing our state's infrastructure is critical to moving Alabama forward, and I am grateful to Secretary Chao and the U.S. Department of Transportation for helping our state take another step to bring these projects to fruition," Ivey said. "It is vitally important for us to engage our partners at every level – federal, state and local – to ensure we are effectively using our dollars while making necessary enhancements to infrastructure in Alabama. I am proud to support the Trump Administration in their endeavor to not only make band-aid fixes but to make substantial, long-term improvements to infrastructure."
"This significant federal investment is part of an overall program to repair and restore America's bridges to enhance safety and economic growth," Secretary Chao said.
Both projects will employ innovation through the intelligent transportation system. ITS aims to provide technology to coordinate services related to modes of transports, surveillance and traffic management. This innovative tool keeps roads safe during and after construction. ITS also is a valuable resource to assist with evacuations.
ALDOT says that the $6.87 million INFRA grant to the city of Tuscaloosa will go toward replacing the University Boulevard-U.S. 82 overpass structure. This is projected to cost $11.5 million. ALDOT plan to lengthen and widen the overpass to create greater efficiency and safety. The Alabama Department of Transportation will coordinate with the city of Tuscaloosa on the movement of the project.
"Grants like the DOT INFRA grant that have been awarded to the City of Tuscaloosa have allowed us to improve our roads and infrastructure in a timeline that we would not have been able to otherwise," Tuscaloosa Mayor Walt Maddox said. "The improvements that we are able to make through grants like this have allowed us to position our community to bring in the jobs and industries of the future."
Maddox was the 2018 Democratic nominee for Governor.
ALDOT will direct the $125 million INFRA grant to the Mobile River Bridge and Bayway Project. ALDOT's latest plan has an estimated price tag of $2.1 billion.
The grants were announced earlier this week in statements by U.S. Senator Richard Shelby, R-Alabama, and Congressman Bradley Byrne, R-Montrose.
"HUGE news for Mobile! The bridge is important to Mobile and the Gulf Coast because it will create jobs and improve the flow of commerce through the Port," Mobile Mayor Sandy Stimpson said. "This project is and should be a national priority. Since Day 1 in office, we've made multiple trips to D.C. seeking federal funds for this project. We are grateful to see the results of that effort, and appreciative of the support from Sen Shelby, Rep Byrne, Gov Ivey and the U.S. Department of Transportation for this game-changing project. Now, with this infusion of federal dollars, we encourage the Alabama Department of Transportation to continue to think creatively in identifying a funding solution that works for our citizens."
The current Mobile River bridge proposal is to build the largest cable-stay bridge ever built in North America over the Mobile River. The Mobile River is also Alabama's only shipping channel, so the latest design of the bridge has to be tall enough to allow large ocean-going ships to pass underneath the bridge.
The current ALDOT plan also calls for replacing all of the existing I-10 Bayway Bridges and for modifications to multiple interchanges across I-10. Ultimately, the new Bayway will provide eight lanes of travel across the Mobile Bay.
The new Mobile River Bridge will have more than 215 feet of vertical clearance to carry I-10 across the Mobile Channel, permitting all types of maritime traffic in the Port of Mobile. Federal Highway Administration regulations state that the Bayway needs to be raised above the 100-year storm surge level. Since the existing bridge cannot be raised, it must be replaced with a new structure. Given this change, the cost of the project increased from $850 million to the $2.1 billion total. The massive INFRA grant will pay for only a very small portion of the cost of the project.
ALDOT Director John Cooper has presented a plan where the people who use the bridge will pay for the bridge by paying $6 to cross the new bridge as well as to use the existing Wallace tunnels. Travel on I-10 is currently free. When residents complained that the costs would be exorbitant for folks who live on one side of the river and work on the side of the river, Cooper proposed charged a prepaid flat rate of $90 a month to area residents that would allow unlimited use of the expensive new bridge. That did not satisfy the critics.
Thirty-eight thousand people have joined a Facebook group urging the governor to postpone building the bridge to find another option other than to build it as a toll bridge.
Under Cooper's plan ALDOT would award the contract to build the bridge to a construction conglomerate that would collect tolls on the bridge and tunnels for the next fifty years to recover their investment in the project and produce steady profits for their investors.
Under the current ALDOT plan, the Causeway, Bankhead Tunnel and Cochrane Africatown Bridge would a; continue to be free.
The City of Spanish Fort, in Baldwin County, has expressed concerns that toll avoidance would increase traffic in Spanish Fort at the east end of that route.
On July 15, the city-county passed a resolution rejecting the ALDOT plan to build the bridge as a toll road.
"I think we've all heard it from all of our constituents about their concerns about tolls, no tolls, whatever," Mayor Mike McMillan said at the council meeting. "We need to let ALDOT know that we're very concerned, not only about tolls, but the effect on our roads, the effect on our businesses, everything that goes with this causes issues for us."
The entire Mobile County House delegation has presented a letter urging Gov. Ivey not to proceed with the bridge if it means charging tolls. Rep. Byrne (R-Montrose) and U.S. Senator Doug Jones (D-Alabama) have also both expressed their opposition to the current ALDOT plan to charge tolls.
Cooper continues to insist that the bridge is necessary and that it can not be built except as a public, private partnership where the users of the bridge are charged for the privilege of crossing.
"While I am thrilled to welcome this important funding from USDOT, our work is not done yet," Ivey said.
"This makes it ever clearer that we must continue working together to creatively find solutions for not only these two projects – but also for other needed improvements across the state."
Print this piece
Alabama may need 2,500 more ventilators. It's having to compete to get them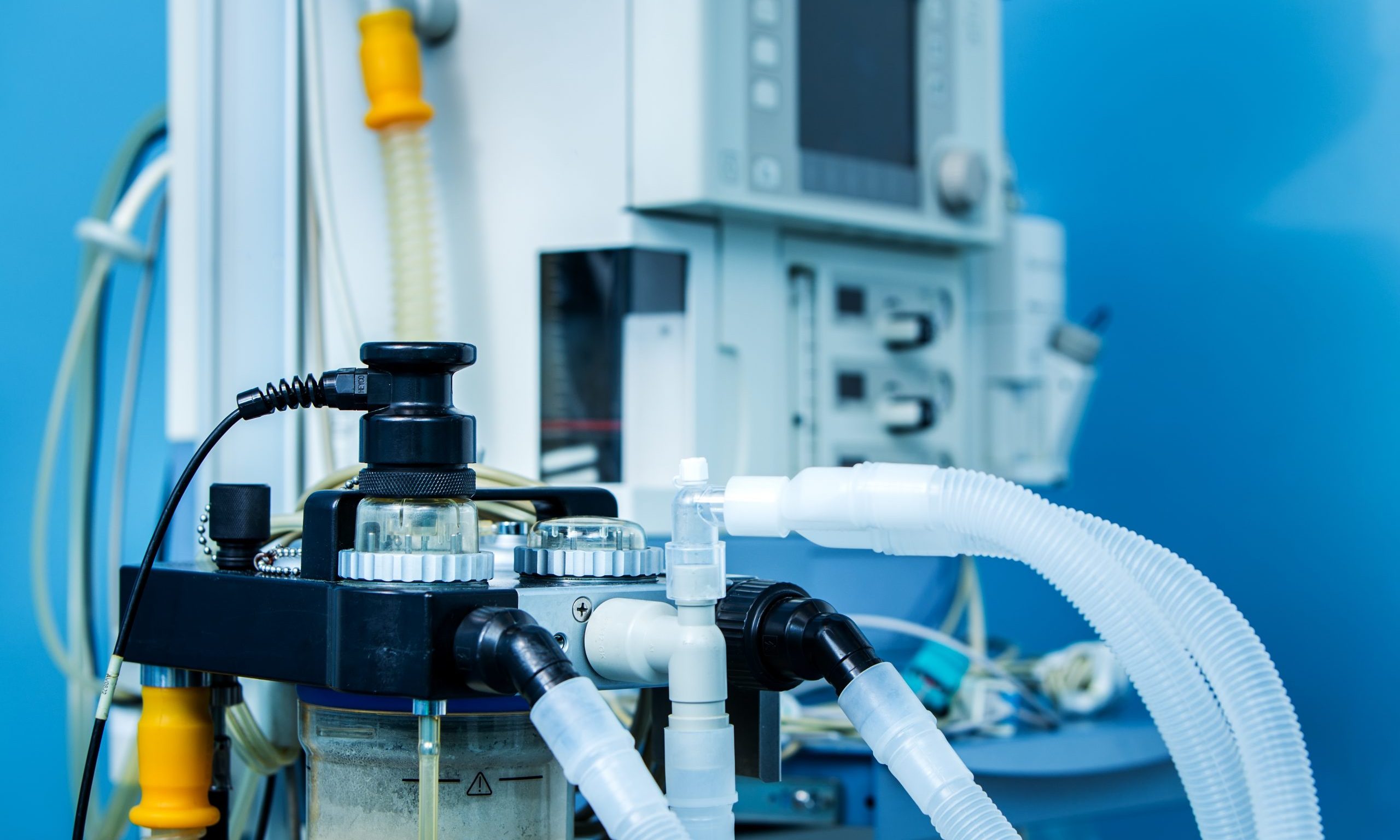 Alabama may need 2,000 more ventilators than it has, and it's being forced to compete with other states to get them on the private market.
State Health Officer Dr. Scott Harris said Friday that the Alabama Department of Public Health is attempting to source its own ventilators as a number of hospitals in the state are already struggling and asking for more.
The state requested 500 ventilators from the federal government through the Department of Health and Human Services and the national strategic stockpile. It asked for 200 of them to be delivered urgently.
"HHS has indicated that they're not going to fulfill that anytime soon because they're still taking care of places like New York City," Harris said in an interview with APR.
When Alabama nears an expected surge — say 72 hours before hospitals are expected to be overwhelmed with patients requiring life support — they may be able to make the extra ventilators available.
So Alabama, like a number of states, is being forced to try to source ventilators on its own through the private market, where hundreds of hospitals, all the other states and other countries are trying to do the same.
Harris said he signed a purchase order Thursday for 250 more ventilators.
"We're waiting to see, and then there are others that we're waiting to hear from," Harris told APR. "We're doing our best to try to source these in any way that we can."
"We're attempting to source those ourselves, but as you know, all the states are looking to source their own and in some measure competing with each other," he said a press conference Friday evening when Gov. Kay Ivey announced a shelter in place order.
Alabama Sen. Doug Jones said Thursday that Alabama will likely make additional requests, but there are only 10,000 ventilators in the national stockpile and in the U.S. Department of Defense surplus. And with every other state in the country also requesting these supplies, the federal government has said that states should not rely on the national stockpile to bolster their ventilator capacity.
By Friday, nearly 1,500 people were confirmed positive with the virus. At least 38 have died. Dire models from the Institute for Health Metrics and Evaluation at the University of Washington — models that influenced the state's decision to issue a stay-at-home order — project that by mid-April, Alabama could have a massive shortage of ventilators and hospital beds.
"The timeline I think makes sense and the time when we're expected to have a surge is the part that was most useful to us," Harris said. "We've been trying very hard to get an order in place with regards to this surge that we expect to happen."
The model estimates that Alabama could have a shortage of 20,000 hospital beds, 3,900 intensive care beds and more than 2,000 ventilators.
At least 3,500 ventilators would be needed at the peak of the COVID-19 outbreak in mid-April, according to the IHME model. Last month, Alabama Hospital Association President Donald Williamson said the state has a surge capacity of about 800.
The same model projects that about 5,500 people could die from COVID-19 in Alabama by August. However, the model is live and is regularly adjusted. Earlier this week, it suggested that 7,000 people could die by August.
Harris said the state, over the past couple of weeks, has added a few hundred additional ventilators to its capacity by converting anesthesia machines and veterinary ventilators for use on those infected with the coronavirus.
"Yet, even with adding all of those ventilators, going up by a few hundred units, which means to tell you that we're still using around the same percent of all of our ventilators even though the number [of ventilators] is going up," Harris said. "So we know that there are more patients on ventilators."
The state health officer said some hospitals in the state are already struggling but others are cooperating to share resources.
"They are really working hard to make sure that they have what they need, and we're trying very hard, along with the governor's office, to make sure that Alabama has enough inventory," Harris said.
Print this piece