Ivey moves to revamp failing education system with "Strong Start, Strong Finish"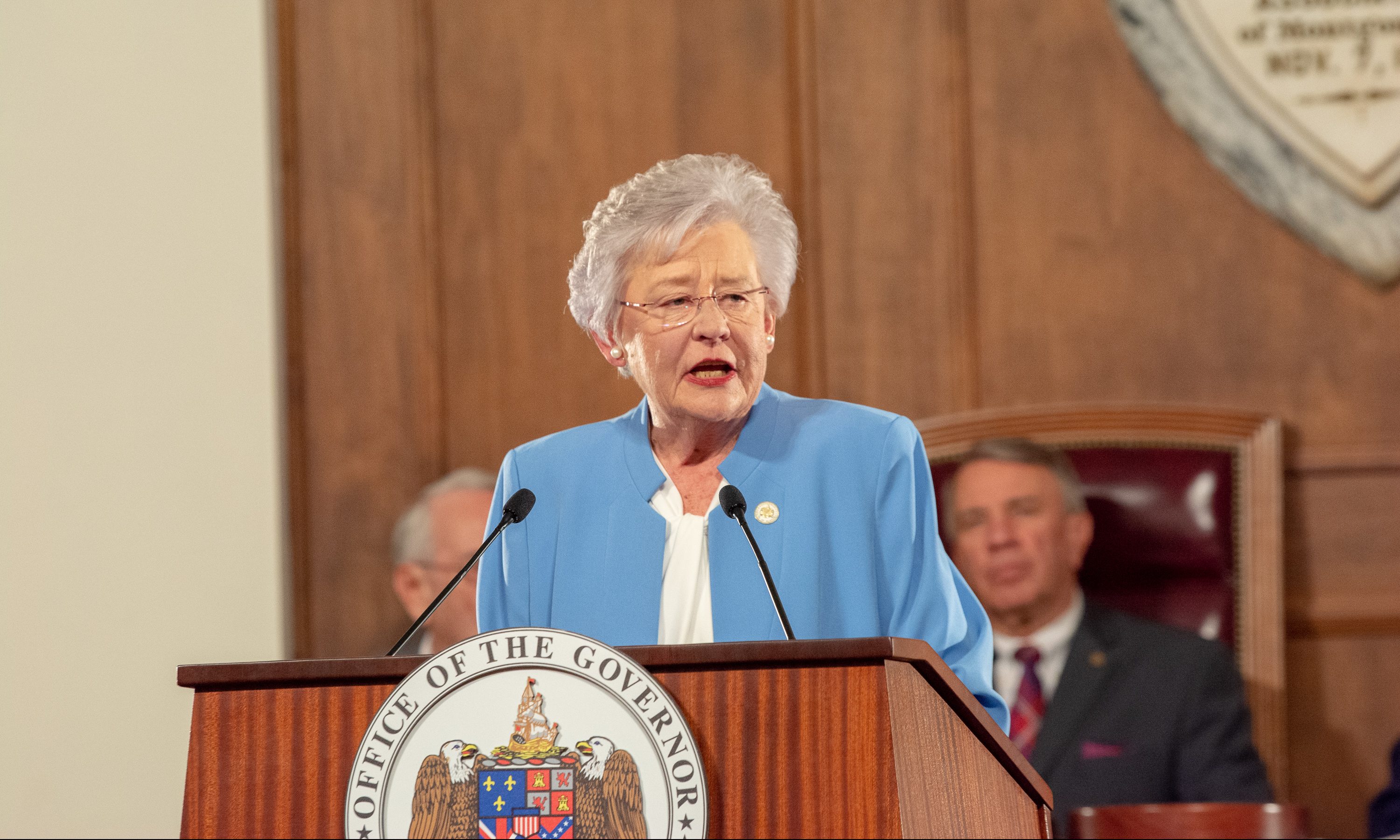 Unencumbered by the political temerity that immobilizes many leaders in Montgomery, Gov. Kay Ivey is rapidly moving forward on a few big agenda items, including rebuilding the state's aging infrastructure and reforming its barbaric prison system.
But nowhere has Ivey shown more laser-like focus than on Alabama's underperforming education system. Over the last two years, Ivey and a team of educators, business leaders and thinkers worked to lay the foundation for her Strong Start, Strong Finish education initiative — a comprehensive program designed to transform how the state educates its youth.
Last week, Ivey's office celebrated the project's second anniversary by hosting a ceremonial bill signing, which included four pieces of legislation from the 2019 Regular Session, aligned with the critical elements of her signature eduction program.
"For too long, our state has not seen the education results we want, and that should not be the case. Over the last two years, Alabama rallied behind Strong Start, Strong Finish so that instead of being complacent, our state could take the lead in education," Ivey said. "I am certainly proud of the groundwork that we have laid and look forward to our educators, students and workforce reaping the benefits of these labors."
Strong Start, Strong Finish, is "a true education to workforce program," according to the governor's office and is the most "substantial education package a governor has signed into law since Gov. Albert Brewer 50 years ago."
Ivey's administration has broken the project down into specific focal points to accomplish the sweeping changes the governor believes will lead to developing a transformative educational system.
Ivey's office provided a breakdown of each area of the initiative as follows:
Pre through Three
Pre through Three focuses on building a child's foundation for their educational journey and beyond. To further this effort, Ivey signed into law HB388. The Alabama Literacy Act, HB388, sponsored by Rep. Terri Collins, ensures that all students enter the fourth grade reading proficiently.
"This legislation will focus on helping students improve their reading skills and will enable them to achieve better opportunities in all areas of life," Collins said.
This law also refocuses the Alabama Reading Initiative by providing support for educator professional learning in reading and strengthens support for struggling readers.
Computer Science for Alabama (CS4AL)
Ivey recognizes that computer science education is critical in preparing Alabama's students for the jobs of tomorrow. To put a greater emphasis on this subject matter, The Computer Science for Alabama Act, HB216, sponsored by Rep. David Faulkner, phases in requirements for public schools to offer courses in computer science.
"Every student in Alabama deserves the opportunity to take a computer science course that better prepares them to have success in a world that is constantly becoming more technology-dependent," Faulkner stated.
In addition to HB216, providing funds for evidence-based computer science professional learning for K-12 computer science teachers, it also carves a better pathway for public school teachers to be properly trained and certified in computer science.
Advanced Training, Better Jobs
The governor has made it a priority of her administration to create the most effective workforce development programs for Alabamians across the state.
"It is imperative that we continue to find ways to streamline the process for students who are entering the workforce in Alabama," said Sen. Clay Scofield. "This legislation is a great step in that direction."
In signing both SB295 and HB570, Ivey seeks to do just that.
Sponsored by Sen. Arthur Orr, SB295 expands the Apprenticeship Alabama Tax Credit by providing an additional $500 for hiring in-school youth apprentices. Additionally, SB295 modifies the Apprenticeship Alabama Tax Credit to increase the base tax credit from $1,000 to $1,250. It increases the number of apprentices one employer may claim from five to 10 as well as the tax credit cap from $3 million to $7.5 million. SB295 also establishes the Alabama Office of Apprenticeship.
"The AIRRAP Act will allow multiple state and local entities, as well as the private sector, to come together with a common goal of training our citizens to be productive participants in our state's economy," said Rep. Alan Baker about on HB570.
"With the constantly changing economy, workforce development must continue to be a focus of the Legislature and our state agencies," said Rep. Rod Scott following the governor signing HB570 and SB295. "These bills, without a doubt, advance our efforts to have a 21st century workforce that is not only equipped for the jobs that exist today but is also prepared for the new jobs that will be created in the future."
These four pieces of legislation go into effect on Sept. 1, 2019.
Another piece of Ivey's education reform will be tested at the ballot box in March of next year when voters will be asked to decide whether to do away with an elected board of education for one appointed by the governor.
Analysis | There's a better plan for reopening schools — if Alabama leaders will use it
Maybe there will be a plan for reopening schools after all. 
A bipartisan group of lawmakers is set to meet with Gov. Kay Ivey's staff on Tuesday morning to discuss an ambitious and comprehensive plan to reopen Alabama's public schools that would see every school in the state get a new, stand-alone nurses station, a testing machine, a full-time nurse and tools to test and check students' temperatures. 
The plan, known as the Safely Opening Schools Program, or SOS, was put together by the Alabama School Nurses Association and has the backing of several doctors and the Alabama Education Association. It was presented to some lawmakers earlier this month. 
State Sens. Jabo Waggoner, Jim McClendon and Bobby Singleton — two top Republicans and the highest-ranking Democrat — have since submitted requests for funding out of Alabama's portion of CARES Act money to pay for the various components of the plan. 
In a letter sent last week to Ivey, Singleton said he was "excited by the plan," and believes it will "address, to some degree, the inequity (in his local school districts) and allow my constituents to feel that they are receiving the same support to reopen their schools as the more affluent districts of our state."
The SOS program contains, essentially, three pieces: Building 500-square-feet nurses stations/isolation rooms at every school, purchasing testing machines and supplies and hiring approximately 300 nurses for the schools around the state that are currently lacking one. (Every school is technically required to have a school nurse, but the systems have circumvented that requirement by allowing a district nurse to cover multiple schools.)
In total, the plan is projected to cost roughly $150 million — almost all of it (around 90 percent) coming from the nearly $2 billion in CARES Act funds provided to Alabama by the federal government. (The remaining portion is projected to be covered by other grants.) Included in those costs are the nurses' salaries for two years and the construction of more than 1,300 stand-alone nurses stations/isolation rooms — each costing a little less than $50,000. 
In addition, each school would receive its own testing device, which nurses would be trained to use, and testing supplies. If used as the program projects, Alabama schools would turn in more than 500,000 tests in nine months, with blind results being sent to the Centers for Disease Control for data collection purposes. The testing machines can also be modified to test for other ailments, such as the different types of flu.  
To put the total cost in perspective, the state has already spent at least $150 million — it received $115 million in grants from the CDC and received part of the more than $450 million the federal government sent to Alabama earlier this year — to test less than 10 percent of the state's population over the last six months. 
The SOS program could potentially test between 12-15 percent in far less time, and in a setting where early detection could prevent massive hotspots. 
It's a good program, and it would likely be worth the costs if only for the things mentioned. 
But those things are only half of the benefits of this program. Maybe not even half. 
Consider this: Included in the costs, every school in every city in Alabama, regardless of income level or parental involvement or poverty rates, will get a state-of-the-art nurses station and a fulltime school nurse. 
To care for children who rarely see any sort of healthcare professional. To diagnose the early signs of disease or mental health issues. To spot the early warning signs of physical abuse or drug addiction. 
In every school in Alabama. For two full school years. 
"This is extremely important to my communities, as they lack school nurses and other critical health access," Singleton wrote to Ivey. "The opportunity to have testing/screening on-site and nurses to address students' health needs would be of tremendous assistance to the residents in my district."
The same could be said for school districts, and for school children, all over the state. 
The simple fact is there is no better plan offered for reopening Alabama's schools. The others, including the "roadmap" presented by state superintendent Eric Mackey last week, mostly fail to account for known shortages in teachers, staff and nurses, and they offer no assurances for worried parents. 
The SOS plan would take the burden of monitoring and quarantining sick students off the staff and faculty, would establish a clear protocol for dealing with the virus in our schools and would assist the state and federal government with accurate, real-time data. In addition, it could be a health lifeline for kids in rural and impoverished areas. 
There is no better plan.