Economic developers examine prison situation
On Wednesday, July 24, the Economic Development Association of Alabama, Alabama Department of Corrections and Alabama Department of Pardons and Paroles hosted an Alternative Workforce Seminar in Elmore County.
The day-long professional development opportunity highlighted opportunities for the business community to work with individuals exiting the Department of Corrections or within the Department of Pardons and Paroles.
The group toured Ingram State Technical College. Ingram is a member of the Alabama two-year college system but has a student body that is comprised solely of incarcerated adults eligible for parole in ten years or less.
Business leaders, faculty and administrators of the community college system and representatives from both Pardons and Paroles and Corrections participated in a panel discussion. This was followed by a question-and-answer session for the economic developers on how to tap into the alternative workforce.
According to information provided to the EDAA, release rates of prisoners are increasing in future months. The prisoner population represents one of the only growing workforce groups in Alabama. Record low unemployment means that employers are facing new challenges to properly keep their organizations fully staffed.
"Every inmate needs a job, which equates to 8,000 to 10,000 jobs per year," said Department of Corrections Commissioner Jeff Dunn.
Darrell Morgan with the Alabama Department of Pardons and Paroles emphasized that once released, most inmates return to their hometowns. Most find out they have lost their support systems and do not have the structural support to provide for themselves. They then revert back into criminal activity.
Dunn was asked about how the Department of Corrections keeps up with inmates once released.
Dunn said most former inmates do not want to continue communication with the DOC. ADOC is therefore now focused on the civic and faith communities to help with intervention — for example, prison fellowship and JumpStart because they have far better success rates than government programs.
Willie LaFavor is an employer who has benefited from former inmates as employees.
LeFavor said having a mentor is key as well as communication with the employers and the Department of Corrections on how the former inmates are progressing in the work setting.
LaShonda Hails, formerly with the DOC, now with the Alabama Community College System specializing in alternative workforce, also emphasized the need for ongoing mentors.
Assistant Commissioner Steve Watson emphasized the importance of relationships between those serving the alternative workforce population, businesses, local chambers and organizations. He recalled a recent conversation with Commerce Secretary Greg Canfield, Labor Secretary Fitzgerald Washington and Dunn about how the prison population can serve the business community in areas of the skilled trades that employers currently have shortages in.
Dunn, Department of Corrections Assistant Commissioner Steve Watson, Darrell Morgan with the Alabama Department of Pardons and Paroles, Ingram State Technical College President Annette Funderburk, Angela Smith with the Alabama Department of Commerce, economic developer Nicole Jones, economic developer Bryant Whaley, LaShonda Hails with the Alabama Community College System and Willie LaFavor of Contractor Service and Fabrication all participated in this alternative workforce partnership.
"Thank you to the Economic Development Association of Alabama, Department of Corrections and Board of Pardons and Paroles for hosting an alternative workforce seminar," Jones said. "The program included a tour of Ingram State Technical College as well as in-depth dialogue regarding the importance of steady employment and the correlation with reduced recidivism."
"I was impressed with Ingram State's 19 diverse career and technical program offerings such as automotive body repair, cosmetology, plumbing, welding, electrical technology, HVAC, and masonry," Jones said. "The school works with students, all who are inmates, and matches them with career skills and life skills aimed to keep them out of the system for good once released. As Commissioner Dunn pointed out, recidivism occurs less frequently when former inmates have a job and a living wage."
The U.S. Justice Department is putting growing pressure on the state of Alabama to address conditions in the overcrowded and chronically understaffed prison system. Gov. Kay Ivey has made building new prisons a top priority of her administration. Getting a handle on overcrowding will require the state to address the problem of recidivism. Getting inmates from the prisons into the workforce will hopefully lead to fewer of them having to be sent back to prison.
Print this piece
Alabama may need 2,500 more ventilators. It's having to compete to get them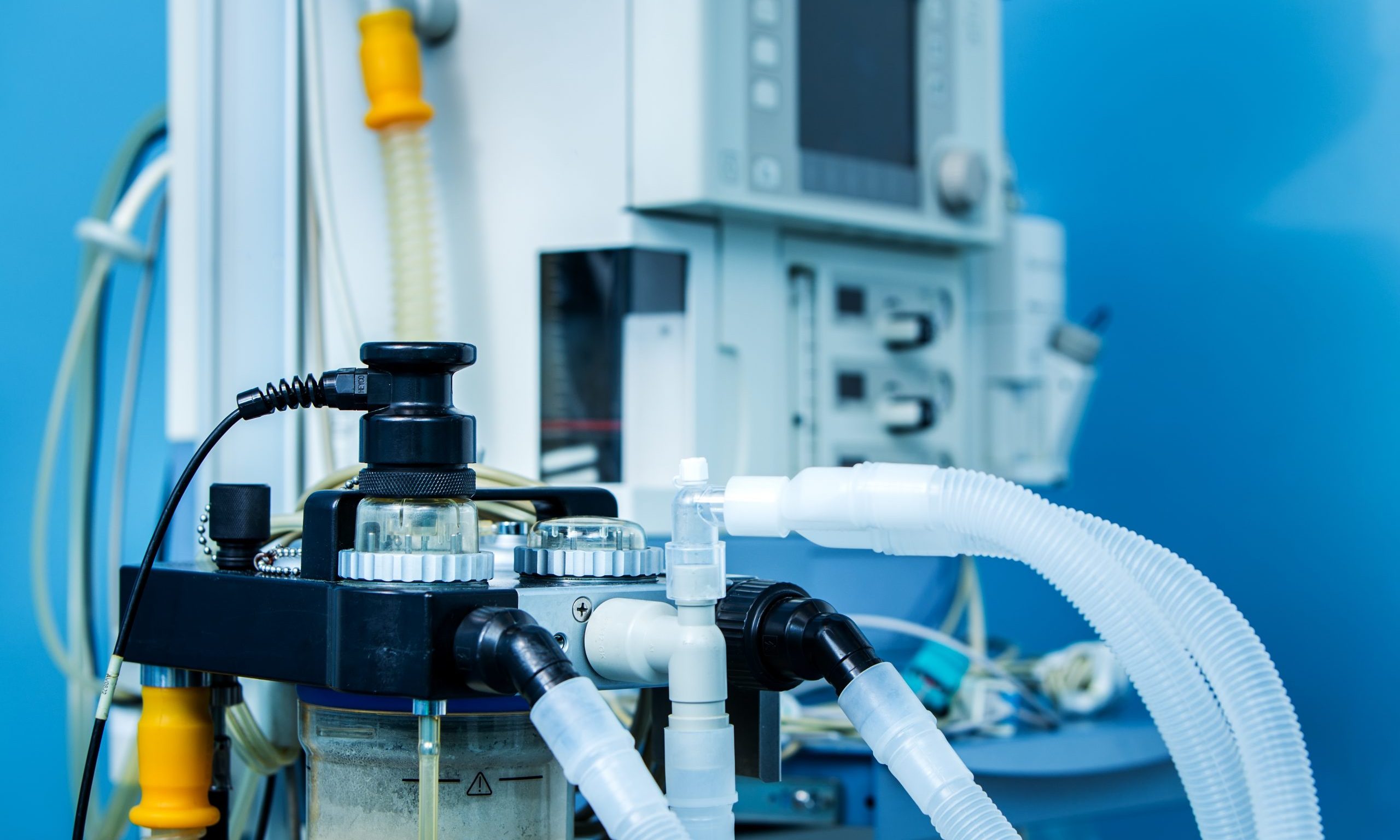 Alabama may need 2,000 more ventilators than it has, and it's being forced to compete with other states to get them on the private market.
State Health Officer Dr. Scott Harris said Friday that the Alabama Department of Public Health is attempting to source its own ventilators as a number of hospitals in the state are already struggling and asking for more.
The state requested 500 ventilators from the federal government through the Department of Health and Human Services and the national strategic stockpile. It asked for 200 of them to be delivered urgently.
"HHS has indicated that they're not going to fulfill that anytime soon because they're still taking care of places like New York City," Harris said in an interview with APR.
When Alabama nears an expected surge — say 72 hours before hospitals are expected to be overwhelmed with patients requiring life support — they may be able to make the extra ventilators available.
So Alabama, like a number of states, is being forced to try to source ventilators on its own through the private market, where hundreds of hospitals, all the other states and other countries are trying to do the same.
Harris said he signed a purchase order Thursday for 250 more ventilators.
"We're waiting to see, and then there are others that we're waiting to hear from," Harris told APR. "We're doing our best to try to source these in any way that we can."
"We're attempting to source those ourselves, but as you know, all the states are looking to source their own and in some measure competing with each other," he said a press conference Friday evening when Gov. Kay Ivey announced a shelter in place order.
Alabama Sen. Doug Jones said Thursday that Alabama will likely make additional requests, but there are only 10,000 ventilators in the national stockpile and in the U.S. Department of Defense surplus. And with every other state in the country also requesting these supplies, the federal government has said that states should not rely on the national stockpile to bolster their ventilator capacity.
By Friday, nearly 1,500 people were confirmed positive with the virus. At least 38 have died. Dire models from the Institute for Health Metrics and Evaluation at the University of Washington — models that influenced the state's decision to issue a stay-at-home order — project that by mid-April, Alabama could have a massive shortage of ventilators and hospital beds.
"The timeline I think makes sense and the time when we're expected to have a surge is the part that was most useful to us," Harris said. "We've been trying very hard to get an order in place with regards to this surge that we expect to happen."
The model estimates that Alabama could have a shortage of 20,000 hospital beds, 3,900 intensive care beds and more than 2,000 ventilators.
At least 3,500 ventilators would be needed at the peak of the COVID-19 outbreak in mid-April, according to the IHME model. Last month, Alabama Hospital Association President Donald Williamson said the state has a surge capacity of about 800.
The same model projects that about 5,500 people could die from COVID-19 in Alabama by August. However, the model is live and is regularly adjusted. Earlier this week, it suggested that 7,000 people could die by August.
Harris said the state, over the past couple of weeks, has added a few hundred additional ventilators to its capacity by converting anesthesia machines and veterinary ventilators for use on those infected with the coronavirus.
"Yet, even with adding all of those ventilators, going up by a few hundred units, which means to tell you that we're still using around the same percent of all of our ventilators even though the number [of ventilators] is going up," Harris said. "So we know that there are more patients on ventilators."
The state health officer said some hospitals in the state are already struggling but others are cooperating to share resources.
"They are really working hard to make sure that they have what they need, and we're trying very hard, along with the governor's office, to make sure that Alabama has enough inventory," Harris said.
Print this piece