Trump says "Witch Hunt ends" after judge dismisses DNC lawsuit
Tuesday, President Donald Trump won a major courtroom victory when a federal judge dismissed a lawsuit from the Democratic National Committee related to alleged interference in the 2016 campaign.
Trump praised Judge John Koeltl, a Clinton appointee, for the favorable ruling. Koeltl ruled that the Trump officials named in the DNC's lawsuit were shielded from the allegations under the First Amendment and that Russia could not be sued in the courts for the election interference.
"Wow! A federal Judge in the Southern District of N.Y. completely dismissed a lawsuit brought by the Democratic National Committee against our historic 2016 campaign for President," Pres. Trump wrote on Twitter. "The Judge said the DNC case was "entirely divorced" from the facts, yet another total & complete….vindication & exoneration from the Russian, WikiLeaks and every other form of HOAX perpetrated by the DNC, Radical Democrats and others. This is really big "stuff" especially coming from a highly respected judge who was appointed by President Clinton. The Witch Hunt Ends!"
The DNC filed its lawsuit in April 2018, alleging that the Trump campaign, WikiLeaks and the Russian government conspired to prevent former Secretary of State Hillary R. Clinton from winning the 2016 election. The Democrat's lawsuit cited a 2016 Trump Tower meeting in which Paul Manafort, Donald Trump Jr. and Jared Kushner met with a Russian woman who had reported ties to the Vladimir Putin government and Russian Intelligence agencies and was reportedly offering to share information on Sec. Clinton. The DNC argued that a Russian attempt to hack a DNC back-up server the next day was evidence of coordination.
The judge dismissed the case writing that the DNC failed to provide evidence that the Trump campaign figures assisted the hackers and pointed out that there is no law against using information published by WikiLeaks.
Tuesday's ruling was another setback for Democrats in Congress who had hoped to impeach the President. An 18 month investigation by Special Counsel Robert Mueller failed to provide any indictments of the President or members of his family.
Manafort was indicted and convicted; but that was for tax evasion having to do with money he made working as a campaign manager for a deposed Pro-Russian Ukrainian President. Manafort made the money overseas, did not pay U.S. taxes on it, and then smuggled portions of it into the United States without ever reporting it to the IRS or paying a tax bill. Trump fired Manafort during the campaign when much of the tax issues were revealed.
House Democrats are continuing their own investigations; but even if Trump were impeached, the Republican controlled Senate would be unlikely to act on those charges. The House can only impeach. It would require the Senate to remove the President. Two American Presidents have been impeached, Andrew Johnson and William J. "Bill" Clinton. The Senate has never voted to remove a President. President Richard M. Nixon (R) resigned rather than face impeachment.
Some Republicans are calling for an investigation of the investigators.
Senate Judiciary Chairman Lindsey Graham (R-South Carolina) has said that he supports a Senate review of the justification for surveillance warrants against Carter Page, a foreign-policy adviser to the Trump campaign that were based on the "Steele Dossier" which was written by former British intelligence agent Christopher Steele, who was paid by the DNC and the Hillary Clinton campaign to investigate Trump.
"Whether or not it's illegal, I don't yet know," Graham said. "What makes no sense to me is that all of the abuse by the Department of Justice and the FBI – the unprofessional conduct, the shady behavior – nobody seems to think that's much important. Well that's going to change, I hope."
An investigation by Republicans in the House of Representatives, before the Democrats took control of the House in January, discovered incendiary text messages in which FBI agents Peter Strzok, Lisa Paige, and others professed their hatred for Trump and hinted at an effort to undo the 2016 election.
Some GOP partisans have gone so far as to suggest that the Steele Dossier and its use by the FBI and DOJ in the waning days of the Obama Administration to get FISA warrants on the Trump campaign and the Trump transition team and then leak selected information obtained from those warrants to the press and Congress in order to spur calls for the special counsel investigation amounted to a de facto attempted coup d'etat by professionals within the DOJ and the intelligence community.
The Justice Department's Inspector General also is conducting its own review of the Russia investigation.
Former State Representative Perry O. Hooper Jr. (R-Montgomery) is asking for a full Senate Judiciary Committee investigation of the investigators.
"It's time the Senate Republicans bow up," Hooper told the Alabama Political Reporter. "U.S. Senator Lindsey Graham of South Carolina, Chairman of the Judiciary Committee should call his Committee into a Special meeting to start the process of Investigating the Investigators."
"US Senator Graham should subpoena Special Prosecutor Robert Mueller and the three bias attorneys that served on the Investigating team for questioning," Hooper added. "I would also suggest that the Committee invite US Attorney General to attend the meetings."
"The first question Senator Graham and his Committee should ask is, why were the three bias attorneys allowed to serve on the Investigation team, when they obviously had a conflict of interest," Hooper told APR. "This is wrong! There should have been an ethical standard required for any attorney that has a conflict of interest. It's Time Senate Republicans Bow Up and start Investigating the Investigators."
Hooper currently serves on the National Trump/Victory Committee, the Alabama Republican State Executive Committee and is contemplating a 2020 run for Congress, representing Alabama's open Second Congressional District where incumbent Martha Roby has announced her decision not to run for a sixth term.
(Original reporting by Fox News, the Patriot Channel, USA Today, and the Hill's Brett Samuelson contributed to this report.)
Print this piece
Alabama leaders remember Auburn head football Coach Pat Dye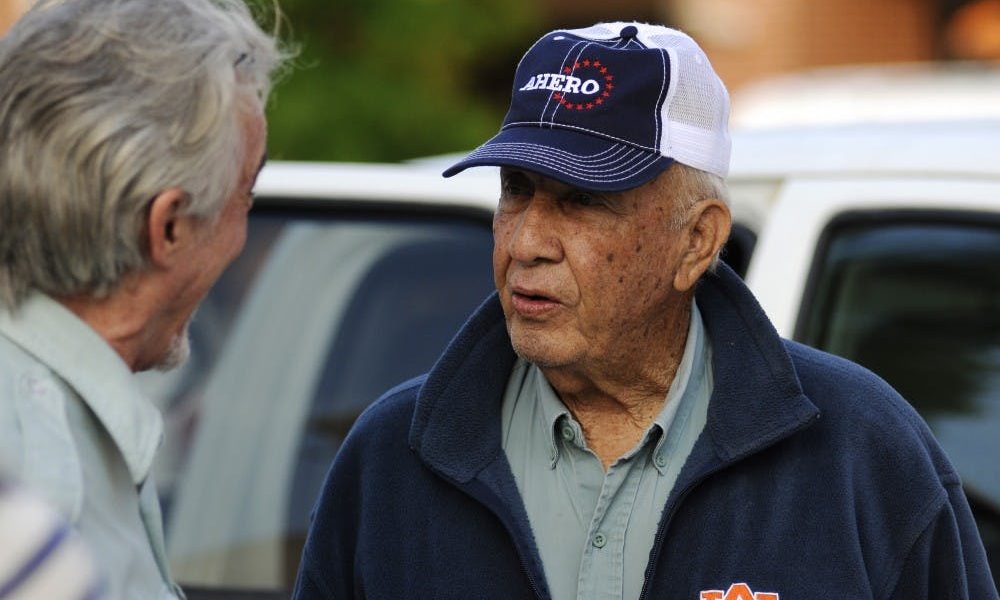 On Monday, former Auburn football head Coach and Athletic Director Pat Dye died from kidney and liver failure. He had recently tested positive for COVID-19 as well. He was age 80. Many Alabama leaders commented fondly on the legendary Auburn football Coach from 1981 to 1992.
Congressman Robert Aderholt (R-Haleyville) said in a statement, "If there was a college football version of Mount Rushmore, Pat Dye could be there among the greats. Not only did he bring Auburn football back into prominence by winning games, SEC Championships, and what probably should have been a 1983 National Championship, he was a wonderful molder of young men. While he will long be remembered for the games he won and the contributions he made to the great Auburn-Alabama rivalry, there are hundreds of people who were touched by him who will carry on his legacy for decades to come."
U.S. Senate candidate former Auburn head football coach Tommy Tuberville said, "Today is a sad day for the Auburn community with the loss of Coach Pat Dye. Coach Dye was a true Auburn man and believed in the value of hard work and "a sound mind, in a sound body and a spirit that is not afraid, and in clean sports that develop these qualities." He helped to instill these Auburn principles in players and fans alike. He was one of the coaching greats of the game, and many including myself learned invaluable lessons from watching him. My thoughts and prayers are with his family for peace and comfort during this time."
U.S. Senate candidate former Attorney General Jeff Sessions said, "The state of Alabama has lost one of its legendary coaches in Pat Dye. The field at Jordan-Hare Stadium in Auburn is named for him. He won four SEC championships at Auburn University, and he coached my choice for the world's greatest athlete, Bo Jackson, and others like Tracy Rocker, the tremendous Outland Award winner. Coach Dye's teams were famous for their toughness and fighting spirit and for never quitting. He brought the Iron Bowl to Auburn and won an upset victory in that historic first game at Auburn in 1989. Pat Dye never lost his country roots or his common touch. My condolences to Coach Dye's family, and to the entire Auburn family."
Alabama Governor Kay Ivey (R) said, "I am saddened to hear of the passing of Coach Pat Dye — a great man, coach and member of the Auburn family. Not only was he a phenomenal football coach, but an even better person. For years, I have known Pat personally and have always valued his friendship and colorful commentary. He had great takes on both football and life. Coach Dye truly embodied the Auburn spirit. He will be missed not only by the Auburn family, but the entire state of Alabama. War Eagle, Coach. Your life and legacy lives on."
Former State Rep. Perry O. Hooper Jr (R-Montgomery) said, "We lost a great Coach and a Great American today!Coach Pat Dye passed away this morning."
U.S. Senator Doug Jones (D-Alabama) said, "Coach Dye was larger than life-a true legend. Not only did he win countless Auburn football games at the helm of championship teams, but more importantly he won the hearts of so many in Alabama and beyond. He truly was a man of great character and my heart is heavy hearing the news of his recent passing. Louise and I will be keeping his loved ones in our prayers."
U.S. Representative Bradley Byrne (R-Montrose) said, "‪Coach Dye was always so friendly, encouraging, and just a true joy to be around. Rebecca and I join so many others in mourning his passing and remembering a life most certainly well lived."
Alabama Republican Party Chairman Terry Lathan said, "Moments I'll always remember and be grateful for- celebrating my birthday with an Auburn man and legend. Wings up Coach as he walks humbly with God. "I believe in my Country, because it is a land of freedom and because it is my own home, and that I can best serve that country by doing justly, loving mercy, and walking humbly with my God."-Auburn creed."
"I was saddened to hear about Coach Dye's passing this morning," said Second Congressional District candidate Barry Moore. "Everyone in Alabama knew him, and those who knew him well knew what a fine person he was."
Auburn Athletics Director Allen Greene said, "For four decades, Coach Dye showed all of us what it looks like to be an Auburn person. His coaching exploits are well known, securing his induction into the College Football Hall of Fame. His skills as an administrator were equally formidable, resulting most notably in bringing the Iron Bowl to Jordan-Hare Stadium. Just like his football teams, Pat Dye the athletic director was tenacious, never backing down from a fight when he believed Auburn's good name and best interests demanded it. Thanks to his tenacity, I'll always treasure my first home Iron Bowl, celebrating victory on the field that bears his name."
Current Auburn Head Football Coach Gus Malzahn said, "Coach Dye was much more than a hall of fame coach and administrator at Auburn. He was an Auburn leader and visionary. He not only returned the football program back to national prominence during his tenure, but was a key figure in bringing the Iron Bowl to Auburn and made an impact on the university and in the community. He embodied what Auburn is about: hard work, toughness and a blue collar mentality. Coach Dye's impact on Auburn is endless and will stand the test of time. "
Dye also coached for six seasons at East Carolina University and one season with the University of Wyoming. Dye played football at the University of Georgia and was an assistant football coach under legendary University of Alabama head football Coach Paul "Bear" Bryant. Dye's overall record as a head coach was 163-62-5. He was 99-39-4 at Auburn where he is the third winningest coach in the history of the program.
Print this piece