Legislature puts ALDOT legal contract for Mobile River Bridge on hold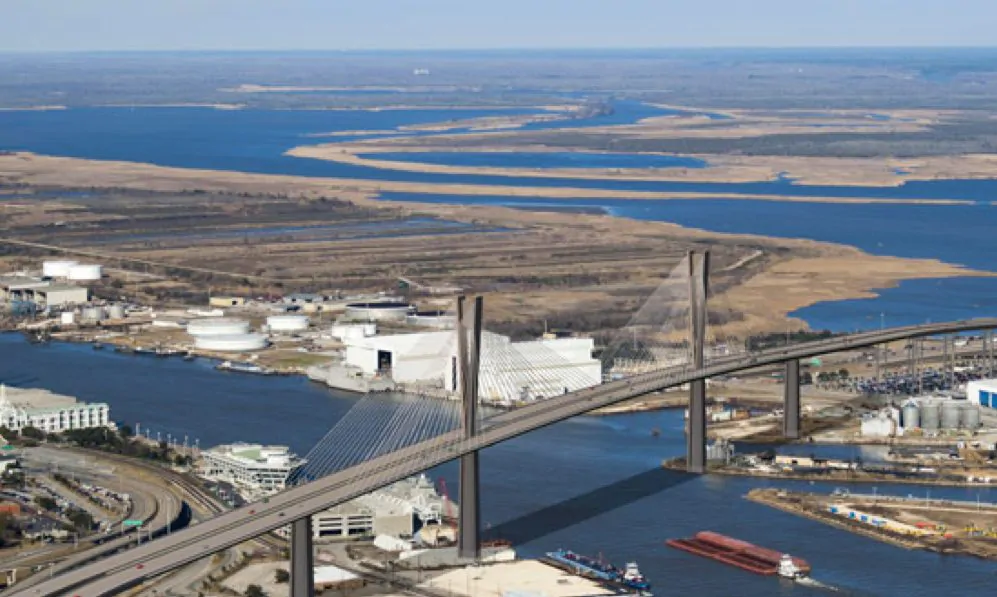 A bad month for the governor's Mobile River bridge proposal got even worse on Thursday, Aug. 1, when the Legislature's contract review committee placed a hold on the Alabama Department of Transportation's contract with Birmingham law firm Maynard, Cooper and Gale.
The panel is tasked with reviewing all state contracts. The $750,000 contract is for legal work having to do with ALDOT's plan to build a $2.1 billion bridge over the Mobile River and replace the existing Bayway. ALDOT wants to build a massive bridge with 215 feet of vertical clearance over the bridge. They would also replace the existing Bayway with a taller wider Bayway. ALDOT claims this is necessary to lift the Bayway out of the 100-year storm surge of a theoretical future super hurricane. Under the plan, all of this would be paid for by tolling the new bridge as well as the existing Wallace Tunnels, which take motorists under the river.
ALDOT plans to sign a public, private partnerships contract with one of three private conglomerates to build the enormously expensive new bridge and give them the power to toll the motorists for the next 55 years to recoup their investment and return a profit for their investors. Gov. Kay Ivey has declared the area of the Mobile River bridge project a federal Opportunity Zone, potentially giving the investors in the project hundreds of millions of dollars in tax credits and deferments. Opportunity Zones were created in the Republican Tax Cuts and Jobs Act of 2017 and are designed to help communities rise out of chronic poverty.
Maynard, Cooper and Gale specialize in P3s. The hold on the contract is 45 days, the most the law will allow.
Forty-three thousand, six hundred and seventy-nine residents have joined a Facebook group led by State Auditor Jim Zeigler opposing the plan to toll motorists, many of whom commute back and forth to work on I-10.
Wednesday, Zeigler sent a letter to Ivey urging her to shelve the project.
"A new potential source of funding for a Mobile Bayway bridge emerged Tuesday," Zeigler wrote. "A U.S. Senate committee advanced the $287 billion infrastructure bill. It is aimed at projects for disaster resilience and traffic congestion. The Mobile Bayway bridge qualifies under both criteria."
"I ask you to hit the pause button on ALDOT's plan to put a toll on the I-10 Bayway," Zeigler said. "You have an opportunity to be a real folk hero to tens of thousands in Coastal Alabama. If you would pause the ALDOT toll plan and direct them to look at the $287 billion infrastructure bill and other options, a cry of 'Hallelujah' would go up from our Gulf Coast."
"Please envision a family whose budget is tight – just barely in balance," Zeigler wrote. "The family lives on one side of Mobile Bay, and the breadwinner works on the other side. It will cost this family either $15 a day just to commute to work or $90 a month per car. That is $1,080 a year per car. If you take a family budget that is already tight and add an expense of $1,080 a year per car, the family is in trouble."
"The 45-day hold is the most this panel can do, but it is a first small step to getting the governor to halt the toll plan," Zeigler said.
On Tuesday, Fairhope Mayor Karin Wolff Wilson announced her opposition to the plan.
"I'm 100% against a toll to build this bridge whatever the fee." Mayor Wilson wrote in an article on her Facebook page. "The State should have invested the billion+ dollar BP settlement into the two counties that suffered the most instead of taking this money for its own operating budget. Why punish the tourists and hardworking citizens of Mobile and Baldwin County to make up the shortfall due to poor planning and budgeting?"
"The critical need for a new bridge has been discussed for over a decade," Wilson said. "To react as though building it now is an overnight emergency is absurd. It's the perfect example of government getting away with zero accountability."
Wilson is joined by a growing list of public officials publicly opposing the ALDOT plan. U.S. Sen. Doug Jones, Congressman Bradley Byrne, Zeigler, Secretary of State John Merrill, House Speaker Pro Tem Victor Gaston and all of Mobile's House legislative delegations, every major U.S. Senate candidate, Mobile County Commission President Jerry Carl, Congressional candidate Rep. Chris Pringle, Spanish Fort Mayor Michael McMillan and the Spanish Fort town council have all made public statements expressing their opposition to moving forward on the plan to toll the bridge and awarding the P3 contract.
Despite the overwhelming community opposition to this project, ALDOT and the governor's office continues to maintain that the bridge project is necessary.
On Wednesday, the Governor's Press Secretary Gina Maiola told the Alabama Political Reporter, "Governor Ivey knows that it is vital we move the Mobile River Bridge and Bayway project forward for the reasons of commerce, efficiency and safety. The new Mobile River Bridge will have more than 215 feet of vertical clearance to carry I-10 across the Mobile Channel, permitting all types of maritime traffic in the Port of Mobile.
(Original reporting by WSFA Channel 12 and FOX Channel 10 contributed to this report.)
Alabama Republicans praise President Trump's SCOTUS nomination
"The confirmation process is already proving to be another brutal fight, but I am certain that this is the job for a strong, conservative woman," Ivey said.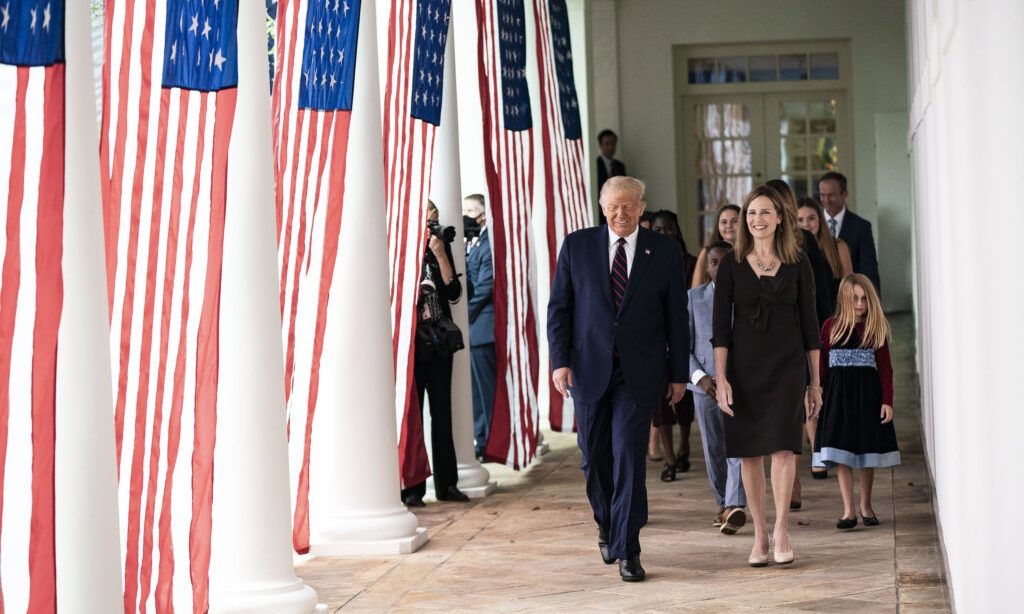 President Donald Trump on Saturday nominated Judge Amy Coney Barrett to the United States Supreme Court, and, if confirmed, Barrett would fill the vacancy created by the death of Associate Justice Ruth Bader Ginsburg.
Trump's nomination of Barrett was met with near universal praise among Alabama Republicans including Gov. Kay Ivey and a number of other elected officials.
"I commend President Trump's nomination of Amy Coney Barrett to serve on the United States Supreme Court. Judge Barrett will be focused on interpreting the law, being an arbiter and not a lawmaker, as the Supreme Court demands of its justices," Ivey said. "Based on her proven career and background, I am confident that Judge Barrett will be articulate and a fair supporter of issues important to Alabamians such as protecting the unborn and our Second Amendment rights, while applying the law impartially."
Barrett has served as a judge on the U.S. Court of Appeals for the Seventh Circuit since 2017. Before becoming a judge, she was a law professor at Notre Dame Law School and previously clerked for Supreme Court Justice Antonin Scalia.
Ivey said Barrett will embody the precedent established by Ginsburg and further prove that a woman can be a wife, a mother, a person of faith and hold strong personal convictions while still effectively performing the duties required of a justice.
"The confirmation process is already proving to be another brutal fight, but I am certain that this is the job for a strong, conservative woman," Ivey said. "The people of Alabama overwhelmingly supported President Trump in 2016, and I commend him for performing his constitutional duty of nominating to the Supreme Court and getting the job done that we elected him to do. The late Justice Ginsburg herself noted that even in an election year, 'a president doesn't stop being president.'"
Before her death, Ginsburg reportedly made a request that her replacement not be nominated or confirmed until a "new president is installed." Last week, Ginsburg became the first woman and the first Jewish person to lie in state at the U.S. Capitol.
"I eagerly anticipate Judge Barrett's confirmation, and I look forward to continuing to forge a strong relationship between President Trump and the state of Alabama during his next term," said Ivey.
Democratic Senators, though they do not appear to have the votes to stop Barrett's nomination, are vociferously opposed to confirming a new justice before the Nov. 3 election determines whether Trump will serve as second term.
Democrats point to what they say is the hypocritical position of Senate Majority Leader Mitch McConnell, who refused to hold hearings or a vote on President Barack Obama's nominee, Judge Merrick Garland, in 2016.
All but two Republican senators appear prepared to vote for Barrett's confirmation, all but assuring her a seat on the court and solidifying a 6-3 conservative majority.
"I am extremely pleased with President Trump's selection in nominating Judge Barrett to the Supreme Court," said Sen. Richard Shelby, R-Alabama. "From her clerkship for the late Justice Scalia to her tenure on the 7th Circuit, Judge Barrett has had a distinguished career and has proven her commitment to the rule of law. Our next Supreme Court Justice must be a steadfast supporter of upholding our nation's Constitution. I have no doubt in Judge Barrett's qualifications, and I look forward to supporting her nomination."
Alabama Sen. Doug Jones, a Democrat, has said he will not vote for any nominee until the results of the Nov. 3 election are decided.
Alabama Republican Party Chairman Terry Lathan:
"President Trump has nominated a superior candidate for our nation's highest court. Judge Amy Coney Barrett is a solid constitutional jurist who has distinguished herself both on the bench during her time on the 7th Circuit Court of Appeals, in academia as a law professor at the University Notre Dame and as a clerk for the late Supreme Court Justice Antonin Scalia," Lathan said. "Judge Barrett's focus on following the Constitution is apparent in her opinions, in cases ranging from the 2nd Amendment to immigration. Even three Democrat Senators – Joe Manchin of West Virginia, Tim Kaine of Virginia and Joe Donnelly crossed party lines in 2017 to support her first nomination to the bench."
"A mother of seven, including two adopted children from Haiti, Supreme Court nominee Barrett has been called a 'powerhouse' constitutionalist," Lathan continued. "Her consistent rulings on applying laws to the words of our U.S. Constitution is the exact example of what the justices are tasked with in implementing their rulings. Based on qualifications and experience alone, Judge Barrett's nomination merits a vote by the full United States Senate."
Congressman Gary Palmer:
"President Trump has made an excellent choice in nominating Judge Barrett to the Supreme Court, and I extend my heartfelt congratulations to her and her family," Congressman Gary Palmer, R-Alabama, said. "Judge Barrett has a stellar record of faithfully interpreting the law, training young lawyers, producing brilliant scholarship, and upholding the Constitution. Her devotion to her family, and her dedication to her students during her years as a law professor, are also commendable. There is no question that she is highly qualified and will make a fantastic Justice. I urge the Senate to confirm her quickly."
Senate candidate Tommy Tuberville:
"I am so excited about President Trump's nomination today of Judge Amy Coney Barrett to the U.S. Supreme Court," said Republican Senate candidate Tommy Tuberville. "She understands that's it's her job to interpret the Constitution as it's written and not to manufacture new law from the bench. Her nomination opens the door to protecting unborn life, preserving our Second Amendment gun rights, and securing the religious freedoms guaranteed to us by the Constitution."
"My opponent, Democrat Doug Jones has a very different opinion," Tuberville continued. "He's already announced his opposition to any candidate offered by President Donald J. Trump, and he said even meeting and listening to Judge Barrett would be useless. When it comes to giving fair consideration to President Trump's Supreme Court nominee, Doug Jones is a lost ball in high cotton. But that comes as no surprise. He voted against Brett Kavanaugh and said he would have opposed Neil Gorsuch if he'd been in the Senate at the time. Democrat Doug even voted twice to remove Donald J. Trump from office. Since becoming our placeholder senator, Doug Jones has opposed everything most Alabamians support and supported everything most Alabamians oppose. Instead of representing our conservative Alabama values, he's represented the Hollywood and New York values of his high-dollar, out-of-state campaign donors."
"There's no telling what kind of dishonest tactics Doug Jones, Chuck Schumer, Kamala Harris and the other Senate liberals will use against a woman who is imminently qualified to sit on our nation's highest court," Tuberville warned. "So I'll close by asking you to join me in praying for Judge Barrett and her family as she faces what promises to be a tough and partisan confirmation hearing. With your prayers and support, America will soon have a strongly conservative Supreme Court, and Alabama will have a new senator who actually represents the citizens of this great state. May God bless Judge Barrett. May God bless President Donald Trump. And may God continue to bless the greatest nation mankind has ever known."
Congressional candidate Barry Moore:
"I applaud the President for making this nomination now, as the Constitution mandates," said Congressional candidate Barry Moore. "I'm confident that the Senate will also take up Judge Barrett's nomination in a timely fashion and not delay the process until after the election. The Constitution doesn't state anything about waiting until after an election to fill Supreme Court vacancies, despite what the Democrats want us to think."
"I'm pleased that President Trump has chosen a strong pro-life woman for the Supreme Court," Moore continued. "I'm also impressed by Judge Barrett's credentials and experience. I am certain she'll make an exceptional addition to the Supreme Court, and will serve us well for many years to come."
"We, as a nation, must act now by praying for President Trump, Judge Barrett and their families," Moore concluded. "They need to have a shield of favor and protection prayed over them. I truly believe we are in a spiritual battle for our nation and the Democrats will stop at nothing to destroy the character of Judge Barrett, as they've done for the last 4 years with President Trump."
Alabama House Majority Leader Nathaniel Ledbetter
"I join the members of the Alabama House Republican Caucus in praising President Trump's decision to nominate Judge Amy Coney Barrett to the vacancy on the U.S. Supreme Court," said Alabama House Majority Leader Nathaniel Ledbetter, R-Rainsville.
"Judge Barrett clerked for one of the court's greatest conservative jurists, Judge Antonin Scalia, and she understands that her job is to interpret the Constitution as the founding fathers wrote it, not to invent new law out of thin air," Ledbetter said. "The suit against Alabama's strongest-in-the-nation pro-life law is currently working its way through the federal courts, and it could be argued before the U.S. Supreme Court in the near future. Having a conservative majority on the nation's highest court will be essential to the Alabama Legislature's efforts to protect unborn life from harm. We encourage the Senate to hold confirmation hearings as soon as possible and to hold an up-or-down vote on Judge Barrett's nomination immediately after they conclude."