Opinion | Tuberville was right. And then he caved.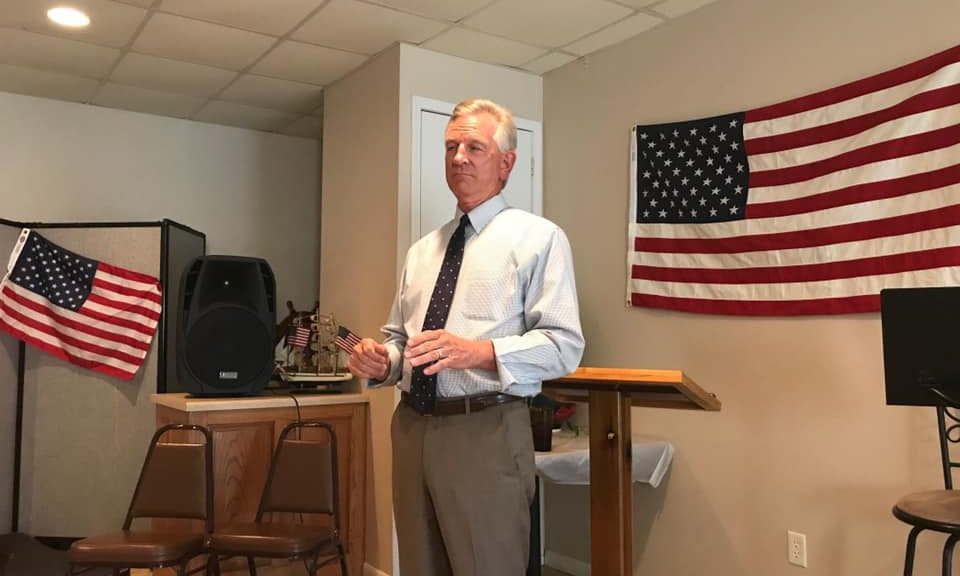 Tommy Tuberville is right about veterans' health care. 
Or, well, he was right. Before he bent to political pressure and stupid Trump pandering.
But when Tuberville, speaking to a group in north Alabama this week, said that Trump should be doing more to help this country's veterans, he was right. He was also right to be angry that more isn't being done. And Tuberville was right to bring it up after a group of veterans approached him with their very serious and real grievances. 
This is not a partisan issue. 
It's something that all Americans should be able to agree on — that we have a debt to our veterans that we've been pretty lousy at paying. 
That has been true for the last several presidents, Republicans and Democrats alike, and I can't fathom the idea of giving any administration a break on this issue because of political preference. 
But Arnold Mooney doesn't care about any of that. 
You'll probably be surprised to learn that Mooney is still in the race for Alabama's U.S. Senate seat, since you likely haven't heard his name mentioned since the day he announced. And maybe not even then. But he is in the race, and in an effort to have someone somewhere type the letters that form his name, his campaign began publicly criticizing Tuberville because Tuberville dared to be critical of Trump. 
Of course, the appropriate response to Mooney and his absurd pandering would be a middle finger and a hard eye roll. 
But this is Alabama. And in Alabama, in order to run for office as a Republican, it is required that you remove your spine and your conscience. Which means that by later the same damn day, Tuberville had already bent to the pressure. 
Not only had he walked back his criticisms of Trump, he'd walked all the way around the park to the other side. 
All of a sudden, Tuberville was saying that "no one has done more for our veterans than" Trump. (Which sounds like something a 10-year-old with zero knowledge of basic American history would say. And that fits perfectly with the level of discourse and debate expected in an Alabama Republican primary.)
But you know who isn't saying that Trump has done more than anyone for veterans? 
Veterans. 
Like with Presidents Obama, Bush, Clinton and so on, Trump has his fans among veterans. And like those other presidents, he has veterans who believe he's treated them well, some who think he's treated them terribly and some who fall right in the middle. 
But the one thing they pretty much all agree on is that he could — and should — do more. 
He has been roundly criticized for a number of decisions regarding budgeting issues for veterans programs. The Washington Examiner — yeah, the ultra-conservative Examiner — slammed Trump back in May over the VA purging 200,000 veterans' applications for healthcare services. 
Essentially, the VA purged those applications, claiming that they contained applicant errors, when in fact an investigation had determined that the errors were the VA's — usually due to computer issues. And that determination was made PRIOR to the purge. 
Another veterans media outlet, ConnectingVets.com, published a story in May citing an investigation that found VA hospitals had badly mismanaged supply levels and could face severe medical supply shortages. 
In March, the Military Times reported on the negative impact that Trump's budget would have on veterans, including limiting healthcare options and shorting programs that provide tuition reimbursement to veterans. 
But the biggest problem, by far, has been a continued delay in access to care. Veterans wait a ridiculous amount of time to see doctors and for routine appointments at some facilities. And a law passed by the Trump administration in 2018 that would have allowed veterans to seek private care in some instances hasn't been fully implemented. That's primarily due to funding questions. 
So, Tuberville was right when he said: "We won't take care of them …. That's Donald Trump's fault. That's his fault. He's got to get it done. That's one of the most important things I think we need to do because we send young men and women over to fight for us, put their life on the line and we don't take care of them?"
These are true statements. 
Ah, but then, I forget that truth in the era of Donald Trump isn't all that important. 
And for Alabama Republicans, standing up for veterans isn't as important as cheap political points.

Opinion | Somebody, please, take the lead
Just like Donald Trump on the national level, Gov. Kay Ivey has bungled containing the novel coronavirus COVID-19. Alabama is showing record cases and hospitalization levels.
But while Ivey extended the Safer-at-Home order though July 31, she didn't add any new restrictions. The governor says requiring masks is simply too difficult to manage and enforce.
Nobody said fighting the virus would be easy. The problem is neither Ivey nor many other governors, along with the White House, didn't really make containment much of a priority.
Testing is still inadequate, nearly a half-year after the pandemic started. Alabama's first diagnosed case was March 13. Since then – as of Wednesday – Alabama has racked up more than 30,000 cases with more than 900 deaths. Nationally, there have been more than 2.6 million cases and nearly 130,000 deaths.
When the pandemic was young, Ivey responded well, ordering everybody to stay home except for essential workers. She did much better than the governors in the state's surrounding Alabama. But just as with most states across the Southeast, after a few weeks Ivey's resolve cracked. Like the governors of states like Georgia and Florida, which are also seeing a spike in infections and are setting records.
Ivey should tighten up the restrictions, including closing the state's beaches over the July 4th weekend. Bars, gyms, and other places where large crowds gather, usually not social distancing and many without masks, should be restricted.
Yes, such measure will continue to cause economic pain, but such restrictions would slow the spread of the virus. We've already seen that not just in the United States, but across many parts of the world.
Ivey and health officials also need to increase testing and contact tracing.
Yes, all of that is difficult, but what are the consequences? More deaths. Just how many deaths are acceptable? Is it 1,000 (we're almost there), or 2,000, or 5,000? Is any number unacceptable. It doesn't suffice for elected officials to claim even one death is too many when, through their own actions, thousands and thousands have died in Alabama and across the nation.
And those numbers don't include infected and once hospitalized patients who are left with permanent organ and lung damage.
Cities like Birmingham and Montgomery have mandatory mask laws, and they need to be enforced because a lot of people are going out without their masks. Still, there are many laws on the books that are difficult to enforce; that doesn't mean those laws don't have value. A statewide mandatory mask order if, nothing else, would lead more people to wear masks, plus it would give support to businesses who refuse to allow people inside without masks.
UAB is planning to bring students back on campus when the fall semester begins in late August, but there will be strict safety measures to follow, including wearing masks, social distancing, handwashing, and regular health checks.
Ivey says if the rate of cases and hospitalizations doesn't slow, she'll enact more stringent measures. But when she finally gets around to making those decisions, it could very well be too late.
Indeed, it may be too late already.
We've seen what indecisive leadership does during a pandemic. What we need to see – in Alabama and nationally – is a more determined response that helps put the virus in check. That includes mask wearing, increased testing, and contact tracing.
Every day that doesn't happen, more people will get sick and die when they didn't have to.

Joey Kennedy, a Pulitzer Prize winner, writes a column every week for Alabama Political Reporter. Email: [email protected]