Poll: Most Republicans support assault weapons ban, universal background checks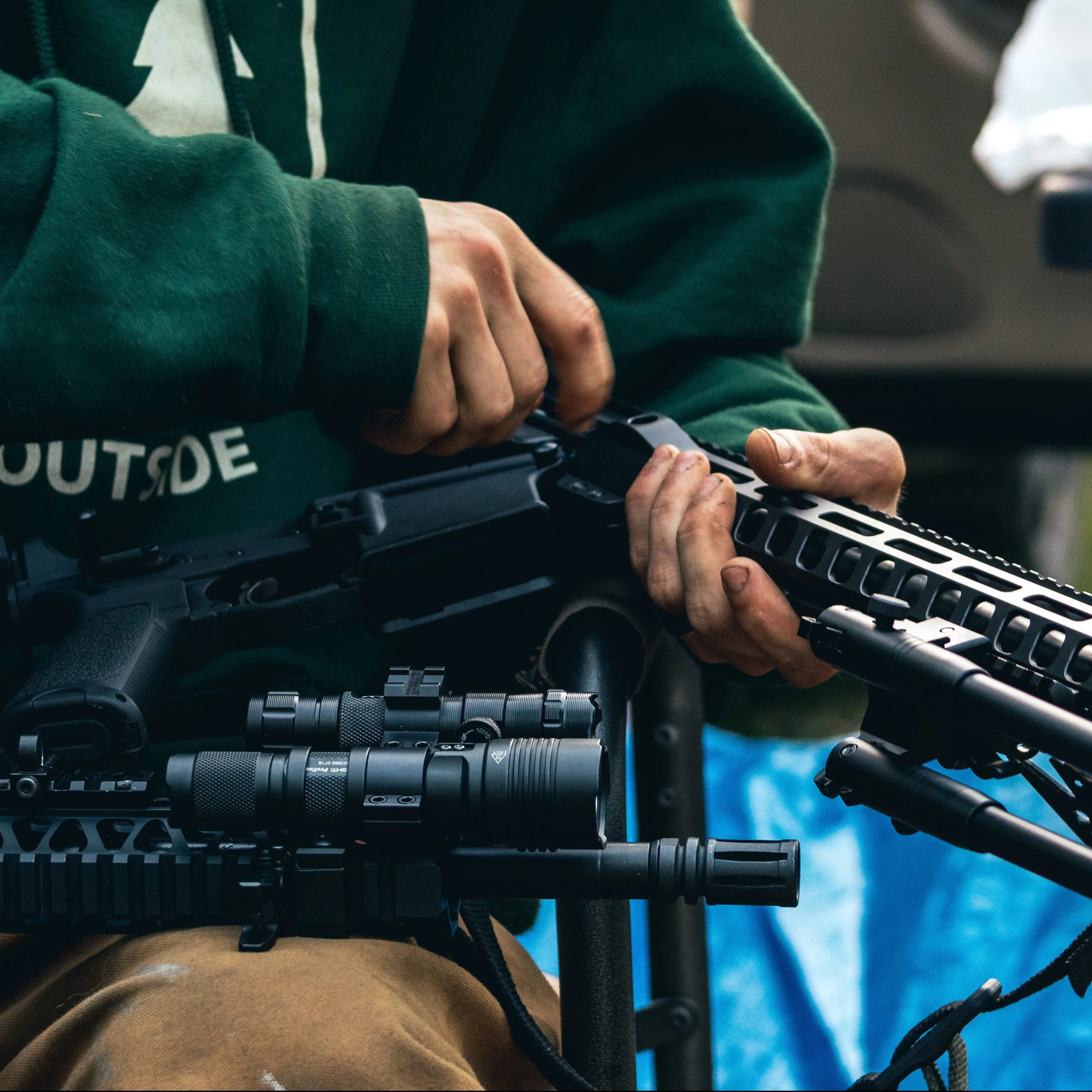 A majority of Republicans asked said they support a ban on assault weapons, according to a Politico/Morning Consult poll published Wednesday. 
The poll results contradicted President Donald Trump's statement on Wednesday that he didn't believe there was a political appetite to ban the weapons, often favored by mass shooters. 
On Aug. 3 a man murdered 22 people in an El Paso Walmart with a semi-automatic AK-47 variant, and a day later in Dayton, Ohio another man shot and killed nine people with a high-powered .223 caliber AM-15, a slightly smaller version of the popular AR-15 assault weapon. 
The Ohio killer had attached a 100-round double drum magazine to his assault weapon and shot 41 bullets in 30 seconds before police shot and killed him. 
"You have to have a political appetite within Congress, and so far I haven't seen that," Trump told reporters on Wednesday on the likelihood of taking up an assault weapons ban, before departing to visit El Paso and Dayton. 
The poll conducted Aug. 5-7, found that 70 percent of all voters approve of an assault weapons ban, and 55 percent of Republican voters approved of the ban. 
It's Republican women, however, who showed stronger support for the ban, with 64 percent saying they approve, while 45 percent male Republicans said the same. 
Only 23 percent of all voters opposed an assault weapons ban, according to the poll. 
Poll's Methodology: This poll was conducted from August 05-07, 2019, among a national sample of 1960 Registered Voters. The interviews were conducted online and the data were weighted to approximate a target sample of Registered Voters based on age, race/ethnicity, gender, educational attainment, and region. Results from the full survey have a margin of error of plus or minus 2 percentage points.
A 1994 assault weapons ban and a limit on high-capacity gun magazines were allowed to expire in 2004 by President George W. Busch. 
A 2015 study by the nonprofit gun control advocacy group EveryTown for Gun Safety found that in the 133 mass shootings in the U.S. between 2009 and 2015 those committed with assault weapons or high capacity magazines resulted in 155 percent more people shot, and 47 percent more deaths than in shootings in which other weapons were used. 
A January 2019 study published in the Journal of Trauma and Acute Care Surgery found that mass-shooting fatalities were 70 percent less likely to occur during the federal ban period of 1994-2004. 
The Washington Post noted, however, that the 2019 study drew criticism from some researchers who said the study may have counted some guns that aren't assault weapons, and didn't take into account other data sets that recorded more mass shootings during those years. 
Still, one of the researchers who critiqued the 2019 study,  Grant Duwe, director of research and evaluation for the Minnesota Department of Corrections, said that while his research doesn't show strong support for a lower rate of mass shootings during the assault weapons ban, there were fewer people killed in those shootings during those years. 
"There's more support, however, for the idea that the per capita severity (the rates at which victims were killed or shot in mass public shootings) was lower during this period of time," Duewe told The Washington Post. "But what's even clearer from the data is that there has been an increase in both the incidence and severity of mass public shootings (on a per capita basis) since the latter part of the 2000s."
U.S. Congressman Mike Turner, R-Ohio, said on Aug. 6 that he supports a ban on assault weapons, magazine limits and "red flag" legislation that would allow courts to temporarily take guns from those deemed a danger to themselves or others. 
"The carnage these military-style weapons are able to produce when available to the wrong people is intolerable," Turner said in his statement. 
Also at odds with many of their Republican representatives in Congress, 90 percent of Republicans polled said they supported universal background checks on all gun sales. 
More than 91 percent of those polled said they support requiring background checks for all gun sales, and only 5 percent of voters oppose background checks. A vast majority of Republicans, 90 percent, supported universal background checks, while 94 percent of Democrats want the change. 
The poll found that 90 percent of those who said they voted for Trump in 2016 approve of universal background checks. 
Republican Congressman Peter King of New York joined Senate minority leader, Democratic New York Senator Chuck Schumer on Tuesday and demanded that Senate Majority Leader Mitch McConnell allow a vote on House passed legislation to require universal background checks on gun sales, according to Newsweek. 
"I believe it's essential that Senator McConnell allow this to come for a vote. He doesn't have to support it; he doesn't have to get behind it. Just let it come to a vote. This is common-sense legislation," King said. 
The public is less certain that Congress will act on their wishes, however. The poll found that 52 percent, including 60 percent of Democrats and 40 percent of Republicans, said it's unlikely that Congress will pass stricter gun laws in next year. 
Democrats have called on Senate Majority Leader Mitch McConnell, R-Ky., to call the Senate back from recess for a special session to discuss gun legislation. On Thursday McConnell told a Kentucky radio host at WHAS in Louisville that he wouldn't be bringing the Senate back into session from its August recess, according to the New York Times. 
McConnell has opposed background checks in the past but told the radio host Thursday that discussion of expanding background checks for all gun purchases will be front and center in a coming Senate debate. 
"There's a lot of support for that," McConnell said, according to The New York Times. 
McConnell said he also expects discussion of "red flag" laws, which allow courts to temporarily take guns away from those deemed a danger to themselves or others, and discussion of an assault weapons ban.
The poll quizzed 1,960 people on 57 questions, the results of which have a margin of error of plus or minus 2 percentage points.
Alabama Department of Corrections "disappointed" by "surprise" DOJ report on excessive force
The Alabama Department of Corrections on Friday responded to a scathing report released Thursday by the U.S. Department of Justice detailing correctional officers' violence against incarcerated men in state prisons, saying the department was "disappointed in the surprise manner" in which the DOJ released the report. 
The DOJ's report details numerous instances of unprovoked and illegal violence against inmates by correctional officers, cover-ups of those crimes by officers and supervisors, and shoddy investigations that often resulted in no disciplinary action. 
The federal government believes systemic use of excessive force within Alabama's prisons for men violates the Eighth Amendment. The report was expected, although it was unclear when DOJ would release it, and follows the DOJ's previous report, released in April 2019, that found that Alabama's prisons for men were likely violating inmates' rights to protection from sexual abuse and physical harm. 
"We are disappointed in the surprise manner in which the DOJ orchestrated the release of this letter, which hinders the progress made by our Department to address the long-standing challenges facing our correctional system," ADOC said in a statement Friday. "This substantive progress includes targeted efforts to reduce instances of violence within our facilities." 
ADOC in the statement said the department stands behind previous statements by Gov. Kay Ivey and Alabama Attorney General Steve Marshall.
Ivey responded to the DOJ report by saying it was an "expected follow-up" to the April 2019 report, completing the DOJ's investigation into the state's men's prisons that began in 2016.  
"We will be carefully reviewing these serious allegations in the coming weeks. My Administration remains hopeful that with the completion of this investigation, the state and federal governments can finally reach a resolution to all of the Department's allegations," Ivey's statement reads. 
"We all desire an effective, Alabama solution to this Alabama problem, and my Administration will put in the hard work and long hours necessary to achieve that result," Ivey continued. 
Marshall, however, took a much harder stance, claiming Alabama was "ambushed" by the DOJ report, and said the state "will not, under any circumstances, enter into a consent decree with the federal government to avoid a lawsuit." 
Among the many serious instances of excessive use of force against inmates in the report, the DOJ detailed the death of Michael Smith, 55, at Ventress prison in December 2019, in which "ADOC personnel informed hospital medical personnel that the injuries occurred after the prisoner fell from a bunk bed." 
"The autopsy revealed that the prisoner died from blunt force trauma to the head. He sustained multiple areas of intracranial bleeding, fractures of his nose and left eye socket, and had at least six teeth knocked out," federal investigators wrote in the report.
Federal investigators found that ADOC's investigative arm, the Intelligence & Investigations Division, did substandard investigations into use of force incidents, failed to collect necessary information on allegations and came to improper findings in numerous incidents. 
ADOC in the statement Friday said the department has been proactive in dealing with the DOJ's concerns, and that Commissioner Jeff Dunn formed a Violence Reduction Task Force in December 2019. 
"The recommendations of the Task Force include refresher protocol and procedure training; health and wellness interventions for correctional officers and staff; an emphasis on inmate rehabilitation programs and resources; and the reexamination of enhanced surveillance measures such as facility cameras and the use of body cameras for on-duty correctional officers," ADOC's statement reads. 
DOJ's report also notes that chronic understaffing in the overcrowded prisons is contributing to the use of violence among correctional officers, which has resulted in the serious injury and deaths of inmates. 
"The DOJ's claim that the 'ADOC …  has not taken meaning[ful] steps or other emergency measures to address the understaffing' is simply false," ADOC said in the statement, adding that in 2018 a federal judge accepted the department's plan to hire additional staff. 
It has been more than two years since U.S. District Judge Myron Thompson ordered the ADOC to hire an additional 2,000 correctional officers by 2022.
We are disappointed in the surprise manner in which the DOJ orchestrated the release of this letter, which hinders the progress made by our Department to address the long-standing challenges facing our correctional system."
"Since then, they have increased correctional staff by only 147 officers," said attorneys for the plaintiffs in the lawsuit in a filing on June 24. The Southern Poverty Law Center and the Alabama Disability Advocacy Program, the plaintiffs, filed the 2014 suit arguing the state was indifferent to the health of inmates dying by suicide in greater and greater numbers. 
Both Ivey and ADOC in their statements mentioned infrastructure investment as important steps to addressing the DOJ's concerns. Ivey's plan to build three new mega-prisons through a build-lease proposal continues to move forward. 
Rep. Chris England, D-Tuscaloosa, is a member of Ivey's Study Group on Criminal Justice Policy, which was formed in 2019 to study the state's failing prison system and suggest legislative fixes. The group in January made a series of recommendations but COVID-19 brought an end to this year's Legislative session without the bills that those suggestions produced coming up for votes.
England in a Tweet Friday expressed concern about spending billions on new prisons, and reiterated his previous calls for Ivey to call a special session to address the state's prison crisis.
After two DOJ reports detailing how bad our prisons are, are we really going to give the same @ALCorrections that is failing miserably to manage our current prisons over 2 billion dollars to build new ones? Seriously? We need a special session @GovernorKayIvey. #alpolitics

— Chris England (@RepEngland70) July 24, 2020
"After two DOJ reports detailing how bad our prisons are, are we really going to give the same @ALCorrections that is failing miserably to manage our current prisons over 2 billion dollars to build new ones? Seriously? We need a special session @GovernorKayIvey."