Byrne supports investigating the investigators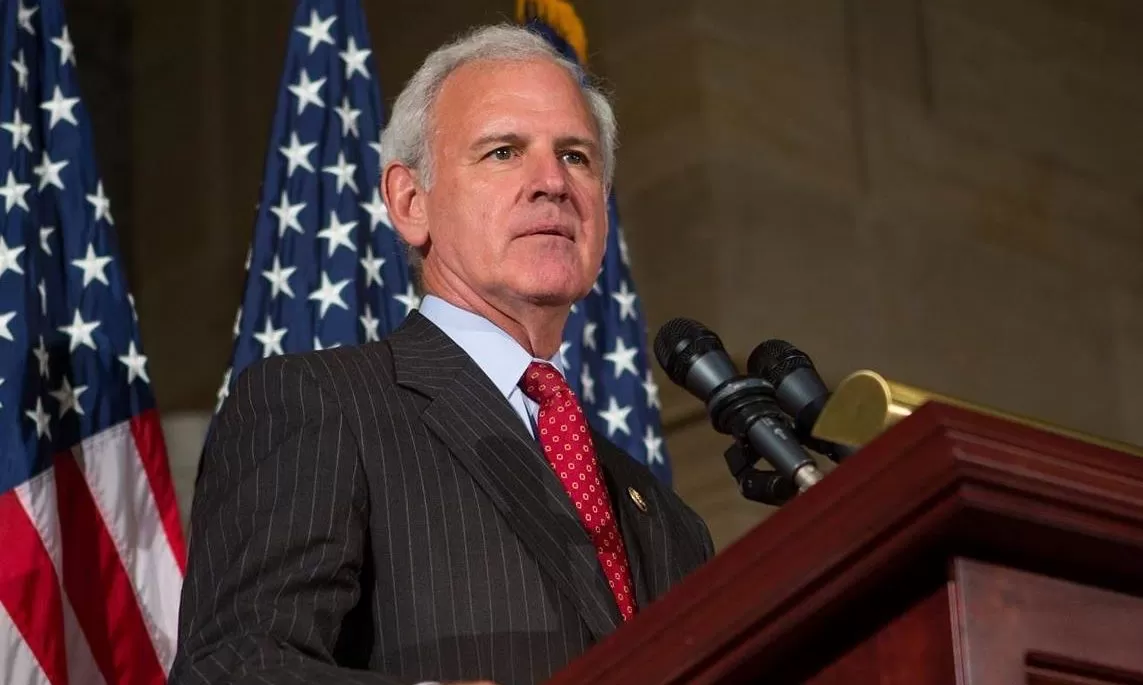 Wednesday, Congressman Bradley Byrne (R-Montrose) told the Alabama Political Reporter that he still "has hundreds of questions about the authorization of the so-called" investigation into the 2016 campaign.
This statement came following an announcement that U.S. District Court Judge Christopher Cooper ordered the FBI to conduct a search within 60 days for records of communications with former British spy and "Steele dossier" author Christopher Steele post-dating Steele's service as an FBI confidential source.
APR asked: The Steele dossier is a political hot button; but our government tapped the President's phones, spent $30 million, took 100 FBI/IRS agents off their real jobs for 18 months, ruined a dozen reputations/careers, poisoned the press and our own intelligence/DOJ assets against the new POTUS, and were ready to impeach a President based on the material written by Christopher Steele in 2016 and then could not corroborate ANY of it. Special Counsel Robert Mueller for some reason spent more time investigating Stormy Daniels, Cohen's law clients, and Manafort's tax troubles, than the dossier that launched his investigation. Do we need to know what really happened with what Steele wrote, where he got his "information", and who was giving the orders for this back in 2016?
"I've put forward legislation that would require that we 'Investigate the Investigators' to figure out how the whole collusion nonsense started in the first place," Byrne said. "There are hundreds of questions about the authorization of this so-called investigation, and the American people deserve the truth. I'm glad Attorney General Barr is looking into this, and I will keep pushing to ensure we 'Investigate the Investigators.'"
Byrne represents Alabama's First Congressional District. He is a 2020 candidate for the U.S. Senate seat currently held by Doug Jones (D).
In ordering the supplemental search for records, Judge Cooper held: that the potential for illuminating the FBI's activities is not too difficult to discern.
Judicial Watch argued before the court that communications post-dating Steele's time as an informant might reveal a great deal about why the FBI developed him as a CHS [confidential human source], his performance as a CHS, and why the FBI opted to terminate its relationship with him. Those records might either bolster or weaken Steele's credibility as a source. That information, in turn, could provide a basis on which to evaluate the FBI's performance of its law-enforcement duties, including its judgment in selecting and relying on confidential sources, especially in connection with such a politically sensitive subject.
Even Judicial Watch acknowledges that the records they speculate about might not even exist—and even if they do, they may not reveal anything significant about the FBI's operations. But that they might do so makes them a matter of potential public interest.
The court ruling follows Judicial Watch Freedom of Information Act (FOIA) lawsuit against the U.S. Department of Justice (DOJ) for records of communications and payments between the FBI, Christopher Steele and his private firm, Orbis Business Intelligence (Judicial Watch v. U.S. Department of Justice).
In Friday's ruling, Judge Cooper held that, on balance, any privacy interests Steele may have in keeping the documents secret are outweighed by the public's interest in disclosure:
"The court was right to turn aside the FBI's fake concerns for Clinton spy Christopher Steele's privacy and order the agency to search for more records on its use of Steele and his Dossier to target President Trump," stated Judicial Watch President Tom Fitton. "That the FBI is still protecting Christopher Steele and the Clinton spy ring at Fusion GPS should tell you there is much more corruption to be exposed in the coup efforts against President Trump."
Documents previously produced in this lawsuit show that the FBI paid Steele at least 11 times during the 2016 presidential campaign and then fired him for leaking. Judicial Watch has also learned in this lawsuit that former Associate Deputy Attorney General Bruce Ohr remained in regular contact with Steele after Steele was terminated by the FBI in November 2016 for revealing to the media his position as an FBI confidential informant.
Steele was drawing checks from the FBI as an informant during the same period that he was being paid by the Hillary Clinton campaign to prepare the Steele dossier.
Through another FOIA lawsuit, Judicial Watch was able to obtain emails of Bruce Ohr discussing information obtained through his wife Nellie, which he passed on to the FBI. The information contained anti-Trump dossier materials, including a spreadsheet that tries to link President Trump to dozens of Russians.
"I've read the entire Mueller Report cover to cover, and it's clear there was no collusion and no obstruction," said Byrne in a statement in May. "We need to determine what led to the authorization of the partisan witch hunt against President Trump and find out why, at the same time, Secretary Clinton was given a pass after clearly violating multiple federal laws."
"Going forward, we must ensure no high-placed government officials ever abuse their position again," Byrne continued. "My bill will enable the Department of Justice to determine what President Obama and his Administration knew and when they knew it and why numerous questionable decisions were made in 2016 and beyond."
The Investigate the Investigators Act of 2019, H.R. 3028, calls for a formal Department of Justice investigation into all the actions taken during the 2016 presidential election as it relates to federal investigations regarding President Trump and Secretary Clinton and requires an automatic and independent oversight investigation anytime an investigation of a federal political campaign is opened by the DOJ in the future.
The major party primaries will be on March 3.
Alabama's Black Belt lacks quality internet access, report finds
Twenty-two of 24 Black Belt counties are below the statewide average of 86 percent of the population who have access to high-speed internet, and two Black Belt Counties — Perry and Chocktaw — have no access at all. 
During an online video briefing Monday on a report about a lack of internet access in Alabama's Black Belt, University of Alabama student Brad Glover warned reporters that he could get kicked off the briefing at any moment. 
That's because he was talking during the video briefing by way of audio only, using his cell phone, as he does not have access to high-speed internet access at his Linden, Alabama, home in the Black Belt's Marengo County. 
The COVID-19 pandemic that sent students home to study online left many in the Black Belt and other rural parts of Alabama in the lurch, without access to the high-speed internet enjoyed by so many other Americans, according to the latest report in the University of Alabama's Education Policy Center's Black Belt 2020 series. 
The latest report, titled "Internet Access Disparities in Alabama & the Black Belt," found that 22 of 24 Black Belt counties, as defined by the Education Policy Center, are below the statewide average of 86 percent of the population who have access to high-speed internet, and two Black Belt Counties — Perry and Chocktaw — have no access at all. 
"It is still a terrible struggle for me to connect to get the things done that are required," said Glover, who interned with the Education Policy Center. 
Stephen Katsinas, director of the Education Policy Center, said that in the 1930s, nine of ten rural homes lacked the electric service that urban American homes, by that point, had for 40 years. 
"The Rural Electrification Act was passed to address this abject market failure," Katsinas said. "Today, as the COVID pandemic has shown, access to high-speed internet is as essential to rural Alabama as the REA was in the 1930s. Alabama must directly address the market failures that exist today to bring high-speech internet to every rural Alabamian, so that our rural workforce can access the lifelong learning skills they need, and our rural businesses can compete globally." 
The COVID-19 pandemic has also spotlighted the need to expand the growing area of telemedicine. 
Dr. Eric Wallace, medical director of Telehealth at UAB, told reporters during the briefing Monday that patients are largely doing telehealth from their homes, and explained that disparities in access to high-speed internet present a problem for them. 
"Since the COVID-19 pandemic began, UAB has done approximately 230,000 telehealth visits, and 60 percent of those were done by video," Wallace said. 
"Forty percent are audio only, and why is audio only? It's because we do not have broadband," Wallace said. "So it's not just broadband. It's broadband. It's tech literacy. Socioeconomics, to have a device in your home. It's all of that."
Wallace said that the coronavirus crisis has made clear that telemedicine is a "100 percent necessity" and that patient satisfaction studies make clear it's not going anywhere. 
The reasons for disparities in access to high-speed internet are myriad, explained Noel Keeney, one of the authors of the report and a graduate research assistant at the Education Policy Center. 
Keeney noted a study by BroadbandNow that estimates there are 154 internet providers in Alabama, but there are 226,000 Alabamians living in counties without a single provider, and 632,000 in counties with just a single provider. 
Even for those with access to internet providers, Keeney said that just approximately 44.4 percent of Alabamians have internet access at a cost of $60 monthly or below. 
"If we really care about our rural areas, we need to make an investment, and it needs to cut off that cost at a very low rate," Wallace said. 
Katsnias said there's a growing consensus on the part of Alabama's political leaders that access to high-speed internet is an important issue, noting that Gov. Kay Ivey in March 2018, signed into law the Alabama Broadband Accessibility Act, which has given internet access to nearly 100,000 Alabama students. 
"In March, Gov. Ivey awarded $9.5 million in broadband expansion grants, with a significant amount going to Black Belt communities," the report reads. "This was followed by $5.1 million in additional grants in May." 
"The State of Alabama also allocated $100 million in federal CARES Act-related dollars for "equipment and service for broadband, wireless hot spots, satellite, fixed wireless, DSL, and cellular-on-wheels to increase access for K-12 students undergoing distance learning," the report continues. 
An additional $100 million in CARES Act funds were made available to facilitate virtual learning across Alabama's K-12 schools, researchers wrote in the report, and another $72 million in federal aid went to the state's colleges and universities. 
Katsinas said however those federal funds are spent, the state still needs a long term plan for how to address the disparities in access to high-speed internet. 
"We need a long term plan and we need to do what we can do immediately," Katsinas said
Read more of the Education Policy Center's reports in the "Black Belt 2020" series here.