Ivey attends DaikyoNishikawa U.S. groundbreaking in Huntsville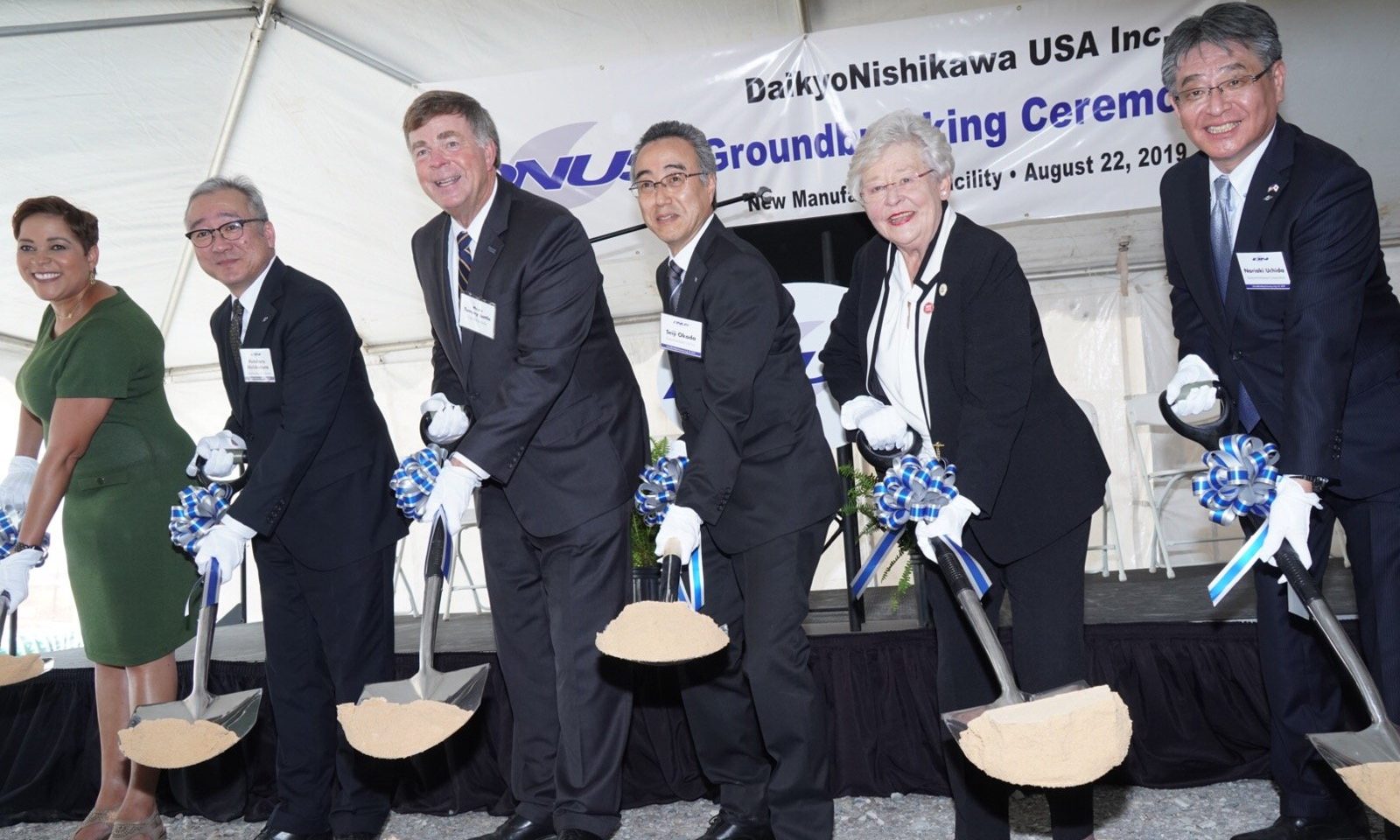 Alabama Gov. Kay Ivey was in Limestone County Thursday, inside the city limits of Huntsville, for the groundbreaking of the new DaikyoNishikawa U.S. auto parts plant.
"I'm proud to welcome another great Japanese company, DaikyoNishikawa, to Sweet Home Alabama, and I know that together we will build a lasting partnership," Ivey said. "Today marks another pivotal moment for Huntsville as it becomes the next vital production hub for the global auto industry."
The new plant is being built on the campus of the new 3.1 million square foot Mazda-Toyota Manufacturing U.S. plant (MTMUS). While we were on site, workers were busy constructing the massive new auto assembly plant that DNUS will supply with parts; while road crews were hard at work widening Old County Road 20 in Limestone County to accommodate the expected traffic from the new factories deep in cotton country. The Governor's office said that as many as 2,500 construction workers will be on site at MTMUS this summer once construction is fully ramped up. Construction crews were poised to begin work on the new DNUS factory.
"I am thrilled that DNUS has made an investment here in Alabama today," Ivey told the gathered DNUS executives and corporate and Huntsville Chamber of Commerce leaders.
The governor said that today was made possible because of Alabama's strong business climate and high quality work force. DNUS's decision to build its first North American plant here in Alabama means that more people will be "able to enjoy a high quality of life."
"DNUS will add to the high caliber companies doing business in Alabama" Ivey said. "DNUS will highlight our high-quality workforce and show that we are thriving and competitive. May God continue to bless each of you and the great state of Alabama."
The groundbreaking event officially launched construction on the auto supplier's $110 million manufacturing plant in North Alabama.
"As our first manufacturing facility in North America, DNUS is proud to serve Mazda Toyota and call Huntsville our new home," said DaikyoNishikama Corporation President Nariaki Uchida. "Together with our business and community partners, our aim is to be a good corporate neighbor and a premiere Tier I automotive supplier."
President Uchida said that DaikyoNishikama was founded in Hiroshima, where the company is headquartered today. The company has factories in China, Thailand, Indonesia, and Mexico; but highly desired to establish a hub in North America.
Ushida said that the company had a goal of being very "environmentally conscious" and estimated that the facility would be completed in July 2020, but the important thing is that it be built safely.
"I pray for safety of all the workers involved in the construction," Pres. Uchida said.
The DNUS facility will produce plastic automotive parts for the MTMUS assembly plant and will employ approximately 380 people at full production.
"By selecting Alabama as the site for its first U.S. manufacturing facility, DaikyoNishikawa joins a long list of world-class Japanese companies with growing operations in the state," said Alabama Commerce Secretary Greg Canfield. "We look forward to working with this high-caliber company to assemble a workforce in Huntsville that can fuel its growth plans."
Ivey told the Japanese executives that Canfield and the Alabama Department of Commerce were there to help them in anything that they need.
"DaikyoNishikawa is a key manufacturer in the growing cluster of Tier 1 automotive suppliers for MTMUS, and we're excited to provide the skilled workers for this high-performing auto industry leader," Huntsville Mayor Tommy Battle said.
"We are honored to be your partner," Battle told DNUS executives. "We will make sure that you have the best workforce possible."
Battle said that DNUS is one of three Mazda Toyota suppliers that have already announced that they are locating facilities in Huntsville, with DNUS being both the first to announce and now the first to break ground.
"This is a city that brings engineering and manufacturing together to build amazing things," Battle concluded. "This is a great victory, not just for Huntsville, and the Tennessee Valley, but all of North Alabama.
"Through collaborative efforts between the public and private sector, our state has positioned itself as a national and global leader the automotive industry," Economic developer Nicole Jones explained to the Alabama Political Reporter. "The state of Alabama continues to unveil major automotive industry-related announcements, which translates into more jobs in our area. DaikyoNishikawa's decision to establish its first US presence at the Mazda Toyota plant in north Alabama is an important component of the automotive supply chain and is a testament to the creation of an environment conducive for business."
Demonstrating the company's commitment to be good corporate citizen, DNUS President Seiji Okada presented a check to United Way of Madison for $10,000 at Thursday's event.
In May, DNUS became the first auto supplier to announce plans to locate a facility on the site of the Mazda Toyota joint venture assembly plant, which will have the capacity to produce up to 300,000 vehicles annually. The Mazda-Toyota partnership is investing $1.6 billion to open the Huntsville assembly plant, which will employ up to 4,000 people.
The DNUS facility will begins operations coinciding with the start of MTMUS vehicle production in 2021. DNUS's Alabama workforce will manufacture large resin parts such as bumpers and instrument panels for Mazda and Toyota.
DaikyoNishikawa operates about a dozen research and development centers and manufacturing plants in Japan in addition to its production sites in Mexico, Thailand, Indonesia and China.
The company employs more than 5,000 people worldwide.
Five MTMUS suppliers, including DNUS, have already announced plans to build factories in North Alabama, employing 1,700 workers, most of them in Huntsville.
DNUS has already started hiring qualified candidates.
The Alabama Political Reporter asked Gov. Ivey that with all of the announcements of new jobs at Mazda-Toyota, auto suppliers like DNUS, as well as drones, and rocket engines at Blue Origins, if there was a danger that that state would not be able to keep all of these facilities supplied with competent labor.
Ivey said that is why she has been stressing workforce development and one of the reasons why she is working to improve K-12 education in the state.

Secretaries of State share joint statement on importance of USMCA launch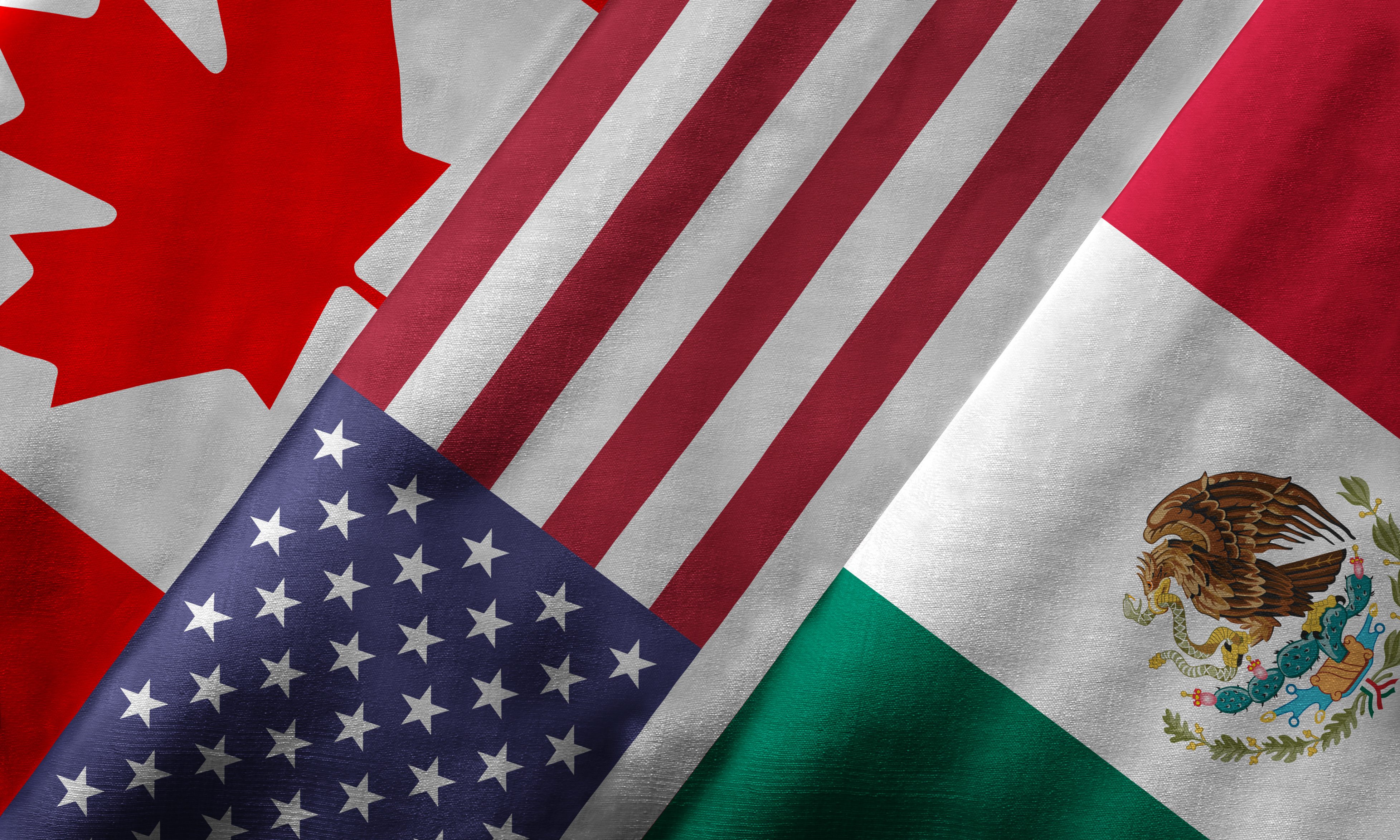 Following the completion of the necessary measures to comply with commitments under the United States-Mexico-Canada Agreement (USMCA), the Agreement officially enters into force today, July 1, 2020.
As Secretaries of State who oversee the business filings process in the respective states of Alabama, Iowa, Kentucky, Louisiana, Mississippi, Missouri, Nebraska, Ohio, Texas, and Wyoming, Secretaries John H. Merrill (Alabama), Paul D. Pate (Iowa), Michael G. Adams (Kentucky), Kyle Ardoin (Louisiana), Michael Watson (Mississippi), John R. Ashcroft (Missouri), Bob Evnen (Nebraska), Frank LaRose (Ohio), Ruth Hughs (Texas), and Edward A. Buchanan (Wyoming) recognize and appreciate firsthand the positive impact the USMCA will have on entrepreneurs across the country.
"Alabama's international engagement fuels job growth and increases exports. The success of Alabama businesses depends on the participation and competitiveness of our global counterparts. Alabama totaled $6.6 billion in exports to Canada and Mexico in 2018, supporting families and businesses across the state" noted Alabama Secretary of State John H. Merrill. "I was delighted to join President Donald J. Trump in January of this year as he signed this mutually beneficial agreement, and I look forward to its future success."
"The USMCA is a great opportunity for Iowa's farmers, businesses and families. The launch of this agreement comes at a vital time for our country and will provide a much needed boost to our economy. Canada and Mexico bought $6.5 billion worth of goods from Iowa in 2018 and this deal ensures our partnerships with these neighbors will continue," stated Iowa Secretary of State Paul Pate.
"The USMCA entering into force is a great deal and a win for American and Louisiana workers. The USMCA will help support and grow our economy, boost small businesses, help our farmers, manufacturers, and workers, and ensure more Louisiana-made products can be sent internationally. Trade is important to Louisiana's economy and this deal will help boost both," stated Louisiana Secretary of State Kyle Ardoin.
"During a time when the future of our economy seems nebulous, the USCMA creates a portal for modern opportunities and prosperous partnerships," said Mississippi Secretary of State Michael Watson. "The enhanced agreement will undoubtedly revive businesses and help boost innovation in our state. I applaud President Trump's leadership and dedication to ensuring a fair playing field for Mississippi farmers, ranchers, and entrepreneurs."
"Missouri is grateful for this historic agreement, which will help Missouri agriculture and businesses grow with more jobs and increasing exports.  As our economy recovers, getting businesses and people back to work, this will help ensure success for large and small businesses who compete and form partnerships with our neighbors.  We stand ready to assist our entrepreneurs and businesses," replied Missouri Secretary of State John R. Ashcroft.
Nebraska Secretary of State Bob Evnen noted, "The USMCA provides expanded opportunities for Nebraska's livestock industry, and our ag commodity and specialty crop producers. The USMCA builds on the successes and corrects the problems of NAFTA, and gives us expanded opportunities for Nebraska's ag trade with our friends in Mexico and Canada. This excellent agreement now serves as a template for other international free trade agreements, so we have cause for optimism on many fronts."
"Today is a day Ohio's farmers and entrepreneurs have been waiting for," said Ohio Secretary of State Frank LaRose. "As our nation's economy continues to recover, the USMCA is a much needed boost as they compete on the global stage. Thanks to the leadership of President Trump, Senator Portman and bipartisan leaders from across our nation, Ohio is poised for our next giant leap, and my office looks forward to helping make it happen."
"Last year alone, trade between Texas and its two largest trade partners—Mexico and Canada—totaled more than $200 billion. This exchange supports the more than 950,000 Texas jobs that are tied directly to trade with Mexico and Canada," said Texas Secretary of State Ruth Hughs. "The implementation of the USMCA provides tremendous benefit to all parties involved in the trade deal and will help to ensure years of mutual economic benefit and prosperity for all. We look forward to further strengthening our relationship with our trade partners as we enter a new era of innovation and success."
"The USMCA trade deal has high standards and rebalances North American trade to provide a stronger market for Wyoming's and our Nation's goods. This is a great day for our country, as businesses will better be able to participate in cross-border trade. USMCA ensures fair business practices by our neighbors and now the advantage will be back in the hands of the American worker," stated Wyoming Secretary of State Edward Buchanan.
This historic trade agreement will result in freer markets, fairer trade, and strong economic growth across North America, creating new opportunities for American workers, farmers, ranchers, and business owners.