Ivey: "There is no pathway forward" for Mobile River Bridge and Bayway replacement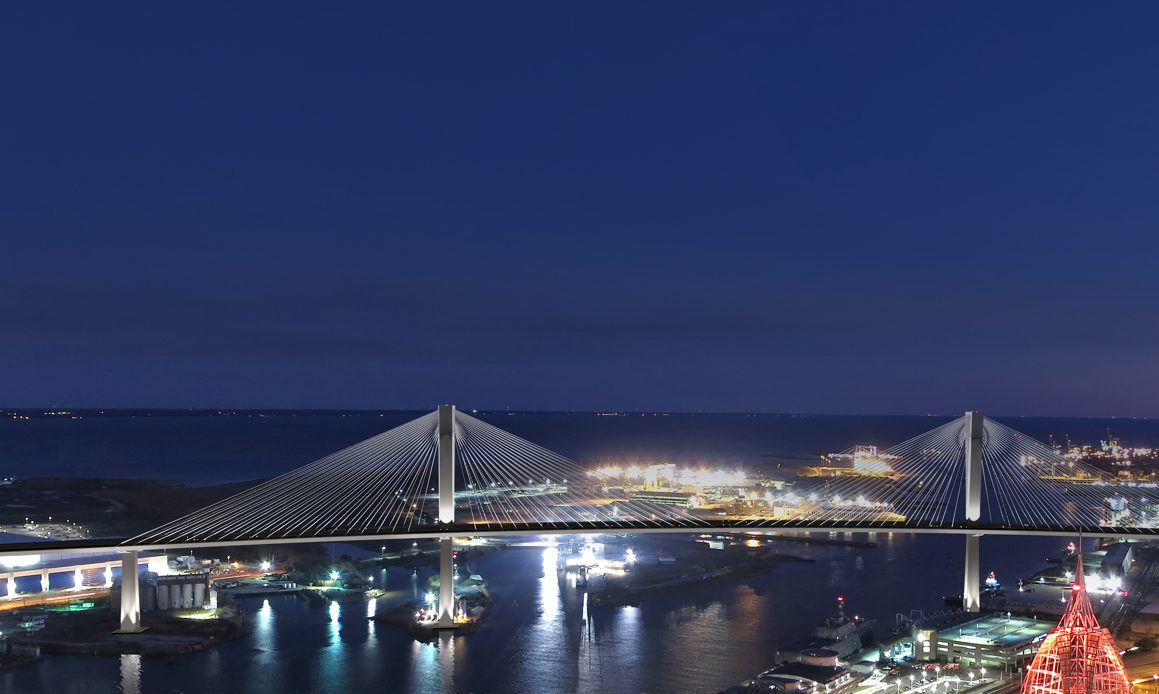 On Wednesday, local Baldwin County elected officials voted "effectively" to kill the Mobile River Bridge project. The Eastern Shore Metropolitan Planning Organization (MPO) met to vote on its Transportation Improvement Plan (TIP), which establishes the area's transportation priorities from 2020 to 2023.
For a decade, Mobile and Baldwin County officials have been asking federal and state officials for an Interstate 10 bridge over the Mobile River to relieve traffic congestion for motorists going back and forth between the two coastal counties. Currently I-10 drops into the Wallace Tunnels to go under the Mobile River.
On Wednesday the Eastern Shores MPO voted 8 to 1 to remove the controversial Mobile River Bridge and Bayway replacement project from their TIP priority list. The TIP list is important; because no federal funds can lawfully be spent on a project that local governments do not want. Since ALDOT receives federal matching dollars, removing the project from Baldwin County's TIP project is a mortal blow for the project.
Alabama Governor Kay Ivey (R) had made the Mobile River Bridge a top priority of her administration. The Governor declared the project "dead."
"With the action taken today, there is no pathway forward, and this project is dead," Gov. Ivey said. "Moreover, without a project, there is no need for a meeting on October 7. I am thereby cancelling the Toll Road, Bridge and Tunnel Authority meeting."
The project was already on life support after the Mobile MPO took it off of their TIP list last week temporarily until after the Toll Road, Bridge and Tunnel Authority meeting in October. The Alabama Department of Transportation (ALDOT) plan was to finance the $2.1 billion public works project by tolling the users.
In May just about every public official in SW Alabama was for the bridge. After ALDOT revealed their newer, bigger, fancier, far more costly bridge plan, and the public, who was paying for this modern engineering marvel, weighed in just about every public official in SW Alabama and statewide was opposed to the bridge if it were paid for with tolls.
ALDOT Director John Cooper famously told residents and politicians alike that if there was not tolls there would be no bridge. The SW Alabama public, and the people they elect, overwhelmingly chose no bridge over paying a six one way toll. Even ALDOT's later proposal of unlimited bridge usage for $90 a month prepaid did nothing to put out the firestorm of public outrage.
The Tea Party led a coalition that grew quickly to include the Baldwin County Democratic Party, the Alabama Libertarian Party, the entire Mobile County legislative delegation, every congressional candidate, the Baldwin County Mayors, County Commissioners, every U.S. Senate candidate, and included public officials who have been fighting for a Mobile River Bridge for the last decade. The public did not want a toll bridge and ALDOT had no other way to fund this project.
Many Mobile County residents work in stores, motels, and restaurants in the booming Eastern Shores area of Baldwin County, and they did not want to pay the $6 one-way two to four times a day. They pressured their Mobile elected officials on the MPO to stop the project. Last week the Mobile MPO removed the bridge from their TIP list until after October 7; however as any casual observer of I-10 traffic patterns already knows, far more Baldwin County residents go to work in Mobile County than the other way around and Baldwin County has its own metropolitan planning organization, the Eastern Shores MPO.
While tolling the Mobile River Bridge was unpopular in Mobile County, the plan was despised by Baldwin County residents.
Every local Baldwin County elected official on the Eastern Shores MPO voted in favor of removing the bridge and Bayway from the TIP list. The only vote against removing the bridge from the came from an engineer employed by ALDOT.
Lieutenant Governor Will Ainsworth (R) is one of nine members on the Alabama Toll Road, Bridge, and Tunnel Authority. Ainsworth had already announced that he was voting against the plan if it ever made it to the Toll Authority.
"Daphne Mayor Dane Haygood and the members of the Eastern Shore MPO should be commended for listening to the citizens they represent, giving voice to their concerns, and voting to end the ill-conceived and fatally-flawed toll bridge project connecting Baldwin and Mobile counties," Ainsworth said in a statement. "The strong stand taken by the MPO today should reaffirm all citizens' belief in representative government and the power of public opinion."
The project appeared to be moving full steam ahead with no problems at all for the first five months of this year. The legislature passed the largest gas tax in state history to give ALDOT another $310 million a year as well as special legislation modernizing the toll authority, allowing ALDOT to enter into public private partnerships (P3s) for infrastructure projects, expanding tax breaks for companies operating in Opportunity Zones (the Mobile River Bridge is in an O-Zone), and giving private toll operators the authority to suspend a motorist's driving privileges if they don't pay their toll bill sailed through the legislature with bipartisan support led by members of the Baldwin and Mobile legislative delegations.
While there was no significant opposition in the legislature; the reporting by the Alabama Political Reporter (and other outlets) about the details of the legislation was noticed in South Alabama by grassroots activists, the general public, and political operatives alike.
State Auditor Jim Zeigler (R) announced his opposition to the plan and formed a Facebook group committed to the idea that the bridge and the existing Wallace Tunnels should not be tolled, even if that means the project is not built.
"We started this campaign against the Alabama toll bridge on May 12 with one member – me," Zeigler said in a statement. "At that time, people told me, "You're wasting your time. This is a done deal. There's nothing you can do."
"Fortunately, I did not believe that we were helpless and hopeless," the popular State Auditor said. "Also, our 54,000 new members did not believe we were hopeless. Now, the done deal is a dead deal."
Powerful corporations and business interests had been pushing for the bridge for years to get cargo in and out of the Port of Mobile, which is being expanded with an expensive deeper wider shipping channel to handle large ships. Every elected official had voiced support for the bridge back when the cost was just $800 million a year and the tolls were going to be $2 or less. Legislators were told that the average motorist spends more money on fuel stuck in I-10 traffic than the tolls would have cost so would save money.
After the 2019 legislative session was over, ALDOT unveiled a new proposal. Not the $800 million bridge and Bayway widening presented to legislators before; but a taller larger bridge with a viewing platform, bike lanes, and a total Bayway replacement. The $2.1 billion project would be paid for with $6 tolls for the next 55 years. The existing Wallace Tunnels would also be tolled, and three corporate conglomerates would bid on the contract to build the costly structure, the largest of its kind in North America, and collect the toll revenue. An already skeptical public erupted and popular support for the bridge evaporated almost overnight. Elected officials who had fought for the project, in some cases for years, now became outspoken public opponents as Zeigler's growing bipartisan grassroots opposition group grew exponentially over the summer. A later ALDOT proposal to cap total toll costs for residents at $90 a month per vehicle did little to satisfy opponents.
On Tuesday the governor sent a letter to the Baldwin County Commissioners and Mayors offering to work with them and to look for additional funding to try to build the bridge with reduced or no tolling if that was possible. The Governor told APR that the bridge was critical for the infrastructure of the state.
"The Mobile River Bridge and Bayway project is critical – not only to Mobile and Baldwin Counties, but the entire Gulf Coast Region – and would be important for the continued growth of all of Alabama," Ivey told APR hours before the meeting. "The Eastern Shore MPO's decision today will be to continue exploring all options to move this project forward. My Administration's goal is to find an agreed-upon plan that both the Mobile and Eastern Shore MPOs can approve. Their support is essential to create a pathway to continue the procurement process."
Toll bridge opponents had the momentum and the attention of their elected officials and they were not interested in any compromise.
"We reject this fake compromise," Zeigler said of the Governor's offer to negotiate prior to the meeting. "It does nothing toward a No Toll option. On behalf of our 54,000 members, we ask the Eastern Shore MPO to stay strong and remove the toll plan from the TIP plan at the 2 p.m. meeting in Fairhope."
After a four hour and twenty minute MPO meeting filled with toll opponents, the Eastern Shores MPO agreed with the protestors and voted to kill the bridge.
The question today is what happens next?
"We are starting a 'Lazarus Project' to make sure that the toll scheme does not rise again," Zeigler said.
State Representative Matt Simpson (R-Mobile) told Capital Journal's Don Daly that ALDOT should rethink the project and scale it back to $700 or $800 million without a Bayway replacement and wait to see what Congress and Trump or the new President does on infrastructure in 2021.
"The fact remains, however, that Alabama's Gulf Coast region is experiencing explosive population growth, and traffic congestion throughout the area will only worsen with time," Ainsworth said. "I urge Director Cooper and his ALDOT staff to go back to the drawing board and come back with a more sensible and scaled down bridge proposal that releases traffic pressure without the need for tolling the hardworking residents of our state."
Ivey said simply, "There is no pathway forward."
Trump Administration invests $462 million to modernize rural water and wastewater infrastructure
President Donald Trump's administration announced Monday that the U.S. Department of Agriculture is investing $462 million to modernize critical drinking water and wastewater infrastructure across rural America.
"Upgrading the infrastructure that delivers safe drinking water and modern wastewater management facilities will improve public health and drive economic development in our small towns and cities," said Deputy Under Secretary for Rural Development Bette Brand. "Under the leadership of President Trump and Agriculture Secretary Perdue, USDA continues to be a strong partner with rural communities, because we know that when rural America thrives, all of America thrives."
USDA announced that it is funding 161 projects through the Water and Waste Disposal Loan and Grant Program. These investments will benefit 467,000 residents across the country. Alabama is one of the states that are slated to receive funding for water and wastewater projects. While it's not yet known which projects are being funded in Alabama, some communities in the Black Belt have had well-documented problems with their sewage and water systems for years.
"Access to clean, safe drinking water is a basic need that is critical for residents in rural areas," economic developer Nicole Jones told APR. "Oftentimes rural communities do not have the tax revenue that urban counterparts have, which makes facility and technology upgrades difficult. Modernized wastewater facilities increase efficiency and safety and are an important component of economic development. We are pleased to see Alabama on the list of beneficiaries for the $462 million dollar investment from the Trump Administration and USDA."
Some examples of projects being funded under Monday's announcement include:
In North Bend, Washington, the Sallal Water Association will use a $6.5 million loan to construct a reservoir, a new headquarters building and a new well. The Association supplies potable water to about 1,700 connections serving approximately 5,000 people throughout its service area, which includes the Wilderness Rim Association. The system currently delivers 190 million gallons of water each year from three wells.
The Sanbornville Precinct in New Hampshire will use a $2.9 million loan and a $695,885 grant to replace outdated water system infrastructure dating from the 1930s. This project will resolve health and sanitary issues by upgrading the source pump house facility and replacing 2.3 miles of failing bituminous-coated steel water mains. These improvements will bring the system into compliance with state and federal Occupational Safety and Health Administration regulations and provide enhanced water quality and reliability for 1,056 residents.
The town of Lawndale, North Carolina will use an $872,000 loan and a $1.5 million grant to provide sanitary sewer service to an area of the town that is currently without sewer service. Many homes in the area depend on individual onsite septic systems which are failing. The proposed project will install approximately 16,785 linear feet of eight-inch gravity sewer line, 60 manholes, 141 cleanouts, service laterals, and make other upgrades to service 141 additional residences. Approximately 600 residents will benefit from the project.
The investments that USDA announced today are being made in Alabama, Arkansas, Arizona, California, Connecticut, Florida, Georgia, Idaho, Illinois, Indiana, Iowa, Kansas, Kentucky, Louisiana, Maine, Maryland, Massachusetts, Michigan, Minnesota, Missouri, Mississippi, Montana, Nebraska, New Hampshire, New Jersey, New Mexico, New York, North Carolina, Ohio, Oklahoma, Oregon, Pennsylvania, Rhode Island, South Carolina, South Dakota, Tennessee, Texas, Utah, Virginia, Vermont, Washington, West Virginia, Wisconsin and Wyoming.
To learn more about investment resources for rural areas, interested parties should contact their USDA Rural Development state office.
USDA Rural Development provides loans and grants to help expand economic opportunities and create jobs in rural areas. This assistance supports infrastructure improvements, business development, housing, community facilities such as schools, public safety and health care, and high-speed internet access in rural areas.