Moore says that Omar should go back to Somalia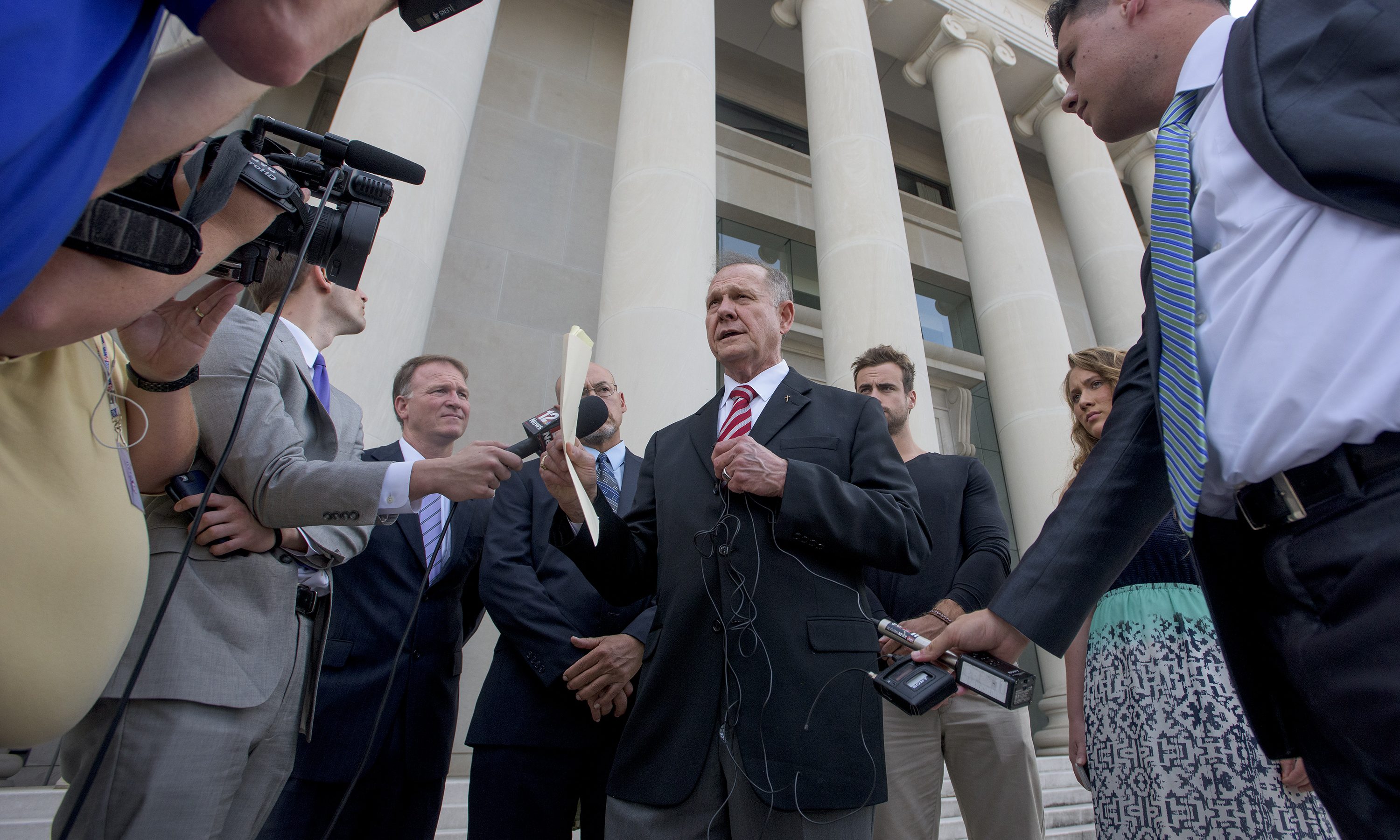 Wednesday, the war of words between former Alabama Chief Justice Roy Moore and Congresswoman Ilhan Omar, D-Minnesota, heated up even further. Moore responded to Omar calling him a pedophile; by announcing that he fully supports the Alabama Republican Party resolution calling on the Congress to expel her and slamming her for own reported "numerous sexual relationships."
On Tuesday, Omar referred to Moore as a "child molester" when she responded to Saturday's resolution by the Alabama Republican Party Executive Committee demanding that Congress expel the Muslim Congresswoman for her anti-Semitic comments, anti-Israel activities, and criticism of U.S. troops. Omar and her fellow "squad" member Rashida Tlaib, D-Michigan, are the first female Muslims in the U.S. Congress. The duo were recently barred from visiting Israel, because of their active support for a boycott of that country. Tlaib's parents are Palestinians and she has a grandmother that still lives on the West Bank. Omar is a naturalized U.S. citizen from Somalia.
"Omar, an avowed Muslim, is a sworn enemy of Israel and has accused our own military of war crimes," Judge Moore said, "While in Congress she has been accused of numerous sexual relationships. I have been married to my wife, Kayla, since Omar was three years old and fought for my Country over ten years before Omar was even born."
"I fully support the resolution of the Alabama Republican Party asking Congress to expel Ilhan Omar under
Article 1, Section 5, of the United States Constitution, I was sworn to defend after my graduation from the United States Military Academy at West Point," Moore continued. "President Trump was right: she should go back to Somalia from whence she came."
The ALGOP resolution was sponsored by Republican Executive Committee member State Representative Tommy Hanes, R-Bryant. Since Hanes proposed the resolution late in the week it did not go through the ALGOP Resolutions committee, thus needed a two thirds majority of the State Executive Committee to pass; which it did easily.
"Sorry, [Alabama GOP], but this is a representative democracy," Omar wrote. "I was elected with 78 percent of the vote by the people of Minnesota's 5th District, not the Alabama Republican Party. If you want to clean up politics, maybe don't nominate an accused child molester as your Senate candidate?"
Judge Moore is a Republican candidate for the 2020 U.S. Senate race in Alabama.
Moore was also the 2017 Republican nominee for U.S. Senate and appeared to be cruising to an easy general election win; when the Washington Post released an article where a number of women claimed to have dated Moore when they were teens in the 1970s. The most disturbing allegation in the report was from Leigh Corfman, who claimed that she went to Moore's home in 1976 when she was just 15 and that the couple stripped to their underwear and engaged in inappropriate touching. 15 is below the age of consent (16) in Alabama. Moore denies all of the allegations and has called Corfman a liar.
The accusations, the media firestorm and the subsequent refusal of support from national Republican groups, together with targeted 'Russian-style' voter manipulation tactics by national Democratic political operatives helped Doug Jones achieve a narrow victory over Moore in the December 2017 special election. Corfman and Moore are locked in a legal battle over those accusations to this day. It was the only time that a Democrat has defeated a Republican in a statewide election in Alabama since 2008.
According to media reports, Omar is estranged from her current husband. There are also persistent media claims that her first husband was her brother, a British citizen, whom she married in 2009 to facilitate her entry into the United States.
Heavy.com reported in July that the Minneapolis Star-Tribune wrote that it "could neither conclusively confirm nor rebut the allegation that he (one of Omar's husbands) is Omar's sibling," Politifact noted. Snopes.com similarly found that "the evidence uncovered thus far isn't definitive enough to come down on one side or the other." PolitiFact wrote that it was also "unable to reach a conclusion during the 2018 election cycle."
NBC News is reporting that Omar has been named by the wife of a D.C. political consultant as being responsible for the couple's divorce. Omar denies that she is having an affair with the political consultant.
Ilhan Omar is just eight months in to her first term in the U.S. House of Representatives.
Moore faces a crowded Republican field for U.S. Senate, but Moore faced a crowded field in 2017 as well.
The Moore campaign said that the twice-former Chief Justice of the Alabama Supreme Court is a life-long Alabamian and a committed constitutional conservative that has stood up for liberty and religious freedom his entire career.
The major party primaries will be on March 3.
Original reporting by NBC News, New York Post, the Minneapolis Star-Tribune, Snopes, Politifact, and Heavy.com contributed to this report.
Ainsworth returns to work after testing positive for COVID
Ainsworth's office on Sept. 21 announced he had tested positive earlier that week, having been tested after someone in his Sunday school class tested positive for the disease. 
Alabama Lt. Gov. Will Ainsworth on Wednesday announced that he was returning to work that day and had met public health requirements for quarantining after testing positive for COVID-19 some time last week.
Ainsworth's office on Sept. 21 announced he had tested positive earlier that week, having been tested after someone in his Sunday school class tested positive for the disease. 
"While many have battled with coronavirus, my symptoms never progressed beyond some mild congestion that I usually experience with seasonal allergies," Ainsworth said in a statement. "During the quarantine period, I participated in several Zoom calls, caught up on some office work, spent some quality time with my family, and completed a number of overdue projects on my farm."
Members of Ainsworth's staff who were in close contact with him haven't tested positive for COVID-19 but will remain in quarantine for a full 14-day period as a precaution, according to a press release from Ainsworth's office Wednesday. 
"Ainsworth once again urges all Alabamians to practice personal responsibility, which may include wearing masks, maintaining social distancing whenever possible, and taking other precautions to lessen chances of exposure to COVID-19," the press release states.
Ainsworth still disagrees with Gov. Kay Ivey's statewide mask mandate, he said. According to the release, he considers such orders "a one-size-fits-all governmental overreach that erodes basic freedoms and liberties while removing an individual's right to make their own health-related choices." 
The wearing of cloth or medical masks has been proven to inhibit the spread of COVID-19 and the more people who wear masks, the better. While not perfect, masks limit the spread of respiratory droplets that may contain infectious virus shed from the nose and mouth of the mask wearer.
It is possible — even likely — for symptomatic, pre-symptomatic and mildly symptomatic people to spread the virus. That's why it's important to wear a mask even when you're not sick.
Cloth masks offer only minimal protection from others who are not masked, meaning that masks are not simply a matter of personal safety but safety of others. Masks are also only effective when worn over both the mouth and the nose. [Here's a guide on how to wear masks properly.]
Dr. Deborah Birx, coordinator of the White House's coronavirus task force, told Ivey after she announced the statewide mask order that it was a "brilliant" idea. The order has been credited by Alabama infectious disease experts as having dramatically reduced the number of cases, hospitalizations and deaths in the weeks after the order went into effect. 
Dr. Don Williamson, president of the Alabama Hospital Association, told APR on Tuesday that from personal observation he is seeing more people not wearing masks, or wearing them improperly, and said the state could dramatically reduce the risk of COVID-19 if the public regularly wore masks and wore them properly.
Hospitalizations of COVID-19 patients in Alabama on Monday crossed the 1,000 mark for the first time since Aug. 31 — a sign that Alabama may be headed for another peak in hospitalizations as the state prepares for winter and flu season.