Opinion | What can we do in the aftermath of blackface controversy?
In the immediate aftermath of the revelation that as a college student Gov. Kay Ivey had worn blackface over 50 years ago, she was called a racist by some and defended by others; as news outlets and social media pages offered a myriad of commentary right and left.
Lately, it seems that there is a willingness to use the word racist for any action that offends.
Racism is a powerfully destructive force that has led to wars, slavery, legal codes, public policies and the underpinning of entire nations.
Alabama's 1901 Constitution has many sections of legal code founded on racism.
To further understand the impact of the 1901 Constitution, a reading of A Century of Controversy: Constitutional Reform in Alabama edited by H. Bailey Thomson is recommended.
Using the word racist casually is reckless, rendering studied conversation impossible.
The Anti-Defamation League defines racism, "as the hatred of one person by another — or the belief that another person is less than human — because of skin color, language, customs, place of birth or any factor that supposedly reveals the basic nature of that person."
By ADL's definition, Kay Ivey is not a racist. What she may be is a product of her times but to think she hasn't grown and changed over the last five decades is foolish or disingenuous.
Casting judgment is easy. Offering forgiveness is hard. But perhaps the most challenging thing to do is finding a way forward that enlightens our understanding and leads to positive change.
Not only did Ivey acknowledge her transgression, but she also expressed remorse for her actions, even releasing the audiotape that revealed her error.
She didn't deny, equivocate, or offer excuses; she took full responsibility for her mistake.
"As such, I fully acknowledge – with genuine remorse – my participation in a skit like that back when I was a senior in college," said Ivey. "While some may attempt to excuse this as acceptable behavior for a college student during the mid-1960s, that is not who I am today, and it is not what my Administration represents all these years later."
Racists don't offer such unvarnished apologies, but decent people do.
Ivey's blackface incident occurred in 1967. In that year, more than 100 U.S. cities were hit by race-related violence which included Prattville, Montgomery and Birmingham.
It was also the year that Thurgood Marshall was sworn in as first black U.S. Supreme Court justice which shows that even amid dire turmoil progress is possible.
Even in 1967, wearing blackface would seem offensive outside of the rarified world of white southern privilege or among those areas of the nation still infected by systemic racism.
Surprisingly over the last several years, political figures on the right and left have recently engaged in such disrespectful behavior, as reported by The New York Times.
But to simply cry racism leaves no room for dialogue.
Democrat Reps. John Rogers and Juandalynn Givan, from Birmingham, have called for Ivey to resign, so has the NAACP.
Understandably, they like hundreds of thousands of other Alabamians are upset about Ivey's blackface routine. I, too, am disappointed, and so should everyone in the state, but how far do we go before we go too far?
SPLC's Interim President Karen Baynes-Dunning while condemning the state's racist past and Ivey's actions said, "We stand ready to work with Governor Ivey, EJI and other organizations across the state to do the hard work of reconciling our past to improve our future."
When I have been granted an opportunity to counsel those in homeless shelters, prisons or individuals just starting in their careers, I always start with a simple phrase, "I don't care where you've been; I just want to know where you want to go?" If asked, I would put the same question to Gov. Ivey.
So, where does Gov. Ivey want to go? She will tell us with her actions.
Senate Minority Leader Bobby Singleton, D-Greensboro, said he and the governor spoke before the blackface story was widely reported and that he found Ivey's apology sincere.
"While this is something that could be painful for those of us in the African-American community, as someone who has worked with the governor and as lieutenant governor and who has built a working relationship with her, I am not apt to hold her totally responsible for something that happened 52 years ago," said Singleton. "Hopefully this can open up a dialogue for race relations in the state of Alabama and the governor can help lead that."
Have Ivey and the Alabama Republican Party enacted policies that harm the state's racial minority? Yes.
Have Ivey and the all-white Republican supermajority failed to enact legislation that would benefit the state's racial minority? Yes.
Did Ivey in her opening bid to win the governorship embrace Alabama's racist past by defending Confederate monuments that were erected during the civil rights era to remind blacks of their place? Yes.
These are all grievous errors, but perhaps more egregious is that fact that Ivey and the Republican Party refuse to acknowledge that their policies do actual harm not just to minorities but to children, woman and the working poor of the state.
In fairness to the governor, she is working to reform the state's education system, promote workforce development and to enact much-needed justice reform.
Unlike her predecessors, Ivey is tackling tough issues without constantly scanning her latest poll numbers.
Gov. Ivey, like most political leaders, and people, in general, is a lot of things including a host of contradictions, but she is not a racist.
We should all hope that this incident will lead to an honest reevaluation of some of the administration's policies and priorities.
Ivey is somewhat hamstrung by a Republican Party that spends time condemning members of congress for anti-semitism while coddling anti-semites within its ranks.
There is an opportunity to use a mistake to move the state forward. I do believe Ivey has the will.
Justice Marshall said, "A child born to a black mother in a state like Mississippi . . . has the same rights as a white baby born to the wealthiest person in the United States. It's not true, but I challenge anyone to say it is not a goal worth working for."
It's far past time for that goal to be fulfilled.
Gov. Ivey has an essential role in ensuring all Alabamians are represented in Montgomery.
There is a lot of hate in this world. Minorities are disenfranchised, their rights are trampled on daily and worse, their lives are not valued.
The shadows of George Wallace and Bull Conner still hang over our state; it is a stain that at times seem unremovable, but it can be if our leaders amend their ways.
Justice Marshall also said, "In recognizing the humanity of our fellow beings, we pay ourselves the highest tribute."
We can do that, can't we?
Print this piece
Opinion | Marsh hurls accusations at Gov. Ivey. Is he barking mad?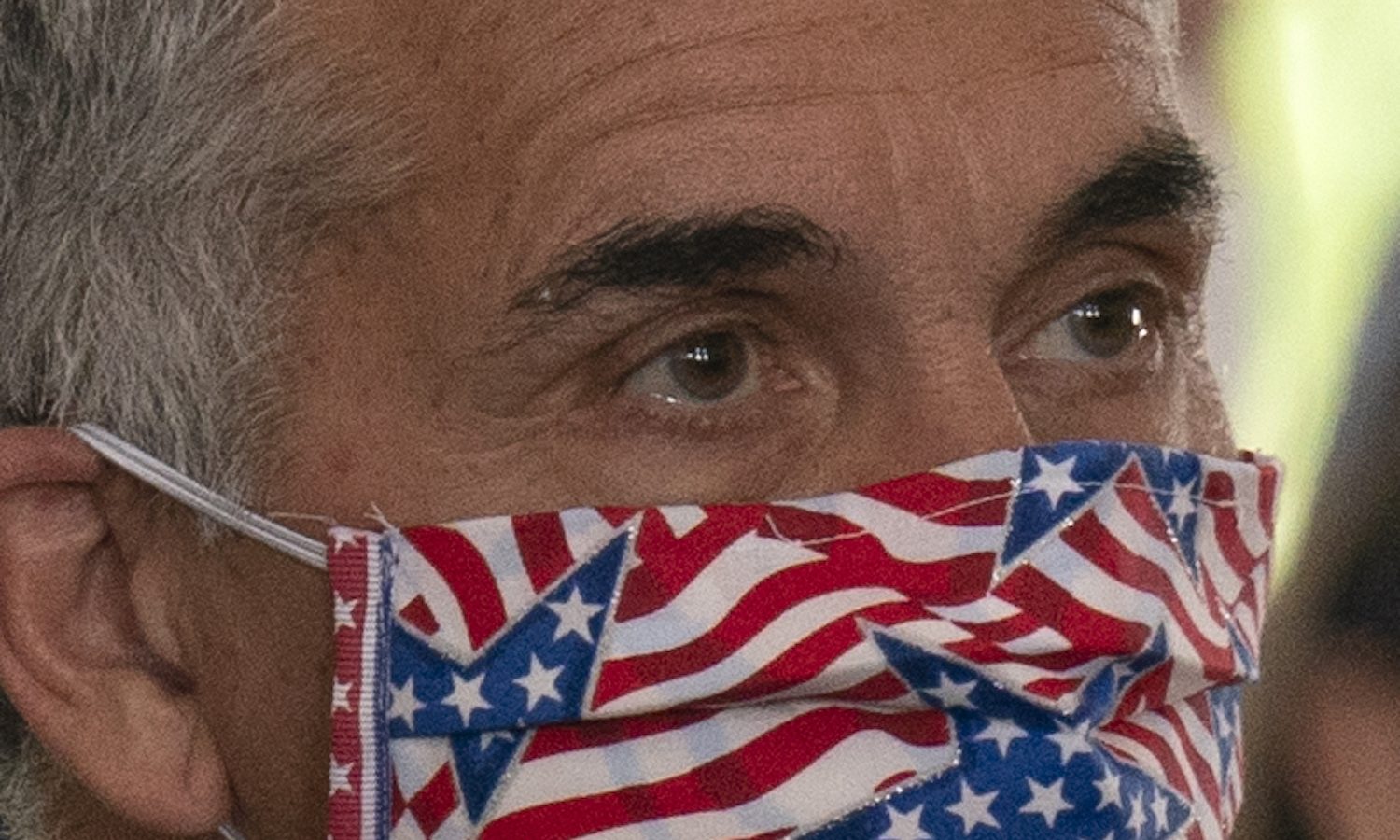 Appearing on the latest edition of Alabama Public Television's "Capitol Journal," Sen. President Pro Tem Del Marsh, R-Anniston, blamed Gov. Kay Ivey for the loss of some 450,000 jobs in Alabama.
It's an absurd accusation that any thinking Alabamian knows is a lie. But Marsh wants to hurt Ivey because she exposed him as little more than a petty, greedy-gut politico.
Still stinging from the public humiliation he suffered after Ivey revealed his "wish list" — which included taking $200 million in COVID-19 relief money to build a new State House — Marsh is leveling a cascade of recriminations against the popular governor.
However, what is astonishing is that he would spew brazen lies about Ivey during raging loss and uncertainty caused by a worldwide pandemic. This latest fiction about Ivey creating widespread economic calamity is the unseemly work of a hollow man without empathy, wisdom or decency.
This insane assertion that Ivey is somehow responsible for thousands suffering is as cravenly evil as it is politically stupid.
"The policies that have been put in place by the [Ivey] administration have 450,000 people out of work," Marsh told show host Don Daily.
Only a fool, a nutjob or a politician would blame Ivey for losing some 450,000 jobs, but there was Marsh, on public television, showing he is perhaps all three.
In the middle of his barking-mad comments, Marsh somehow forgot to mention that he was a member of Ivey's Executive Committee on the COVID-19 task force and helped make the very policies he now claims led to joblessness and financial ruin for many Alabamians.
Marsh is merely making it up as he goes because his fragile ego, pompous character and rank inhumanity suddenly became fully displayed for every Alabamian to see when he doubled down on building a new State House.
And so, like a guy caught with his pants down, Marsh is pointing his finger at Ivey to distract from his naked indifference toward the struggles of his fellow Alabamians.
Marsh's plan to spend the CARES Act funds on a State House and other pet projects ignored the sufferings of hundreds of thousands of the state's most vulnerable citizens and businesses.
Ivey wanted the nearly $1.9 billion in CARES funds to go to help those individuals, businesses and institutions affected by COVID-19. Marsh wanted it as a Senate piggybank, so, he lashes out at her rather than reflect on how he and the State Senate could do better in the future.
Anyone who blames others for their failings is a weakling, not a leader.
Marsh came to power under a scheme hatched around 2008, by then-Gov. Bob Riley. The plan was to make Mike Hubbard the speaker of the House, Marsh as pro tem and Bradley Byrne as governor. Riley would act as the shadow puppet master pulling the strings of power from behind a thin curtain of secrecy, allowing him to make untold riches without public accountability.
Byrne losing the governor's race to the hapless State Rep. Dr. Doctor Robert Bentley was the first glitch in the plan (yes, during the 2010 campaign for governor, Bentley changed his name to Doctor Robert Julian Bentley so the title Doctor would appear next to his name on the primary ballot).
The second problem for the venture was Hubbard's avarice, which landed him on the wrong side of the ethics laws he, Riley, Byrne and Marsh championed. Of course, the ethics laws were never meant to apply to them. They were designed to trap Democrats.
Marsh has floundered since Hubbard's grand departure and with Riley sinking further into the background, it is now apparent that Riley was the brains, Hubbard the muscle and Marsh the errand boy, picking up bags of cash to finance the operation.
Gofers rarely rise to power without the public noticing they're not quite up for the job, and so it is with Marsh that his office has shown the limits of his abilities.
Marsh wanted to control the COVID-19 relief money to spend on pork projects as he'd done in the past, but Ivey didn't allow it. To be outsmarted is one thing, but to be beaten by a woman is too much for a guy like Marsh.
Ivey burned Marsh like a girl scout roasting marshmallows over a campfire.
Senator Marshmallow, anyone?
Poor Marsh, with his political career in turmoil, picked the wrong target in Ivey.
Some look at Ivey and see a kind, grandmotherly figure. Ivey is as tough as a junkyard dog, and now Marsh knows what her bite feels like.
Ivey didn't cause massive job losses. COVID-19 did that. But Marsh got his feelings hurt, bless his heart, so he wants to take Ivey down.
Just like his scheme to commandeer the COVID-19 funds from the people didn't work, his attack on Ivey won't either.
People see Marsh for what he is, and it's neither strong nor competent; it's weak and ineffectual.
Marsh stood behind Ivey when she announced the state's health orders wearing an American flag style mask.
He voted for her executive amendment.
And now he lies.
In times of real crisis, true leaders emerge while others of lesser abilities whine. Marsh is complaining. Ivey is leading.
And so the public watches as The Masked Marshmallow takes on Iron-jawed Ivey. It's not tricky to see how this cage match turns out.
Marshmallow, down in three.
Print this piece