Sewell speaks to National Security Forum at Miles College
Tuesday, Congresswoman Terri A. Sewell, D-Selma, and U.S. Army Lt. General Robert P. Ashley, the head of the Defense Intelligence Agency spoke at the Miles College National Security Forum.
"It is with great pride and honor for me to come to my district with one of my colleague's Lt. General Robert P. Ashley," Representative Sewell said. "It is with immense pride that I show General Ashley the talent that is right here in Birmingham."
The Congresswoman and the General also met with students at UAB and National Guard. General Ashley has a degree in political science from Appalachian State University.
General Ashley told the students, "There are tremendous opportunities for you in the defense community, but it is really hard work and you have to work your way in."
Gen. Ashley said that his parents had tenth grade educations and there was no expectation that he would go to college. His father served in the Korean War and retired from the Air Force. The family then moved back to North Carolina and he worked as a sewing machine mechanic. The expectation was that I would go into one of the many textiles mills that were operating in North Carolina at that time. Ashley said that after going to Appalachian State, he went into the army and served as a frontline intelligence officer during the Cold War monitoring Soviet troop movements.
Ashley said that the Army had a program for officers with an understanding of tactics to spend a year getting a Master's degree. "I applied to the program and it is a yearlong introduction to the intelligence agencies."
Ashley took the GRE to begin the Master's Degree work and scored borderline. Before the semester began one of his professors came to him and told him that they did not think he could do the work. That motivated Ashley and he made the honor role that first semester. They said OK and gave me a tutor. "I said I will take all the help that I can get."
Ashley said that friends in the Special Operations Community asked him to join them in Japan. "I said yes and disappeared into that community for about six years."
"How bad do you want it?" Ashley asked the students. "You are bad at standardized tests? I am terrible at standardized test. This is all achievable." "We want somebody who wants to be part of something bigger than themselves."
The Defense Intelligence Agency provides foundational intelligence and understanding the operational environment for political leaders as well as for the warfighters.
Ashley said that the DIA needs analysts. "We are up on the Hill all the time," to advise decision makers. "We have a pretty big budget not in Ms but in Bs." The big budget means they need economics majors, IT, legal (I never go anywhere without my lawyer), and technology majors. We also have to have people who manage the operations. We also need human relations, "To take care of the 20,000 people that work for us."
"The DIA is looking for people with a quest for knowledge," Gen. Ashley said.
Gen. Ashley said that the CIA, NSA, State Department, and FBI all have intelligence components.
Why do I do it? Ashley said. "My kids. That starts my why. Imagine a bullseye and at the center of my bullseye is my family, my kids, my wife, and little Arthur (his coming grandson)."
"I have one year left and then I will go back to North Carolina," Ashley said.
Sewell said that she wants to, "Demystify national security and show where a pipeline can be created from Birmingham to the intelligence community."
Sewell said that Director Clapper, former CIA Director Brennan and Ashley's predecessor Ben Steward, another three-star general, have all come to Birmingham to speak to the Miles College Intelligence Community Center of Academic Excellence.
"We have had a phenomenal day in Birmingham," General Ashley said. "There are careers for the students at Miles in the intelligence community.
Director Ashley said that the intelligence community needs to start looking at the high school level to develop the foundations in technology and international relations. "If you don't have that foundation at the high school level you are going to struggle."
Ashley said that General Mattis has a book coming out. I highly recommend it. "I was his intel officers at Central Command. He is an incredible man."
"We do not make the decisions, Ashley said of DIA. "What we do is inform the decisionmakers."
"I have been an intelligence agency my entire career," Ashley said.
"25 years ago DIA was 50 percent civilian and 50 percent military," Ashley said. "Today it is 75 percent civilian and 25 percent military; but 50 percent of the 75 percent civilians have worn the uniform."
Sewell said that DIA provides foundational information to the nation's leaders. Sewell said that her committee has oversight over all 17 intelligence agencies; but her subcommittee has special oversight over the Defense Intelligence Agency.
Sewell said that she did not know anything about intelligence when Nancy Pelosi assigned her to the committee; but that she has committee to really appreciate what the intelligence agencies do to protect our national security.
Ashley said that he went in to intelligence because he was a big James Bond fan growing up. There is a little bit of what James Bond and Tom Cruise does in Mission Impossible in there; but most of it is collecting information.
"I am happy that the academic professionals at Miles recognize the importance of national security and intelligence," Gen. Ashley said.
Sewell said that she has put an emphasis on increasing diversity in the intelligence community.
Gen. Ashley acknowledged that most of the people in the community are, like him, White males; but said that progress is being made, though it is slow.
Bobbie Knight is the interim President of Miles College.
In 2009 Miles College was the first college in the state to establish an Intelligence Community Center President Knight said. "The Miles College students are critically needed by the nation's intelligence professionals." I am proud to say that Miles graduates are working for the Department of Homeland Security, the CIA, and the Secret Service.
The DIA has a presence in more than 140 countries.
Miles College is a Historically Black College and University (HBCU) in Fairfield and was founded in 1898.
Congresswoman Terri Sewell is presently serving in her fifth term representing Alabama's Seventh Congressional District. Sewell sits on the House Intelligence Committee where she chair the Defense Intelligence Committee that has oversight over military intelligence.
Byrne secures authorization for additional Austal ship in NDAA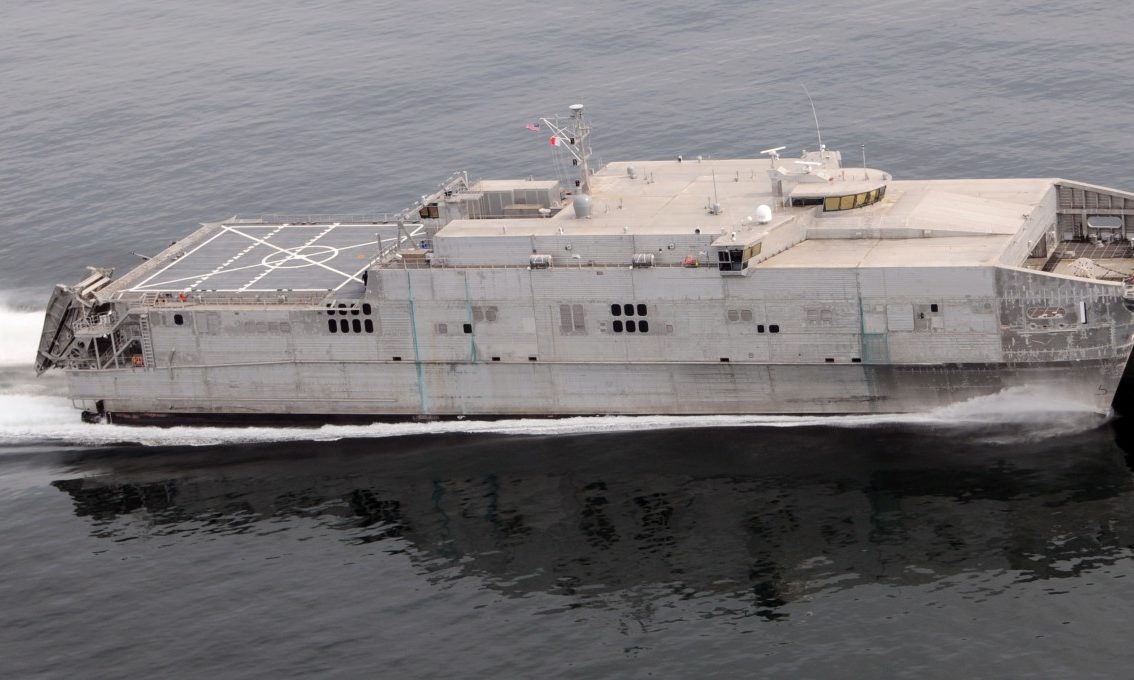 Congressman Bradley Byrne, R-Alabama, this week announced that the House Armed Services Committee approved the National Defense Authorization Act for Fiscal Year 2021 by a vote of 56 to 0. The bill includes a Byrne amendment authorizing $260 million to construct an additional Expeditionary Fast Transport vessel at Austal Mobile. The bill now goes to the House of Representatives for a vote for passage.
"Today's defense authorization bill received strong bipartisan support and will ensure that the men and women of our military have the resources necessary to protect American interests and safety," Byrne said. "Like most legislation, the bill isn't perfect, but the committee's willingness to work together towards a common goal should be a template for the entire House of Representatives to follow."
"It is great news for Southwest Alabama and our entire nation that the committee accepted my amendment to authorize the construction of an additional EPF at the Austal shipyard in Mobile," Byrne said. "Passage of this amendment acknowledges the critical role the 4,000 men and women at Austal Mobile play in supporting our nation's military readiness and moving us closer to our goal of a 355-ship fleet. In fact, just this week we reached a landmark when the Austal-built USS Oakland LCS was delivered to the Navy, becoming the 300th ship in our Navy's fleet. Construction of an additional EPF will strengthen Austal's footprint in Mobile and bolster its contributions to our national defense, and I hope Congress moves quickly to pass this bill into law."
The NDAA sets policy and authorizes funding for the entire United States military and has been passed by the House each year for the previous 59 years. The bill is expected to receive a vote in the House as soon as this month.
An Expeditionary Fast Transport is a 338-foot shallow draft aluminum catamaran designed to be multi-mission capable of intra-theater personnel and cargo lift, providing combatant commanders high-speed sealift mobility with inherent cargo handling capability and agility to achieve positional advantage over operational distances. Bridging the gap between low-speed sealift and high-speed airlift, EPFs transport personnel, equipment and supplies over operational distances with access to littoral offload points including austere, minor and degraded ports in support of the Global War on Terrorism/Theater Security Cooperation Program, Intra-theater Operational/Littoral Maneuver and Sustainment and Seabasing. EPFs enable the rapid projection, agile maneuver and sustainment of modular, tailored forces in response to a wide range of military and civilian contingencies such as Non-Combatant Evacuation Operations, Humanitarian Assistance and Disaster Relief. It is a non-combatant transport vessel characterized by its high volume, high speed, and flexibility. Its large flight deck can accommodate a variety of aircraft.
The EPF is designed to transport 600 short tons of military cargo 1,200 nautical miles at an average speed of 35 knots in Sea State 3. The ships are capable of operating in shallow-draft ports and waterways, interfacing with roll-on/roll-off discharge facilities and on/off-loading a combat-loaded Abrams Main Battle Tank (M1A2). The EPF includes a flight deck for helicopter operations and an off-load ramp that allow vehicles to quickly drive off the ship. The ramp is suitable for the types of austere piers and quay walls common in developing countries. The ship's shallow draft (under 15 feet) will further enhance littoral operations and port access. This makes the EPF an extremely flexible asset for support of a wide range of operations including maneuver and sustainment, relief operations in small or damaged ports, flexible logistics support or as the key enabler for rapid transport.
EPF has a crew of 26 Civilian Mariners with airline style seating for 312 embarked troops and fixed berthing for an additional 104. Military Sealift Command (MSC) operates and sustains the EPFs, which will be allocated via the Global Force Management for Theater Security Cooperation, service unique missions, intra-theater sealift and special missions.
Byrne represents Alabama's 1st Congressional District.