Jones: There are no leaders in the Alabama Democratic Party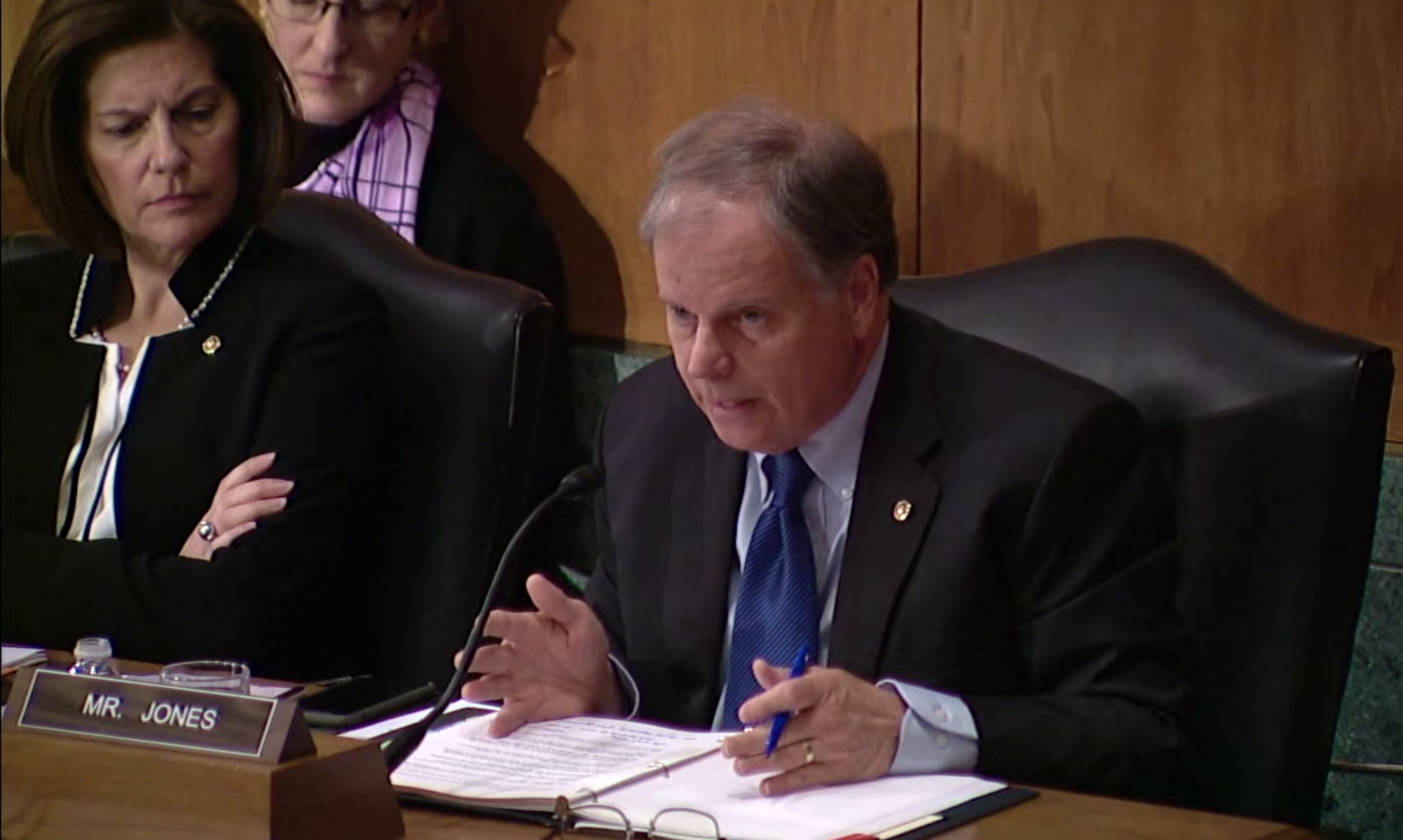 U.S. Sen. Doug Jones told an audience Wednesday in Powell that the Alabama Democratic Party had no leadership.
"We have people holding positions. We do not have leaders in the state party. There is no leadership," he said.
Jones was speaking to a crowd of about 80 at a constituent town hall held at Northeast Alabama Community College in Powell in rural Jackson County.
The subject of the Alabama Democratic Party came up during the question and answer period following Jones's presentation when a constituent asked for Jones's opinion on the situation with the Alabama Democratic Party.
Jones said that if the situation is not resolved, the state could lose its vote at the Democratic National Convention next year when the Democrats will select their Presidential nominee. Jones said that was not likely, but is a possibility.
"We have got to have changes in the state party," Jones said. "We have no state party."
Jones said that Alabama, all states, need to have a functioning two-party system.
Jones said that the Democratic National Committee (DNC) recently revoked the credentials of the chair and the vice-chair of the Alabama Democratic Party and has demanded changes in the bylaws and in the selection of delegates for the state party.
"If we are not careful, we will be shut out of the nominating convention," Jones warned.
"There has been no outreach to youth or anybody else," Jones told the people of Jackson and Dekalb County.
"I am frustrated that it has not happened yet," Jones said of the changes ordered by the DNC, "But I am optimistic."
Jones said that two functioning parties are needed in order to hold each other accountable.
Jones said that the Republican Governor stepped down and pled guilty, the Chief Justice of the Supreme Court was removed twice, and, "Half of the leadership in the Republican House has gone to prison or pleaded guilty to something," while Republicans have had control of the politics of the state of Alabama.
Jones has been highly critical of Alabama Democratic Party Chair Nancy Worley and Alabama Democratic Conference Chair Joe Reed for years, even before he was a Senator. In the summer of 2018 Sen. Jones supported a challenge to Worley's leadership by Montgomery Attorney Peck Fox. With Reed's support, Worley was re-elected by the Alabama State Democratic Executive Committee (SDEC) to another term as chair.
In February, Sen. Jones spoke before the DNC and asked the committee to intervene. The DNC complied and invalidated the 2018 elections for chair and vice-chair. The DNC demanded changes to how convention delegates are selected, changes to the composition of the SDEC, and changes to the bylaws of the state party. The DNC ordered these changes to be put in place by May 17 and new elections for chair and vice-chair held.
Former congressional candidate Tabitha Isner and former Lt. Governor candidate Dr. Will Boyd both announced that they were running for chair, challenging Worley.
None of those conditions were accomplished by the deadline and no new elections were held, so the DNC gave Worley and the SDEC another sixty days to comply. That second deadline was also missed; so the DNC retaliated by revoking the credentials of Worley and Randy Kelley last month. The pair still retain their offices here in the Alabama Democratic Party; but were denied their votes at the DNC.
Jones faces his own re-election in 2020.
"Our focus is going to be on one Alabama for everyone," Jones said. "The other side will try to divide you."
We are for one Alabama, "and that is why we will win," Jones predicted.
Currently Jones has not Democratic primary opponent; but there is a large field seeking the Republican nomination to run against Jones in 2020. The Republican field includes: businessman Stanley Adair, former Auburn football coach Tommy Tuberville, Congressman Bradley Byrne, former Chief Justice Roy Moore, and State Representative Arnold Mooney.
Jones was elected in a special election in December 2017, narrowly defeating Moore. Jones is the only Democratic candidate to win any statewide race in the state of Alabama since 2008 and the first Democrat to win a U.S. Senate race in Alabama since 1992, when Richard Shelby was still a Democrat.
Slow absentee voting in Tuscaloosa sparks outrage, possible legal action
Among the issues were incredibly long lines that left some voters waiting more than five hours and an inefficient process that managed to take in fewer than 100 absentee ballots in six hours.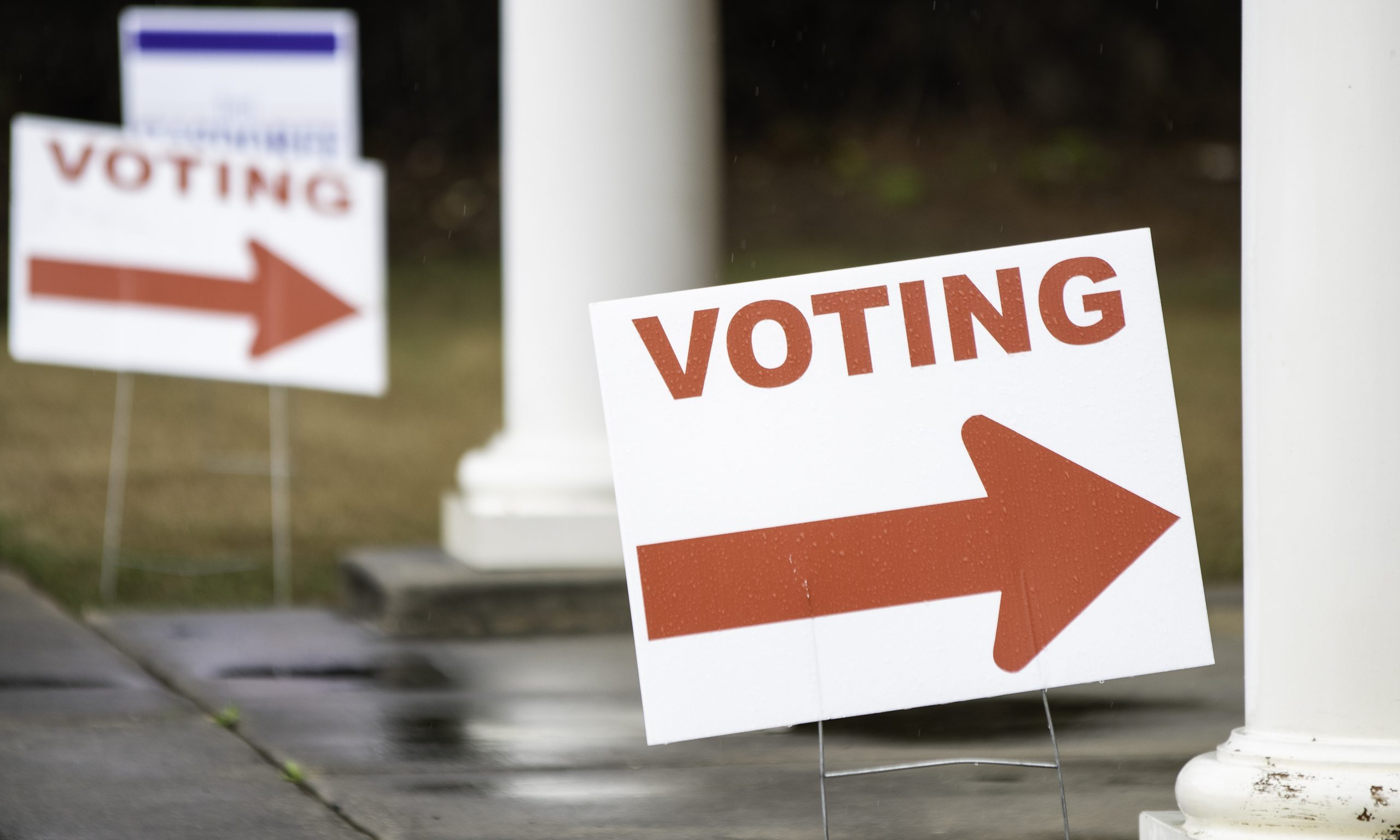 Long lines and slow absentee ballot processing in Tuscaloosa County have left voters outraged and incumbent Sen. Doug Jones's campaign threatening legal action. 
On Wednesday, Jones's campaign attorney, Adam Plant, sent a letter to Tuscaloosa County Circuit Clerk Magaria Bobo, outlining a number of issues with ongoing absentee voting and promising to take legal action if Bobo doesn't improve the process on the final day, Friday. Among the issues documented by Plant were incredibly long lines that left some voters waiting more than five hours and an inefficient process that managed to take in fewer than 100 absentee ballots in six hours. 
Additionally, Plant noted that Bobo has hired her family members to help process absentee ballots and at least one family member had made disparaging remarks on social media about voters. 
"You and those acting on your behalf are suppressing the vote of qualified Alabama voters," Plant wrote in the letter. "If you are unable or unwilling to execute your duties competently, and allow Tuscaloosa voters to exercise their voting rights without undue burdens, we will take further action."
In an interview with the Montgomery Advertiser on Wednesday, Bobo noted that her office had received more than 13,000 requests for absentee ballots — a remarkable uptick from the 3,000 or so her office usually receives — and there had been problems in managing that number of ballots while also adhering to social distancing guidelines within the office. 
However, as Plant's letter notes, the massive increase in absentee ballots for this election shouldn't have been a surprise. Also, Secretary of State John Merrill had made additional funds available to absentee managers to facilitate hiring extra staff, purchasing additional computers and staying open for longer hours to accommodate the anticipated increase. 
In a press release on Wednesday, the Alabama Democratic Party criticized Bobo and her family members, and the release included screenshots of Facebook posts from Bobo's daughter lashing out at voters who complained about the long wait times. 
"No voter should have to wait in line for hours to exercise their rights," said ADP executive director Wade Perry. "We should leverage every tool we have to make voting easier, not harder. Also, it should go without saying that election workers should not insult the very people they are employed to serve. If Ms. Bobo is incapable of processing voters quickly, someone else needs to do the job."