UAB's Drew Gentry awarded scholarships to continue study of ancient sealife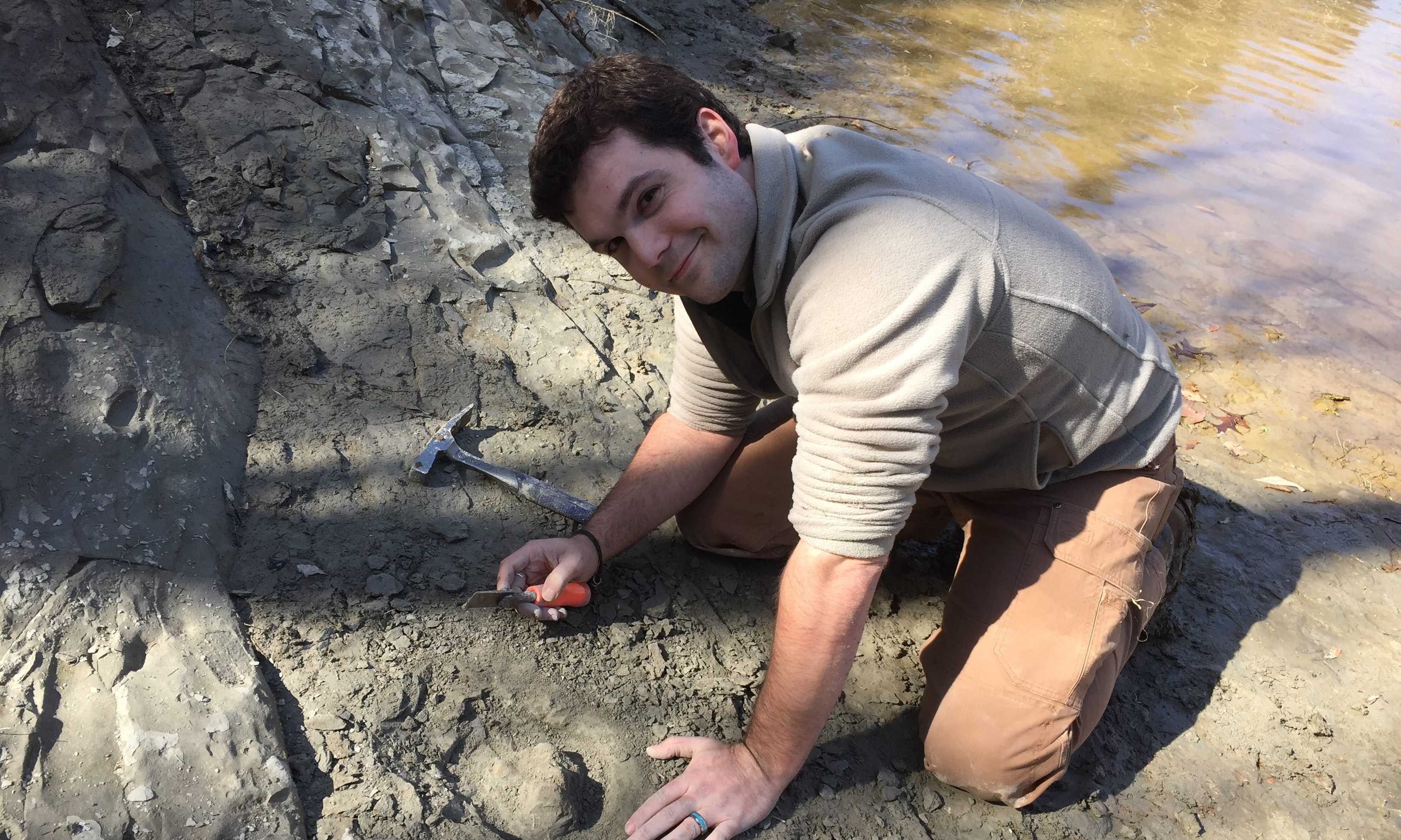 Drew Gentry has spent years looking back so that we'll know what's ahead. The doctoral student and instructor at the University of Alabama in Birmingham was recently awarded the 2019 Newton/Winefordner Scholarship to continue his research into the evolution of sea turtles.
"The only way that it becomes possible to develop estimates of the future impacts the continued warming will have on the modern marine turtle population is to look back at the historical record, of the paleontological record of how marine turtles have evolved in response to climate change in the past," Gentry told APR on Tuesday. 
Gentry began studying Alabama's large collection of sea turtle fossils in 2013. The paleobiologist  who'll defend his doctoral thesis this semester, said he did so because that research hadn't been done in great detail before, at least since the last scientific publication done in the 1950s. 
"Alabama is one of the best places in the world to find fossil sea turtles," Gentry said. "…There's been quite a bit of material collected since the 1950s around Alabama." 
Those fossils have been collected since about the 1940s and stored in museums across the southeast, Gentry said, so he set about working to what those species were and how they relate to modern sea turtles. 
In 2018 Gentry and colleagues identified a new species of sea turtles. The extinct Peritresius martini lived between 70 million and 73 million years ago, when southern Alabama was under a shallow, inland ocean, according to Gentry's study, published in PLOS One last year.
The new species was named after the retired USDA soil scientist George Martin, who unearthed the fossil in Lowndes County. The newly discovered species has features that resemble modern hard-shell sea turtles and was about the same size as the modern green sea turtle found in the gulf.
Gentry has since discovered another new species of sea turtle previously unknown to the science community, but his report on that find hasn't yet been published. Gentry said that should happen soon. 
During his work Gentry drafted a sort of evolutionary tree of sea turtles that showed the diversity and distribution of the different species throughout history.
Once complete, he began wondering whether that information could be matched with other known facts, like periods of warming ocean temperatures, to see what impact that could have had on sea turtle evolution. 
Using microscopic shells of organisms locked into fossils scientists can estimate with great accuracy what sea temperatures were when the tiny animals were alive. Using that data, along with his sea turtle fossils, Gentry can estimate the ocean's temperatures at the time each species in those fossils were alive. 
Gentry discovered that during periods of extreme, sudden warmth the number of green turtle species dropped significantly. He saw records of those declines during the Cretaceous Thermal Maximum period, which occurred approximately 90 million years ago when carbon dioxide levels peaked and there may have been no ice at the poles. 
Scientists still debate what caused the increases in greenhouse gases including carbon dioxide during that period 90 million years ago, but it's often compared to today's global warming, which scientists overwhelmingly believe is caused by human use of fossil fuels. 
Gentry pointed to work being done by UAB professor Thane Wibbles, who is studying the impacts of the warming climate on sea turtles, specifically the impact of warming seas on the sex determination of turtles. Research is showing that warming oceans are resulting in births of more female and fewer male sea turtles. 
"That's a trait that's shared by all species of modern sea turtles, at least we think it is," Gentry said. "Which means it was likely present in their common ancestors." 
The warming oceans that seem to be affecting the sex of sea turtles today could have been one factor that impacted the turtles that Gentry is studying. He also thinks that quick spikes in sea temperatures, which lowers the oxygen content in the water, negatively impacts habitats for sea turtles. 
Using these two scholarships and some other funding opportunities he's applied for Gentry hopes to move beyond the Cretaceous period and study what happened to sea life within the last 65 million years.
Perhaps there are more secrets hidden away in the fossils waiting to be discovered.
Print this piece
South Alabama medical residents work alongside Orange Beach first responders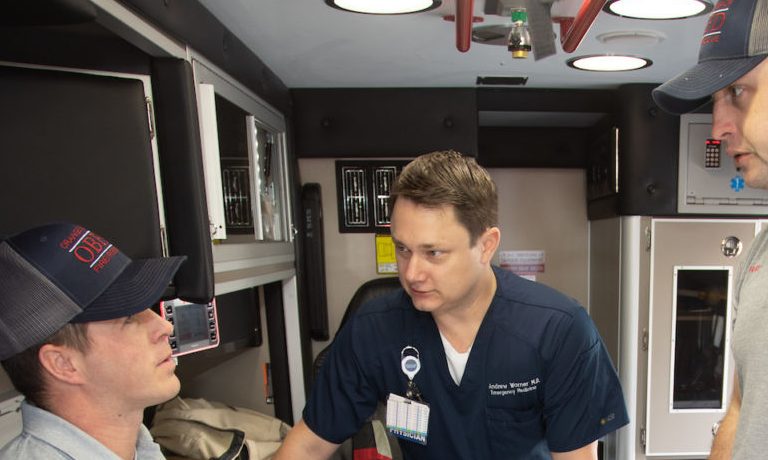 Residents in USA Health's Emergency Medicine Residency Program are given the opportunity to rotate with emergency medical services (EMS) in Orange Beach. The residents are stationed at the Orange Beach Fire Department giving resident physicians the experience of responding to emergency calls alongside paramedics and firefighters.
Paul Henning, M.D. is the associate program director of the Emergency Medicine Residency Program at USA Health and medical director of Orange Beach Fire/Rescue.
"The expertise that a patient gets in the field can determine outcomes," Henning explained. "It bridges the gap between the physician and the paramedic. Seldom, if ever, do physicians have this kind of exposure to prehospital emergency services. It also gives the physician more perspective of what the paramedics are doing in the field. If we have an opportunity to improve the prehospital scope of practice, then we have accomplished our goals."
Henning also serves as an associate professor of emergency medicine at the University of South Alabama College of Medicine.
He said that it is vital that physicians understand what happens in the prehospital stage of care.
The innovative program was established in July 2019.
Andrew Warner, M.D., took a nonlinear path to emergency medicine. Dr. Warner is a former Green Beret, who served with the U.S. Army 5thSpecial Forces Group on tours in Iraq and Afghanistan.
Following his military service, he went on to earn his medical degree from the University of Cincinnati College of Medicine. He completed his residency training in family medicine at USA Health and started in the emergency medicine program as a second-year resident.
Warner expressed his great respect for the Orange Beach first responders, who "epitomize true dedication to patient care and outcomes."
"I have further learned to appreciate just how critical those precious seconds in the prehospital setting are for patient survivability," Warner added.
Justin Thomas, M.D. is a second-year emergency medicine resident and was the first USA Health resident to rotate in Orange Beach. Thomas said that the experience opened his eyes to the constraints paramedics endure while working in the field, particularly when responding to calls in rural areas of the county.
"There are locations they respond to that may be in the middle of the woods, or down a dirt road someone only goes down once every couple of weeks," Thomas said. "They have to lug their supplies and the stretcher to the house, assess and care for the patient, and then bring them to the ambulance."
The medics are limited by the supplies and tools they have with them, Thomas said. "It's much different being at a hospital with all the resources at your disposal versus working from an ambulance with limited capabilities."
Thomas earned his medical degree from the American University of the Caribbean. He took a nontraditional route to emergency medicine. As a resident in USA Health's Family Medicine Residency Program, he rotated in the emergency department at University Hospital and was attracted to the field.
After graduating from his family medicine residency in June 2019, Thomas was offered a spot in the new Emergency Medicine Residency Program. Dr. Thomas was given approval from the American Board of Emergency Medicine to start as a second-year because of his months of training in emergency medicine during his family medicine residency.
Economic developer Dr Nicole Jones told the Alabama Political Reporter, "Response time is critical, especially in rural areas and areas that have longer distances to medical facilities than urban counterparts. The partnership between USA Health emergency medicine residency program and Orange Beach paramedics and fire rescue is a win-win situation. Both parties learn from one another and gain a deeper understanding of the pre-hospital setting, and most importantly, having professionals available in emergency situations with unique skill sets can ultimately save more patients' lives."
The partnership is mutually beneficial for USA Health's emergency medicine residency program and Orange Beach's paramedical and fire-rescue services. By adding the resident physicians the paramedics are able to provide a higher level of care to patients.
"I love to hear the interaction between our staff and the residents," said Orange Beach Fire Chief Mike Kimmerling. "Even when they're not running calls, there is a tremendous amount of knowledge being transferred in their conversations."
The residents gain more diversity of exposure in Orange Beach than in a larger city like Mobile, Henning said. "Most fire and rescues in large cities are close to hospitals, so the transport time is usually 10 minutes or less, whereas in Orange Beach the time could be significantly longer. When they are able to render care for a longer period of time, they have the chance to sharpen their skills and have more patient exposure."
Dr. Henning said that Orange Beach also gives the residents the unique experiences of working on fire and rescue boats.
Henning said that before starting the EMS rotation, the residents are required to be fully licensed by the state and to have completed an online medical direction course. If any questions or concerns arise, Henning and other emergency medicine attending physicians with USA Health are always available to provide their medical direction. Residents cannot start the EMS rotation until their second year. As the first class of residents graduate to their second year, six residents will rotate throughout the academic year. Third-years have the option to do an additional EMS rotation.
(Based on original reporting by USA Health's Lindsay Lyle.)
Print this piece