Falls continue to get warmer. Statewide forecast calls for dry, hot week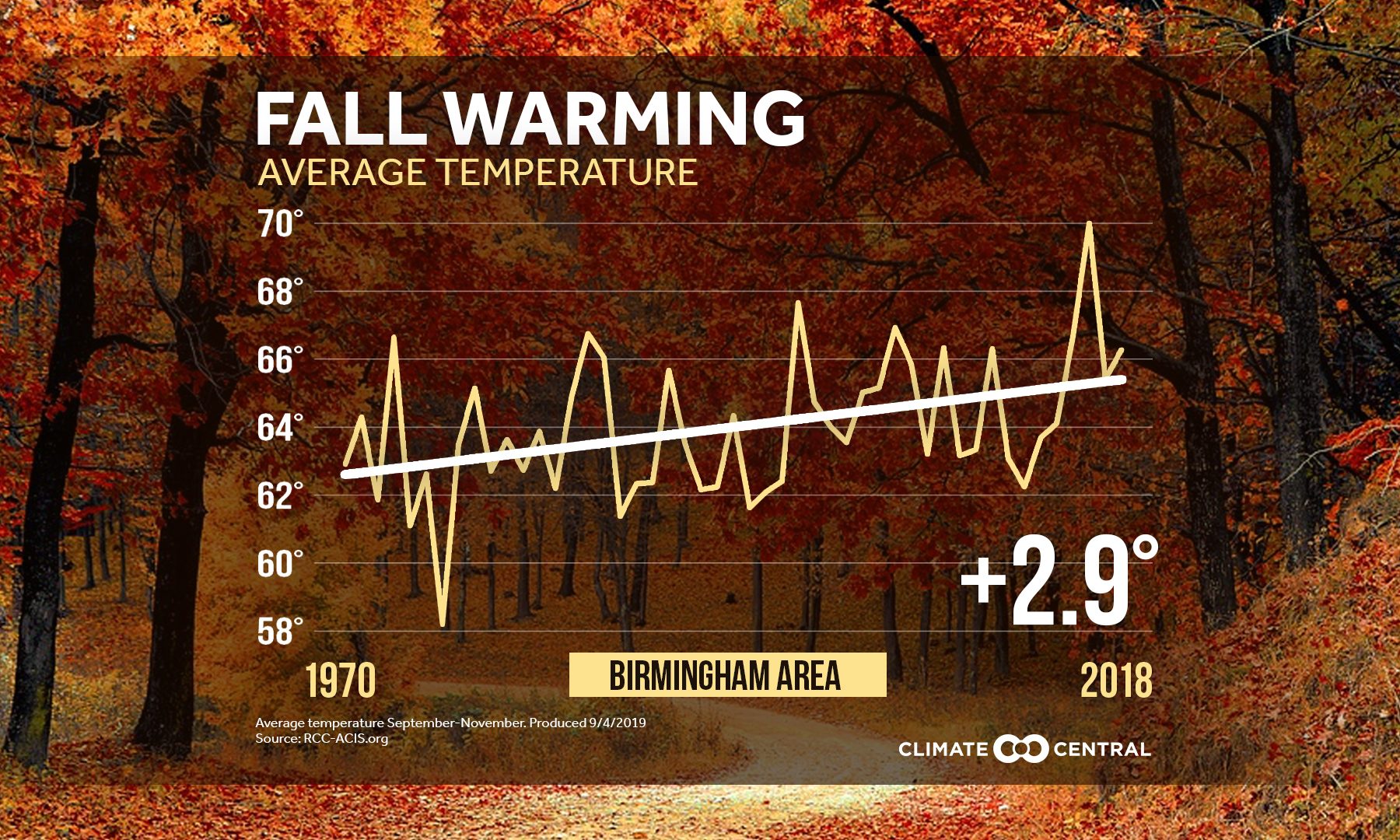 Record-breaking daily high temperatures in numerous Alabama cities on Friday come as the state, along with the rest of the nation, continues to see warmer fall temperatures. 
The average fall temperature in Birmingham has risen 2.9 degrees since 1970, according to data from the National Oceanic and Atmospheric Administration and analyzed compiled by Climate Central, which compared historical temperatures recorded September through November. 
The continued rise in warmer temperatures experienced worldwide is the result of human-caused climate change, according to the Intergovernmental Panel on Climate Change, the U.S. National Academy of Sciences, the American Medical Association, the American Geological Society, NASA and about 97 percent of peer-reviewed studies published in scientific journals. 
Climate Central's study found that of the 244 cities analyzed nationwide, 95 percent recorded higher fall temperatures since 1970, and more than half saw average increases of 2 degrees or more. Fall in the U.S. has warmed by an average of 2.5 degrees since 1970.
The seven highest increases were in the western U.S. Reno, Nevada saw a 7.7 increase during those years, and El Paso, Texas recorded a 5.4 degree rise. 
The report notes that along with the rising fall temperatures due to human-caused climate change comes increases in energy demands for cooling longer into the fall period and worsening allergy problems. 
According to the Allergy and Asthma Foundation of America, human-caused climate change, the result of burning fossil fuels like coal and oil, is a huge threat to respiratory health. The association notes a 2016 study by the U.S. Environmental Protection Agency that found that between 1995 and 2011, warmer temperatures in the U.S. have caused the pollen season to increase from between 11 to 27 days longer.
In Anniston on Friday, the 100 degree weather broke the previous record of 95 set in 1978. Birmingham's 99 degrees broke a 92-year record, set in 1927 when the city saw 98 degrees. 
Mobile's record high of 96 degrees set in 1911 fell when the city hit the 97 degree mark on Friday. 
Huntsville's 100 degree day on Friday just missed beating topping the 101 degree day set in 1927, according to The National Weather Service. 
Jason Holmes, a meteorologist with the National Weather Service in Birmingham, told APR on Monday that the temperatures across the state will remain higher than normal through at least Thursday.
Highs will remain in the 90s through most of Alabama until Thursday, Holmes said, because of a lack of rain. Birmingham's 93 degrees on Monday afternoon was higher than normal high of around 86, Holmes said. 
"We're continuing to have a low-end drought," Holmes said. "We do have a weak front that's going to come through Thursday, and the good news is that it's going to drop our temperatures a little bit, with highs back into the 80s for the northern half of the state."
High chemical levels in water near Decatur landfill concern environmental group, ADEM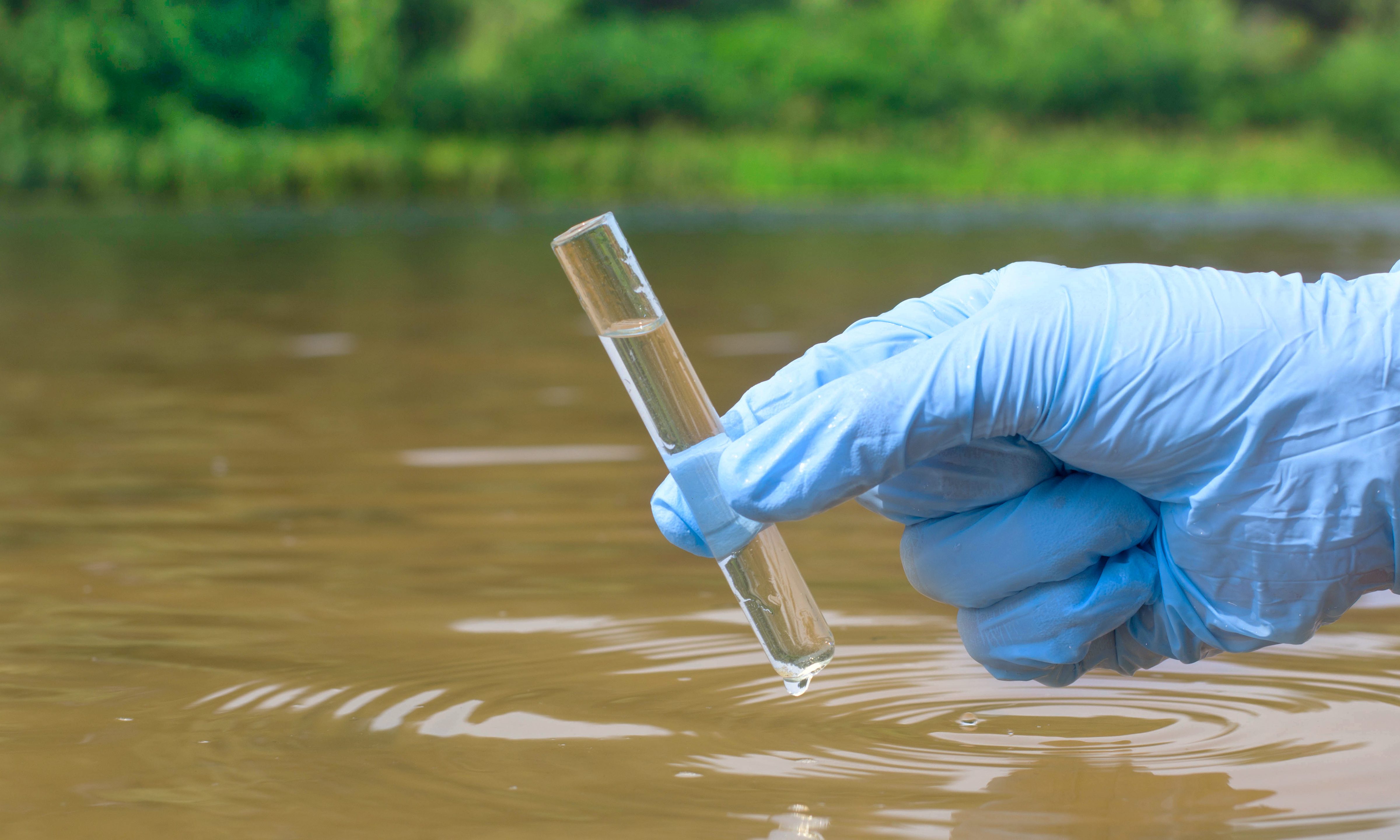 Recent tests of water flowing under an abandoned landfill in Decatur found levels of the chemicals PFAS and PFOS at 51,000 parts per trillion — substantially higher than the 70 parts per trillion the EPA has determined is safe for drinking water — test results obtained by APR show. 
The tests, paid for by the Tennessee Riverkeepers group and conducted on two occasions in the past five months by ALS testing labs, measured chemical levels at the Old Moulton Road landfill site, where water flows directly into Mud Tavern Creek and Flint Creek.
On March 9, testing showed the combined levels of PFAS and PFOS chemicals to be at 49,000 parts per trillion. Two months later, on May 5, the results showed levels of 51,000. Those chemicals, used in manufacturing by 3M, which has a plant near Decatur, have been linked to cancer and various other health issues, particularly in pregnant women. 
"These are alarming levels, and where they're being discharged is also of concern to Riverkeeper because they are being discharged into a part of the county that we thought was not as contaminated," Tennessee Riverkeeper founder David Whiteside said in an interview with WHNT-19 earlier this week. "They're also flowing into the Point Mallard area, and possibly flowing into the drinking water intake because the creek that they're flowing into empties upstream from our drinking water intake."
In a response on Wednesday, the Alabama Department of Environmental Management acknowledged that it is also concerned with the testing results — although the agency also said it was unable to verify the Riverkeepers' test results because it wasn't sure of the protocols — and said it is working with the EPA and others to develop a plan for addressing the chemicals. 
However, ADEM also noted that it is somewhat limited in its possible responses, because the EPA has yet to set acceptable PFAS/PFOS limits for ground water or bodies of water, such as creeks and rivers. (The 70-parts-per-trillion limit is only for drinking water.) Without those limits, ADEM is unable to impose fines or force remediation efforts by 3M or other responsible parties or even issue warnings. 
ADEM spokesperson Lynn Battle said that while the agency hasn't been able to alert nearby residents of increased PFAS/PFOS levels, in this particular case, the area is already under a do-not-eat advisory for fish due to high levels of mercury. 
She said the Department is now working on a much larger and more comprehensive plan for dealing with PFAS/PFOS chemicals. 
"ADEM wants to reassure the public, especially citizens who use our waterways, that we are working to put in place measures which provide the utmost protections for Alabamians and the state's waters and lands in regard to PFAS," Battle said. "Those measures will include remediation and will limit exposure to the compounds now and in the future."
This is not the first incident of the Riverkeeper organization finding and testing old dumping sites in north Alabama, particularly around Decatur. 3M and other companies in the area have faced numerous lawsuits, and Tennessee Riverkeepers currently has a federal lawsuit pending. 
One of the largest concerns about the PFAS/PFOS contaminants is that they could seep into the drinking water, as they did in west Morgan and east Lawrence counties a few years ago. Those issues prompted the water authority in the area to tell people to stop drinking the water. 
Decatur Utilities, which supplies water in the Decatur area, said its testing continues to show only acceptable levels of PFAS/PFOS. In a statement issued to WHNT this week, DU said its levels "have consistently been less than 5 (parts per trillion)."
Battle said ADEM has reviewed DU's submitted, regular testing results for drinking water and is comfortable that the water is safe to drink.