Sewell: No one is above the law, including the president of the United State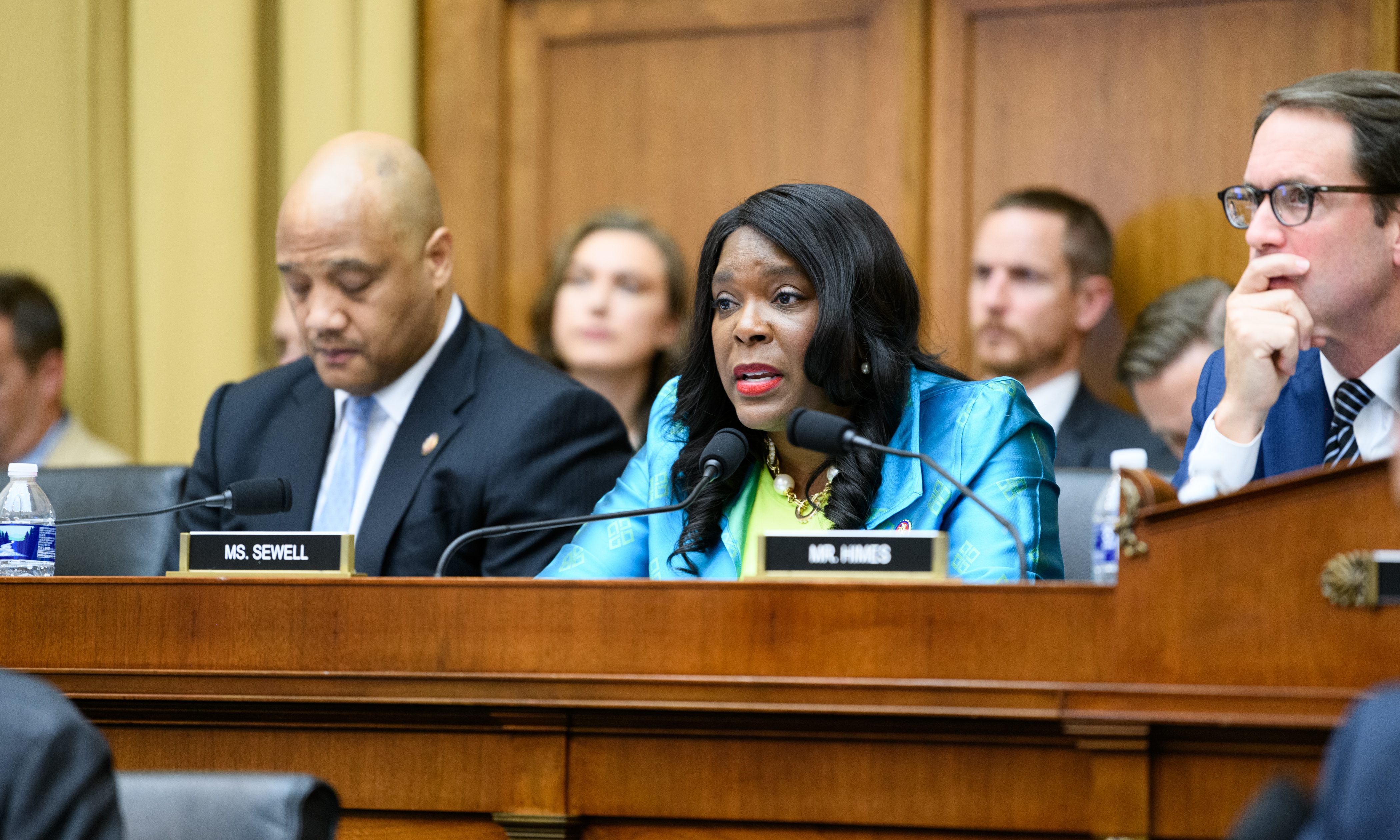 Tuesday, Congresswoman Terri A. Sewell (D-Selma) said that "no one is above the law" discussing an impeachment inquiry into President Donald J. Trump (R) announced by Speaker of the House Nancy Pelosi (D-California).
"This is a sobering moment in our nation's history, when the rule of law and constitutional duty require Congress to move swiftly to protect our national security and the integrity of our democracy," Rep. Sewell said in a statement.
"The President, by his own admission, has put Congress in an untenable position," Sewell said. "Yesterday, the President admitted to asking the Ukrainian government to interfere with a political rival and threatened to withhold critical military aid to our ally if their government did not comply with his demand. "
"The events surrounding the whistleblower complaint are the final straw in a series of troubling and disconcerting actions by President Trump and his administration," Sewell added. "This failure of the Trump Administration to disclose the whistleblower complaint to Congress flies in the face of the intent of the law; the President's stunning admission shows a complete disregard for the constitutional duties he has sworn to uphold."
"No one is above the law, including the President of the United States of America," Sewell concluded.
In 2010, during the administration of then President Barack H. Obama (D), Viktor Yanukovic was elected President of Ukraine. Yanukovic was pro-Russia and heavily Russia backed. The election marked a dramatic change from the previous pro-European Union Ukrainian government. The United States' Central Intelligence Agency, with the support of our European allies, engineered the overthrow of Yanukovic by pro-western Ukrainian opposition groups in February 2014.
Yanukovic fled the capital. Russia feared that the new government would ask to join the E.U. and NATO. Before any of that could happen, an angry Russian President Vladimir Putin ordered his armed forces to seize the Crimea from Ukraine within days of the fall of the Yanukovic administration.
The Crimea has a population that is heavily ethnic Russian and Yanukovic had allowed the Russians to dramatically increase their troop presence in the Crimea, which was home to an important Russian Navy base at Sevastopol.
Following the rapid seizure of the strategic peninsula. Putin then backed pro-Russian militias, aided tremendously by Russian Spetsnaz special forces, to seized much of Eastern Ukraine. The U.S. backed Ukrainian government fought back and the two sides have been locked in a bitter fighting ever since. Stung by their failure to anticipate the Russian military intervention, Pres. Obama refused to give lethal military aid to Ukraine fearing an escalation of the conflict into a full-blown war.
President Trump inherited this situation and has increased sanctions against Russia for their occupation of eastern Ukraine and began sending U.S. weapons and military aid to the struggling Ukrainians.
In the midst of all of this international conflict, in April 2014 Vice President Joe Biden's (D) son Hunter Biden joined the board of a Ukrainian natural gas company named Burisma Holdings even though Biden had never worked in the energy sector in his entire life.
Burisma was owned by Mykola Zlochevsky. Zlochevsky was a top official in the just deposed Yanukovic administration and was under investigation for allegations of corruption by the new Ukrainian government. In 2015 Viktor Shokin became the Ukraine's top prosecutor and vowed to investigate Burisma. In 2016, the U.S. threatened to withhold $1 billion in loan guarantees to Ukraine unless Shokin was removed.
Joe Biden told the Council on Foreign Relations that in March 2016 he told the Ukrainian government that their loan guarantees would be cut off if they did not removed Shokin.
"I said, 'You're not getting the billion,'" Biden said in 2018. "I'm going to be leaving here in, I think it was about six hours. I looked at them and said: 'I'm leaving in six hours. If the prosecutor is not fired, you're not getting the money.'"
Conspiracy theorists, including Trump attorney Rudy Giuliani claim that the reason Joe Biden removed Shokin is because Shokin was threatening Burisma and Hunter Biden's interest there. A claim that the Bidens deny. Biden supporters claim that Shokin was removed for failing to investigate corruption, not for investigating Burisma.
President Trump is apparently also convinced that something shady happened in the Bidens' dealings with Ukraine and admits to asking the Ukrainian President to investigate the matter during a phone conversation. Trump reportedly threatened the Ukraine's military aid if the country did not comply.
Pelosi and the House Democrats claim that it is improper to ask a foreign government to launch an investigation if legitimate financial threat is part of the request and is a clear violation of the Corrupt Practices Act which is a felony.
On these grounds, the House Democrats have begun an impeachment inquiry into the sitting President without even requesting that a special prosecutor be appointed.
President Trump denies any wrongdoing and insists that the impeachment inquiry is a "witch hunt" and that Democrats are desperate to do this because he is leading in the polls.
Congresswoman Terri Sewell is serving in her fifth term representing Alabama's Seventh Congressional District.
(Original reporting by Vox, Fox News, the Conservative Tribune, and Breitbart News contributed to this report.)
Alabama's Black Belt lacks quality internet access, report finds
Twenty-two of 24 Black Belt counties are below the statewide average of 86 percent of the population who have access to high-speed internet, and two Black Belt Counties — Perry and Chocktaw — have no access at all. 
During an online video briefing Monday on a report about a lack of internet access in Alabama's Black Belt, University of Alabama student Brad Glover warned reporters that he could get kicked off the briefing at any moment. 
That's because he was talking during the video briefing by way of audio only, using his cell phone, as he does not have access to high-speed internet access at his Linden, Alabama, home in the Black Belt's Marengo County. 
The COVID-19 pandemic that sent students home to study online left many in the Black Belt and other rural parts of Alabama in the lurch, without access to the high-speed internet enjoyed by so many other Americans, according to the latest report in the University of Alabama's Education Policy Center's Black Belt 2020 series. 
The latest report, titled "Internet Access Disparities in Alabama & the Black Belt," found that 22 of 24 Black Belt counties, as defined by the Education Policy Center, are below the statewide average of 86 percent of the population who have access to high-speed internet, and two Black Belt Counties — Perry and Chocktaw — have no access at all. 
"It is still a terrible struggle for me to connect to get the things done that are required," said Glover, who interned with the Education Policy Center. 
Stephen Katsinas, director of the Education Policy Center, said that in the 1930s, nine of ten rural homes lacked the electric service that urban American homes, by that point, had for 40 years. 
"The Rural Electrification Act was passed to address this abject market failure," Katsinas said. "Today, as the COVID pandemic has shown, access to high-speed internet is as essential to rural Alabama as the REA was in the 1930s. Alabama must directly address the market failures that exist today to bring high-speech internet to every rural Alabamian, so that our rural workforce can access the lifelong learning skills they need, and our rural businesses can compete globally." 
The COVID-19 pandemic has also spotlighted the need to expand the growing area of telemedicine. 
Dr. Eric Wallace, medical director of Telehealth at UAB, told reporters during the briefing Monday that patients are largely doing telehealth from their homes, and explained that disparities in access to high-speed internet present a problem for them. 
"Since the COVID-19 pandemic began, UAB has done approximately 230,000 telehealth visits, and 60 percent of those were done by video," Wallace said. 
"Forty percent are audio only, and why is audio only? It's because we do not have broadband," Wallace said. "So it's not just broadband. It's broadband. It's tech literacy. Socioeconomics, to have a device in your home. It's all of that."
Wallace said that the coronavirus crisis has made clear that telemedicine is a "100 percent necessity" and that patient satisfaction studies make clear it's not going anywhere. 
The reasons for disparities in access to high-speed internet are myriad, explained Noel Keeney, one of the authors of the report and a graduate research assistant at the Education Policy Center. 
Keeney noted a study by BroadbandNow that estimates there are 154 internet providers in Alabama, but there are 226,000 Alabamians living in counties without a single provider, and 632,000 in counties with just a single provider. 
Even for those with access to internet providers, Keeney said that just approximately 44.4 percent of Alabamians have internet access at a cost of $60 monthly or below. 
"If we really care about our rural areas, we need to make an investment, and it needs to cut off that cost at a very low rate," Wallace said. 
Katsnias said there's a growing consensus on the part of Alabama's political leaders that access to high-speed internet is an important issue, noting that Gov. Kay Ivey in March 2018, signed into law the Alabama Broadband Accessibility Act, which has given internet access to nearly 100,000 Alabama students. 
"In March, Gov. Ivey awarded $9.5 million in broadband expansion grants, with a significant amount going to Black Belt communities," the report reads. "This was followed by $5.1 million in additional grants in May." 
"The State of Alabama also allocated $100 million in federal CARES Act-related dollars for "equipment and service for broadband, wireless hot spots, satellite, fixed wireless, DSL, and cellular-on-wheels to increase access for K-12 students undergoing distance learning," the report continues. 
An additional $100 million in CARES Act funds were made available to facilitate virtual learning across Alabama's K-12 schools, researchers wrote in the report, and another $72 million in federal aid went to the state's colleges and universities. 
Katsinas said however those federal funds are spent, the state still needs a long term plan for how to address the disparities in access to high-speed internet. 
"We need a long term plan and we need to do what we can do immediately," Katsinas said
Read more of the Education Policy Center's reports in the "Black Belt 2020" series here.