Impeachment: A brief understanding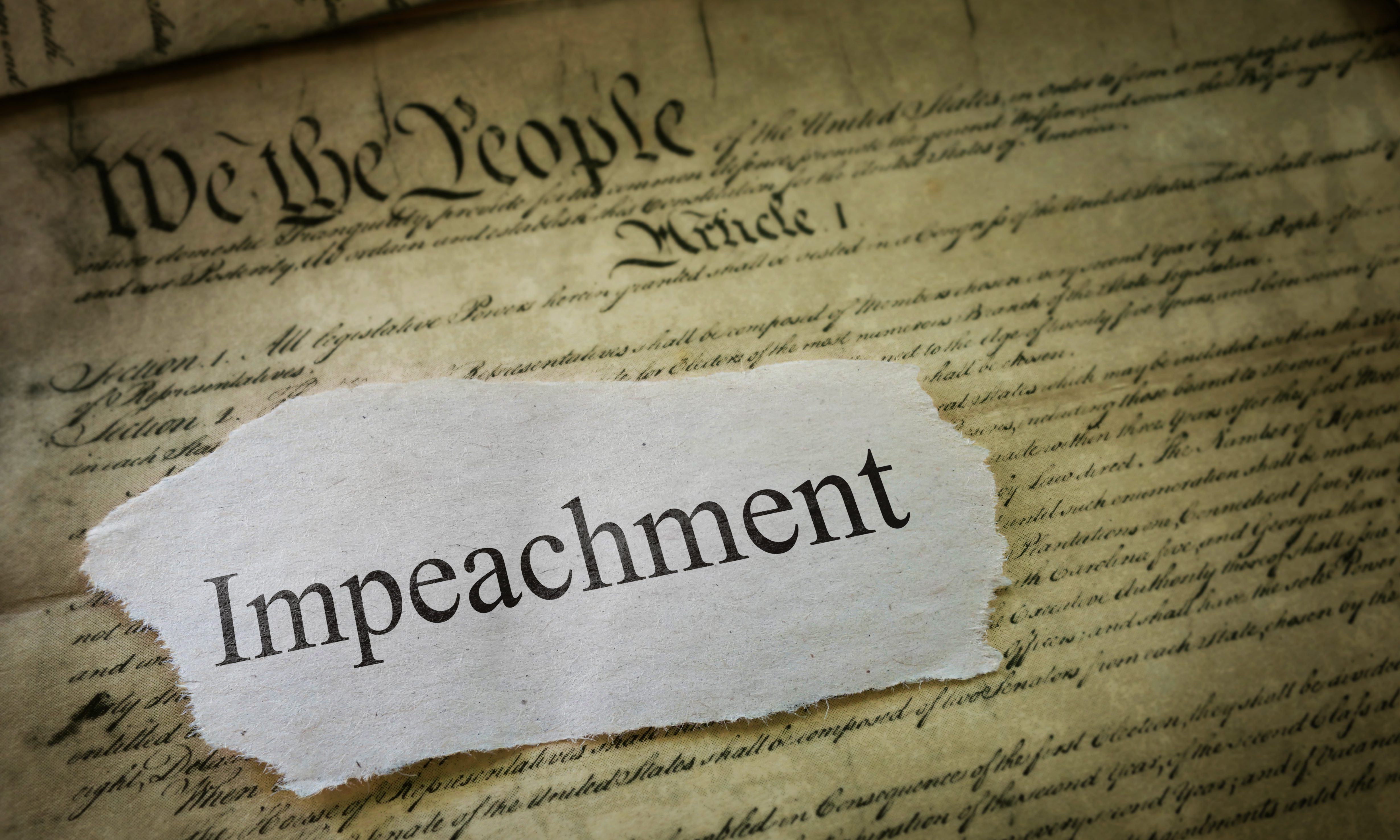 Editor's note: The House has opened a formal impeachment inquiry into President Donald Trump. This brief consideration of the impeachment process is not intended to express an opinion on those proceedings; instead, it aims to better understand the process amidst the din and confusion surrounding the current process.
The impeachment process is the mechanism the United States Constitution provides for the removal of the President, Vice President, and other civil officers of the United States found to have engaged in "treason, bribery, or other high crimes and misdemeanors."
Under the Constitution, there are two separate proceedings for removing an officeholder; one in the House of Representatives and another in the Senate.
First, the House by a simple majority impeaches, which means formally approving allegations of wrongdoing, known as articles of impeachment. Those allegations are then forwarded to the Senate where a second proceeding known as a trial of impeachment takes place. It requires a vote of a two-thirds majority in the Senate to convict an official which would result in removal from office.
To better understand the impeachment process, APR spoke with Andy Olree, professor of law at Faulkner University's Jones School of Law, where he specializes in Constitutional law. APR also consulted historical documentation and the Congressional Research Service (CRS) which works "exclusively for the United States Congress, providing policy and legal analysis to committees and Members of both the House and Senate, regardless of party affiliation."
"Impeachment is just the accusation," according to Olree. "What that means is accusing or essentially indicting, not in any criminal sense." Olree says that any criminal proceedings would be separate.
"The purpose of impeachment is not to inflict personal punishment for criminal activity," according to CRS. "In fact, the Constitution explicitly makes clear that impeached individuals are not immunized from criminal liability once they are impeached for a particular activity." CRS's analysis finds that impeachment is a "remedial" tool; that serves to effectively "maintain constitutional government" by removing individuals unfit for office.
"As far as the impeachment proceeding," according to Olree, "that is just the question of if somebody would be removed from office. Those would be separate from any criminal proceedings that might be brought, so the only implication here is whether the officeholder would be able to remain in office."
According to a 2015, paper by CRS, the House has impeached 19 individuals: 15 federal judges, one Senator, one Cabinet member, and two Presidents. The Senate has conducted 16 full impeachment trials, of these, eight individuals—all federal judges—were convicted by the Senate.
"The Constitution doesn't give a lot of guidance on what offenses may be impeachable, other than to set this process forth, treason, bribery and other high crimes or misdemeanors," said Olree. "In the language of the day, high crimes and misdemeanors included more than just criminal activity."
"If you had a chief executive for example, or just had a federal official who didn't show up to work for six months, that wouldn't be criminal, but that would be the kind of misdeed that's impeachable," according to Olree. "Showing up for work drunk habitually would be another one. What beyond that might be impeachable, of course it's where all the debate get centered in these cases, the Constitution leaves it pretty open-ended."
In past impeachment proceedings, both houses of Congress have given the phrase "high crimes and misdemeanors" a broad meaning, "finding that impeachable offenses need not be limited to criminal conduct," as in the impeachment of Walter L. Nixon, Jr., in 1989.
Olree says that today a misdemeanor is understood as a low-level crime, but for the founding generation it carried, "the understanding of more of a misdeed which leaves it more open-ended about which sorts of things constitute misdemeanors."
In Federalist No. 65, Alexander Hamilton defined impeachable offenses as "those offences which proceed from the misconduct of public men, or in other words from the abuse or violation of some public trust. They are of a nature which may with peculiar propriety be denominated political, as they relate chiefly to injuries done immediately to the society itself."
At the Constitutional Convention in 1787, James Madison successfully argued that presidents should be subject to impeachment because there could be occasions when waiting until the next election, "might be fatal to the republic."
"The primary mechanism they [the founders] wanted to rely on for holding leaders accountable was elections and in that process, if you're going to put your eggs in that basket, you have to trust the voters to some extent to be able to tell who's good in the office and who's not," said Olree. "But there might be some situation of abuse of power, particularly where either the general public is not aware of the abuse and it comes to the attention of Congress, or possibility number two is that the abuse is so egregious that we can't wait until the next election."
Olree further contends that the founding generation was always mindful of abuse of power, "particularly by a unitary executive that they were creating in the new Federal Constitution. It was for sure on people's minds and I think this mechanism reflects their concern. They weren't going to let this person be like a king that couldn't be removable."
"The decision to impeach an individual rests solely with the House of Representatives," as noted in CRS analysis. The Senate, in turn, has the sole power to try impeachments. "As President of the United States Senate, the Vice President usually presides at impeachment trials; however, if the President is impeached and tried in the Senate, the Chief Justice of the Supreme Court presides at the trial," according to government documents.
Constitutional Provisions
Article I, Section 2
The House of Representatives shall chuse their Speaker and other Officers; and shall have the sole Power of Impeachment.
Article II, Section 4
The President, Vice President and all civil Officers of the United States, shall be removed from Office on Impeachment for, and Conviction of, Treason, Bribery, or other high Crimes and Misdemeanors.
Article I, Section 3
The Senate shall have the sole Power to try all Impeachments. When sitting for that Purpose, they shall be on Oath or Affirmation. When the President of the United States is tried, the Chief Justice shall preside: And no Person shall be convicted without the Concurrence of two thirds of the Members present.
Judgment in Cases of Impeachment shall not extend further than to removal from Office, and disqualification to hold and enjoy any Office of honor, Trust or Profit under the United States; but the Party convicted shall nevertheless be liable and subject to Indictment, Trial, Judgment and Punishment, according to Law.
While APR generally doesn't weigh-in on national politics as a matter of priority, during this assuredly divisive moment in history, it will offer appropriate opinion and analysis from a statewide prospective as is warranted.
Attorneys ask court to intervene over numerous Alabama inmate suicides
Charles Braggs died by suicide in an Alabama prison after being kept in solitary confinement for more than two years. His suicide and a rash of others in Alabama prisons prompted attorneys for the plaintiffs in a case against the Alabama Department of Corrections to ask the court Wednesday to intervene. 
Braggs, 28, died at St. Clair Correctional Facility on July 17 after having been housed in segregation for 796 days, according to the court filing by the Southern Poverty Law Center, Alabama Disabilities Advocacy Program and attorneys with Baker, Donelson, Bearman, Caldwell & Berkowitz.
"Mr. Braggs was the seventh person — and the sixth Black person — to die by suicide in ADOC custody since this Court issued its Remedial Opinion and Judgment on Immediate Relief for Suicide Prevention (the 'Suicide Prevention Opinion') in May 2019, in which the Court found 'substantial and pervasive deficiencies' in ADOC's suicide prevention program," attorneys wrote to the court. 
Bragg's suicide was the fifth in Alabama prisons in the last four months, the plaintiffs' attorneys wrote in the fling, in which they call for "swift implementation and robust monitoring of the Parties' various remedial agreements" and for the state to address the use of segregation and "segregation-like" cells, which disproportionately hold Black people.
Alabama prisons kept 1,001 people locked alone in segregation on July 28, according to the court filing. 
"Of those 1,001, ADOC's public database lists 705 people as Black and 273 white—that is, approximately 70 percent of the people in segregation are Black," the filing states, going on to note that Black people make up approximately 52 percent of Alabama's inmate population and about 27 percent of the population of the state. 
U.S. District Judge Myron Thompson in his May 4, 2019 opinion wrote that ADOC argues the department cannot prevent all suicides in prisons.
"It is true that, as in the free world, not all suicides can be prevented. But this reality in no way excuses ADOC's substantial and pervasive suicide-prevention inadequacies. Unless and until ADOC lives up to its Eighth Amendment obligations, avoidable tragedies will continue," the judge wrote.
That 2019 opinion came after the plaintiffs' attorneys asked the court for immediate suicide-prevention relief following 15 inmate suicides over 15 months. Thompson agreed in his opinion to make permanent most of the provisions of a previous agreement between the plaintiffs and ADOC.
Thompson's separate judgment, filed the same day as his opinion, establishes minimum guidelines for how the state assesses and treats incarcerated people who may be at risk of suicide.
Among the prison suicides noted in the court filing was Marco Tolbert, 32, who was diagnosed with Schizophrenia and prescribed anti-psychotic and anti-depressant medication, but on June 20, 2019, three months before his death, his mental health code — used by ADOC to determine care — was reduced, some of his medication was discontinued and he was moved out of Donaldson prison's residential treatment unit and into the general population and "was not provided any follow-up mental health care," according to the filing.
He died by suicide on Sept. 26, 2019, according to court records. 
Marquell Underwood, 22, was placed into segregation at Easterling Correctional Facility on Feb. 23 and died by suicide that same day, according to court records. 
"Mr. Underwood previously reported a history of Bipolar Disorder, was referred to mental health nine times in relation to segregation placements, self-referred once to mental health, and was placed on acute suicide watch twice during the six months before his death," the plaintiffs' attorneys wrote to the court. "Despite all of this, he was never placed on the mental health caseload, never received a psychiatric evaluation, and never received any mental health treatment."
Laramie Avery, 32, died by suicide in his segregation cell at Bullock prison on April 14 and was placed in segregation for "disciplinary" reasons after being stabbed at least eight times in the head and chest, according to the filing. 
"Mr. Avery was referred for a mental health evaluation three days before his suicide, but there is no evidence that the evaluation ever occurred. He was not on the mental health caseload," the court filing states. 
The plaintiffs' attorneys also note the death of Darnell McMillian on June 22 at Donaldson prison. McMillian died while on suicide watch and after having been placed into a cell with another inmate also on suicide watch. 
"After an altercation between Mr. McMillian and his cellmate, correctional officers allegedly deployed pepper spray, which caused Mr. McMillian to become unconscious and may have led to his death. It is unclear what policies ADOC has instituted, if any, to ensure the safety of those on suicide watch who are double-celled," attorneys wrote to the court. 
An ADOC worker told APR in July that correctional officers used an excessive amount of pepper spray in the cell where McMillian and another inmate were housed. The cause of his death is pending an autopsy.