Impeachment: A brief understanding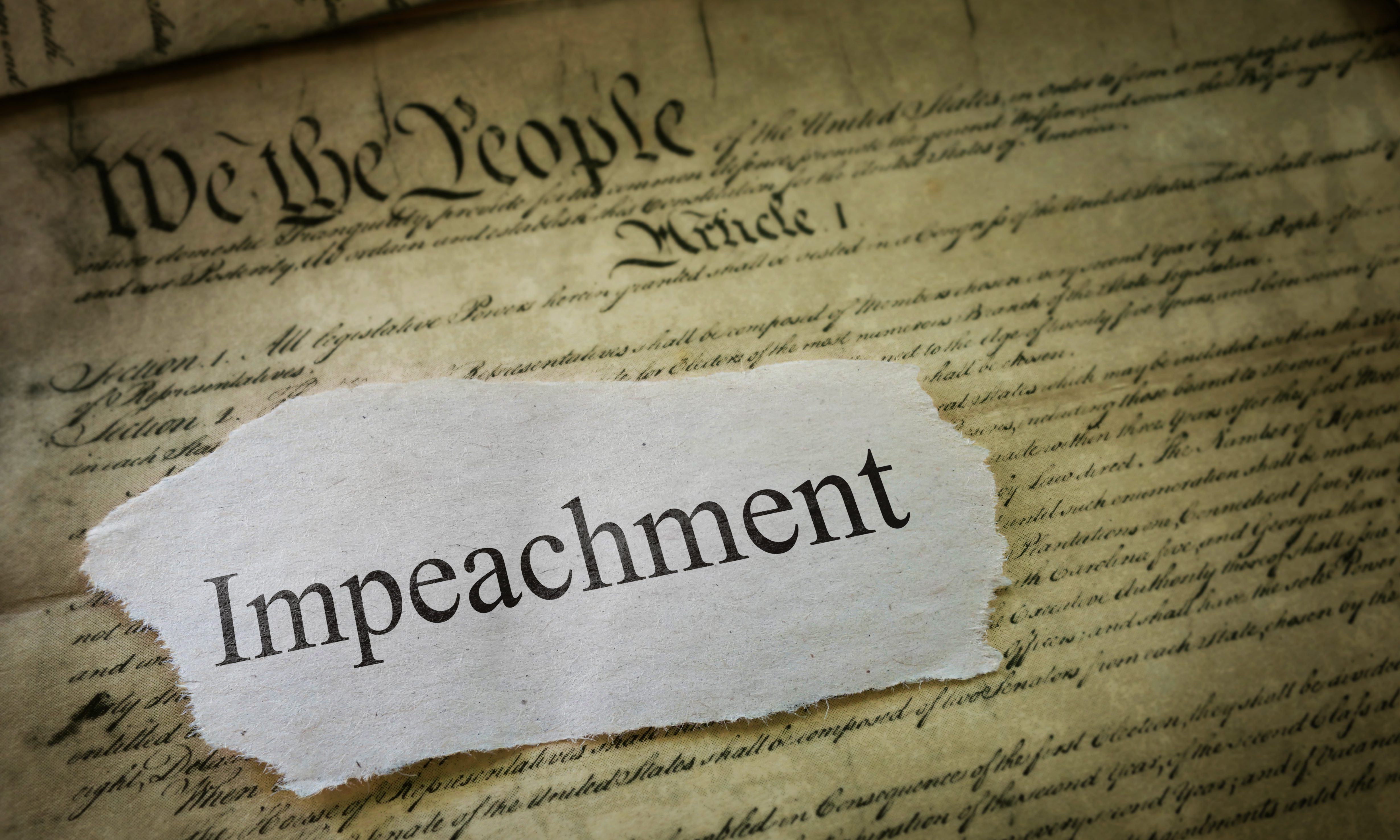 Editor's note: The House has opened a formal impeachment inquiry into President Donald Trump. This brief consideration of the impeachment process is not intended to express an opinion on those proceedings; instead, it aims to better understand the process amidst the din and confusion surrounding the current process.
The impeachment process is the mechanism the United States Constitution provides for the removal of the President, Vice President, and other civil officers of the United States found to have engaged in "treason, bribery, or other high crimes and misdemeanors."
Under the Constitution, there are two separate proceedings for removing an officeholder; one in the House of Representatives and another in the Senate.
First, the House by a simple majority impeaches, which means formally approving allegations of wrongdoing, known as articles of impeachment. Those allegations are then forwarded to the Senate where a second proceeding known as a trial of impeachment takes place. It requires a vote of a two-thirds majority in the Senate to convict an official which would result in removal from office.
To better understand the impeachment process, APR spoke with Andy Olree, professor of law at Faulkner University's Jones School of Law, where he specializes in Constitutional law. APR also consulted historical documentation and the Congressional Research Service (CRS) which works "exclusively for the United States Congress, providing policy and legal analysis to committees and Members of both the House and Senate, regardless of party affiliation."
"Impeachment is just the accusation," according to Olree. "What that means is accusing or essentially indicting, not in any criminal sense." Olree says that any criminal proceedings would be separate.
"The purpose of impeachment is not to inflict personal punishment for criminal activity," according to CRS. "In fact, the Constitution explicitly makes clear that impeached individuals are not immunized from criminal liability once they are impeached for a particular activity." CRS's analysis finds that impeachment is a "remedial" tool; that serves to effectively "maintain constitutional government" by removing individuals unfit for office.
"As far as the impeachment proceeding," according to Olree, "that is just the question of if somebody would be removed from office. Those would be separate from any criminal proceedings that might be brought, so the only implication here is whether the officeholder would be able to remain in office."
According to a 2015, paper by CRS, the House has impeached 19 individuals: 15 federal judges, one Senator, one Cabinet member, and two Presidents. The Senate has conducted 16 full impeachment trials, of these, eight individuals—all federal judges—were convicted by the Senate.
"The Constitution doesn't give a lot of guidance on what offenses may be impeachable, other than to set this process forth, treason, bribery and other high crimes or misdemeanors," said Olree. "In the language of the day, high crimes and misdemeanors included more than just criminal activity."
"If you had a chief executive for example, or just had a federal official who didn't show up to work for six months, that wouldn't be criminal, but that would be the kind of misdeed that's impeachable," according to Olree. "Showing up for work drunk habitually would be another one. What beyond that might be impeachable, of course it's where all the debate get centered in these cases, the Constitution leaves it pretty open-ended."
In past impeachment proceedings, both houses of Congress have given the phrase "high crimes and misdemeanors" a broad meaning, "finding that impeachable offenses need not be limited to criminal conduct," as in the impeachment of Walter L. Nixon, Jr., in 1989.
Olree says that today a misdemeanor is understood as a low-level crime, but for the founding generation it carried, "the understanding of more of a misdeed which leaves it more open-ended about which sorts of things constitute misdemeanors."
In Federalist No. 65, Alexander Hamilton defined impeachable offenses as "those offences which proceed from the misconduct of public men, or in other words from the abuse or violation of some public trust. They are of a nature which may with peculiar propriety be denominated political, as they relate chiefly to injuries done immediately to the society itself."
At the Constitutional Convention in 1787, James Madison successfully argued that presidents should be subject to impeachment because there could be occasions when waiting until the next election, "might be fatal to the republic."
"The primary mechanism they [the founders] wanted to rely on for holding leaders accountable was elections and in that process, if you're going to put your eggs in that basket, you have to trust the voters to some extent to be able to tell who's good in the office and who's not," said Olree. "But there might be some situation of abuse of power, particularly where either the general public is not aware of the abuse and it comes to the attention of Congress, or possibility number two is that the abuse is so egregious that we can't wait until the next election."
Olree further contends that the founding generation was always mindful of abuse of power, "particularly by a unitary executive that they were creating in the new Federal Constitution. It was for sure on people's minds and I think this mechanism reflects their concern. They weren't going to let this person be like a king that couldn't be removable."
"The decision to impeach an individual rests solely with the House of Representatives," as noted in CRS analysis. The Senate, in turn, has the sole power to try impeachments. "As President of the United States Senate, the Vice President usually presides at impeachment trials; however, if the President is impeached and tried in the Senate, the Chief Justice of the Supreme Court presides at the trial," according to government documents.
Constitutional Provisions
Article I, Section 2
The House of Representatives shall chuse their Speaker and other Officers; and shall have the sole Power of Impeachment.
Article II, Section 4
The President, Vice President and all civil Officers of the United States, shall be removed from Office on Impeachment for, and Conviction of, Treason, Bribery, or other high Crimes and Misdemeanors.
Article I, Section 3
The Senate shall have the sole Power to try all Impeachments. When sitting for that Purpose, they shall be on Oath or Affirmation. When the President of the United States is tried, the Chief Justice shall preside: And no Person shall be convicted without the Concurrence of two thirds of the Members present.
Judgment in Cases of Impeachment shall not extend further than to removal from Office, and disqualification to hold and enjoy any Office of honor, Trust or Profit under the United States; but the Party convicted shall nevertheless be liable and subject to Indictment, Trial, Judgment and Punishment, according to Law.
While APR generally doesn't weigh-in on national politics as a matter of priority, during this assuredly divisive moment in history, it will offer appropriate opinion and analysis from a statewide prospective as is warranted.
Alabama's Black Belt lacks quality internet access, report finds
Twenty-two of 24 Black Belt counties are below the statewide average of 86 percent of the population who have access to high-speed internet, and two Black Belt Counties — Perry and Chocktaw — have no access at all. 
During an online video briefing Monday on a report about a lack of internet access in Alabama's Black Belt, University of Alabama student Brad Glover warned reporters that he could get kicked off the briefing at any moment. 
That's because he was talking during the video briefing by way of audio only, using his cell phone, as he does not have access to high-speed internet access at his Linden, Alabama, home in the Black Belt's Marengo County. 
The COVID-19 pandemic that sent students home to study online left many in the Black Belt and other rural parts of Alabama in the lurch, without access to the high-speed internet enjoyed by so many other Americans, according to the latest report in the University of Alabama's Education Policy Center's Black Belt 2020 series. 
The latest report, titled "Internet Access Disparities in Alabama & the Black Belt," found that 22 of 24 Black Belt counties, as defined by the Education Policy Center, are below the statewide average of 86 percent of the population who have access to high-speed internet, and two Black Belt Counties — Perry and Chocktaw — have no access at all. 
"It is still a terrible struggle for me to connect to get the things done that are required," said Glover, who interned with the Education Policy Center. 
Stephen Katsinas, director of the Education Policy Center, said that in the 1930s, nine of ten rural homes lacked the electric service that urban American homes, by that point, had for 40 years. 
"The Rural Electrification Act was passed to address this abject market failure," Katsinas said. "Today, as the COVID pandemic has shown, access to high-speed internet is as essential to rural Alabama as the REA was in the 1930s. Alabama must directly address the market failures that exist today to bring high-speech internet to every rural Alabamian, so that our rural workforce can access the lifelong learning skills they need, and our rural businesses can compete globally." 
The COVID-19 pandemic has also spotlighted the need to expand the growing area of telemedicine. 
Dr. Eric Wallace, medical director of Telehealth at UAB, told reporters during the briefing Monday that patients are largely doing telehealth from their homes, and explained that disparities in access to high-speed internet present a problem for them. 
"Since the COVID-19 pandemic began, UAB has done approximately 230,000 telehealth visits, and 60 percent of those were done by video," Wallace said. 
"Forty percent are audio only, and why is audio only? It's because we do not have broadband," Wallace said. "So it's not just broadband. It's broadband. It's tech literacy. Socioeconomics, to have a device in your home. It's all of that."
Wallace said that the coronavirus crisis has made clear that telemedicine is a "100 percent necessity" and that patient satisfaction studies make clear it's not going anywhere. 
The reasons for disparities in access to high-speed internet are myriad, explained Noel Keeney, one of the authors of the report and a graduate research assistant at the Education Policy Center. 
Keeney noted a study by BroadbandNow that estimates there are 154 internet providers in Alabama, but there are 226,000 Alabamians living in counties without a single provider, and 632,000 in counties with just a single provider. 
Even for those with access to internet providers, Keeney said that just approximately 44.4 percent of Alabamians have internet access at a cost of $60 monthly or below. 
"If we really care about our rural areas, we need to make an investment, and it needs to cut off that cost at a very low rate," Wallace said. 
Katsnias said there's a growing consensus on the part of Alabama's political leaders that access to high-speed internet is an important issue, noting that Gov. Kay Ivey in March 2018, signed into law the Alabama Broadband Accessibility Act, which has given internet access to nearly 100,000 Alabama students. 
"In March, Gov. Ivey awarded $9.5 million in broadband expansion grants, with a significant amount going to Black Belt communities," the report reads. "This was followed by $5.1 million in additional grants in May." 
"The State of Alabama also allocated $100 million in federal CARES Act-related dollars for "equipment and service for broadband, wireless hot spots, satellite, fixed wireless, DSL, and cellular-on-wheels to increase access for K-12 students undergoing distance learning," the report continues. 
An additional $100 million in CARES Act funds were made available to facilitate virtual learning across Alabama's K-12 schools, researchers wrote in the report, and another $72 million in federal aid went to the state's colleges and universities. 
Katsinas said however those federal funds are spent, the state still needs a long term plan for how to address the disparities in access to high-speed internet. 
"We need a long term plan and we need to do what we can do immediately," Katsinas said
Read more of the Education Policy Center's reports in the "Black Belt 2020" series here.