Sewell secures commitment that whistleblower can testify before House committee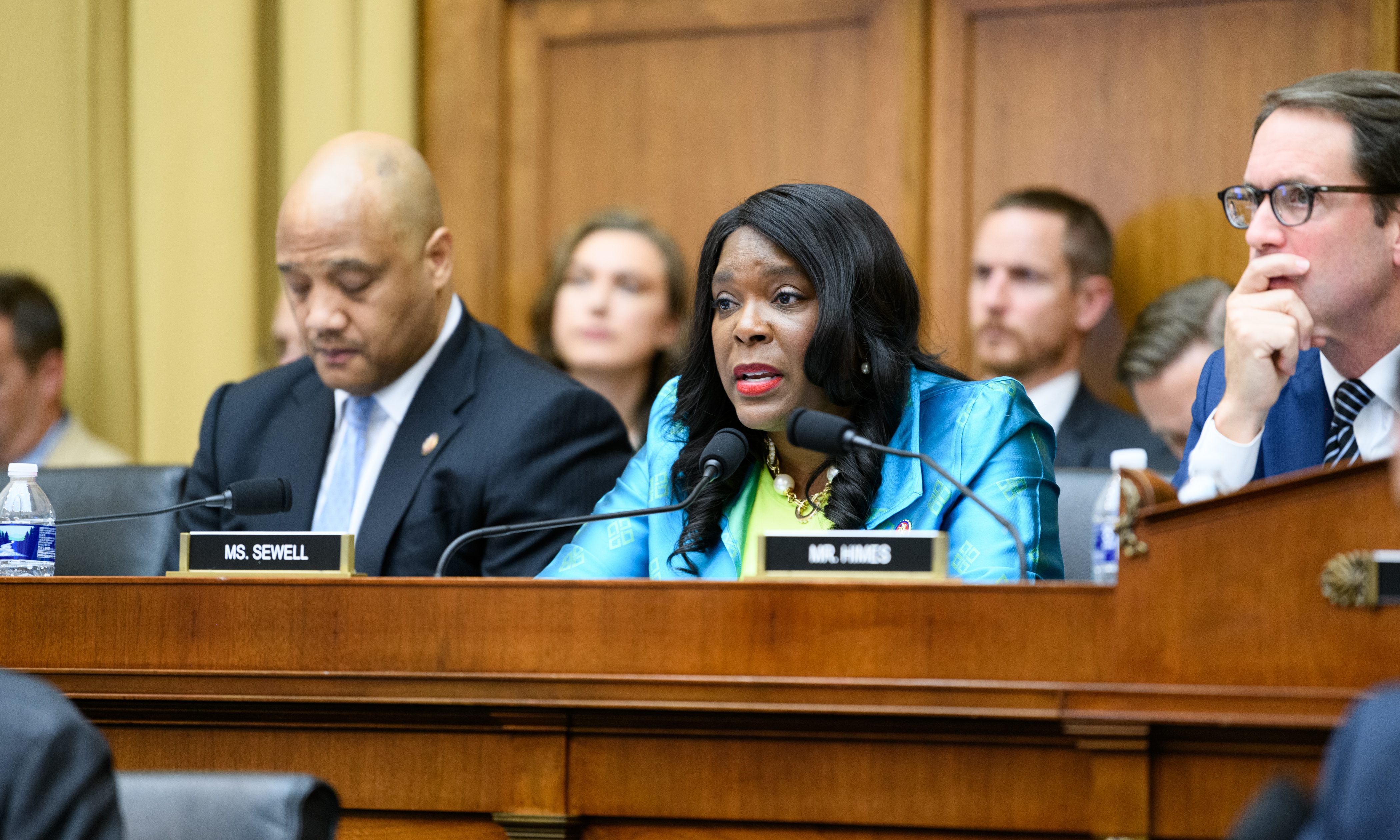 Congresswoman Terri Sewell last week questioned Acting Director of National Intelligence Joseph Maguire on the Trump Administration's handling of the whistleblower report and secured his commitment that he would work to ensure the whistleblower can share his or her testimony directly with the Committee.
Sewell said that the administration's failure to immediately deliver the whistleblower report to Congress as outlined in the law would have a "chilling effect" on future whistleblowers and might encourage others to refrain from delivering critical oversight information to Congress.
"I want to turn to what I fear may be one of the most damaging long-term effects of this whistleblower episode and that is the chilling effect that it will have on others in government who may witness misconduct, but now may be afraid to come forward to report it," Sewell said. "Sir, I'm worried that government employees and contractors may see how important this situation has played out and decide it's not worth putting themselves on the line. The fact that a whistleblower followed all of the proper procedures to report misconduct and then the department of justice and the White House seems to have weighed in to keep the complaint hidden, is problematic, sir."
"Congresswoman, I think that's a fair assessment," Acting Director Maguire said. "I don't disagree with what you've said. "I have endeavored to transmit to the Intelligence Community my support of the whistleblower and I'm quite sure that for at least two hours this morning, there are not many people in the Intelligence Community who are doing anything that is productive besides watching this."
Sewell is a senior member of the House Permanent Select Committee on Intelligence.
"I just also want to ask you, have you given direction to this whistleblower that he can, in fact, or he or she, can, in fact, come before Congress?" Sewell said. "Director, when the President called whistleblower a political hack and suggested that he or she was potentially disloyal to the country, you remained silent, I'm not sure why, but I think that adds to the chilling effect. The statute seems pretty clear that you shall — everybody has a role to play. The process seems pretty clear. Part of it also includes you directing the whistleblower of his or her protected rights. Can you confirm that you've directed that whistleblower that he or she can come before Congress?"
"Well, Congresswoman, there are several questions there. One, I do not know the identity of the whistleblower," Maguire explained. "Two, now that complaint has come forward, we are working with his counsel in order to be able to provide them with security clearance."
"My question is pretty simple. Can you assure this Committee and the American public that the whistleblower is authorized to speak to the Committee with the full protections of the Whistleblower Act?' Sewell asked. "Can you confirm that? That's a yes or no question."
"I'm working through that with the chair and to the best of my ability I believe the chair was asking to have the whistleblower come forward and I'm working with counsel, with the Committee, to support that," Maguire responded.
Sewell continued, "Can you assure the American public that the end result will be that the whistleblower will be able to come before this Committee and Congress and have the full protections of the whistleblower — after all, what is the whistleblower statute for if not to provide those full protections against retaliation against litigation?"
"Congresswoman, I am doing everything to endeavor to support that," Maguire said.
Chairman Adam Schiff (D-California) then asked: "Do I have your assurance once you work out the security clearances for the whistleblower's counsel, that that whistleblower will be able to relate the full facts within his knowledge, the concerned whistleblower by the president or anyone else, that he or she will not be inhibited what they can tell our Committee, not a minder from the White House or elsewhere, sitting next to them telling them what they can answer or do not answer? Do I have your assurance that the whistleblower will be able to testify fully and freely and enjoy the protections of the law?"
"Yes, congressman," Maguire answered.
On Sunday, Schiff announced that the Whistleblower has agreed to testify.
President Donald Trump telephoned the President of Ukraine Volodymyr Zelensky and asked the Ukrainian President to investigate a $50,000 a month seat on the board of a Ukrainian natural gas company gave Hunter Biden, the son of then Vice-President Joe Biden.
The whistleblower reported the president's comments as an abuse of power as she/he believed that Trump had threatened to withhold military aid from the country, who is in a five and a half year war with pro-Russia militias. At the time, Biden was the Democratic frontrunner to be the Democratic nominee in 2020.
The president has dismissed this as "hoax."
Congress, however, has opened an impeachment inquiry into the President's conduct.
Terri Sewell represents Alabama's 7th Congressional District.
Alabama's Black Belt lacks quality internet access, report finds
Twenty-two of 24 Black Belt counties are below the statewide average of 86 percent of the population who have access to high-speed internet, and two Black Belt Counties — Perry and Chocktaw — have no access at all. 
During an online video briefing Monday on a report about a lack of internet access in Alabama's Black Belt, University of Alabama student Brad Glover warned reporters that he could get kicked off the briefing at any moment. 
That's because he was talking during the video briefing by way of audio only, using his cell phone, as he does not have access to high-speed internet access at his Linden, Alabama, home in the Black Belt's Marengo County. 
The COVID-19 pandemic that sent students home to study online left many in the Black Belt and other rural parts of Alabama in the lurch, without access to the high-speed internet enjoyed by so many other Americans, according to the latest report in the University of Alabama's Education Policy Center's Black Belt 2020 series. 
The latest report, titled "Internet Access Disparities in Alabama & the Black Belt," found that 22 of 24 Black Belt counties, as defined by the Education Policy Center, are below the statewide average of 86 percent of the population who have access to high-speed internet, and two Black Belt Counties — Perry and Chocktaw — have no access at all. 
"It is still a terrible struggle for me to connect to get the things done that are required," said Glover, who interned with the Education Policy Center. 
Stephen Katsinas, director of the Education Policy Center, said that in the 1930s, nine of ten rural homes lacked the electric service that urban American homes, by that point, had for 40 years. 
"The Rural Electrification Act was passed to address this abject market failure," Katsinas said. "Today, as the COVID pandemic has shown, access to high-speed internet is as essential to rural Alabama as the REA was in the 1930s. Alabama must directly address the market failures that exist today to bring high-speech internet to every rural Alabamian, so that our rural workforce can access the lifelong learning skills they need, and our rural businesses can compete globally." 
The COVID-19 pandemic has also spotlighted the need to expand the growing area of telemedicine. 
Dr. Eric Wallace, medical director of Telehealth at UAB, told reporters during the briefing Monday that patients are largely doing telehealth from their homes, and explained that disparities in access to high-speed internet present a problem for them. 
"Since the COVID-19 pandemic began, UAB has done approximately 230,000 telehealth visits, and 60 percent of those were done by video," Wallace said. 
"Forty percent are audio only, and why is audio only? It's because we do not have broadband," Wallace said. "So it's not just broadband. It's broadband. It's tech literacy. Socioeconomics, to have a device in your home. It's all of that."
Wallace said that the coronavirus crisis has made clear that telemedicine is a "100 percent necessity" and that patient satisfaction studies make clear it's not going anywhere. 
The reasons for disparities in access to high-speed internet are myriad, explained Noel Keeney, one of the authors of the report and a graduate research assistant at the Education Policy Center. 
Keeney noted a study by BroadbandNow that estimates there are 154 internet providers in Alabama, but there are 226,000 Alabamians living in counties without a single provider, and 632,000 in counties with just a single provider. 
Even for those with access to internet providers, Keeney said that just approximately 44.4 percent of Alabamians have internet access at a cost of $60 monthly or below. 
"If we really care about our rural areas, we need to make an investment, and it needs to cut off that cost at a very low rate," Wallace said. 
Katsnias said there's a growing consensus on the part of Alabama's political leaders that access to high-speed internet is an important issue, noting that Gov. Kay Ivey in March 2018, signed into law the Alabama Broadband Accessibility Act, which has given internet access to nearly 100,000 Alabama students. 
"In March, Gov. Ivey awarded $9.5 million in broadband expansion grants, with a significant amount going to Black Belt communities," the report reads. "This was followed by $5.1 million in additional grants in May." 
"The State of Alabama also allocated $100 million in federal CARES Act-related dollars for "equipment and service for broadband, wireless hot spots, satellite, fixed wireless, DSL, and cellular-on-wheels to increase access for K-12 students undergoing distance learning," the report continues. 
An additional $100 million in CARES Act funds were made available to facilitate virtual learning across Alabama's K-12 schools, researchers wrote in the report, and another $72 million in federal aid went to the state's colleges and universities. 
Katsinas said however those federal funds are spent, the state still needs a long term plan for how to address the disparities in access to high-speed internet. 
"We need a long term plan and we need to do what we can do immediately," Katsinas said
Read more of the Education Policy Center's reports in the "Black Belt 2020" series here.