Byrne and Rogers support censure of House Intel Committee Chair Adam Schiff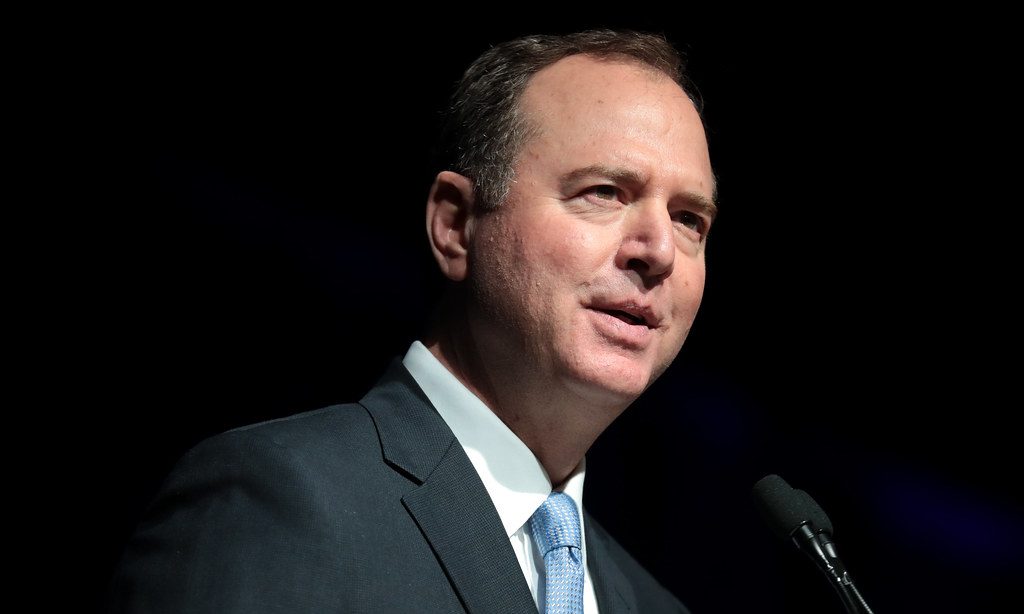 Thursday, Congressmen Bradley Byrne (R-Montrose) and Mike Rogers (R-Saks) both joined a resolution to condemn and censure House Intelligence Committee Chairman Adam Schiff (D-California). Byrne's office said that the censure is for Schiff's attempt during last week's hearing on impeachment to mislead the public with a false retelling of a conversation between President Trump and Ukrainian President Zelensky.
"Last week, Adam Schiff used his opening statement to pass off as real a completely fabricated retelling of President Trump's phone conversation with the Ukrainian President," Rep. Byrne said. "His imagined conversation is clearly and entirely contradicted by the transcript of the call – the same transcript House Democrats did not wait to receive before launching their phony impeachment efforts. Adam Schiff's scheme to mislead the American people through lies and deception is just a further example of why this whole impeachment charade is a sham. The American people are sick of this political posturing, and the House should do all in its power to protect what integrity remains of this institution by formally condemning his behavior and ending this politically-motivated impeachment inquiry."
"I am signing on to my colleague Congressman Andy Biggs resolution to censure House Intel Chairman Adam Schiff for literally making up his own version of President Trump's phone conversation with Ukraine President Zelensky," Rep. Rogers said. "Chairman Schiff peddled lies during the Russian hoax and now he is doing the same with the impeachment scam. This sort of petty behavior has no place in Congress."
The resolution to formally condemn and censure Representative Adam Schiff was filed by U.S. Representative Andy Biggs (R-Arizona).
"Whereas, President Trump released the transcript of a call between him and the President of Ukraine; Whereas, President Trump subsequently released the whistleblower complaint of August 12, 2019; Whereas, in a September 26, 2019, hearing on the whistleblower complaint, House Intelligence Committee Chairman Adam Schiff purported to relay the content of the phone call to the American people; Whereas, instead of quoting directly from the available transcript, Chairman Schiff manufactured a false retelling of the conversation between President Trump and President Zelensky."
"Whereas, this egregiously false and fabricated retelling had no relationship to the call itself; Whereas, these actions of Chairman Schiff misled the American people, bring disrepute upon the House of Representatives, and make a mockery of the impeachment process, one of this chamber's most solemn constitutional duties; Whereas, for more than two years, Chairman Schiff has spread false accusations that the Trump Campaign colluded with Russia; Whereas on March 20, 2017, then Ranking Member Schiff read out false allegations from the Steele dossier accusing numerous Trump associates of colluding with Russia; Whereas, then-Ranking Member Schiff falsely claimed in a March 2017 interview to have ''more than circumstantial evidence'' of collusion with Russia; Whereas, then-Ranking Member Schiff negotiated with Russian comedians who he believed to be Ukrainian officials to obtain materials to damage the President of the United States politically; Whereas, members of the Intelligence Committee have lost faith in his objectivity and capabilities as Chairman, with every Republican member on the Committee having signed a letter calling for his immediate resignation as Chairman; and Whereas, Chairman Schiff has hindered the ability of the Intelligence Committee to fulfill its oversight responsibilities of the Intelligence Community, an indispensable pillar of our national security."
Fox News contributor Karl Rove said of the impeachment inquiry: "If this is all they got, two-thirds of the Senate ain't going along."
"The rhetoric of House Democrats has made them appear inept—and
appearances aren't always deceiving," Rove said. "Consider Mr. Schiff's stunt in opening the Intelligence Committee's hearing on Mr. Trump's conversation with the president of Ukraine. Mr. Schiff channeled his inner Martin Scorsese to revise the call's transcript, adding new words to make it sound like a scene out of "Goodfellas." He read his treatment to a national cable audience, only later admitting it was a "parody.""
"We have not spoken directly with the whistleblower," Schiff told MSNBC's Sam Stein. "We would like to. But I'm sure the whistleblower has concerns that he has not been advised, as the law requires, by the Inspector General or the Director of National Intelligence just as to how he is to communicate with Congress."
It was later revealed that the so–called "whistleblower" had actually been working with Schiff and the staff of the House Intelligence Committee even before he or she filed their complaint.
Bradley Byrne represents Alabama's First Congressional District. Mike Rogers represents Alabama's Third Congressional District.
(Original reporting by Fox News, Breitbart News, and MSNBC contributed to this report.)
Print this piece
President Trump's support rises during his handling of the coronavirus crisis
President Donald Trump is benefitting in recent job approval polls from the national focus on the coronavirus and his handling of the crisis.
In January, America was experiencing its best economy in over 50 years. The stock market was booming, corporate profits were up, taxes were down, incomes were rising, unemployment was at record lows, the American dream appeared more achievable for more Americans than ever before and the nation faced no pressing problems. That was until a new strain of coronavirus first appeared in Wuhan City, Hubei Province, China in late 2019. It arrived in this country by January 20. The growing spread of the virus, led the White House to implement an unprecedented forced economic shutdown and new social distancing policies to fight the spread of the virus.
While the Draconian economic orders have resulted in tremendous economic dislocation the American people are largely rallying behind the President's policy and he is experiencing his best approval ratings since 2018.
According to a recent Hill-HarrisX poll, Trump's approval rating is now at fifty percent, 50 percent of registered voters approved of Trump's job performance, while 50 percent still disapprove. The last time Trump's approval reached 50 percent or higher was August 2018 at 51 percent support.
85 percent of Republican voters approve; while just 19 percent of Democrats approve of Trump's job performance. The poll was conducted on March 22 to 23.
A Gallup poll showed that Trump's job approval has risen from 44 percent on March 16 to 49 percent nine days later. This ties the highest rating of his entire presidency in the Gallup poll set in January during his impeachment trial. The President's has enjoyed strong support among Republicans; but his approval numbers have risen with both Democrats and Independents to 13 percent and 43 percent respectively, rises of six percent and eight percent in the past two weeks as the US deals with the COVID-19 outbreak that has already killed hundreds in the country.
Trump was originally skeptical of the virus's impact; but his unprecedented decisions three weeks ago to shut down most international air traffic, social distancing, and unprecedented decision to use a forced economic shutdown to slow the spread of the virus to save American lives has drawn high approval among voters.
Former State Representative Perry O. Hooper Jr. is a member of Trump's national victory committee.
"President Trump has done a tremendous job as Commander-in-Chief in the war against the Wuhan Coronavirus," Hooper told the Alabama Political Reporter. "His widely criticized initial ban on non-American citizens traveling to our country from China, invoked in January, may have been the most important decision he made in fighting this deadly disease. This is leadership that has saved countless American lives."
Trump and his White House coronavirus task force, led by Vice President Mike Pence (R), have regularly addressed the nation urging them to follow the social distancing guidelines and not to panic.
"President Trump has surrounded himself with the brightest medical minds in the world," Hooper said.
"He is spending hours each day listening to their very candid advise. Daily the President stands alongside with his team leader Vice President Mike Pence. They speak directly to the American people boiling down the complex health and economic issues caused by the Wuhan coronavirus into common sense answers the American public can understand."
"As a result, Americans are seeing a direct and accountable, solution-driven, business approach being applied to the greatest national emergency since the bombing of Pearl Harbor that forced us into World War II," Hooper said. "As a result, the approval ratings for President Trump's handling of the crisis have skyrocketed."
There has been tremendous economic upheaval from the decision to shut down much of the economy. The White House maintains that this is necessary to save lives.
"Optimal solutions are not always pretty; but in times of crisis, great leaders know they must generate optimal solutions," Hooper explained. "This crisis requires balancing the healthcare needs of the country with the economic livelihood of everyday Americans. President Trump is focused on achieving optimal solutions by implementing his "Whole Nation Solution". This solution is about the public and private sector working hand in hand doing everything in their power to defeat this unseen enemy. Governors across the nation such as New York's Andrew Cuomo have put aside political differences to work with the President and his team to defeat the Wuhan virus. Democrats and Republicans in the House and Senate have come together to work with the White House to pass badly needed legislation to keep American workers whole and keep businesses in a position to resume operations."
Democrats and the mainstream media have been critical of the President's handling of the situation as sending mixed messages and not going far enough.
"The Trump-hating media is still attacking the President even when he is facing the worst public-health crisis this nation has seen in decades," Hooper countered. "Their principal effort has been to stir up and maintain a state of public fear that grips the country while they snipe and carp at any shortcoming they discover or invent in the President's statements."
There are fears that the forced economic shutdown will cause a deep and long-lasting recession and "that the cure could be worse" than the virus. To address this, the President negotiated a bipartisan $two trillion stimulus package to pump some liquidity into the system in the form of relief payments to: businesses, corporations, states, education systems, hospitals, and families. The CARES Act was passed and signed into law by the President on Friday.
"We must support as a unified nation our President's delicate balancing act,".Hooper said. "We must keep the country safe while simultaneously getting our great American economy back up and running sooner rather than later."
The White House is predicting that even with the economic shutdown and the social distancing that 100,000 to 240,000 Americans will still die. The White House Coronavirus task force argues that as many as two million Americans would have died without these efforts. On Tuesday, the President and his team warned that if Americans fail to take this crisis seriously and don't practice social distancing over a million of us could perish in the coming months.
As of press time, 188,592 Americans have been confirmed with COVID-19. 4,056 have died. The U.S. now has more confirmed cases than any other country, with outbreaks rapidly growing in New York, New Jersey, Louisiana, Michigan, Florida and other states. 24 Alabamians have died. 7,256 Americans have already recovered from their illnesses and 4,576 are in critical or serious condition.
(Original reporting by the Hill and Fox News contributed to this report.)
Print this piece