Medical marijuana users tell their stories to Medical Cannabis Study Commission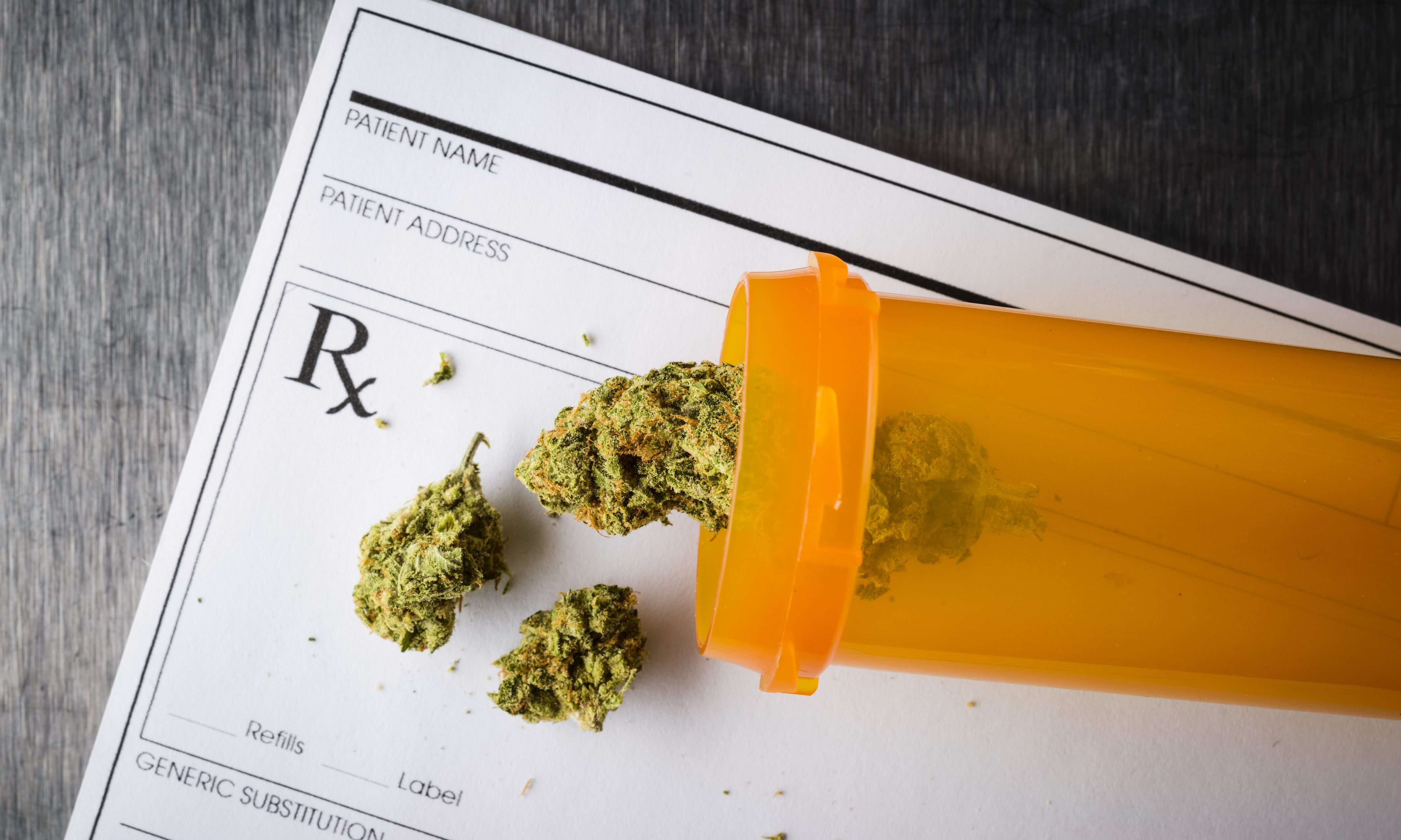 Thursday, the Medical Cannabis Study Commission held its third meeting. The Commission has been tasked with presenting a policy recommendation to the legislature on exactly what the best medical marijuana bill should look like. The Commission held a public hearing in which a number of medical marijuana users claimed that the drug has benefitted them.
Each speaker was limited to just two minutes time to address the commission.
Helen "Marty" Schelper said that her sister died from the chemotherapy used to treat her breast cancer. Shelper said that since then she has met people who were diagnosed with cancer that no longer have cancer using marijuana extracts. Schelper said that her cannabis advocacy began seven years ago when her sister died. Schelper credited marijuana with successfully treating her Lyme disease.
Amanda Taylor, age 45, said that her Father was murdered when she was a child. She was diagnosed with diabetes at at age 17. At age 25 she was diagnosed with cancer. Later she developed stomach issues that led to chronic vomiting and an insulin pump was installed for her diabetes. At a low point she weighed just 99 pounds and was having to use a handicapped cart to shop for groceries. Someone from Colorado introduced her to marijuana to deal with her potentially fatal, for a diabetic, stomach issues. Because cannabis is illegal in Alabama, even for someone with a medical need she moved to Arizona and is now employed by the medical cannabis industry there.
"I left Alabama because Alabama shut their doors to me," Taylor said.
While still in Alabama she was able to purchase marijuana on the black market.
"I was using cannabis; but I did not know what I was getting," Taylor said.
Lee Vessel is an Air Force veteran, who has studied the marijuana literature heavily.
"There is an epidemic of suicide in my community," Vessel said. "There are 22 veteran suicides a day.
Vessel said that he is involved in a charity in California that get veterans out of their homes and into activities; but unlike other charities medicinal cannabis was used in those activities.
"In California, I met hundreds if not thousands who said that medical cannabis helped to ease the symptoms of their chronic conditions," Vessel said. "Unlike opioids it is not an addictive pain killer with the ability to kill via overdose."
Tina Crim said, "I am 43 years old and I live in Decatur, Alabama. I have multiple health issues. I broke my neck in a car wreck six years ago."
"They told my family I was going to die," Crim said. that she could not even keep water down. Her doctor recommended synthetic THC (the active chemical in marijuana). She was reluctant to use it because of the stigma; but it worked and she was able to keep food down.
"Had he not given me that medicine I would not have walked out of that hospital," Crim said. I and my doctor have fought with the insurance company for years to keep on that medicine. Eventually the insurance stopped paying for the synthetic THC that she was taking and her symptom resumed.
"My husband's work sent him to California" (where marijuana is legal), Crim said. "I got a medical marijuana card in California. I was eating toast and butter after 14 days. You can't tell me that medical marijuana does not work."
"I have a rare blood disease that has taken me to the hospital several times," Joseph Fannin said. "I began leaving the state to go to Florida (which also legalized medical marijuana) to get treatment. Since I have been back in Alabama I have been getting sick again."
"This plant is so important not just medically, but for the ecosystem as a whole," Chera Howard said. "It is good for soul regeneration and good for the environment."
"I was a UPS driver for 18 years," David Grantham said. "I stepped off a curb and shattered my ankle. I had five reconstructions on my ankle."
Grantham developed a complication that inflamed his nerves, "It burns my body inside out."
Doctors attempted to relieve the pain with prescription pain medication. "I did not know who my parents were," "Now I go to Colorado and I have doctors in Florida. I am considering moving to Colorado. I smoke it and I am me again. I should not have to leave Alabama."
"I am tired, my body is tired, my story is I am literally just tired," Grantham said. "The suicide rate for what I have is about 70 percent,"
"I was supposed to be in a wheelchair years ago," Grantham said. "I have a spinal chord stimulator in my back. It took me a year to recover from the surgery to put it in and now it needs to be taken out and replaced."
Timothy Morris said that he is mechanic who has had five bypass surgeries and back surgery. He also has muscle cramps and neuropathy in both legs that is extremely painful.
"In 2010 I tried to go back to work," Morris said. "It is 100 degree in those shops. I couldn't do it anymore."
Morris says that he likes motorcycles; but he has a motorcycle that he can't ride. "I can't do it anymore. I have children and grandchildren. I want to do things with them and I can't do it anymore."
"I have done marijuana," Morris said. "I smoked it as a kid, but not medically."
"I don't care to take a pill," Morris said and does not want to take prescription opioids.
"When people scream out we should give help," Morris said. "I get no help and I am mad. I have lived in Alabama almost my whole life; but maybe I should leave the state." "The pain that I am in now is ridiculous. It is uncalled for."
"In June this year I was diagnosed with cancer," John Day said. "I started chemotherapy and began using medical marijuana to deal with the nausea."
"I am 56 years old and soon to be grandmother of five," Michelle Rhodes said. "Frankly I think it is sad that we have to come and beg to use a plant that has been in the food chain for thousands of years."
"I have been indulging since I was 14 and frankly, I think it is why I have stayed away from the pharmaceuticals. I don't trust them," Rhodes said. Rhodes said that her son died from a brain tumor. She believes that conventional medicine killed her son and that marijuana would have been a better treatment.
No one spoke at the public hearing in opposition to legalizing medical marijuana.
State Senator Tim Melson (R-Florence) is an anesthesiologist and the chair of the commission. He introduced medical marijuana legislation last year and intends to introduce it again this year.
"I want your comment and your input," Melson said of state agencies and law enforcement. "We want to protect employers and employees" who want to have a safe workplace in this bill and wants to hear from law enforcement; but "The time is now. Don't come to me when we are in session in February."
Melson said that the bill will be written, "Based on the science not the emotion."
"The next meeting of the commission will be November 7," Melson said. "We will have an expert that just got back from Israel who has seen all the latest research. Like me five to six years ago he would not have even considered this."
Alabama lawmaker faces sharp criticism over celebration of former KKK leader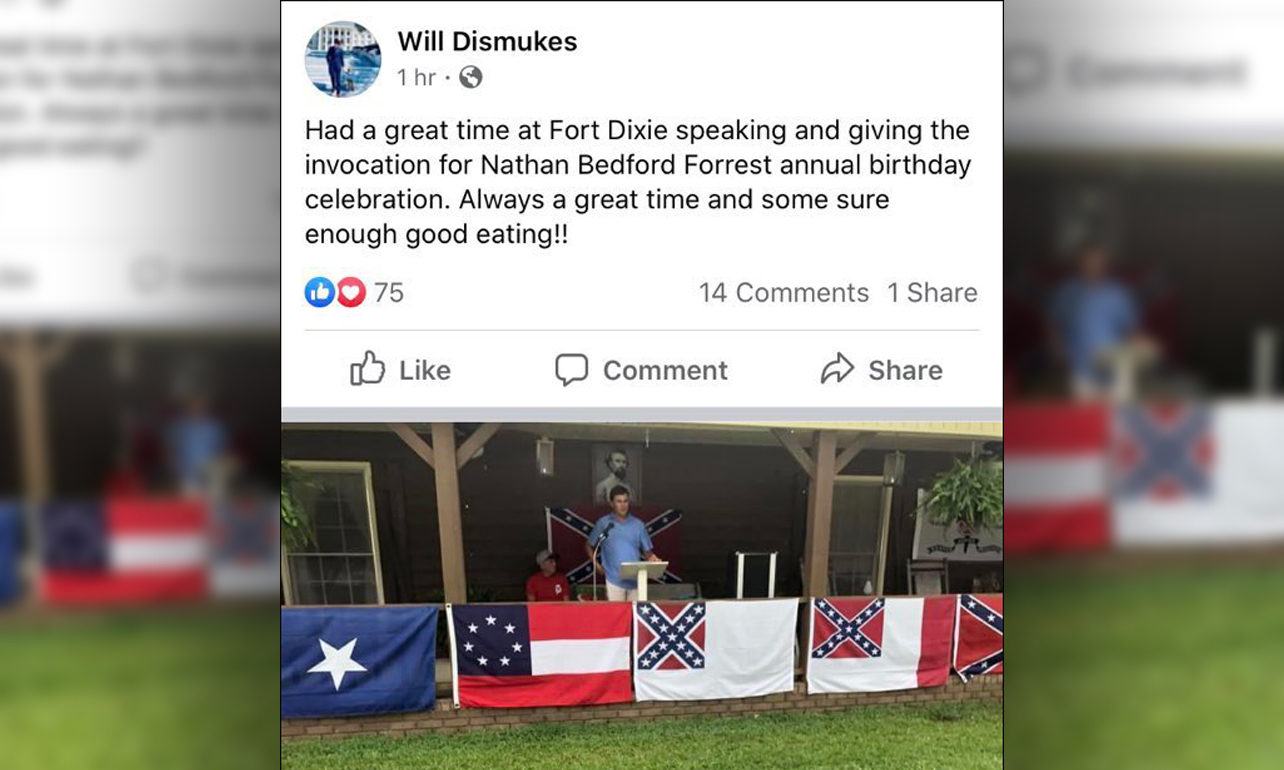 State Rep. Will Dismukes, R-Prattville, is again facing calls to resign over a social media post he made about his participation in an event honoring Confederate heritage.
Dismukes posted a photo of himself on Sunday speaking at Fort Dixie the day before, where a yearly event was held celebrating the birthday of Nathan Bedford Forrest, a Confederate general and first Grand Wizard of the Ku Klux Klan.
"Had a great time at Fort Dixie speaking and giving the invocation for Nathan Bedford Forrest annual birthday celebration. Always a great time and some sure enough good eating!!" Dismukes wrote above a photo of himself speaking on a porch adorned with a portrait of Forrest and several Confederate flags. The post is no longer visible.
Criticism was swift on social media as word spread that Dismukes attended the celebration on the same weekend that the late Congressman and Civil Rights hero, Rep. John Lewis, was honored in Selma, where Lewis was nearly beaten to death in 1965, during the march for voting rights that crossed the Edmund Pettus Bridge.
Alabama Democratic Party Executive Director Wade Perry called for Dismukes to resign.
"Will Dismukes has demonstrated yet again why he is unfit to hold public office," Perry said in a statement. "Americans don't celebrate racists or traitors. Nathan Bedford Forrest was both. And a founder of the Klan. The Alabama Democratic Party renews our call for Dismukes to resign. It's 2020 and it's time for racial extremists like Will Dismukes to go away."
Dismukes posted a statement on Monday addressing the criticism: "First and foremost, my post yesterday was in no way related to disrespecting the passing of Rep. John Lewis. That wasn't even a thought in my mind. That is not who I am as a person.
"I am a transparent person. To the point that as a public official I lay it all there for the people to see for better or for worse at times. My post yesterday was as usual me sharing a previous days events. The post was in no way intended to seem as if I was glorifying the Klan or any party thereof. The very atrocities and actions they committed are a disgrace to our country.
"Also, we are all individual members that make up our legislature. I made a post independent of my colleagues. My regret is that I have allowed them to be put in a negative light. If you disagree with me and my beliefs do not hold them under the same umbrella. I can live with a dislike for me, but not fellow members, or members of my own personal family. Our body as a whole is made up of some of the finest people I have ever had the honor of knowing and working with, both Democrat and Republican.
"I close by reiterating that my post was in no way glorifying the Klan or disrespecting the late Rep. John Lewis."
Alabama Republican Party Chairman Terry Lathan issued a statement addressing the post:
"While Rep. Dismukes has released a statement attempting to clarify his actions as a private citizen attending a celebration of the first Grand Wizard of the Klu Klux Klan, Alabamians hold their elected officials to a high standard of actions. So does the Republican Party.
"Rep. Dismukes offered no explanation for why he participated in a birthday celebration of Nathan Bedford Forrest. Additionally, I find his statement to be shallow in understanding why his activities are deeply offensive to so many Alabamians. His constituents will be the final decision-makers of his political future.
"The Alabama of today was on full, honorable display as we paid humble tribute this weekend to the life of Congressman John Lewis. That is the Alabama that we are proud of – showing the nation and world that we are one in the common goals of equality for all of our citizens.
"It is one thing to honor one's Southern heritage, however, it is completely another issue to specifically commemorate the leader of an organization with an indisputable history of unconscionable actions and atrocities toward African-Americans. I strongly urge his constituents to contact Rep. Dismukes to articulate and share with him their thoughts on his personal actions."
House Majority Leader Nathaniel Ledbetter, R-Rainsville, issued a statement saying that the beliefs of one member don't reflect the beliefs of all, and that several Republican Caucus members expressed concern to him about the content and timing of Dismukes' post.
"We live in a nation that guarantees each citizen the right to express the ideas they wish to share, and in the case of a public official, voters will ultimately decide if they agree with those ideas."
Speaker of the House Mac McCutcheon, R-Monrovia, on Monday issued his own statement:
"The Alabama House cannot police the beliefs, statements, and activities of its members outside the Legislature as that is a job best assigned to voters in each House district across the state.  
"It is important to note, however, that I and many other members of the House devoted our weekend toward honoring an Alabama native and civil rights icon who dedicated his life to securing freedom, liberty, and equality for all Americans."
Rep. Danny Garrett, R-Trussville, tweeted a stern rebuke on Sunday: "I cannot fathom why anyone in 2020 celebrates the birthday of the 1st KKK Grand Wizard. And while the body of a civil rights icon beaten by the Klan lies at state Capitol being honored by GOP/Dem leaders from all over the state. This mentality does not rep my party or my faith."
Another GOP colleague, Rep. Allen Farley, R-McCalla, responded to a constituent about the matter in a tweet: 
"Scott, As a Christian, Conservative, member of the Republican Party, I was proud of the comments of my colleague Rep. Danny Garrett. Rep Will Dismukes' actions were also unfathomable to me. I believe it will take the voters in House Dist. 88 to remove Rep. Dismukes from office," Farley said.
While fellow Republican officials said that Dismukes' constituents should decide if he remains in office, the College Republican Federation of Alabama issued a statement on Monday calling for him to resign.
"Representative Dismukes's Facebook post of him at an event that celebrated former KKK Grand Wizard Nathan Bedford Forrest is unacceptable and has no place in the State Legislature or the Republican Party," the statement said.