Sen. Cam Ward announces bid for Alabama Supreme Court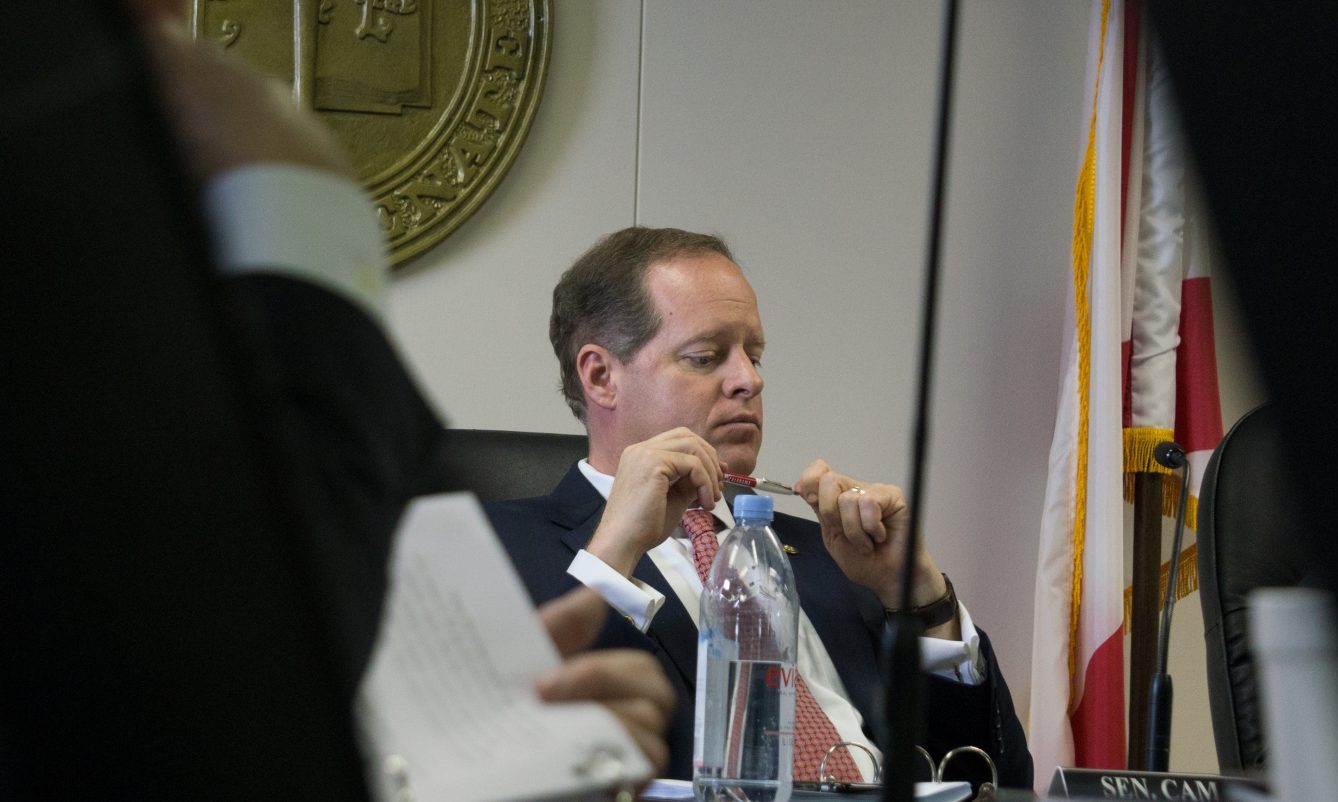 Earlier today, State Senator Cam Ward, R-Alabaster, announced he is running for the Republican nomination for Associate Justice on the Alabama Supreme Court in Place 1. That seat is currently held by Greg Shaw.
Ward, who serves as the Chairman of the Senate Judiciary Committee and President of the Alabama Law Institute, is the leading figure in justice reform in the state. He sees the move from the legislative branch to the judiciary as a natural progression in his commitment to public service. "For me, this is a natural progression and if elected, I will bring a unique perspective to the court having worked in the legislature and the attorney general's office," Ward told APR in a phone conversation shortly before his formal announcement.
As a young attorney, Ward began his career in state government when he was appointed Deputy Attorney General by former Attorney General Bill Pryor.
Pryor's dedication to the rule of law helped shape Ward's view on a wide range of conservative issues, which led him to seek public office first as a State Representative and now as a Senator.
Best known for his roles in criminal justice and prison reform and his leadership in advocating for the state's Autism community, Ward is a steadfast voice for those who need a champion according to those who have watched him over the years. Ward is seen as a leader who can build a consensus even on the toughest issues.
He says he wants to take that same experience to the state's highest court.
"The roles of the three branches of government are very well-defined. The legislative branch writes the laws, the executive branch enforces the laws and the judicial branch interprets the laws," Ward explained. "My judicial philosophy will be easy to understand. As a judge, my role will be to interpret the law exactly as it is written, not to write new ones."
As critics of the current court will attest, the Alabama Supreme Court is not always seen as an impartial arbiter of justice; instead, it is often vilified as bending to the will of prevailing political winds.
Ward believes his background as a lawmaker as well as his experience in criminal justice will give him the ability and wisdom required to adjudicate honestly.
Ward, a graduate of Troy State University and the Cumberland School of Law at Samford University, is a practicing attorney specializing in criminal justice reform and economic development.
"During his time in public office, he has demonstrated that he is a staunch advocate of limited government and protections for Constitutional rights," according to his campaign press statement. "He has sponsored stronger ethics laws and pro-growth legislation that has helped launch Alabama to the lowest unemployment rate in decades. His work in the State Senate has been recognized by conservative groups both locally and nationally."
Ward is married to Lindsey Clements Ward and he has two daughters, Riley (17) and Clements (1).
The Republican Primary will be held on Tuesday, March 3.
This is Ward's first run for statewide office.
Print this piece
Sessions: FFRF's demands that Ivey stop praying is ridiculous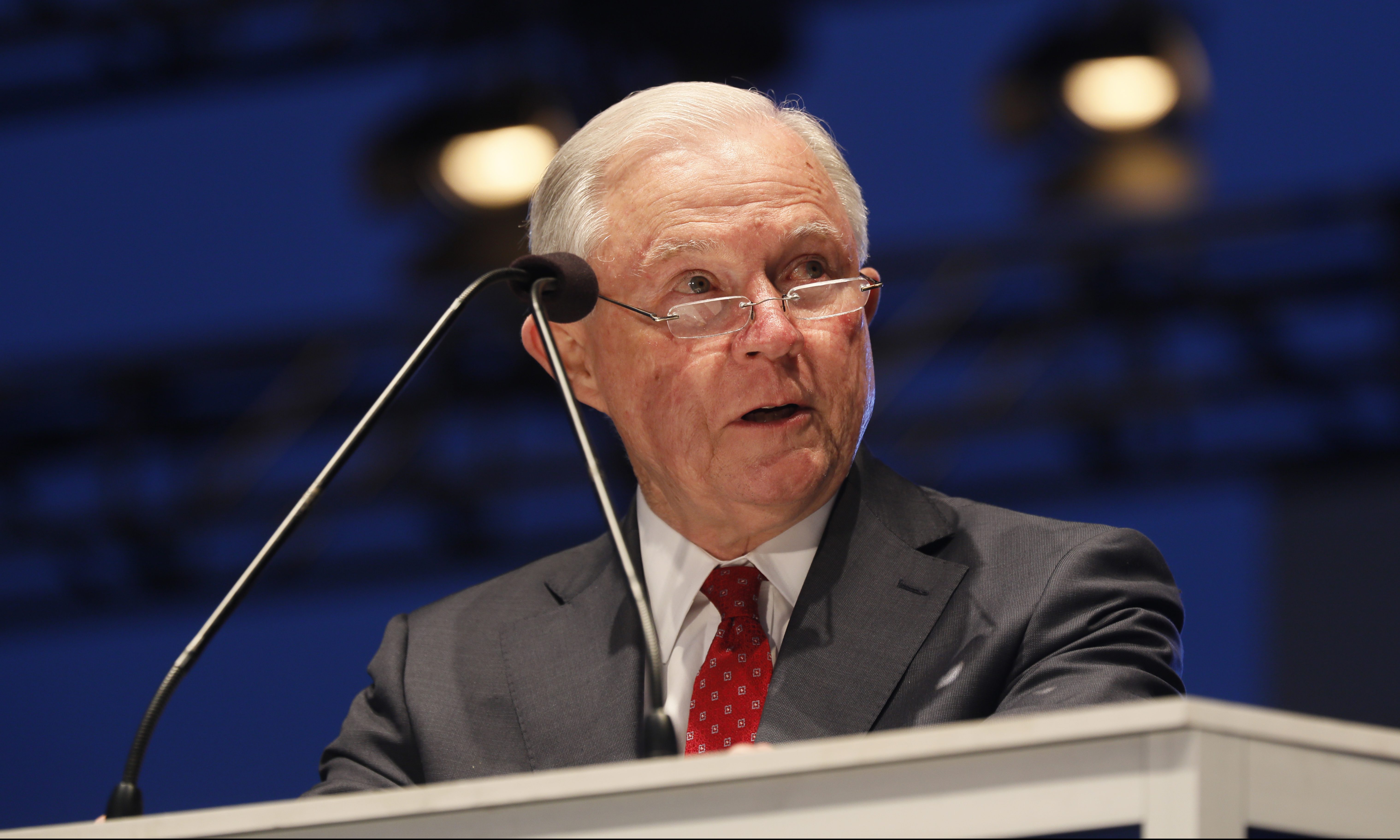 Wednesday, former Senator and GOP Senate candidate Jeff Sessions, R-Alabama, said that Alabamians will not be intimidated by the Freedom From Religion Foundation. Sessions was responding to a letter that the FFRF sent to Alabama Governor Kay Ivey (R) demanding that she stop praying at press conferences and citing scriptures.
"This is RIDICULOUS," Sessions said. "Alabamians will NOT be intimidated by Freedom From Religion Foundation atheists spouting constitutional heresies in their war on religion. My friend Governor Kay Ivey is completely within her God-given and constitutional rights to pray for Alabama, and I stand with her!"
"The FRFF atheists want to force Governor Ivey and all public officials to hide their deeply-held convictions," Sessions continued. "THEY are trying to impose their views AGAINST religion on US! Gov. Ivey calling for prayer for our great state & country is NOT her forcing Christianity on anyone."
"The Constitution guarantees EVERY American, even public officials, the right to freely exercise their religion," Sessions stated. "It's time this country REJECT the FRFF's extreme and unconstitutional view of religious liberty in America."
On Monday, the Wisconsin based Foundation chastised Gov. Ivey for, "Your use of your office to promote Christianity. FFRF's purposes are to protect the constitutional principle of separation between state and church and to educate the public on matters relating to non-theism."
The FFRF objected to Gov. Ivey's speech during Friday's press conference announcing that she was issuing a stay-at-home order for the State of Alabama to fight COVID-19.
"Multiple concerned Alabama residents reported that you used this official government event to promote your personal religious beliefs," the FFRF wrote. "In the middle of your speech you suddenly started preaching,"
"The good Lord reminds us in Isaiah 43:1-3, and I quote, "Do not fear for I am with you. Do not be dismayed for I am your God," Ivey said drawing the ire of the FFRF. "I will strengthen you and help you. I will uphold you with my righteous hand."
They also objected to Ivey's inviting Reverend Cromwell Handy from the Dexter Avenue King Memorial Baptist Church to speak at this official state-sponsored event."
"Reverend Handy delivered a 9-minute long sermon, during which he recited many different bible verses and referred to the pandemic as an opportunity given by God "to pause and reflect on His glory."" The FFRF continued. "To end the press conference, you asked Reverend Handy "to lead a prayer to God Almighty asking for his blessings.. Reverend Handy then led all of the government officials present in a lengthy formal prayer "in Jesus' name.""
The FFRF claimed that, "These actions amount to an endorsement of religion, specifically Christianity, in contravention of the Establishment Clause of the First Amendment."
"We urge you in the future to refrain from promoting religion in your official capacity as governor of Alabama," the FFRF stated.e
Sessions faces former Auburn head football Coach Tommy Tuberville in the Republican primary runoff on July 14. The winner of the runoff will face U.S. Senator Doug Jones (D-Alabama) in the November general election.
Sessions served in the Senate from 1997 to 2017. He left the Senate after he was confirmed as President Donald J. Trump's Attorney General and served in that role through November 2018. He was a late entry into the race for the Republican nomination for U.S. Senate.
Print this piece