Brooks welcomes Decatur evangelist as U.S. House guest chaplain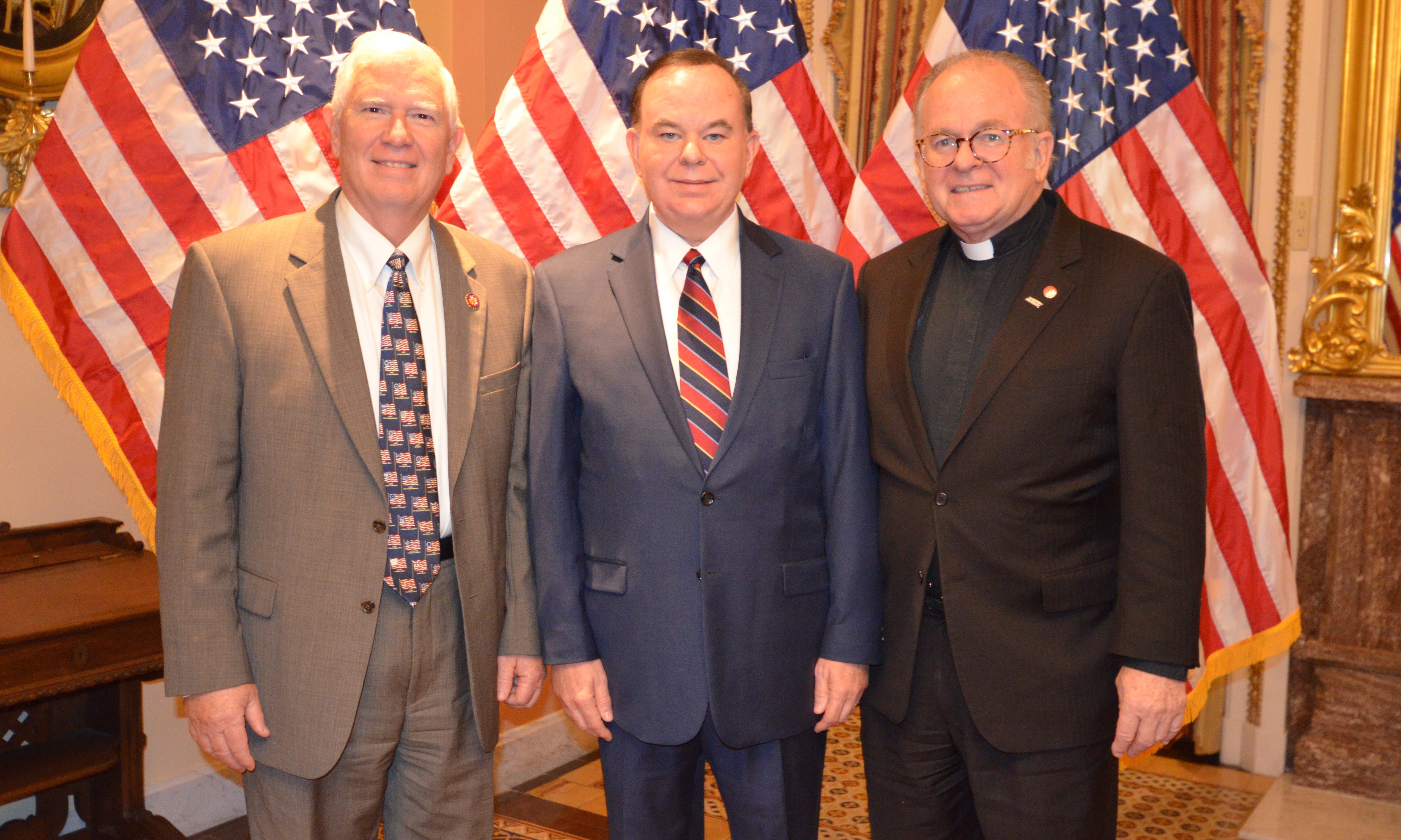 Thursday, Congressman Mo Brooks (R-Huntsville) welcomed Reverend Phil Waldrep of Phil Waldrep Ministries based in Decatur as guest chaplain to the U.S. House of Representatives.
"Mr. Speaker, it's a great privilege to welcome Reverend Phil Waldrep to the House of Representatives to serve as today's guest chaplain," Brooks said. "Reverend Waldrep was born in Morgan County, Alabama near Decatur and began preaching when he was 14 years old. He earned his Bachelor of Science degree from the University of Alabama and completed Seminary at Luther Rice Theological Seminary in Georgia."
"Through his ministries, Reverend Waldrep connects with audiences of all ages and sizes with his sense of humor, powerful illustrations, and scriptural insight," Brooks continued. "He is a frequent speaker at some of America's largest churches and conferences and has been a vocational evangelist since 1975. Reverend Waldrep is also an author, having published Beyond Betrayal, Reaching Your Prodigal: What Did I Do Wrong? What Do I Do Now?, and The Grandparent Factor: Five Ways to make a Difference in the Life of your Grandchild. Phil and his wife, Debbie, live in Decatur Alabama and have two daughters who, with their husbands, actively serve in the ministry."
Reverend Waldrep offered the opening prayer for Thursday's legislative session and Congressman Brooks welcomed Reverend Waldrep in House Floor remarks immediately following the prayer.
"Our Eternal God, Today we pause to thank you for your blessings; and to ask that you remind us that with these blessings come responsibilities," Waldrep prayed to God. "So, we ask that you will quieten our hearts that we might find time to listen to the dreams of a child or the memories of an older adult."
"Help us to find time to thank a teacher, or a veteran, or someone who puts their life at risk every day that we might be free," Waldrep asked God. "Help us to find time to assist the families of military personnel and time to pray for the safety of their loved one. Help us to find time to see the needs, and the gifts, and the worth of others."
"O Lord, help us to find time to be your hands and your feet in a world that desperately needs love," Waldrep concluded. "In Jesus' name, Amen."
Congressman Mo Brooks is serving in his fifth term representing Alabama's Fifth Congressional District.
Jones introduces bill to encourage investments in minority-serving banks
"One of the biggest hurdles for minority entrepreneurs is access to capital," Jones said.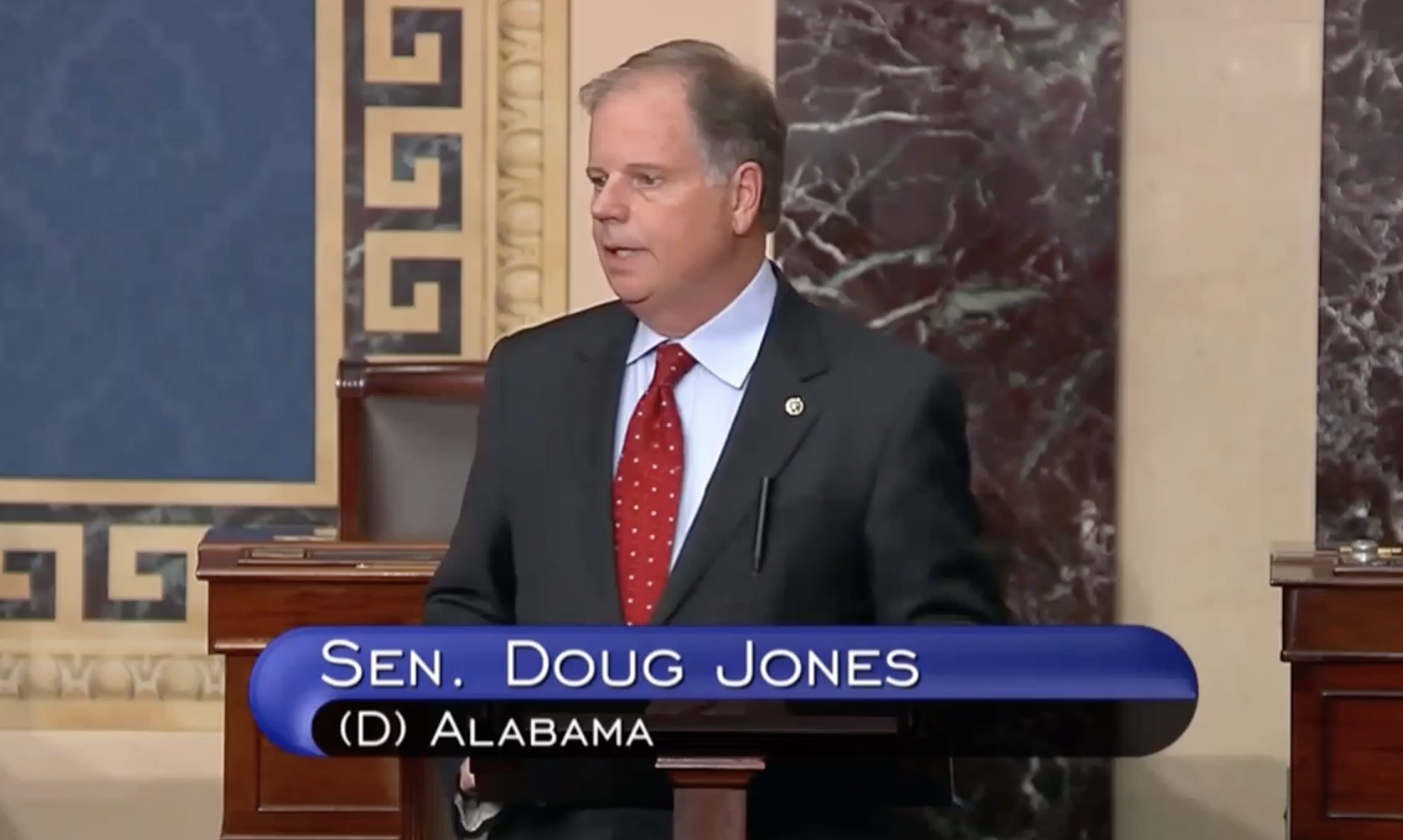 Alabama U.S. Sen. Doug Jones, D-Alabama, on Tuesday introduced legislation that would encourage investments in banks that serve minority communities.
"One of the biggest hurdles for minority entrepreneurs is access to capital," Jones said in a statement. "That's why this bill is so important. Increasing access to capital at the banks that serve minority communities will help expand financial opportunities for individuals and business owners in those communities."
Jones, a member of the Senate Banking Committee, in April urged the Federal Reserve and the U.S. Treasury to support Community Development Financial Institutions and minority-owned banks disproportionately affected by the COVID-19 pandemic, and he threw his support behind more federal funding for small community banks, minority-owned banks and CDFIs during the recent Paycheck Protection Program replenishment.
According to a press release from Jones's office, the bill would attract investments to those financial institutions by changing rules to allow "minority-owned banks, community banks with under $10 billion in deposits" and CDFIs to accept brokered deposits, or investments with high interest rates, thereby bolstering those institutions and encourage them to invest and lend in their communities.
It would also allow low-income and minority credit unions to access the National Credit Union Administration's Community Development Revolving Loan Fund.
"Commonwealth National Bank would like to thank Senator Jones for his leadership in introducing the Minority Depository Institution and Community Bank Deposit Access Act. As a small Alabama home grown institution, this proposal will allow us to accept needed deposits without the current limitations that hinder our ability to better serve the historically underserved communities that our institutions were created to serve. We support your efforts and encourage you to keep fighting the good fight for all of America," said Sidney King, president and CEO of Commonwealth National Bank, in a statement.
"The Minority Depository Institution and Community Bank Deposit Access Act is a welcomed first step in helping Minority Depository Institutions like our National Bankers Association member banks develop the kinds of national deposit networks that allow our institutions to compete for deposits with larger banks and to better meet the credit needs of the communities we serve. The National Bankers Association commends Senator Jones' leadership on this issue, and we look forward to continuing to engage with him on the ultimate passage of this proposal," said Kenneth Kelly, chairman of the National Bankers Association, in a statement.
A recent report by the Brookings Institute highlighted problems minority-owned businesses had accessing federal COVID-19 relief aid from PPP loans. Researchers found that it took seven days longer for small businesses with paid employees in majority Black zip codes to receive PPP loans, compared to majority-white communities. That gap grew to three weeks for non-employer minority-owned small businesses, the report notes.
The report also states that while minority-owned small businesses, many of which are unbanked or under banked, get approximately 80 percent of their loans from financial technology companies and online lending companies, fintechs weren't allowed under federal law to issue PPP loans until April 14.