Opinion | The 'dark money group' is right: Alabama gaming laws have provided the Poarch Creeks with an unfair advantage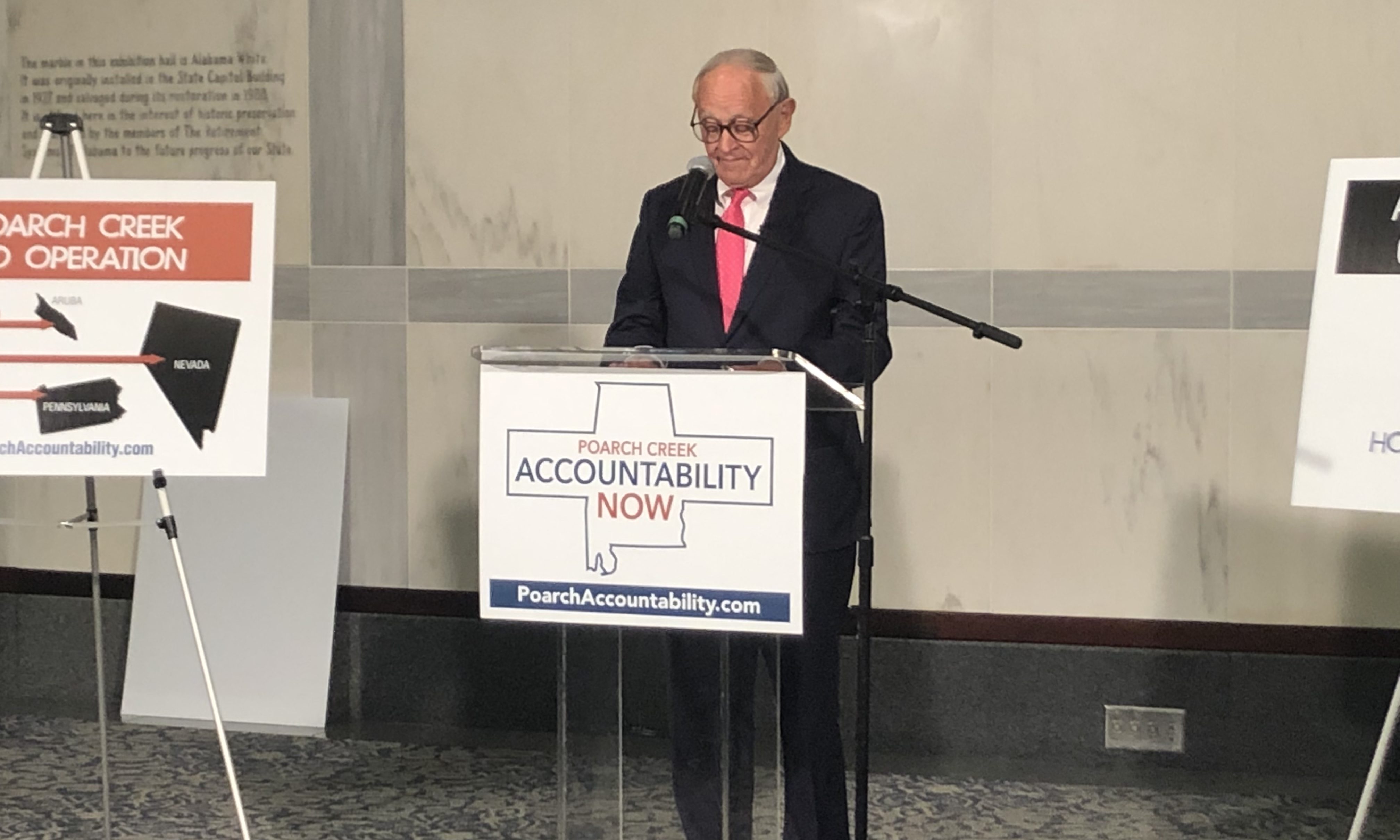 There is a "dark money group" attacking the Poarch Band of Creek Indians. 
You probably heard that this week. A lot of media outlets are reporting it. The "dark money group" headed up by former Sen. Gerald Dial. The "dark money group" that refuses to disclose its financial backers. 
The "dark money group" was a big focus. 
Somewhat less of a focus, however, is what the "dark money group" is actually saying about the Poarch Creek Indians. 
That they're controlling Alabama's Legislature, dictating which bills get passed and how our government operates. That they are raking in billions in gaming revenue from their three casinos in this state without paying a dime of taxes on any of it. That they're spreading that money all over the country and in other countries as they buy up properties and do properly-taxed business elsewhere. 
That's what the "dark money group" Poarch Creek Accountability Now has said about the Poarch Band of Creek Indians (PBCI). 
And, you know, that seems fair. 
While inconvenient for PBCI, all of that is true. And there are a whole lot of people who have been concerned about — and rubbed the wrong way by — the current gaming setup in Alabama, as it relates to the Poarch Creeks and to overall gaming. 
One group that absolutely took the Poarch Creek Accountability Now group seriously was PBCI, which issued a press release late Wednesday responding to Dial's press conference earlier that day.
The release didn't really dispute anything, because, again, everything Dial and PCAN stated was factual. But the Poarch Creek release did point out that the tribe has done nothing wrong, has always been willing to work out a compact with the state and forks over millions of dollars it doesn't have to just to be a decent neighbor. 
All true. 
There was one … alternative fact in the PBCI release. It stated that the tribe pays taxes just like any other business. I know what they're getting — that some portion of their non-gaming businesses do pay taxes and they pay taxes on items they purchase for their businesses. But on the activity that rakes in billions in profits for them — electronic bingo gambling — they pay zilch in taxes to Alabama. (For comparison, they'll pay 16 percent in on-site gaming taxes at their casino in Pennsylvania.) 
And they shouldn't pay taxes here. The laws very clearly give PBCI the right to operate without paying taxes. 
But it's also a valid point to say that this setup is very bad for the majority of Alabamians. As PCAN has pointed out, the tribe is currently enjoying the best of both worlds, and doing so at the expense of Alabama citizens. 
PBCI is making buckets of tax-free money, claiming sovereignty and avoiding taxes and a number of laws, while also dabbling in Alabama politics to the point that it's dictating which bills get passed. 
That's not right. 
Last session, for example, a perfectly reasonable lottery bill was debated. It was a similar lottery bill to ones offered up in bunches of other states, including the portion that would have allowed video lottery terminals to be operated in state dog tracks. It would have made the state hundreds of millions of dollars annually. 
PBCI's senator, Greg Albritton, blocked it. Over and over again. 
Albritton also blocked local legislation in Macon and Greene counties that would have allowed dog tracks in those counties to operate the exact same machines that PBCI operate. 
Now, think about that for a moment. An Alabama elected official blocked legislation that would have brought in millions in tax revenue in order to protect the business of an entity that pays zero in state taxes in the same arena. 
I don't care who you are, or what sort of dark money is behind your message, that ain't right. 
In fact, it's insane. 
Which is a fairly accurate description of how this state has handled its gambling legislation and operations for going on a half-century now. Everything about it has been poorly thought out, mostly knee-jerk and incredibly counterproductive for the state as a whole. And now, we're allowing a sovereign entity to maintain almost total control of our lawmakers in order to maintain a status quo that costs Alabama about a half-billion dollars in tax revenue every single year. 
If it takes a "dark money group" to finally get people to think about just what the hell it is we're doing, so be it. 
There's a pathway forward here which allows for the Poarch Creeks to continue to flourish and also allows for the state to make an appropriate amount of tax dollars to pay for scholarships and pre-K and gambling addiction centers and other expenses. 
At this point, I would back almost anything that gets us to that path.
Opinion | The emperor has no votes
The outcry of illegalities over the recent election is simply the latest example of just how far they'll go.
Two-and-32. That's the record of the super-fantastic "strike team" of "elite" attorneys representing the Donald Trump campaign in various lawsuits around the country that contest the outcome of the U.S. presidential election.
For a refresher: Joe Biden won that free and fair election in a landslide and will be the next president of the United States. The end.
In case after case after case, despite what the president has tweeted and despite what enablers and spineless politicians have helped him push, the Trump elite attorney strike team has failed to offer even the slightest bit of proof of the grand fraud that Trump has repeatedly claimed on Twitter or that his "dye hard" personal attorney, Rudy Giuliani, has screeched about during insane, "Veep"-like press conferences. (Have you ever witnessed a stranger, more disturbing image than that of "America's mayor," wild eyed and ranting, with his cheap hair dye running down his face as if his ears were bleeding?)
In fact, in the overwhelming majority of the cases filed by strike team Trump, the team has been forced to admit to judges that they have no evidence of fraud or that they're not able to claim fraud.
It's pathetic that we're still doing this — that the transition to a new administration is being held up by this band of grifters looking to squeeze one last drop of donations from the marks who have already forked over so much to this long-running American con.
That's all this is.
The entire Trump presidency has been exactly this — a con game to enrich him and his closest business partners. To that end, it has been highly successful.
It has also been successful in turning seemingly rational people into googly-eyed yes men willing to sully themselves for a taste of the political fortune or fame that comes with being near the presidency.
It is, to be honest, shocking the ease with which so many in the highest offices of our federal and state government have been convinced to denounce reality and make fools of themselves to ensure they either benefit from being in the cult's favor or at least not being a target of the cult.
The outcry of illegalities over the recent election is simply the latest and most horrific example of just how far they're willing to go and how little of America they truly hold sacred.
Alabama's Secretary of State John Merrill, for example, has given media interviews in which he willingly passed along wild, long debunked conspiracy theories of Biden getting thousands of votes at once, and how there's no explanation for it. And yet, there was an explanation — one that had been given over and over and over.
Alabama congressman Mo Brooks, a man who so frequently buys into rightwing conspiracies that he almost certainly has purchased an extended warranty for all of his cars, sent a bat-guano insane letter to a constituent this week in which he laid out how "socialist Democrats" were able to "steal" the election through massive fraud and how Republicans in Congress can steal it back.
One of the means by which this election was stolen, according to Brooks, was by excluding Republican poll watchers. None were excluded. And the strike team has now dropped that line of attack altogether.
Brooks and Merrill aren't alone, however. Up and down the line, Alabama GOP officials and the media mouthpieces they pay to amplify their idiotic ideas have gone full in on this idea of fraud, even when other Republicans — like that poor secretary of state in Georgia — were trying desperately to tell them it wasn't real.
Honestly, it's like Hans Christian Andersen's "The Emperor's New Clothes" is being played out in real life, right in front of us. Only, the swindlers became the emperor.
Trump and his minions continue to walk around stark naked while insisting that he has on the most beautiful, perfect clothing in the whole world. And there's this one group of people who are buying it. And then there's this whole other group who know full well that this guy is buck naked but they're too afraid of alienating the first group, even if it means undermining the cornerstone of American democracy.
In the meantime, the swindlers just keep sending out fundraiser emails. Because, again, that's all this is.
Look at the frivolous lawsuits and how thoroughly Trump's strike team has been embarrassed in every courtroom so far. This isn't about winning or about massive fraud or about correcting problems in the election system. It's about money. Pure and simple.
Finally, late Thursday, two influential Republicans, Sens. Mitt Romney and Ben Sasse, said what we all know.
Sasse said the lawyers have "refused to actually allege grand fraud." He was also critical of the strike team's tactics.
Romney said Trump was trying to "subvert the will of the people." And he said he couldn't imagine "a worse, more undemocratic action by a sitting American president."
Hopefully, that will open the floodgates for a river of sanity and basic common sense. Because the longer this goes on, the more likely it is something catastrophic takes place.
It's not too late yet for the president to put some clothes on.