Rogers praises four Homeland Security bills advanced in the House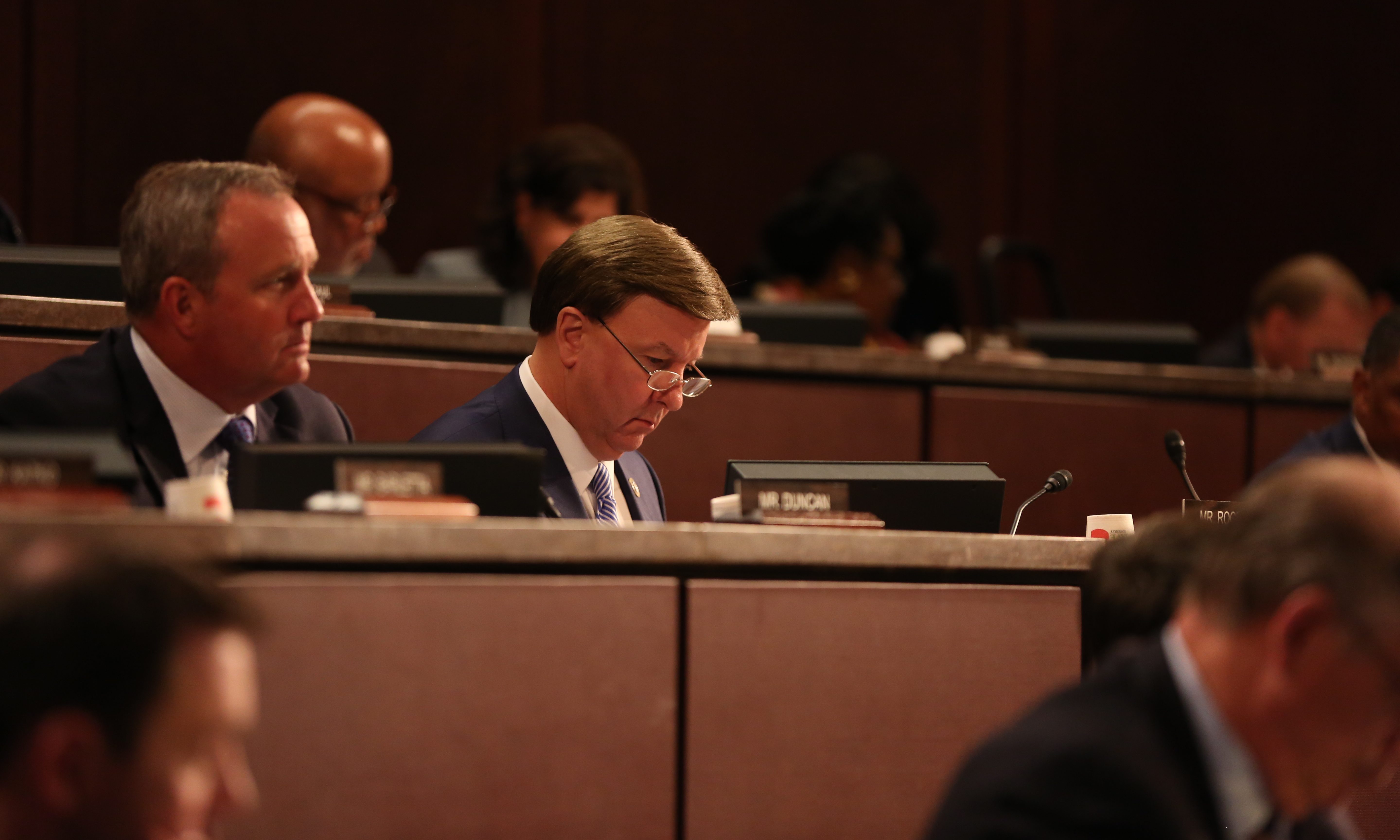 Wednesday the House Homeland Security Committee advanced four bills that are a part of committee Republicans' American Security Agenda.
These bipartisan bills include: Border Security Subcommittee Ranking Member Clay Higgins' (R-Louisiana) H.R. 4761, the DHS Opioid Detection Resilience Act of 2019, Transportation Subcommittee Ranking Member Debbie Lesko's (R-Arizona) H.R. 4402, the Inland Waters Security Review Act, Oversight Subcommittee Ranking Member Dan Crenshaw's (R-Texas) H.R. 4753, the Drone Origin Security Enhancement Act, and Rep. John Ratcliffe's (R-Texas) H.R. 4237, the Advancing Cybersecurity Diagnostics and Mitigation Act.
Congressman Mike Rogers (R-Saks) is the Ranking Republican on the House Homeland Security Committee.
"These four bills will help keep Americans safe in different ways, whether stopping fentanyl and synthetic opioids, identifying threats to our inland waterways, mitigating risks of foreign-made drones, or mitigating cyberthreats," said Rogers. "DHS must be ready and able to stay one step ahead of new and emerging threats to the homeland. Reps. Higgins, Lesko, Crenshaw, and Ratcliffe are leading the way by introducing and advocating for these bills."
"The DHS Opioid Detection Resilience Act helps CBP law enforcement officers better detect and stop the illegal flow of fentanyl and other synthetic opioids," Higgins said. "Improved detection capability will help law enforcement carry out their mission and keep drugs out of our communities. This is a bipartisan bill, and I'm hopeful that it will pass quickly through the House."
"Maritime security is a critical component of our Nation's homeland security," Lesko said. "We must consider our inland waterways as we conduct thorough security and threat assessments related to maritime security. I am grateful for all of my colleagues' support today as we work to protect our nation's inland waters in a bipartisan manner."
"We're seeing the impact drones have on foreign relations play out in real time," Crenshaw said. "This technology continues to pioneer a new frontier, but we cannot ignore the threats it poses to the homeland. Our bill ensures American drone technology will be free from Chinese influence, which is crucial because it's been demonstrated time after time that we cannot trust Chinese technology in sensitive national security hardware."
"CDM has proven to be an indispensable tool for DHS to leverage in identifying, responding to and preventing cyber-attacks against our federal networks," Ratcliffe said. "I'm grateful my bipartisan legislation to make CDM permanent and expand its capabilities to additional agencies at the federal, state and local level was approved by the House Homeland Security Committee today. With the escalating cybersecurity threats we face as a country, I'm hopeful this bill will be brought up for a vote before he full House of Representatives as soon as possible."
The committee also advanced Rep. Scott Perry's (R-Pa.) H.R. 3787, the DHS Counter Unmanned Aerial Systems Coordinator Act.
The American Security Agenda is a comprehensive legislative effort from Homeland Security Republicans to combat new and evolving threats to our homeland. The agenda is grounded on three pillars: granting DHS the authority it needs to stay ahead of emerging threats; providing DHS and its state, local, and private sector partners with the resources they need to build and maintain a robust capacity to deter acts of terrorism; and reforming DHS structure and management to ensure it properly positioned to combat the constantly evolving threat to the homeland.
Mike Rogers is in his ninth term representing Alabama's Third Congressional District.
The bills will now be considered by the full House of Representatives.
Jones introduces bill to encourage investments in minority-serving banks
"One of the biggest hurdles for minority entrepreneurs is access to capital," Jones said.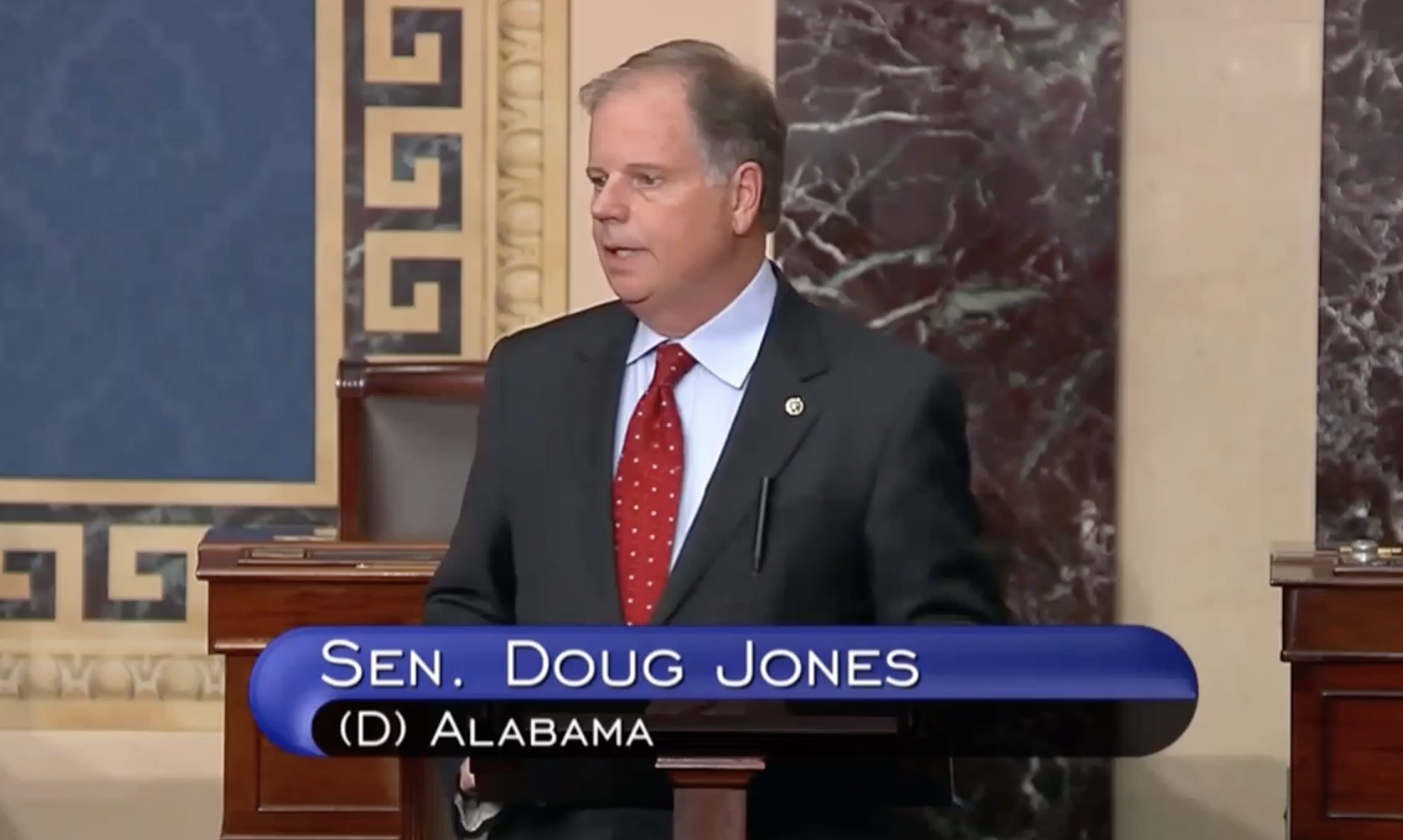 Alabama U.S. Sen. Doug Jones, D-Alabama, on Tuesday introduced legislation that would encourage investments in banks that serve minority communities.
"One of the biggest hurdles for minority entrepreneurs is access to capital," Jones said in a statement. "That's why this bill is so important. Increasing access to capital at the banks that serve minority communities will help expand financial opportunities for individuals and business owners in those communities."
Jones, a member of the Senate Banking Committee, in April urged the Federal Reserve and the U.S. Treasury to support Community Development Financial Institutions and minority-owned banks disproportionately affected by the COVID-19 pandemic, and he threw his support behind more federal funding for small community banks, minority-owned banks and CDFIs during the recent Paycheck Protection Program replenishment.
According to a press release from Jones's office, the bill would attract investments to those financial institutions by changing rules to allow "minority-owned banks, community banks with under $10 billion in deposits" and CDFIs to accept brokered deposits, or investments with high interest rates, thereby bolstering those institutions and encourage them to invest and lend in their communities.
It would also allow low-income and minority credit unions to access the National Credit Union Administration's Community Development Revolving Loan Fund.
"Commonwealth National Bank would like to thank Senator Jones for his leadership in introducing the Minority Depository Institution and Community Bank Deposit Access Act. As a small Alabama home grown institution, this proposal will allow us to accept needed deposits without the current limitations that hinder our ability to better serve the historically underserved communities that our institutions were created to serve. We support your efforts and encourage you to keep fighting the good fight for all of America," said Sidney King, president and CEO of Commonwealth National Bank, in a statement.
"The Minority Depository Institution and Community Bank Deposit Access Act is a welcomed first step in helping Minority Depository Institutions like our National Bankers Association member banks develop the kinds of national deposit networks that allow our institutions to compete for deposits with larger banks and to better meet the credit needs of the communities we serve. The National Bankers Association commends Senator Jones' leadership on this issue, and we look forward to continuing to engage with him on the ultimate passage of this proposal," said Kenneth Kelly, chairman of the National Bankers Association, in a statement.
A recent report by the Brookings Institute highlighted problems minority-owned businesses had accessing federal COVID-19 relief aid from PPP loans. Researchers found that it took seven days longer for small businesses with paid employees in majority Black zip codes to receive PPP loans, compared to majority-white communities. That gap grew to three weeks for non-employer minority-owned small businesses, the report notes.
The report also states that while minority-owned small businesses, many of which are unbanked or under banked, get approximately 80 percent of their loans from financial technology companies and online lending companies, fintechs weren't allowed under federal law to issue PPP loans until April 14.