Jones amendment to help heirs get clear title to property passes Senate overwhelmingly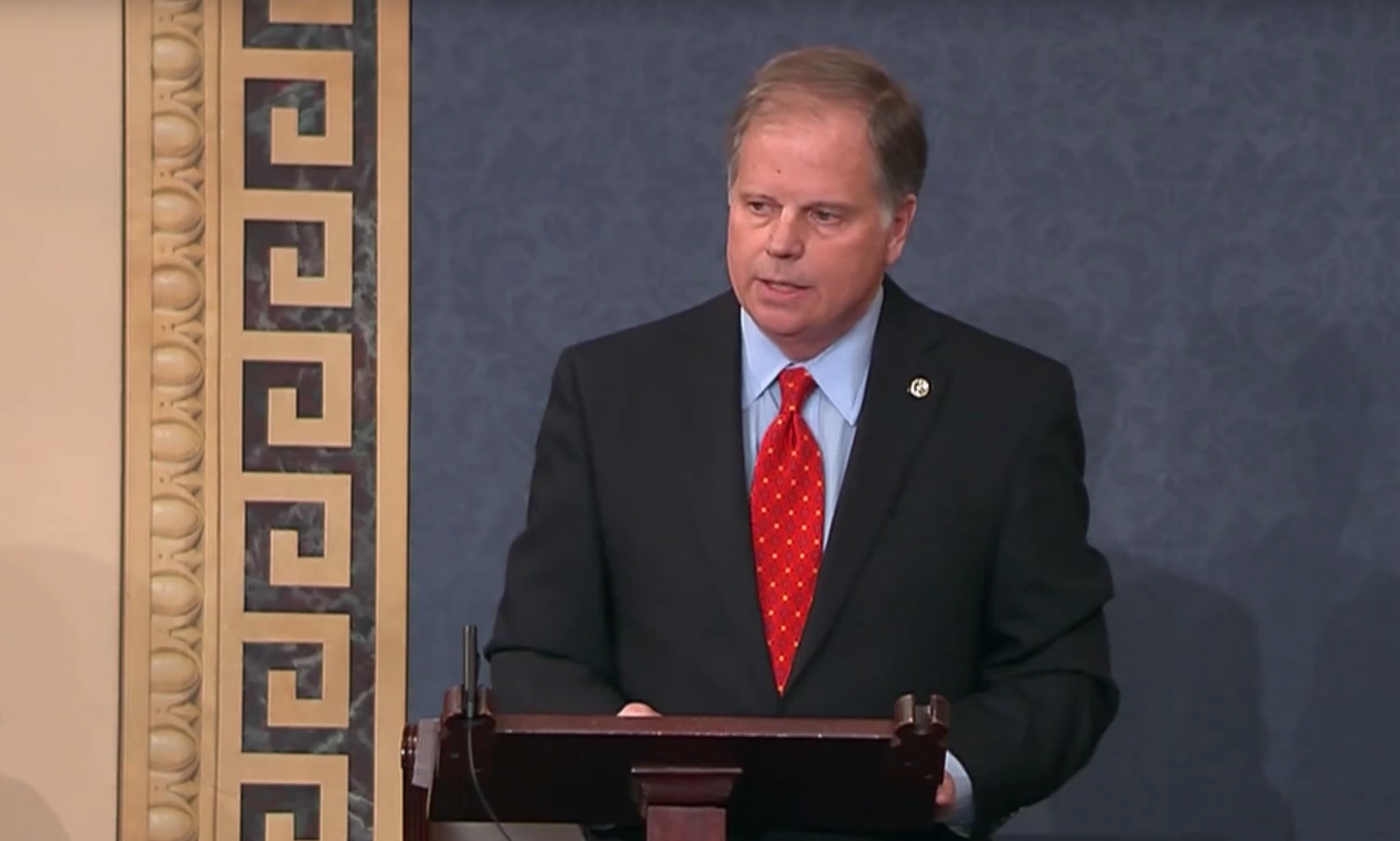 Monday, the U.S. Senate passed an amendment introduced by Senator Doug Jones (D-Alabama) to help heirs' property landowners secure a clear title for their land. The amendment to the FY2020 Agriculture Appropriations bill includes $5 million to fund a U.S. Department of Agriculture (USDA) program Senator Jones secured in the 2018 Farm Bill. His provision authorized the Farm Service Agency to make loans that will help families resolve heir's property ownership and succession issues.
"Heirs' property is land that has been informally passed down within families, often for several generations, and can lead to costly legal complications and prevent landowners from qualifying for federal assistance," Sen. Jones explained. "Heirs' property is predominantly owned by African American farmers and producers and an estimated 60-percent of minority-owned land is projected to be heirs' property. Challenges associated with heirs' property status are the leading cause of involuntary land loss among African Americans. Landowners of heirs' property also cannot qualify for USDA loans necessary for farming, receive disaster relief funding, or use their land as collateral in private lending. More background on heirs' property and the amendment are here."
"This issue overwhelmingly impacts African American land ownership, of which an estimated 60 percent is heirs' property, and created barriers to building generational wealth." Jones added. "It is no coincidence Mr. President that this has impacted Black landowners when you consider the challenges faced by previous generations of African Americans faced to purchase, that they had to face the obstacles in purchasing land, just to purchase their land, the obstacles that they faced, to obtain legal services, and to have their wills prepared. The heirs' property challenges facing these families today is yet another vestige of the Jim Crow era that with some exceptions has lasted far too long and that we must seek to correct."
The amendment passed on a 91 to 1 vote.
Over the past year, Senator Jones has led a bipartisan effort in the U.S. Senate to help these landowners gain fair access to federal programs and to make it easier to resolve legal issues that result from their heirs' property status. In addition to the re-lending provision, Senator Jones also secured a provision in the 2018 Farm Bill to help heirs' property owners obtain a USDA farm number, which is key to accessing assistance from the agency's programs.
To see video of Senator Jones' speech on the Senate floor:
Jones was elected in a 2017 special election, narrowly defeating former Chief Justice Roy Moore (R). Jones faces a fiercely contested special election in 2020.
Print this piece
Aderholt: Alabama has shown how to reopen for business
Friday, Congressman Robert Aderholt (R-Haleyville) said "Alabama has shown the country and the world how to properly reopen for business." Aderholt made the remarks in an email to constituents.
"As we make our way into the first full week of June, I think it is important to remember the great strides we have made as a country and as a state since the beginning of the Coronavirus pandemic," Rep. Aderholt wrote. "It was just over two months ago when the world stood still and almost everything closed down. Stay at Home orders were implemented and businesses shut their doors."
"Thankfully, things are better now as we have begun the process of returning to normal," Aderholt continued. "The expanded Safer at Home order here in Alabama has been encouraging, and the number of confirmed COVID-19 cases in the United States has decreased significantly. All of this is good news, and I am hopeful that the positive news will continue throughout the month of June."
"Alabama has shown the country and the world how to properly reopen for business," Aderholt exclaimed. "Our state started loosening restrictions several weeks ago, and with each new set of expansions to the Safer at Home order, we have not seen a significant spike in confirmed cases of COVID-19. Just last week Governor Ivey instituted an update to her statewide order that allowed certain entertainment venues, athletic activities, child-care facilities, educational institutions, and even Summer camps to reopen as long as they adhere to social-distancing and sanitation rules and guidelines. This is great news, and I am incredibly pleased that Alabama is one of the most open states in the country."
Aderholt said that Marshall County was the hot spot of the Fourth Congressional District.
"As you may have heard, Marshall County has not only been the hotspot in the 4th District, but it has the most confirmed cases in North Alabama," Aderholt said. "Yet, the good news is that these cases are not translating into hospitalizations. At the end of last week, there were only two COVID-19 patients hospitalized in Marshall County. Then on Wednesday of this week it was announced that there was not a single COVID-19 patient in any Marshall County hospital. Let's hope this trend continues."
There has been 693 diagnosed cases in Marshall County and nine deaths from COVID-19.
Rep. Aderholt warned that the coronavirus remains a threat.
"What remains important, even with newly expanded openings, is the health and safety of you and your loved ones," Aderholt said. "Ensuring we maintain social distancing and proper sanitation is vitally important, and keeping businesses afloat during this pandemic will remain a high priority. If you have any questions or concerns, please do not hesitate to contact my office, we are happy to help in any way we can. Additionally, my website has an entire section dedicated to COVID-19 Information."
Twelve more Alabamians lost their fight with COVID-19 on Sunday taking our death toll to 630. 593 were diagnosed with the illness on Sunday taking the state's total cases to 17.952. The Alabama Department of Public Health reports that 9,355 of them are presumed recovered. 106,198 Americans have died in the global pandemic,
Congressman Robert Aderholt represents Alabama's Fourth Congressional District. He is Alabama's longest-serving member of the House of Representatives.
Print this piece