Byrne says Democrats are "feeling the heat" on impeachment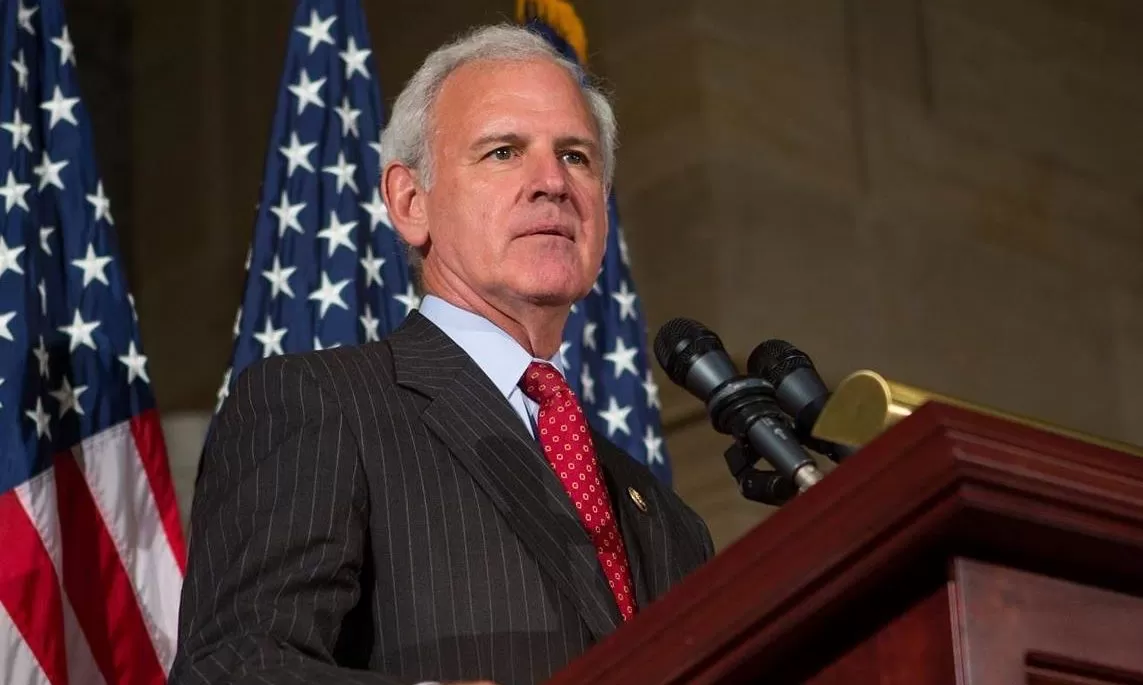 Congressman Bradley Byrne, R-Montrose, commented on Speaker of the House Nancy Pelosi's, D-California, announcement that the House will hold a vote on Thursday to formalize the impeachment inquiry. Byrne said that Pelosi made the decision "after feeling the heat from me and my Republican colleagues."
"Pelosi's belated decision to hold an impeachment vote after feeling the heat from me and my Republican colleagues confirms the illegitimacy of the Democrats' impeachment sham," Byrne said. "After 34 days of lies, leaks and misinformation, Democrats' move to legitimize their tainted process is too little too late."
"While I'm proud to have played a role in forcing Democrats to acknowledge their process was unfair, the materials obtained through Adam Schiff's secret proceedings are completely tainted and cannot be used," Byrne asserted. "I will not stop fighting against ongoing Democrat efforts to withhold facts and obscure the truth from the American people."
Last week Congressman Byrne and a group of Republicans entered the Capitol basement room where Congressman Adam Schiff (D-California) and his House Intelligence Committee were holding secret impeachment proceedings behind closed doors. Hours later, Intelligence Committee Chairman Schiff announced that impeachment proceedings would be made public at a future date.
2020 National Trump Victory Finance Committee member Perry O Hooper Jr. told the Alabama Political Reporter that even if the President were impeached, be believes there is little chance of his being removed by the Senate.
"I was recently in a dinner meeting with the Senate Republican Leadership. To a man they agreed that even if the house voted to send articles of impeachment to the Senate, they would be dead upon arrival," Hooper said.
"It takes a simple majority in the House to impeach the president which the Democrats can do on their own," Hooper explained. "Conviction in the Senate is a whole different matter. It takes a 2/3 vote. A certain biblical location would have to freeze over before that happens"
Hooper called the impeachment inquiry a "partisan witch hunt" and said that it is distracting Congress from important work including: passing USMCA the new trade agreement between Canada Mexico and the US and funding for the military and other important appropriations.
"The Democrats know that none of their weak socialist candidates can beat the president next November so impeaching the President in the house is just a futile attempt to make the President look bad. The real loser, you and me," Hoope said.
Byrne is a candidate for the U.S. Senate seat currently held by Doug Jones (D).
Sewell votes in favor of National Apprenticeship Act
The bill would invest more than $3.5 billion to create nearly one million new apprenticeship opportunities.
Congresswoman Terri Sewell, D-Alabama, last week voted in favor of the National Apprenticeship Act, legislation to reauthorize the National Apprenticeship Act for the first time since its enactment in 1937.
The new National Apprenticeship Act will create one million new apprenticeship opportunities over the next five years. Registered apprenticeships provide workers with paid, on-the-job training, and are the nation's most successful federal workforce training program.
"As a long-time supporter of expanding registered apprenticeships, I am thrilled to support today's legislation to provide 1 million new apprenticeship opportunities over five years," Sewell said. "Our Nation is facing the worst economic downturn since the Great Depression and estimates show that more than 7 million of the pandemic's job losses will be permanent. We need bold investments like those in the National Apprenticeship Act to accelerate the economy and help get the American people back to work in stable, good-paying jobs of the future."
The bill invests more than $3.5 billion over the next five years.
The act establishes a $400 million grant program to support the expansion of apprenticeship opportunities, including pre-apprenticeships and youth apprenticeships, which will increase $100 million annually to reach $800 million by 2025.
The legislation also codifies and streamlines standards for registered apprenticeship, youth apprenticeship and pre-apprenticeship programs to make it easier for both apprentices and employers to participate in high-quality apprenticeships and codifies the Department of Labor's Office of Apprenticeship.
It directs the office to convene industry leaders, labor organizations, educators and others to expand apprenticeships into new occupations and sectors.
Supporters say the bill could yield $10.6 billion in net benefits to U.S. taxpayers in the form of increased tax revenue and decreased spending on public-assistance programs and unemployment insurance, and that nothing is more effective at breaking the cycle of poverty than a well-paying full-time job.
Sewell is about to enter her sixth term representing Alabama's 7th Congressional District.