Opinion | A shameful vote cast by an Alabama congressman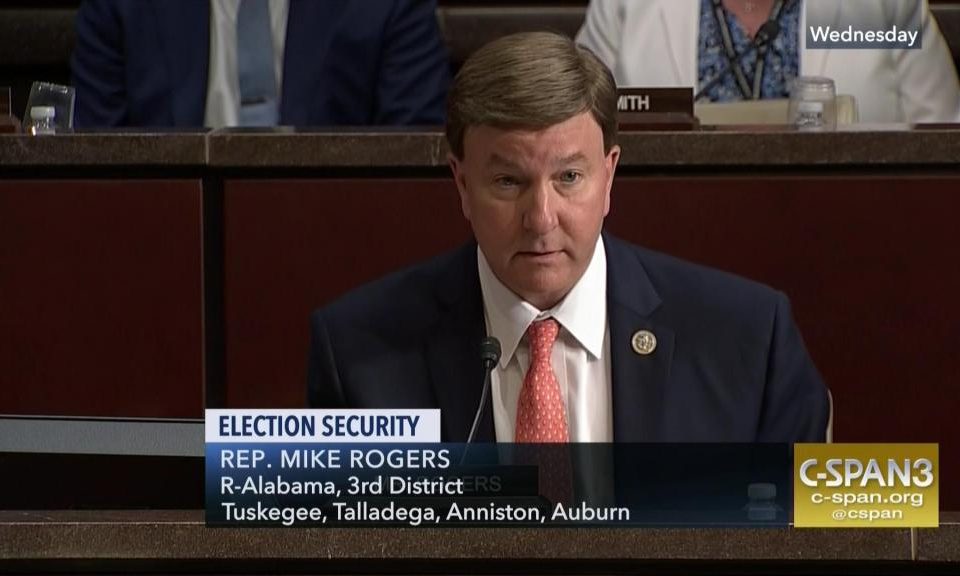 On October 29, the U.S. House of Representatives voted in overwhelming, bipartisan fashion to formally recognize and condemn the Armenian Genocide.  The House resolution was carried by 405 to 11 votes, with three other Representatives voting "present" in apparent protest of the topic.
Alabamians may not care about this resolution or (understandably) even be able to find the modern nation of Armenia on a world map, but they should.  Armenia is part of their heritage and has long been a foreshadowing for tragedies that have faced the entire world and continue to face many today.  For starters, Armenia was arguably the world's first Christian nation, adopting that faith as a national religion in 301 AD, long before any European nation did so. Even today, Armenia remains a Christian island in a sea of Islam in the Middle East, with approximately 95 percent of its citizens professing Christianity.
Though long suffering for their faith, Armenians endured perhaps their worst historical episode during the period 1915-1923, when Turks slaughtered upwards of 1.5 million Armenians in an effort to ethnically cleanse the Ottoman Empire of a Christian minority within its borders.  For decades, a consensus  of scholars around the world has overwhelming described this tragedy as a genocide, some even referring to it as the "Armenian Holocaust."  Indeed, there is plenty of evidence to support a view that Adolf Hitler used the example of the Armenian Genocide to calm German reservations over his plans to carry out his wholesale extermination of peoples, noting in a speech before his brutal invasion of Poland the following: "Who, after all, speaks today of the annihilation of the Armenians?" (a quote that is inscribed today on the walls of the U.S. Holocaust Memorial Museum in Washington, D.C.)
A relatively small percentage of Armenians managed to barely escape the genocide of the early 20th century.  My grandparents were among those fortunate few.  Successful merchants in their native Armenia, they lost virtually all of their assets while fleeing their homeland to avoid certain death.  Fleeing first across the deserts of Syria, they finally made their way to the United States and started their lives all over again.  They, their children, and their grandchildren would go on to show their gratitude to their adopted nation by serving as educators, soldiers, sailors, farmers, veterinarians, business people, and a host of other noble professions.  Not one of them would go on public assistance or ever forsake their new home. They remain some of the most patriotic people of faith you will ever meet.
Over the past decades, nations around the world have formally recognized and condemned the Armenian Genocide.  Today, Turkey and its close ally Azerbaijan are the only nations that directly deny the historical fact of the Armenian Genocide.Though I have long been proud to be called an Alabamian, I was especially gratified earlier this year when Governor Kay Ivey signed a proclamation formally recognizing and condemning the Armenia Genocide, making Alabama the 49th state to do so.  (Mississippi remains the lone hold-out.)
The October 29 landslide vote by the U.S. House was yet another welcome recognition of a historical tragedy on a massive scale.  In the current climate of partisan bickering, it was refreshing to see such a bipartisan resolution  come to fruition with such overwhelming results.  It was also refreshing to see that none of the Alabama delegation voted against the resolution . . . with one glaring exception:  Rep. Mike Rogers, R-Anniston, joined the very small minority of Representatives who either voted "no" or "present" on the resolution.  In doing so, Rogers inexplicably joined four Congressmen from his home state of Indiana and—wait for it—the infamous Ilhan Omar of Minnesota.  Omar was quite vocal in her opposition to the resolution, saying it was important first to condemn American mass human rights abuses such as the "mass slaughter [of] hundreds of millions of indigenous people" and the "transatlantic slave trade" (both of which, by the way, have been acknowledged with great contrition by Americans). Omar, in a statement attempting to explain her vote under intense condemnation, also seemed to disgracefully suggest that the mass killings of Armenians by the Turks may not have occurred at all. 
Representative Rogers' vote on October 29 uncomfortably places him among a very small group of questionable company, including perhaps the most radical member of Congress in Ilhan Omar.  Whatever his strange motivations, there is ultimately only one way to describe his mystifying vote given the context of history:  It is simply shameful.
Lisa Davis is a retired U.S. Navy officer, former teacher, and recent cancer survivor who lives and works in Montgomery.
Print this piece
Opinion | It's past time to turn the page on racism, racial violence in America
On June 10, 1963, President John F. Kennedy sent National Guard troops to accompany the first black students admitted to the University of Alabama.
In an address to the nation, he said, "It is not enough to pin the blame on others, to say this is a problem of one section of the country or another, or deplore the fact that we face. A great change is at hand, and our task, our obligation, is to make that revolution, that change, peaceful and constructive for all. Those who do nothing are inviting shame as well as violence. Those who act boldly are recognizing right as well as reality."
Sixty years later, that task is still at hand. The job is still far from done. And more and more often, it even seems like we're losing ground. It has sure seemed that way this week and, indeed, over the last few months.
We've been through this before.
Ahmaud Arbery is not the first African American to be ambushed and murdered by men claiming to be protecting their neighborhood, simply because he seemed out of place. And it's not the first case of such a murder being swept under the rug.
Breonna Taylor is not the first African American to be killed in their own home by police searching for a suspect who wasn't there.
Christian Cooper is not the first African American to have the cops capriciously called on him and be falsely accused of menacing a white woman.
And the latest tragic miscarriage of justice, George Floyd is not the first African American to be brutally assaulted and killed at the hands of police officers. And his violent death is not the first to be videotaped and broadcast across the internet, social media, and television. The question is: how do we make it the last? How do we ensure his death and our anger isn't in vain?
For too many of us, institutional racism is a fact of daily life. And when the system begins to crack and crumble under the strain of decades of injustice and inequality, only then do we say 'enough is enough.' Only then do we go through the same cycle we're going through right now. Anger is warranted, but it's not enough to get enraged, despondent, frustrated, and mad. It's not enough to protest. It's not enough to lash out. And it will never be enough until we begin to act to change the underlying and lingering conditions that make racism a reality – that makes it part of the American experience.
If you think the system is already working fairly for all people, I ask: by whose standards? Not mine. Our laws, our leaders, and our system of government were never intended to be stagnant.
If you find it acceptable to try to turn victims into suspects, looking for any way possible to justify ruthless behavior, I ask: for every instance of injustice recorded, how many more have gone unreported? The answer is too many to count. What accusations would have been dug up and leveled then? We will never know. After all, it's much easier to defame someone who's not alive to defend themselves.
Of course, we won't all agree on the best course of action, but I hope we can all agree that the status quo cannot continue and that action is required. That's all the more reason we need to start talking. And to those who don't want to have this conversation, who may feel uncomfortable or embarrassed, let's not give them a choice. Let's make it an issue. Let's prioritize recognizing right and reality instead of inviting shame and violence. Let's start today and not stop until we succeed.
We simply cannot allow this to be another situation where we shout, we scream, we cry, and then we clean up and move on to only do it all over again down the road. What will this week's protests lead to next week or next month or next year? Starting now, we must have this conversation at every ballot box at every election – municipal, state, congressional, and so on. If you want your voice heard, presidential cycles are fine, but real, actionable change begins at the local level. Mayors and city councils appoint police chiefs. We elect District Attorneys, Sheriffs, Legislators, Judges, and Coroners. State Representatives and Senators make laws but law enforcement applies them. We all have a role to play in righting the wrongs by revisiting outdated and close-minded policies that continue to plague communities across our state and replacing them with a new vision.
Similarly, when I look at my young son, I wonder how I'm going to have the conversation with him. What am I going to say during "the talk" that black parents have, for generations now, had to have with their children? And how am I going to say it? How am I going to teach my son to protect himself? What are you telling your children?
In Alabama, we must come to terms with our legacy of racism and commit to eradicating injustice or we will never escape this cycle. As a policymaker and leader in this state, I cannot tell my son or anyone that we've fully turned the page on our dark and violent past. But I can tell you what needs to be done. Change starts with commitment. Individuals must resolve to break this cycle and then influence their own neighborhoods and communities to do better. It continues with conversations among people of diverse backgrounds, seeking to understand each other and treat each other with equality, decency, and dignity as human beings. It becomes reality when together we take our values to the ballot box and hold our leaders accountable to enact policies that ensure justice for all.
I invite and I welcome all Alabamians to join me in the task as an obligation to each other and to ourselves. Together, let's continue this work. And at the very least, let's each reflect on the words of President Kennedy so many years ago, "We are confronted primarily with a moral
issue. It is as old as the scriptures and is as clear as the American Constitution . . . I hope that every American, regardless of where he lives, will stop and examine his conscience about this and other related incidents."
Print this piece