Byrne announces "Veterans for Byrne" coalition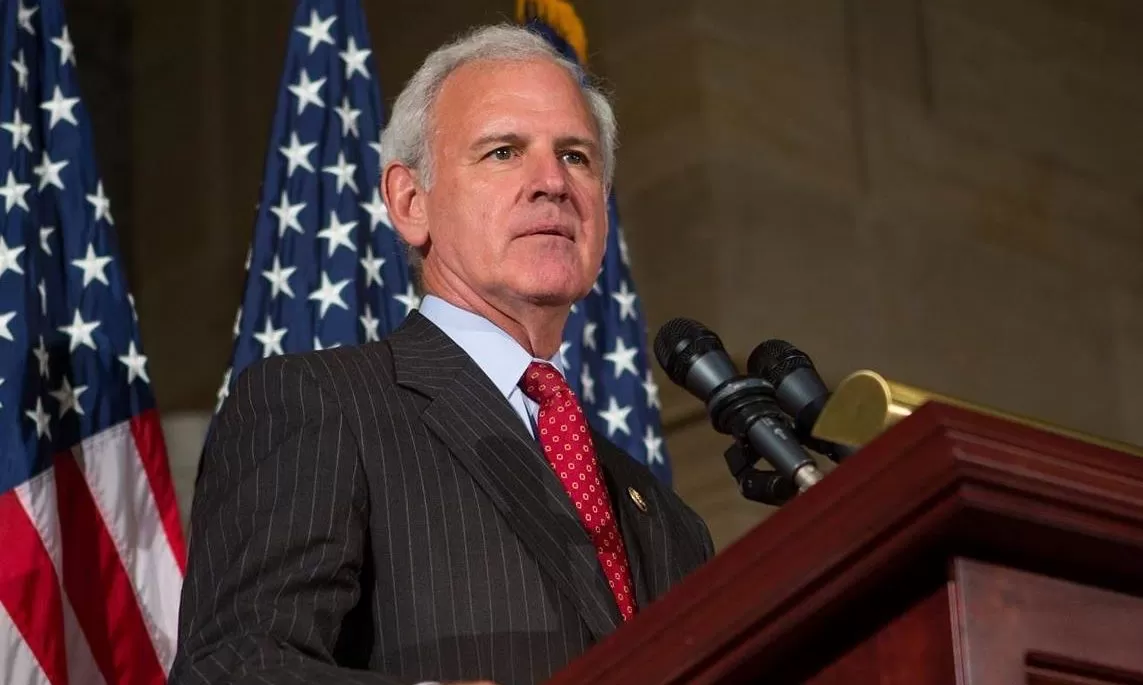 On Veterans Day, Bradley Byrne's campaign for United States Senate announced the launch of their "Veterans for Byrne" coalition.
The campaign said more than 400 veterans from across Alabama lined up to support Byrne.
"Nothing means more to me than having the support from those who have served our great country," Bradley said. "Our veterans have fought to defend the values that make America great, and I promise to do everything I can do to ensure those same values are protected and that the ones who have given so much to our country receive the benefits and support they deserve."
The coalition is led by State Chair Lieutenant General Charles "Chick" Cleveland from Montgomery and Vice Chair Colonel John Reitzell from Huntsville. Each branch is represented by a chairman and each region of the state is represented by a veterans steering committee.
"No one has been a stronger fighter for our Alabama veterans than Bradley Byrne," Coalition Chair Lieutenant General Chick Cleveland from Montgomery said. "When it comes to supporting our troops and veterans, Bradley Byrne is the only man for the job."
Cleveland is one of America's "Fighter Aces." "Fighter Aces" are the country's most distinguished fighter pilots. One earns the title of "Ace" after downing at least five enemy aircraft in combat. Cleveland earned his "Ace" status as a pilot in the Korean War, in which he shot down five enemy aircraft in the dangerous region known as "MIG Alley."
"While some people in this race have attacked President Trump for not doing enough for our veterans, Bradley Byrne has been on the frontlines with President Trump to get better care and clean up the mess at the VA," State Vice Chair Colonel John Reitzell said. "Talk is cheap. Bradley is actually getting the job done for our veterans, and I'm proud to support him."
ARMY BRANCH CHAIR
"Bradley Byrne just gets it. He has been a tireless advocate for a stronger military and fought to get better care for our veterans," Brigadier General Joe Stringham from Scottsboro said. "I have no doubt he will take that same fighting spirit to the U.S. Senate, which is why I am encouraging all my fellow veterans to support Bradley."
NAVY BRANCH CHAIR 
"I watched firsthand as Bradley stood up to the government bureaucrats and helped get us a brand new VA clinic in Southwest Alabama," Captain Hal Pierce from Daphne said. "Bradley saw how our veterans were hurting, and he found a solution to our problem. That is the kind of fighter we need as our Senator."
MARINE BRANCH CHAIR
"Marines know a thing or two about fighting, and I have seen enough to know that Bradley has the fighting spirit that we need more of in Washington," Marine Corporal (Ret.) Don Fisher from Montgomery said. "Bradley won't be intimidated, and I know he won't back down from a fight. We need him representing Alabama in the Senate."
AIR FORCE BRANCH CHAIR
"Bradley Byrne has always been a friend to Veterans and a supporter of our many Alabama national defense interests," Colonel (Ret., USAF) Ken Tatum from Montgomery said. "Bradley has shown his commitment to making sure our veterans and servicemen and women receive the benefits and support that they deserve. He will make an outstanding U.S. Senator."
COAST GUARD BRANCH CHAIR
"I've had the opportunity to work with Bradley Byrne over the years, and he is exactly the type of person we need representing us," Captain Duke Walker from Mobile said. "Bradley understands the issues facing our state and our country, and he knows how to get the job done."
NORTH ALABAMA STEERING COMMITTEE
Sergeant Rusty Robbins, Marine Corps, Tuscumbia
Lieutenant Colonel James "Jim" Terrell, Army, Huntsville
Sergeant John Kane, Army, Hunstville
Petty Officer Second Class Murlin McRee, Navy, Huntsville
Sergeant Mike Ball, Marine Corps, Madison
Colonel Charles Orr, Air Force, Huntsville
CENTRAL ALABAMA STEERING COMMITTEE
Sergeant David Hogan, Air Force, Leeds
Private Carolyn Griffin, Army, Auburn
Sergeant Chuck Moore, Marine Corps, Wetumpka
Airman First Class, Steve Buchanan, Air Force, Brierfield
Sergeant Mason Dyess, Marine Corps, Tuscaloosa
Sergeant Johnny Baker, Marine Corps, Leesburg
SOUTH ALABAMA STEERING COMMITTEE
Captain Pete Riehm, Navy, Mobile
Dr. Barry Booth, Navy, Daphne
Sergeant A.B. Grantham, Marine Corps, Mobile
Colonel Sid Vogel, Army, Fairhope
Corporal Bryan Dewberry, Marine Corps, Mobile
Gunnery Sergeant Shag LaPrade, Marine Corps, Enterprise
More and more Veterans are joining the coalition each day, and individuals can sign up to join the coalition at BradleyByrne.com/Veterans
Kirk Hatcher's (potential) problem with the Hatch Act
Hatcher is set to face former Rep. John Knight in a special election runoff on Dec. 15.
Is Kirk Hatcher eligible to run for public office? That might seem like an easy question to answer, given that Hatcher has represented Alabama's 78th House District since 2018 and is currently the overwhelming favorite to win a special election for the District 26 state Senate seat.
But on Monday, a question about Hatcher's eligibility — specifically, whether the Hatch Act would prohibit him from holding public office because of his employment as director of Head Start in Montgomery — sent Hatcher's staff scrambling.
While assuring APR that Hatcher is "absolutely eligible" to run, his spokesperson, Ashley Roseboro, forwarded a redacted opinion that Roseboro said the campaign requested and received from the U.S. Office of Special Counsel.
Roseboro said the opinion stated that "Rep. Hatcher is in full compliance with the Hatch Act."
However, that opinion, after the redactions were removed by APR, turned out to be from 2014 and for a nonprofit named Opportunities for Otsego, located in upstate New York. It did not address Hatcher's specific situation, and it obviously did not find him in "full compliance."
The Hatch Act is a federal law in place to prevent federally funded programs from engaging in political activities and to restrict the political activities of federal employees and employees whose salaries are funded by federal grants. In Hatch Act guidance issued by various agencies online, Head Start programs and their employees are specifically mentioned as examples of workers who cannot participate in political activities during working hours or run for or hold partisan public office.
As the director of Montgomery's Head Start program within the Montgomery Community Action Partnership, Hatcher would seem to fall under that limitation. However, there are a few exceptions to that general rule, mostly based on how federal funds are distributed and controlled at the state and local level.
According to the Otsego opinion, which outlines the general funding setup for Otsego County's Head Start programs, it seems likely that the Head Start program in Montgomery also operates on federal grant dollars and has local control of how that money is spent.
In that case, according to the Office of Special Counsel in the Otsego opinion, Hatcher, as the Head Start director, would be ineligible to hold partisan public office if his salary was fully funded by federal money.
APR asked Roseboro if Hatcher's salary was partially funded by sources other than federal funds. He declined to answer, saying only that "Rep. Hatcher is eligible to hold public office."
Late Monday night, Roseboro sent a final email acknowledging that the initial opinion he sent APR was not prepared for the Hatcher campaign, as he previously stated. Instead, he said the campaign was directed to that opinion by the Office of Special Counsel when it called seeking guidance regarding Hatcher and the Hatch Act. Roseboro said the campaign also spoke with attorneys at the Special Counsel's office, but specifics about those conversations or when they took place were not provided.
The email also contained a statement from Hatcher: "My candidacy for State Senate is not in violation of the Hatch Act and I am in compliance with all state and federal election laws. I am excited about finishing this race as people have shown that they are ready to move forward with new leadership and continue to maximize Montgomery's opportunities and potential."
The email did not offer an explanation of how Hatcher is in compliance with the Hatch Act or what specific exception he is relying on.
Hatcher is set to face former Rep. John Knight in a special election runoff on Dec. 15. The winner of that runoff is almost certain to become the District 26 state senator.