Brooks says whistleblower "is a spy working on behalf of the Democratic Party"
Tuesday, Congressman Mo Brooks (R-Huntsville) denounced the reported Ukraine whistleblower who was "working on behalf of the Democratic Party."
"The so-called "Ukraine whistleblower" is a spy working on behalf of the Democrat party," Brooks said on social media. "I suspect he went into the White House intending to undermine the president of the United States. Let's be clear on something, Executive Branch employees work at the pleasure of the president. If they have policy differences with the president they should either get in line or resign. It's the president of the United States and Congress who set policy, not unelected bureaucrats."
This followed earlier remarks that Brooks made on WVNN with host Jeff Poor.
"It becomes a real problem when you have people like the whistleblower, who is, in fact, a spy in my judgment," Brooks said. "And he was a spy on behalf of the Democratic Party, Joe Biden and who knows whom else. And I suspect he went into the White House knowing he was going to spy and he was going to try to undermine the president of the United States as best he could. Now when you have someone of that nature, that is a real problem."
"And to me, we need to look long and hard at this whistleblower, and there ought to be a determination as to whether he should be fired if he violated any laws that relate to the confidentiality of communications between the president of the United States, on the one hand, and the president of the Ukraine on the other, because his doing what he did as a spy on behalf of the Democrats, has created a significant amount of friction between the United States of America, Ukraine and who knows who else," Brooks added.
Brooks has been a vocal critic of the impeachment process. Congressman Bradley Byrne (R-Montrose) also has been critical of the efforts to impeach the President.
"Immediately after he was sworn into office, the Washington Post declared that "The campaign to impeach President Trump has begun," Byrne said on social media. "Since his first day in office, President Trump has been forced to fight back against the fake news media outlets and obstructionist Democrats in Congress who are laser-focused on overturning the results of the 2016 presidential election."
"The fake news media has stooped so low as to offer cover for Shifty Schiff's blatant lies in an official Committee hearing about a phone call between President Trump and the Ukrainian President," Byrne continued. "Partnering with Schiff and other radical Democrats, the liberal media continues to breathe life into a phony and dishonest investigation of our President."
\
"The Dems want to investigate everything President Donald J. Trump does, but the real story here is Joe Biden's shady dealings," Byrne charged. "I'm leading the charge to investigate the Biden family and get to the bottom of this!"
House Intelligence Committee Chairman Schiff has threatened Republicans who expose the "whistleblower."
Rep. Dan Bishop (R-North Carolina) has already defied that order saying he would not, "cower before the authoritarian intimidation campaign."
"He's not Voldemort," Rep. Bishop said on Twitter. "And he's not a bona fide whistleblower. Even if he were, he wouldn't be entitled to secrecy. Eric Ciamarella is a deep state conspirator. He needs to testify now."
Ciamerella had previously been exposed on Fox News Sunday by The Federalist's Mollie Hemingway.
"The New York Times did all but reveal his name in September," Hemingway said. "And RealClearInvestigations has identified a man named Eric Ciaramella as the whistleblower, so it's already out there. We could be talking about this reporting, and talking about whether that's accurate reporting or not. So I'm still a little bit confused about why we're pretending that hasn't already happened."
Eric Ciaramella is a 33-year-old CIA analyst. He is a registered Democrat. He was assigned to the National Security Council by former CIA Director John Brennan.
Brooks is serving in his fifth term representing Alabama's Fifth Congressional District.
(Original reporting by WVNN radio, Breitbart News, Fox News, and Western Journal contributed to this report.)
Print this piece
Jones criticized for voting to limit Trump's war powers authority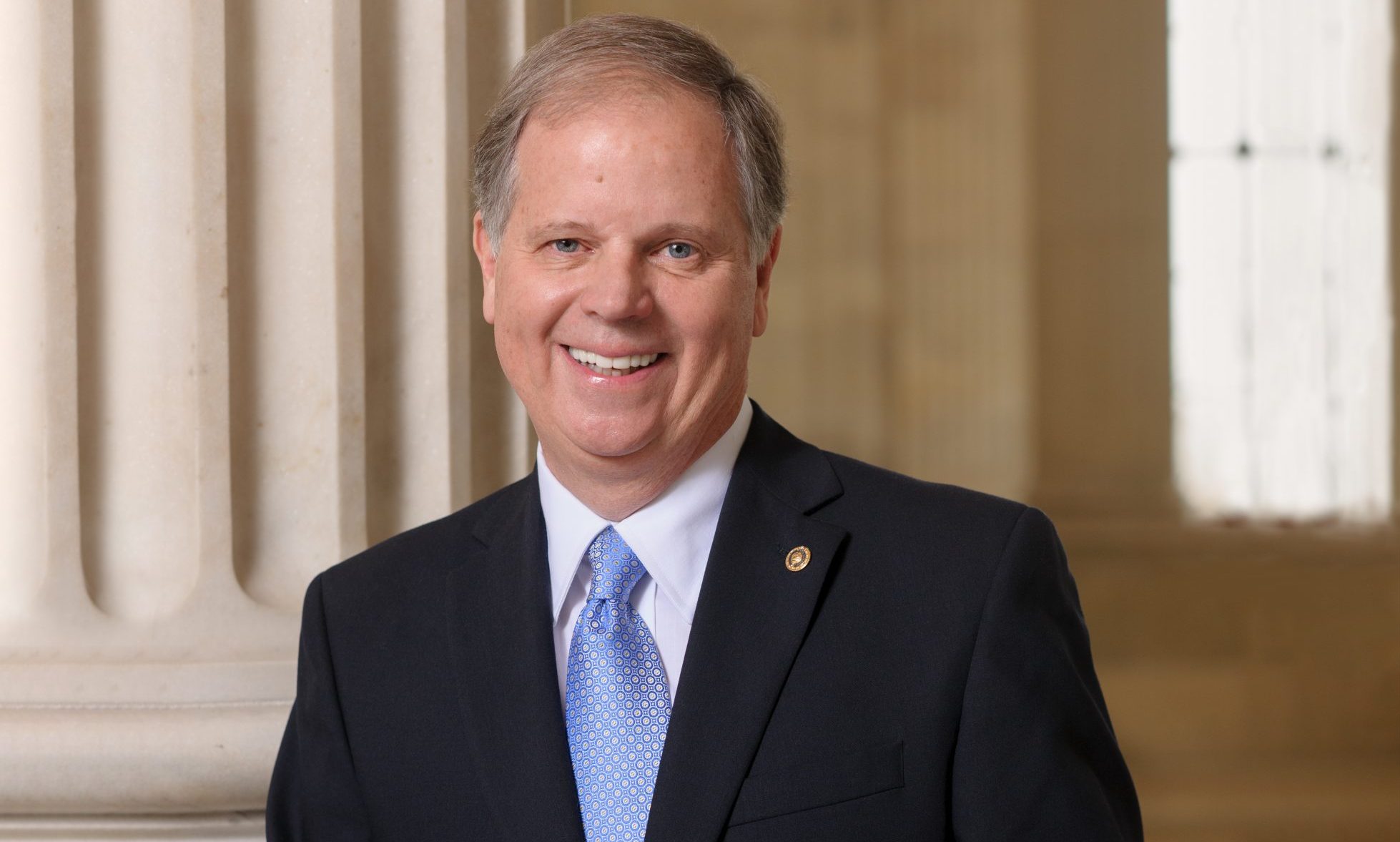 Thursday, U.S. Senator Doug Jones (D-Alabama) voted in favor of S.J.Res.68, a resolution which directs the removal of United States military from hostilities against the Islamic Republic of Iran that have not been authorized by Congress. Jones have been criticized by Republicans for voting to limit President Donald J. Trump's war powers on Iran.
"Before a President can lead us into war, he or she must first earn the support of the American people and also fulfill their solemn constitutional obligation to seek approval from Congress," Sen. Jones said in a statement. "While the President has the power to protect Americans in the case of an imminent attack, that authority does not extend to committing our service members to long-term hostilities unilaterally. This resolution sends a strong message that we will follow the Constitution and we will not send our troops into harm's way without the serious consideration and consent of the Congress."
Trump Victory National Finance Committee member Perry O. Hooper Jr. released a statement in response.
"Senator Jones once again turned his back on Alabama and voted as the leftwing Democrats commanded. He has no regard for the values, opinions or views of Alabamians," Hooper said. "He sees us as deplorables just like the elites of the Democratic party who have funded 80 percent of his doomed campaign for re-election.:
Hooper stated, "I whole heartily support the President who stated 'We are doing very well with Iran and this is not the time to show weakness… If my hands were tied, Iran would have a field day. Sends a very bad signal. The Democrats are only doing this as an attempt to embarrass the Republican Party.'"
"The Commander-in-chief must be free to work with his staff and his military leaders to conduct covert operations like the one that eliminated Iran's terrorist-in-chief General Soleimani," Hooper added. "You can't micromanage the war on terrorism. The Democrats in Congress are so filled with Trump Derangement Syndrome that no matter how much it would benefit our country and the world; they would never give Trump a "victory". If it came down to it, they would leak everything to the media no matter what the consequences."
Senator Jones is a cosponsor of the legislation and a member of the Senate Armed Services Committee. Eight moderate Republicans voted with the Democrats on the resolution.
Senator Jones has also been criticized by Republicans for his comments that he was "appalled" by Pres. Trump's actions following his acquittal on both Articles of Impeachment.
"Newsflash for Senator Doug Jones: Most Alabamians have been appalled by his actions his entire time in office," former Attorney General Jeff Sessions said. "It's about time we send Doug home, and replace him with someone who understands our values. Alabamians deserve a Senator they can be proud of again."
Sessions is a candidate for the Republican nomination for Jones' Senate seat.
The Republican primary will be on March 3.
Print this piece