Medical experts sharply divided at Alabama Medical Cannabis Study Commission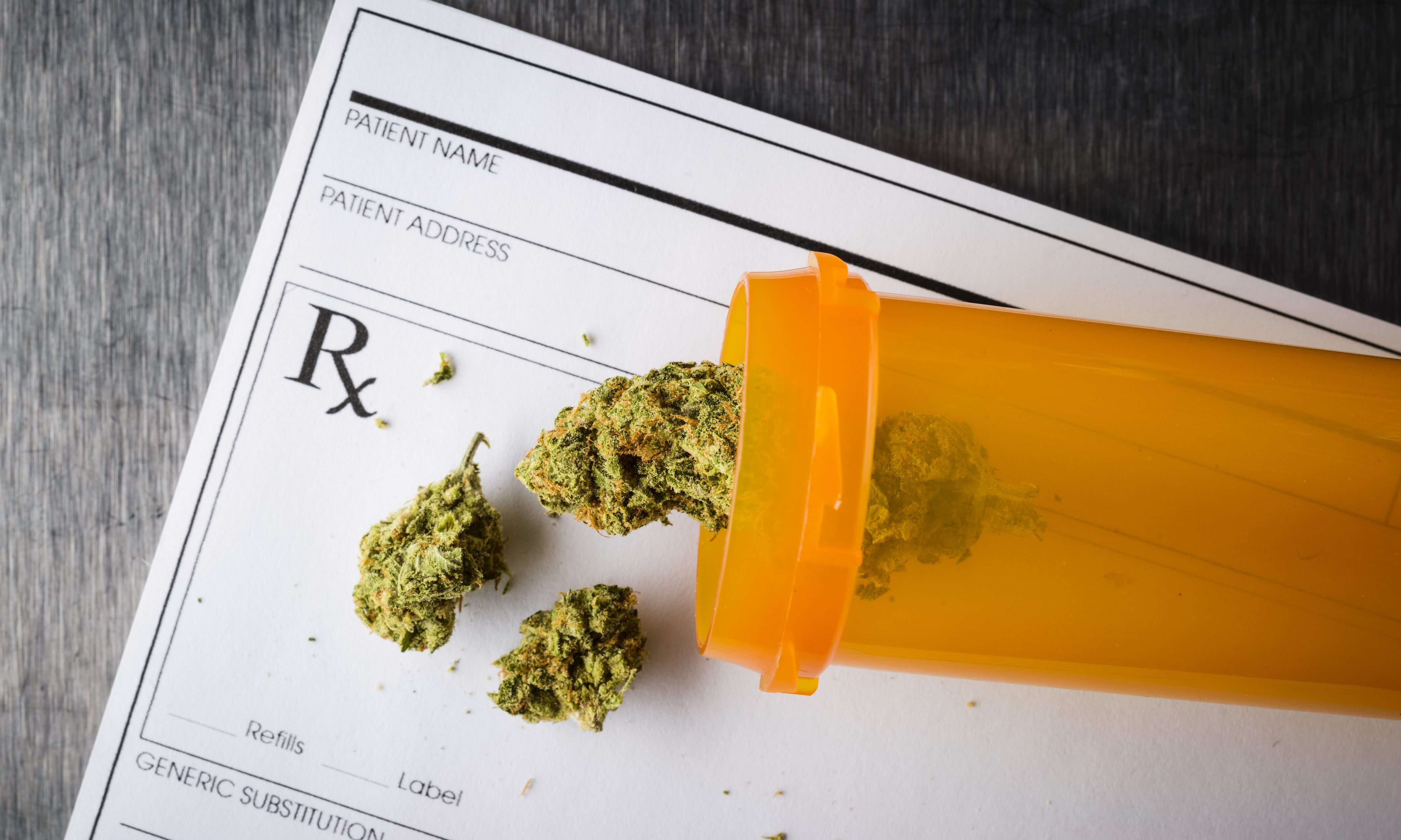 Thursday, the Alabama Medical Cannabis Study Commission heard from two highly respected medical expert witnesses with widely divergent views on the wisdom of passing medical marijuana legislation.
Bertha K. Madras is a professor of psychobiology in the Department of Psychiatry and the chair of the Division of Neurochemistry at Harvard Medical School, She served as associate director for public education in the division on addictions at Harvard Medical School. Dr. Madras advised the Commission against passing medical marijuana legislation.
Dr. Bertha Madras said that evidence of marijuana being used medically can be traced as far back as 1600 years ago with the discovery of a woman who died in childbirth due to a breach.
Madras said that the state passing medical marijuana legislation "Puts the entire drug approval system at risk."
"Marijuana is not safe for you: all measures are worse," Dr. Madras said, "Marijuana is not the solution for the opioid crisis."
Dr. Madras pleaded with legislators to let the FDA (Food and Drug Administration) make the rules for medical marijuana and not go around the federal government by passing state legislation legalizing marijuana as medicine without doing the scientific research and trials necessary to get drugs approved by the FDA. Thousands of, "People died until we had the FDA."
Madras said that the proper research has not been done on things such as proper drug delivery and that the marijuana industry is selling products that can be delivered by: "smoke, vape, eat, drink, IV, and cream. "What about Specific populations? Pregnant women? Elderly?"
Madras warned that this is not your father's marijuana, "The THC has risen to as high as 90 percent" in some products.
Madras warned that marijuana is, "Addictive." She also warned that it produces intoxication and impairs cognitive functions and that its use can lead to anxiety and produce a psychotic reaction. Madras warned that the drug is not safe for youth and that opioid addicts generally start using marijuana. She argued that there is not enough evidence to use marijuana as a treatment to prevent opioid dependency.
Madras argued that what the state would be doing would be detrimental to the FDA system and that the state should not approve legalization until the FDA approves its use/ She did say that she was not for keeping cancer patients from having it though.
"Medicine is trusted because of its scientific base and tight regulation," Madras said and that medical marijuana, "Is the least regulated medical drug in the U.S. and should be held to medical standards."
Madras argued against using cannabis to treat pain issues saying that "Pain is an undecipherable medical condition," and warned that the amount of marijuana needed to treat pain and the amount needed to produce euphoria overlap.
The crowd attending the hearing included many persons there to support medical marijuana and a number of people there scoffed at Dr. Madras's assertions.
Dr. Alan Shackelford made the case for allowing medical cannabis.
Shackleford claimed that he had one elderly patient who was using multiple opioids daily to treat her chronic pain issues and through medical cannabis can tap dance now.
"When Colorado passed medical cannabis regulations in Colorado I knew very little about it," Dr Shackleford said. But has studied the issue and has found a number of applications for the drug in his medical practice.
Shackleford said that the Colorado medical cannabis law allowed using the drug to treat: Cancer, HIV/Aids, glaucoma, cachexia, severe pain, severe nausea, seizures, and persistent muscle spasms. PTSD was added in June 2017 and autism was added in April 2019.
"I practice evidence based medicine," Dr. Shackelford claimed.
Shackelford said that there was a paper showing that the THC in marijuana extract could kill cancer cells in animals in 1975; but they did not do anything with it because of the anti-marijuana bias in the research funding.
Shackelford said that there have been 31 studies on marijuana dosing because of the cost of doing the research given the rules put in place by the government and the bias against the drug.
"Cannabis misue is not a great thing; but people do not die from it however," Dr. Shackelford said.
Dr. Shackelford said that cannabis has been used to treat seizures by doctors since at least 1464 when it was recorded that it was used in Baghdad.
Dr. Shackelford showed movies of a child named Charlotte whom he is treating with a cannabis product. "Charlotte is laughing playing with puzzles, and dancing." She went from having 300 seizures a week to just five a month after Shackelford began using cannabis to treat her epilepsy.
"The Mayo Clinic says that 70 percent of all doctor's visits are for joint and back pain," Dr. Shackelford said. Over the counter medications are used to treat pain; but that the side effects of those medication cause gastrointestinal bleeding that leads to over 100,000 people being hospitalized. Thousands die from those side effects.
Shackelford said that Canada uses cannabis to treat PTSD in its soldiers who were sent to Afghanistan. They had 15 veteran suicides in 2018. The U.S. had over 6000 in U.S.
"The government has made it difficult to do studies," Shackelford said. "But there is evidence that cannabinoids will treat PTSD."
"We ow it to our veterans who are dying," Shackelford said.
"33 states have medical cannabis and 13 have recreational cannabis," Shackelford said. "States with medical opioids have 24.8 percent lower rate of overdose death."
Shackelford said that if all states would allow medical cannabis it would save Medicaid over a billion dollars.
"There has never been a marijuana overdose death," Shackelford asserted.
Shackelford dismissed studies showing that youth who used marijuana had eroded white matter in their brains because they were also using alcohol which has been shown to be much more damaging to the youth's brain white matter.
Shackelford said that he has had patients move to Colorado to get treatment, "Nobody should have to move from Alabama," to get treatment.
"I don't want any veteran who fought for us in Iraq or Afghanistan to be shooting themselves," Dr. Shackelford said. "Y'all should have the same stuff that 33 other states have."
Doctor Shackleford a world reknown medical physician, who like members of the commission, did not believe in medical cannabis- until he did the research," lobbyist and marijuana advocate Chey Garrigan said. The research is that cannabis works and people do not die!"
"Doctor Shackleford, stated that, 'We owe it to our Veterans, who are dying', to make it available in a structured and regulated manner for treatments that could be beneficial with physician oversight," Garrigan told APR.
The Medical Cannabis Study Commission is chaired by State Senator Tim Melson, R-Florence.
"We are close to the end," Melson told the commission members.
The commission is already drafting a bill and should be through with that by December 1. They will vote on that bill in their December meeting. Whatever that final bill says, Melson is expected to introduce it in the Legislature in the 2020 Regular Session which begins on February 4.
Print this piece
Amid the pandemic, a campaign adapts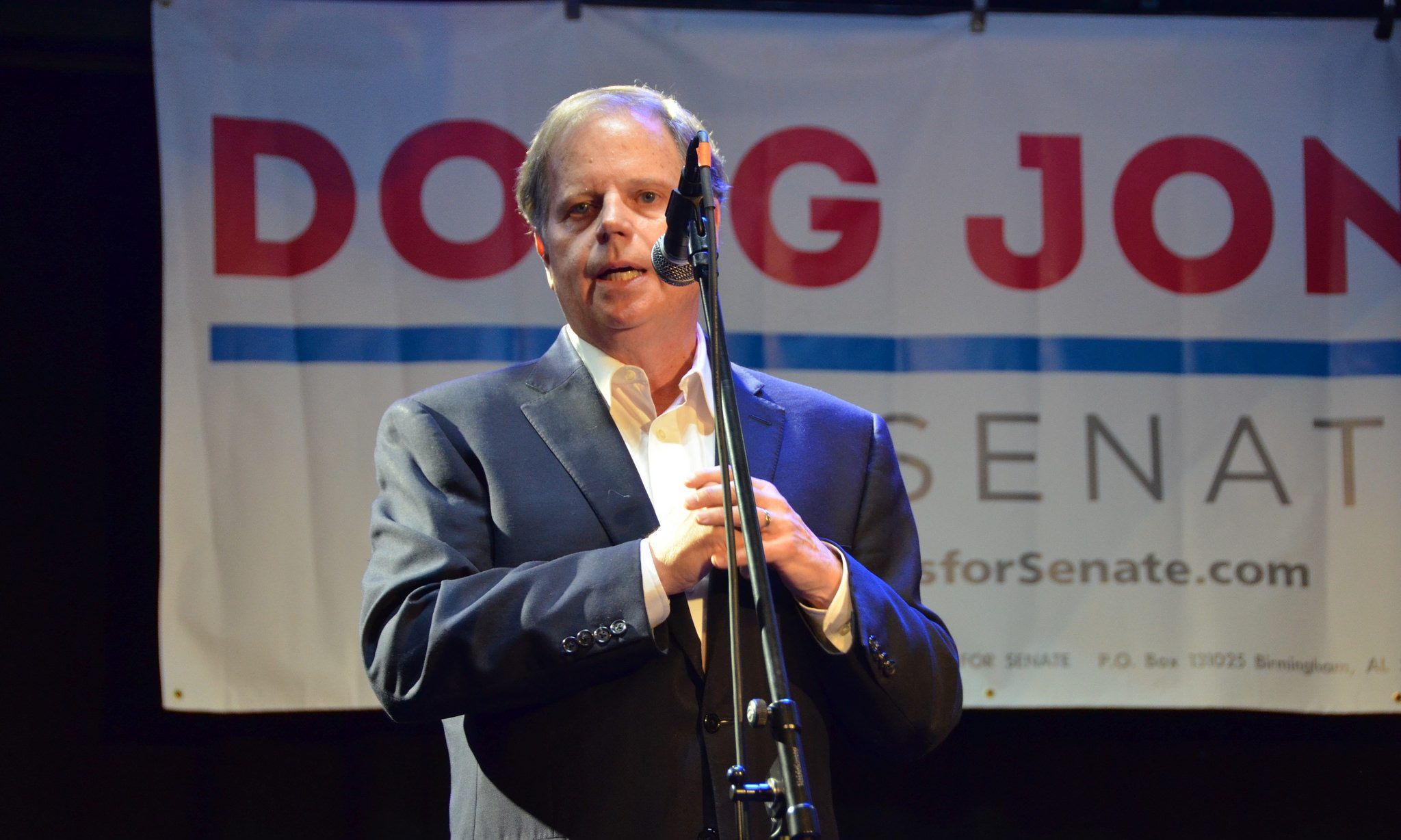 He stepped up to the podium, an American flag behind his right shoulder, an Alabama flag to his left. These briefings are much like any other press conference the senator has given since he took office in January 2018, except these are streamed on Facebook Live, and Sen. Doug Jones of Alabama wore a camouflage turkey hunting mask — the same one he's worn on the floor of the U.S. Senate and in hearings.
He decided to wear it after a turkey hunt with his son and a friend a few weeks ago, with appropriate social-distancing, of course.
"Unfortunately, I think the turkeys were also maintaining social distancing from those who were trying to attract them," Jones said in an interview. "I just thought, this is kind of nice. Why don't I just go ahead and wear it? It's an interesting mask for a southern Democrat."
Since our interview, Jones has not backed off from his insistence that others wear a mask, too, when in public places. He regularly echoes messages from State Health Officer Dr. Scott Harris, Jefferson County Health Officer Dr. Mark Wilson, Gov. Kay Ivey and even Alabama head football coach Nick Saban, who all have stressed the importance of face coverings.
"There is so much misinformation that's going on out there," Jones said. "You know, I just feel like I have an obligation. I'm not a doctor. I'm not a scientist. I'm trying to learn and do the best I can. But for me to do the best I can, I've got to learn. I've got to listen. I think it's important for the public to do that as well."
Since he began the live-streamed press conferences seven weeks ago, they've gotten more than 300,000 views and have become a parade of the who's who of Alabama's COVID response. Public health experts, local officials, doctors and business leaders have been regular guests. Since the COVID-19 crisis began for Alabama in mid-March, Jones, the state's junior senator, has been one of the most available and outspoken elected officials in Alabama, even when he's in Washington. He lets public health experts answer questions. He urges caution.
"My responsibility is to get accurate information out from people who know the science and understand what we're up against from a science and health standpoint," Jones said in an interview. "Don't listen to politicians on either side of the aisle unless they are just parroting what a health care professional says. Listen to science and listen to the data."
In these briefings, Jones has avoided politics and campaign talk. He rarely casts blame, though he hasn't been afraid to criticize the Trump administration's handling of the virus or Senate Majority Leader Mitch McConnell for "playing politics."
A first-term Democrat elected in a surprise upset election in 2017, Jones has been walking a line between praising Alabama's Republican governor for her leadership and criticizing President Donald Trump for what Jones says has been, and continues to be, a lack of leadership from the White House.
But what's nearly as noticeable is what he has barely mentioned since Alabama confirmed its first case in March: his re-election campaign.
Jones is up for re-election in November as perhaps the most vulnerable incumbent Democrat in the country.
In a normal world, the campaign would be in full swing by now. But in COVID-era Alabama, despite the governor's easing of restrictions, Jones does not even have an opponent, yet, and the campaign is in partial hibernation as the senator focuses on his work in his official capacity as a senator.
"Everything except fundraising has been on hold," Jones said. "We've done some campaign Zoom, virtual events. But to be honest with you, I've been so engaged since March trying to do those things that I think I need to do as a senator, we still are trying to formulate what a campaign looks like going forward."
Jones has sent a letter to nearly every agency in the federal government, it seems like, over the past month or two — whether it is the USDA, seeking more aid for cattlemen and dairy producers, or with questions about how the USDA is implementing food assistance programs. Or the Treasury, asking that taxpayers receive their relief stimulus payments on debit cards to make it easier and faster. He's worked with Republicans like Arkansas Sen. Tom Cotton to get those things done.
He's also pushed for expanded economic relief for small businesses and their employees through his Paycheck Security Act, a refundable tax credit of up to $90,000 annually per employee, to rehire and pay laid off and furloughed workers and restore their health care benefits.
If passed, it would also provide small and mid-sized businesses with funds to pay for rent, mortgages, utilities and other operating costs until they can reopen safely and sales begin to recover.
In the past few weeks, Jones has been pressing hard for a plan to bring health care manufacturing back to America — and to Alabama in particular.
"We're so dependent on foreign countries — China and other countries — for our personal protective equipment, including for our prescription drugs," Jones said. "We need to do all that we can to bring that manufacturing home. We should never ever get caught again in regard to a shortage of PPE because we don't have enough for this country. There's no reason why we can't do it."
Jones proposes using tax incentives for companies that build medical equipment in the U.S., retrain workers for those jobs and encourages companies to restart idle factories to make health care equipment.
"I think we could be the next healthcare manufacturing hub just like we've done so well with automobile manufacturing. There's no question it's coming," Jones said. "Now we want Alabama to be on the forefront of that. I want us to be on the cutting edge of that, to be out front and not lose it to some of the other southern states."
Regardless of who is nominated as the Republican candidate, Jones faces another uphill battle. As much as he is a full-blooded southerner — someone raised in a family that once supported firebrand segregationist Gov. George Wallace, someone who would wear a camo hunting mask to a press conference, someone who frequents deer stands with a rifle in the winter and turkey hunts in the spring — Jones is also a full-blooded Democrat.
He was a prosecutor appointed by President Bill Clinton, and has been a friend and supporter of Democratic presidential nominee Joe Biden since the former vice president's first run for the presidency in the 1980s. In the few years since he took office, Jones has made it a mission to build up the Alabama Democratic Party, which was out of money and without a winning statewide candidate for nearly a decade before his win in 2017.
As much as Jones's 2017 election — defined by the sexual assault, misconduct and harassment allegations against his opponent former, Alabama Supreme Court Justice Roy Moore — was shrouded in uncertainty and surprise, the 2020 campaign is likely to be even more chaotic in that it will be shrouded by concerns over the novel coronavirus.
Not only is Jones, a moderate Democrat, running for re-election in a red state loyal to Trump, he's doing so in the middle of a pandemic.
"At this point, we would have thought we would have had an opponent by April 1, and more things would be transitioned over to campaign events," Jones said. "We've just not been able to do that, for obvious reasons. But also, it's just been extremely busy. I've felt like it is part of my job to try to be out there as much as I can to let folks know that we're working. They don't want to hear a campaign speech."
While Jones has been holding weekly briefings, with more time in front of the camera than the state's governor, his potential opponents have taken to attacking each other in public fashion. Trump has repeatedly waded into the fight.
Jones's challenger hasn't been picked yet. The primary runoff that will decide between former Auburn head football coach Tommy Tuberville and former U.S. Attorney General Jeff Sessions was postponed until July because of concerns over the virus.
While the two are battling over their support for Trump, they've largely avoided the topic of the pandemic. Sessions releases statements every few weeks calling for plans to "hold the Communist Chinese Government accountable for its cover-up of the Wuhan Virus" and little else.
Sessions' feud with Trump and Tuberville, which reached a fever-pitch over the weekend, has grabbed far more headlines than anything Sessions or Tuberville have proposed to address the COVID-19 pandemic and the resulting economic crisis.
Jones said he's paying little attention to that feud, even when he gets "@-ed" by the president on Twitter. Trump called Jones a "weak & pathetic puppet for Crazy Nancy Pelosi & Cryin' Chuck Schumer" on Saturday in a tweet bashing Sessions and supporting Tuberville.
"I don't really pay much attention to Jeff Sessions and Tommy Tuberville at this point," Jones said. "We had a hell of a record going into February and March of this year. I was very, very proud of the things we've done for veterans, things for businesses, things for farmers. But we've been able to do things during this pandemic that have been extremely important for the folks in Alabama."
No matter how the GOP primary turns out, Jones will be facing off against another unknown, as he has so many times before. Sessions, once a favored son, has drawn repeated criticism from Trump for recusing from Special Counsel Robert Mueller's Russia investigation.
Tuberville has no government experience, though being a football coach might as well be a public office in Alabama.
Despite the virus, Republican campaign groups are beginning to hammer Jones over his support for Biden, and Republicans are banking on picking up Jones's Senate seat.
Jones said he is confident the voters in Alabama will be able to judge his work separately from the party he is in.
"There are so many things that we have done for so many different groups in Alabama," Jones said. "I think people are recognizing that all of a sudden, this Democrat who got elected in 2017 is paying attention, and we've been there for people. They see what we have done for the last two years, but they also see what we've done during this crisis."
Trump won Alabama by nearly 28 percentage points in 2016, and Jones won by only a razor-thin margin in 2017, despite his opponent being credibly accused of sexual misconduct with women decades his junior. Republicans believe Moore was a particularly terrible general election candidate, and that pretty much any other Republican could beat Jones.
The allegations united a strange and perhaps unprecedented, at least in Alabama's history, coalition of moderate crossover Republicans and black people, women and young voters who showed up for Jones. Either way, Moore had a history of underperforming in statewide general elections, having come close to losing an election to the Supreme Court in 2012.
But a national crisis is playing into Jones's strength: handling situations outside of his control. He played the role of the "sane one" in the 2017 special election defined by accusations against his opponent, and he's likely to be in a similar position again in 2020, regularly putting public health experts front and center while his opponents either avoid the spotlight, try to shift blame overseas or tie Jones to liberal Democrats in Washington.
"I'm not there to have President Trump's back," Jones said. "I'm not there to have President Biden's back. I'm there to have Alabama's back. And that's exactly what we've been doing and that's what we're going to continue to do — doesn't matter to me how Jeff Sessions or Tommy Tuberville approach what they think needs to be done. I think the people of Alabama want somebody that's got their back, and not somebody else's."
As Jones heads into the 2020 election, he may be largely on his own. The two leading Democratic campaign groups reserved nearly $100 million for the November election in half a dozen states with Republican incumbents, Politico reported. But Jones was left out, and the largest Democratic Senate campaign groups won't commit to spending big money on his re-election.
But even as those groups won't commit, Jones is sitting on a war chest that's nearly 10 times the size of either of his potential opponents. He has nearly $8 million saved up in his campaign account for the upcoming battle.
Print this piece