Alabama Republicans continue to denounce impeachment as a "sham"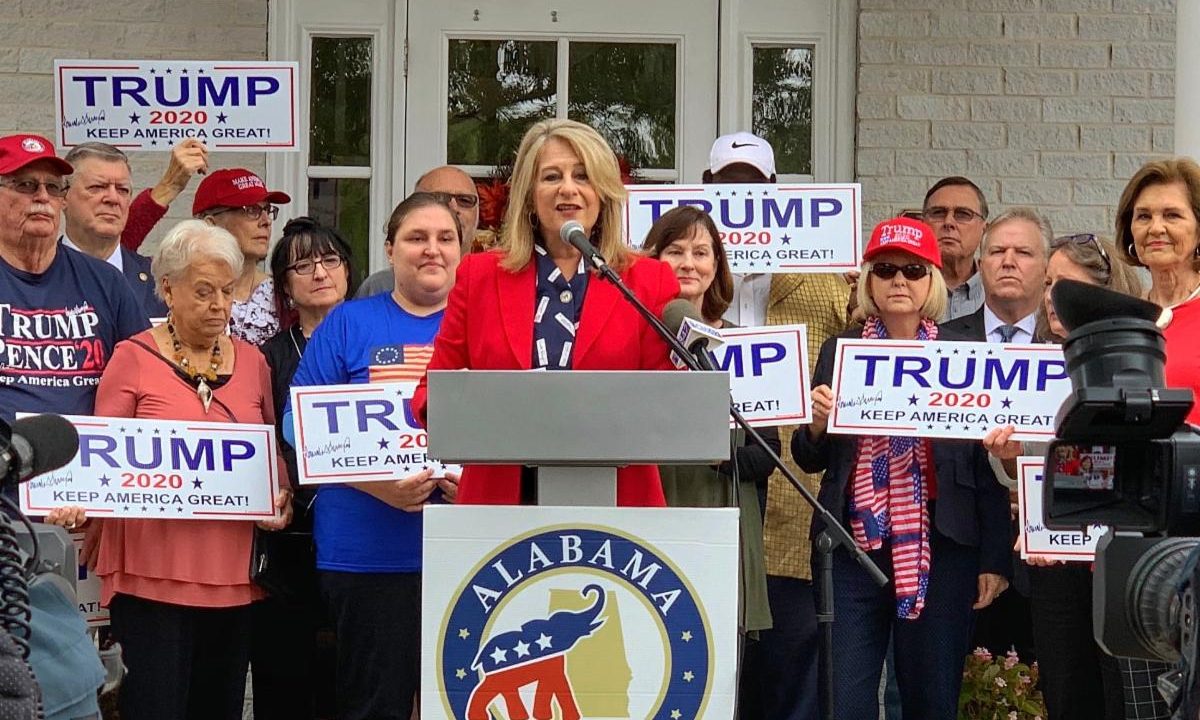 Wednesday, formal public impeachment hearings against President Donald J. Trump (R) were held. Alabama Republicans continued to denounce the impeachment inquiry as a "sham" and a "circus."
Alabama Republican Party Chairman Terry Lathan said that Democrats planned to impeach Trump from the moment that he was elected.
"Today the Democrats continued to show their irresponsible focus on impeaching President Trump at all costs – something they have been wanting to do since the day he was sworn in," Lathan said. "Minutes after President Trump took his oath of office on January 20, 2017, the Washington Post headlines proclaimed 'The campaign to impeach President Trump has begun'. Instead of focusing on the issues that matter most to Americans – like passing a budget before we are forced to have another government shutdown – the Democrats are continuing with their partisan impeachment stunts. The majority of Alabamians continue to support President Trump as he works to Keep America Great. American citizens see through this sham for what it is."
Republican candidate for Congress and former Alabama state Senator Bill Hightower expressed similar views in a statement in response to Wednesday's impeachment hearing in the House of Representatives.
"Nancy Pelosi and Adam Schiff's circus was on full display today and it is clear that Congress needs a strong dose of south Alabama values," Hightower said. "The Democrats are more concerned with impeaching the President than doing the job the people elected them to do. I hear from voters each and every day their concerns about jobs, rebuilding the military, and strengthening our trade agreements by passing the USMCA. I am running for Congress to get the job done for the people of the 1st congressional district, to be an ally to President Trump, and to fight back against the radical leftists that have hijacked Congress."
"Less than 24 hours after President Trump was inaugurated, the Democrats have been obsessed with impeachment," Congressman Bradley Byrne (R-Montrose) said on social media. "They know their radical policies will can't win so they're laser-focused on overturning the results of the 2016 presidential election. SHAM!"
Rep. Byrne is a candidate for the U.S. Senate seat currently held by Doug Jones (D).
"As the sham impeachment inquiry against President Trump continues today, remember these important points," Congressman Gary Palmer (R-Hoover) said. "This process has never been about justice, but about doing whatever it takes to unseat the President, regardless of actual facts."
Palmer's four "facts" are: the transcript of the phone call was released and it showed no discussion of military aid or conditionality; both Pres. Trump and Pres. Zelensky have said there was on pressure; Ukraine did not know that the aid had not been released at the time of the call; and the aid was released and Ukraine did not have to take any action for it to be released.
"This isn't about the truth or facts," Byrne said. "This whole impeachment sham is about destroying President Trump. I'm going to keep fighting back because the American people are sick of these political games."
A second day of televised impeachment hearings will be held today.
Sewell votes in favor of National Apprenticeship Act
The bill would invest more than $3.5 billion to create nearly one million new apprenticeship opportunities.
Congresswoman Terri Sewell, D-Alabama, last week voted in favor of the National Apprenticeship Act, legislation to reauthorize the National Apprenticeship Act for the first time since its enactment in 1937.
The new National Apprenticeship Act will create one million new apprenticeship opportunities over the next five years. Registered apprenticeships provide workers with paid, on-the-job training, and are the nation's most successful federal workforce training program.
"As a long-time supporter of expanding registered apprenticeships, I am thrilled to support today's legislation to provide 1 million new apprenticeship opportunities over five years," Sewell said. "Our Nation is facing the worst economic downturn since the Great Depression and estimates show that more than 7 million of the pandemic's job losses will be permanent. We need bold investments like those in the National Apprenticeship Act to accelerate the economy and help get the American people back to work in stable, good-paying jobs of the future."
The bill invests more than $3.5 billion over the next five years.
The act establishes a $400 million grant program to support the expansion of apprenticeship opportunities, including pre-apprenticeships and youth apprenticeships, which will increase $100 million annually to reach $800 million by 2025.
The legislation also codifies and streamlines standards for registered apprenticeship, youth apprenticeship and pre-apprenticeship programs to make it easier for both apprentices and employers to participate in high-quality apprenticeships and codifies the Department of Labor's Office of Apprenticeship.
It directs the office to convene industry leaders, labor organizations, educators and others to expand apprenticeships into new occupations and sectors.
Supporters say the bill could yield $10.6 billion in net benefits to U.S. taxpayers in the form of increased tax revenue and decreased spending on public-assistance programs and unemployment insurance, and that nothing is more effective at breaking the cycle of poverty than a well-paying full-time job.
Sewell is about to enter her sixth term representing Alabama's 7th Congressional District.