Alabama Republicans continue to denounce impeachment as a "sham"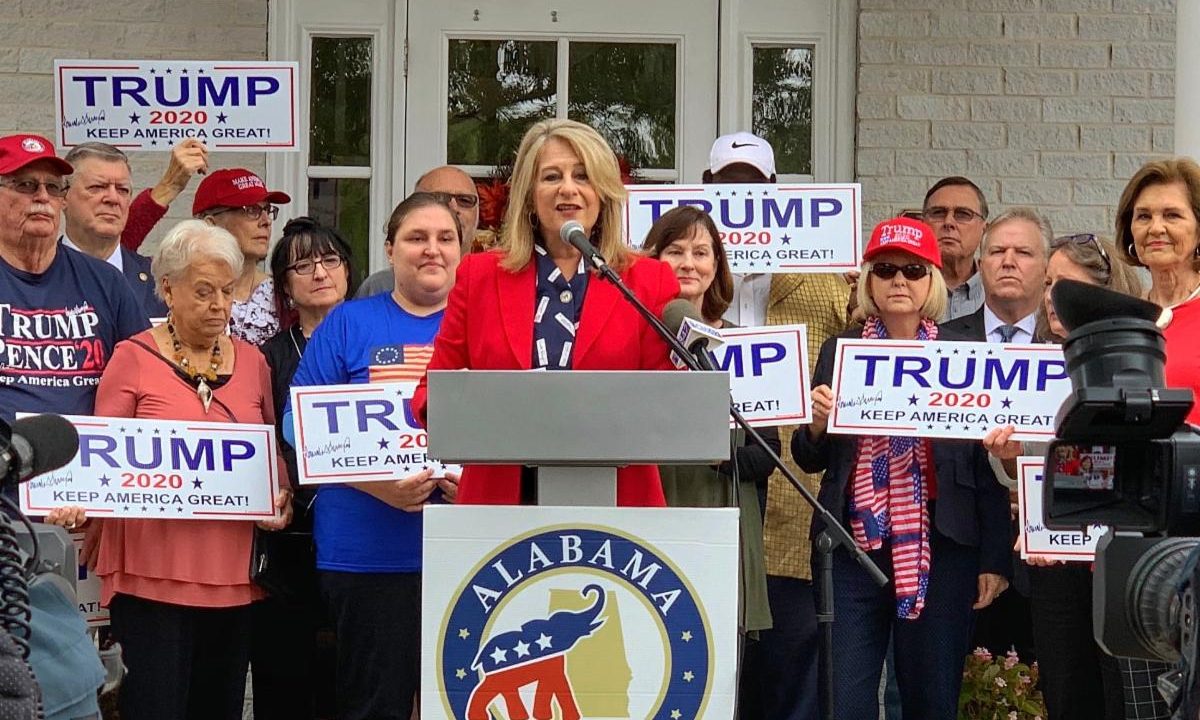 Wednesday, formal public impeachment hearings against President Donald J. Trump (R) were held. Alabama Republicans continued to denounce the impeachment inquiry as a "sham" and a "circus."
Alabama Republican Party Chairman Terry Lathan said that Democrats planned to impeach Trump from the moment that he was elected.
"Today the Democrats continued to show their irresponsible focus on impeaching President Trump at all costs – something they have been wanting to do since the day he was sworn in," Lathan said. "Minutes after President Trump took his oath of office on January 20, 2017, the Washington Post headlines proclaimed 'The campaign to impeach President Trump has begun'. Instead of focusing on the issues that matter most to Americans – like passing a budget before we are forced to have another government shutdown – the Democrats are continuing with their partisan impeachment stunts. The majority of Alabamians continue to support President Trump as he works to Keep America Great. American citizens see through this sham for what it is."
Republican candidate for Congress and former Alabama state Senator Bill Hightower expressed similar views in a statement in response to Wednesday's impeachment hearing in the House of Representatives.
"Nancy Pelosi and Adam Schiff's circus was on full display today and it is clear that Congress needs a strong dose of south Alabama values," Hightower said. "The Democrats are more concerned with impeaching the President than doing the job the people elected them to do. I hear from voters each and every day their concerns about jobs, rebuilding the military, and strengthening our trade agreements by passing the USMCA. I am running for Congress to get the job done for the people of the 1st congressional district, to be an ally to President Trump, and to fight back against the radical leftists that have hijacked Congress."
"Less than 24 hours after President Trump was inaugurated, the Democrats have been obsessed with impeachment," Congressman Bradley Byrne (R-Montrose) said on social media. "They know their radical policies will can't win so they're laser-focused on overturning the results of the 2016 presidential election. SHAM!"
Rep. Byrne is a candidate for the U.S. Senate seat currently held by Doug Jones (D).
"As the sham impeachment inquiry against President Trump continues today, remember these important points," Congressman Gary Palmer (R-Hoover) said. "This process has never been about justice, but about doing whatever it takes to unseat the President, regardless of actual facts."
Palmer's four "facts" are: the transcript of the phone call was released and it showed no discussion of military aid or conditionality; both Pres. Trump and Pres. Zelensky have said there was on pressure; Ukraine did not know that the aid had not been released at the time of the call; and the aid was released and Ukraine did not have to take any action for it to be released.
"This isn't about the truth or facts," Byrne said. "This whole impeachment sham is about destroying President Trump. I'm going to keep fighting back because the American people are sick of these political games."
A second day of televised impeachment hearings will be held today.
Print this piece
Police deploy tear gas, rubber bullets on peaceful protesters in Huntsville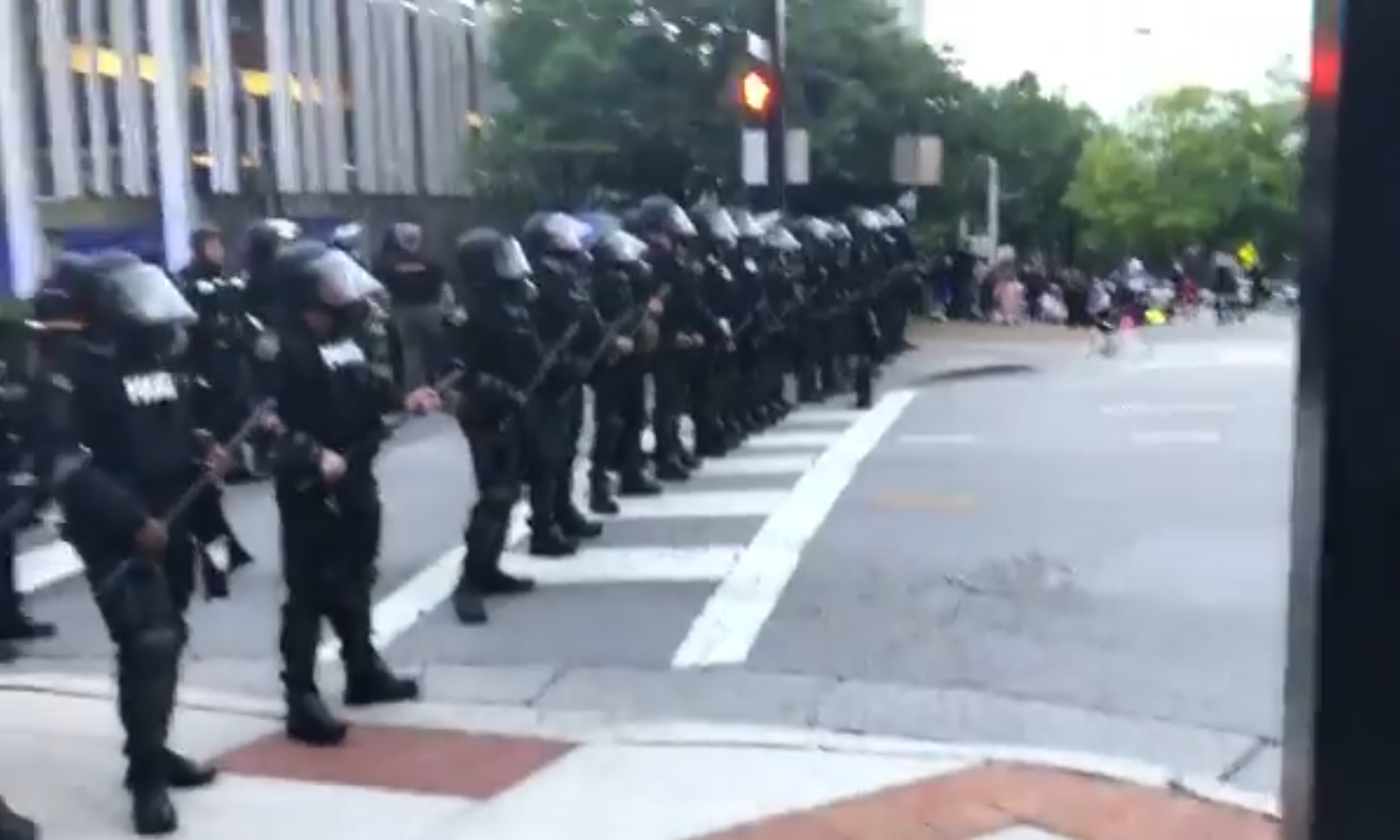 Huntsville police and state troopers with the Alabama Law Enforcement Agency deployed tear gas and fired rubber bullets at peaceful protesters and demonstrators chanting "I can't breathe" in downtown Huntsville Wednesday evening, injuring several people, including a small child.
Video from the scene shows demonstrators at the aftermath of an Alabama NAACP rally peppered with rubber bullets and tear gas as law enforcement helicopters hovered overhead.
One reporter on the ground described it as a "war zone."
State Rep. Anthony Daniels, D-Huntsville, the minority leader in the Alabama House, said the scene was reminiscent of Bloody Sunday in Selma as at least 35 state troopers were called in to forcefully disperse a peaceful crowd.
"Unnecessarily Using Force Against Peaceful Protesters in Downtown Hunstville," Daniels said on his Facebook page. "Who called the State Troopers? I am so disappointed in our local and county leadership. This is not Bloody Sunday. Why the hell were the State Troopers called."
In an interview with APR Wednesday evening, Daniels said it was very disappointing that it got to this point and he is demanding answers from local and state officials about why such a show of force and violence on the part of law enforcement was necessary.
"Thirty-five state troopers," Daniels said. "This is the type of presence that was at Bloody Sunday."
Daniels said there were several thousand people present at the formal demonstration, and several hundred stayed after the permit expired, but none of it appeared violent or disruptive.
"Peaceful protesters and concerned citizens — where there is no evidence of any type of disruption, in my mind," Daniels said. "I don't understand why local, county and state law enforcement — to the sum of 35 state troopers being present with full gear. It's just ridiculous to me and very disappointing. I'm waiting for answers."
Daniels and another state representative spoke at the rally earlier in the evening. He said he wondered if there was a threat posed or intelligence, which would be the only justification for such a deployment of force, and, if so, why he wasn't notified.
"It leads me to believe that it was an effort to justify the actual number of law enforcement there," Daniels said. "It looks to me like they were looking to justify the number of law enforcement that was there."
Audio dispersement attempt. pic.twitter.com/Yv1SaBcvLZ

— Ian Hoppe (@IanHoppe) June 4, 2020
Police began clearing the courthouse square in downtown Huntsville, where a Confederate memorial stands, after 8 p.m. Wednesday, according to AL.com. A protest permit expired at 6:30 p.m., leading armed riot police to disperse the crowd with pepper gas and rubber bullets.
The first sign of any offensive action by protesters came after police deployed smoke and after trooper cars sped through the area. The protesters threw water bottles at state trooper cars.
Pretty shocking scene of what appears to be peaceful protesters shot at by police with rubber bullets and sprayed with tear gas. pic.twitter.com/2RF0NgN752

— Chip Brownlee (@ByChipBrownlee) June 4, 2020
Protesters moved to Big Spring Park near Huntsville's Von Braun Center before they were again dosed with a "heavy" dose of tear gas, which carried across to a media staging area and obscured a Marriott hotel in smoke.
AL.com's Paul Gattis and Ian Hoppe report that a small child — less than four years old — was caught in the tear gas and began screaming.
A small girl, maybe three years old , was just enveloped in a cloud of tear gas. She screamed while her dad ran away with her.

— Ian Hoppe (@IanHoppe) June 4, 2020
Huntsville police said there had been no property damage or violence during the protest.
Lt. Michael Johnson with the Huntsville Police Department told Huntsville's WHNT that the police department ended what they thought was "a pretty peaceful protest."
"Once that permit expired, we still waited a good amount of time," Johnson said.
It appears law enforcement waited about an hour before beginning attempts to disperse the demonstrators with forceful means like tear gas and rubber bullets.
"It started to get a little hostile. A couple of things were thrown at us," Johnson said. "The verbiage, some of the threats, the hostility, blocking the road — we just cannot have that."
Johnson said police were not "going to roll the dice" to see if the protest turned out to be violent.
"We're not going to let this city go through what other cities go through," Johnson said, justifying using a "chemical agent" on peaceful protesters.
Before riot police sprayed them with tear gas and rubber bullets, protesters chanted "we are peaceful."
Daniels said people concerned about police brutality and what he called an inappropriate use of force Wednesday should show up at the ballot box and demand answers.
Print this piece