Analysis | Alabama U.S. Senate candidates look to Trump, what can be learned from recent Deep South elections?
Moderate Democrat gubernatorial candidates in Kentucky and Louisiana beat back firebrand Republicans who nationalized their state's elections by tying their political fortunes to President Donald Trump.
Here in Alabama, most of the Republicans running for the U.S. Senate are following a similar playbook linking their campaigns to the popular president, but is it enough?
In the 2016 general election, Trump easily carried Kentucky with 62.52 percent, Louisiana, with nearly 60 percent and Alabama with just over 62 percent of the vote. Trump's overwhelming wins in these three Southern States in the last general election is reason enough for a candidate to believe that rallying behind Trump's popularity is a stable path to victory. Still, as history shows, that is not always the case.
Louisiana's Republican candidate Eddie Rispone was as Trumpian as they come, so was Kentucky's Matt Bevin, but their imitation of an allegiance to the president didn't translate into victory.
Louisiana Gov. John Bel Edwards and Kentucky governor-elect Andy Beshear focused on state issues rather than Trump, but could that strategy work in a Republican primary?
Unlike the gubernatorial contests in Kentucky and Louisiana, Republican senate candidates are only worried about winning their party's primary where out-Trumping their opponent might be the ticket to success.
Former Auburn coach Tommy Tuberville and Congressman Bradley Byrne are vying for who can be most Trump-like. Trump's former U.S. Attorney General Jeff Sessions, who held the seat for 20 years, is praying his campaign will survive by continually reminding the mercurial president that he still is a loyalist.
Tuberville, Byrne and Sessions may be right that the election is about Trump, but is there another path for a candidate who campaigns on behalf of what they will do for the state?
While a Senate race may be different than a gubernatorial run kitchen table, concerns resonate with voters.
Along with Tuberville, Byrne and Sessions, the other GOP hopefuls fully support the president but none have placed as much emphasis on Trump as the leading contenders.
Judge Moore, businessman Stanley Adair, Secretary of State John Merrill, Rep. Arnold Mooney and Ruth Page Nelson are also running.
Whoever wins the GOP primary will face current U.S. Senator Doug Jones, who, like Edwards and Beshear, is a moderate Democrat.
Edwards and Beshear ran on a platform of affordable healthcare, better education and promoting a robust economy. Such bread and butter issues will be on the minds of Alabama voters in November 2020.
There is a reasonable case to be made that a candidate whose only claim is that they backed Trump is vulnerable in a general election.
Byrne, Sessions, Merrill, Moore and Mooney have records to run on, but that is not true of the others.
Trump said he would not weigh-in on the state's Republican primary, but it's hard to imagine he will remain quiet should Sessions gain traction.
Even if the president does support a particular individual in the Republican primary, it's no assurance his candidate will prevail. In the 2017 special election primary, Trump backed then-appointed U.S. Senator Luther Strange, who lost to former Chief Justice Roy Moore. Trump then pivoted to Moore, who lost to Jones.
On Thursday, before Edwards handily defeated Trump-backed candidate Rispone, the president urged the people of Louisiana "You got to give me a big win," the people did not. Trump's push for the Kentucky governor failed short as well.
"President Donald Trump campaigned hard in three conservative Southern states this fall, aiming for a string of gubernatorial wins that would demonstrate his political strength heading into impeachment and his own reelection effort," wrote Politico. "The plan backfired in dramatic fashion." Trump's candidates lost two of the three contests.
The Trump-effect in Alabama was tested in 2017 and it failed. It's easy to point to Moore as a flawed candidate so, his loss perhaps has little to say about the president.
Predicting what happens next November is a fool's errand, but in a time when elections are being nationalized, it seems all politics is still local.
Print this piece
Sanders campaign seeking Bernie Victory Captains in Alabama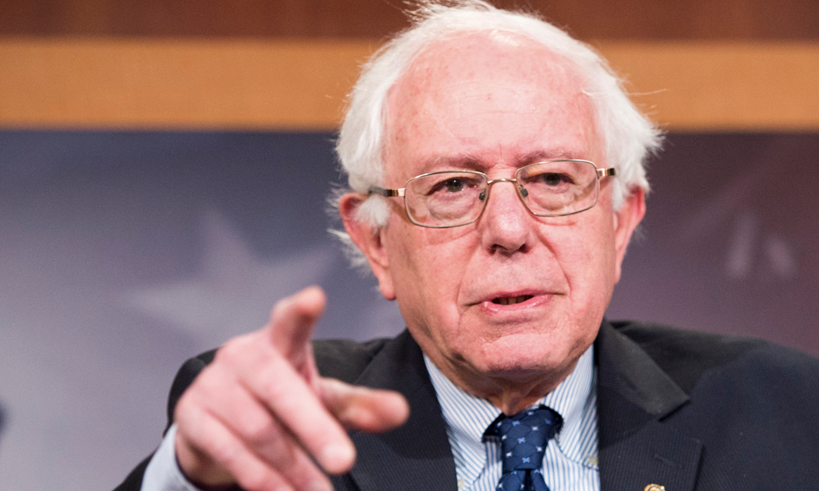 Saturday the Bernie Sanders for President campaign announced that they are seeking Bernie Victory Captains in Alabama who will host at least one Bernie event every week between now and the Alabama presidential primary on March 3.
"As a Bernie Victory Captain, you will host voter contact events like phone banks and Bernie Journeys to the states that vote before us that are vital to securing support for Bernie and our movement," the Sanders campaign wrote in recruiting emails. "You will be working with world-class organizers and dedicated supporters across the country."
"Voting for the Democratic nominee who will take on Trump is well underway," the campaign continued. "We won Iowa and New Hampshire, and mail-in and early voting ballots are being cast across the country. Before we know it, it will be your state's turn to vote! So we're looking for supporters in Alabama to join our Bernie Victory Captain program. Bernie Victory Captains are supporters who can commit to hosting one event a week between now and the Alabama primary."
Bernie Victory Captains are leading teams of people canvassing neighborhoods. They also played important roles in Sanders' win in New Hampshire and close second place finish in Iowa. Sanders had more votes in Iowa than South Bend Mayor Pete Buttigieg; but the Iowa Democratic Party ruled that because Buttigieg won more caucuses that he was the winner of Iowa and not Sanders.
"A volunteer I hosted on a Bernie Journey to New Hampshire this weekend just emailed to tell me she wouldn't have volunteered if she didn't see the event near her. Heartwarming," on Bernie Victory Captain wrote.
"Conquered my fear of canvassing. Hosted my third canvass yesterday and it went GREAT!!" another wrote.
Sanders is a U.S. Senator from Vermont. Though Sanders is an independent and a self-proclaimed socialist he caucuses with Senate Democrats.
The pro-Bernie group: Our Revolution wrote in an email: "The corporate media and the billionaire class have escalated their propaganda against Bernie and our movement."
"Chris Matthews had a near hysterical breakdown on MSNBC about being "executed" in Central Park if Bernie is elected," the group continued. "The former head of Goldman Sachs said that Bernie would "ruin" the American economy. MSNBC pretended that Buttigieg, Klobuchar, and Biden are one candidate to justify not admitting that Bernie is the frontrunner in the presidential primary race."
"As our vision of a just government that represents working people continues to gain momentum, their attacks will only become more vicious," the group continued. "Our Revolution is organizing all over America to support Bernie and a wave of progressive candidates who share our values. Rush a donation now to help us fight back against increasingly desperate corporate propaganda and organize to win in Nevada and all over the country!"
Former Vice President Joe Biden (D) had appeared to be the Democratic frontrunner; but his campaign was rocked by disappointing finishes in both Iowa and New Hampshire. Biden has been stung by GOP criticism that his son Hunter Biden profited from lucrative overseas deal in Ukraine and China off of Biden's tenure as Vice President.
Former New York City Mayor billionaire Michael Bloomberg has assembled a large campaign apparatus that includes hundreds of the Democratic Party's top operatives and strategists. He has spent more than $350 million of his own fortune into a months-long national advertising campaign that has lifted him in the polls as Biden has struggled in the early contests that Bloomberg ignored.
Bloomberg needs one more national poll sanctioned by the Democratic Party to show that he has ten percent support or more for him to participate in the next Democratic debate on Wednesday in Los Vegas. Sanders, Buttigieg, Biden, and U.S. Senators Amy Klobuchar (Minnesota) and Elizabeth Warren (Massachusetts) have already qualified to be on the debate stage.
Congresswoman Terri A Sewell, D-Selma, and U.S. Senator Doug Jones (D) have both endorsed VP Biden. The Alabama Democratic Conference and its leader Alabama Democratic Party Vice Chair for Minority Affairs Joe Reed has endorsed Bloomberg.
The Alabama Democratic Presidential primary will be on March 3.
People in states like California and South Carolina with early voting are already casting their ballots.
Original reporting by the Hill contributed to this report.
Print this piece