Worley re-elected as chair — but as chair of what?
Saturday, the Alabama Democratic Party State Democratic Executive Committee (SDEC) met in Montgomery and re-elected Nancy Worley as chairwomen. Many Democrats, including large numbers of the SDEC, refuse to accept the validity of Saturday's election and boycotted the meeting.
Sources told the Alabama Political Reporter that by their estimates there was not a quorum present, but the meeting proceeded anyway. The number needed is 105. Worley was re-elected without opposition, but only those members of the SDEC loyal to her and Vice Chairman for Minority Affairs Joe Reed were in attendance.
The reformist faction of the SDEC met two weeks earlier in Montgomery and elected State Representative Christopher John England (D-Tuscaloosa) as Chair and former State Representative Patricia Todd (D-Birmingham) as vice-chair. Worley and her loyalist faction had boycotted the November 2 meeting. Worley and Vice-Chair Randy Kelley were removed unanimously at the reform faction SDEC meeting on Nov 2.
U.S. Senator Doug Jones (D-Alabama) and the Democratic National Committee (DNC) have been consistently backing the reformist faction throughout this process.
On Wednesday, DNC Chairman Tom Perez sent a letter to Chairman England and Vice-Chair Todd stating that the DNC has certified the results of the Nov. 2 election and that both England and Todd were now members of the DNC. The DNC had revoked Worley and Kelley's credentials in August.
Worley said then that her detractors on the DNC, "Can go to Hell."
The DNC also officially canceled the SDEC meeting on Saturday. Worley held the meeting anyway in defiance of the DNC, whom Worley has accused of interfering in the affairs of the Alabama party.
Worley had previously been re-elected in the summer SDEC meeting in 2018, where Worley fought off a Jones backed challenge by Montgomery attorney and Democratic strategist Peck Fox. The results of that re-election were overturned by the DNC in February at the urging of Jones.
On November 8, the last day of candidate qualifying, Worley ordered Democratic volunteers to leave the Democratic headquarters in Montgomery. When they did not, Worley reportedly told them that she had a gun and knew how to use it. They then vacated the premises. England and the reformist faction reportedly now have control of the headquarters building and have changed all of the locks. They reportedly also have control of the Alabama Democratic Party's records and financial accounts.
Worley won re-election on Saturday, but many political observers believe that she has little likelihood of prevailing in an extended court battle with England and the reformists.
Worley is the first woman to be Chair of the Alabama Democratic Party in the history of the state. She is a former Secretary of State and Alabama Education Association President. Worley is a former classroom teacher.
Following his election as Chair, England was asked what he would say to Worley.
"Thank you for your service," was England's response.
Jones introduces bill to encourage investments in minority-serving banks
"One of the biggest hurdles for minority entrepreneurs is access to capital," Jones said.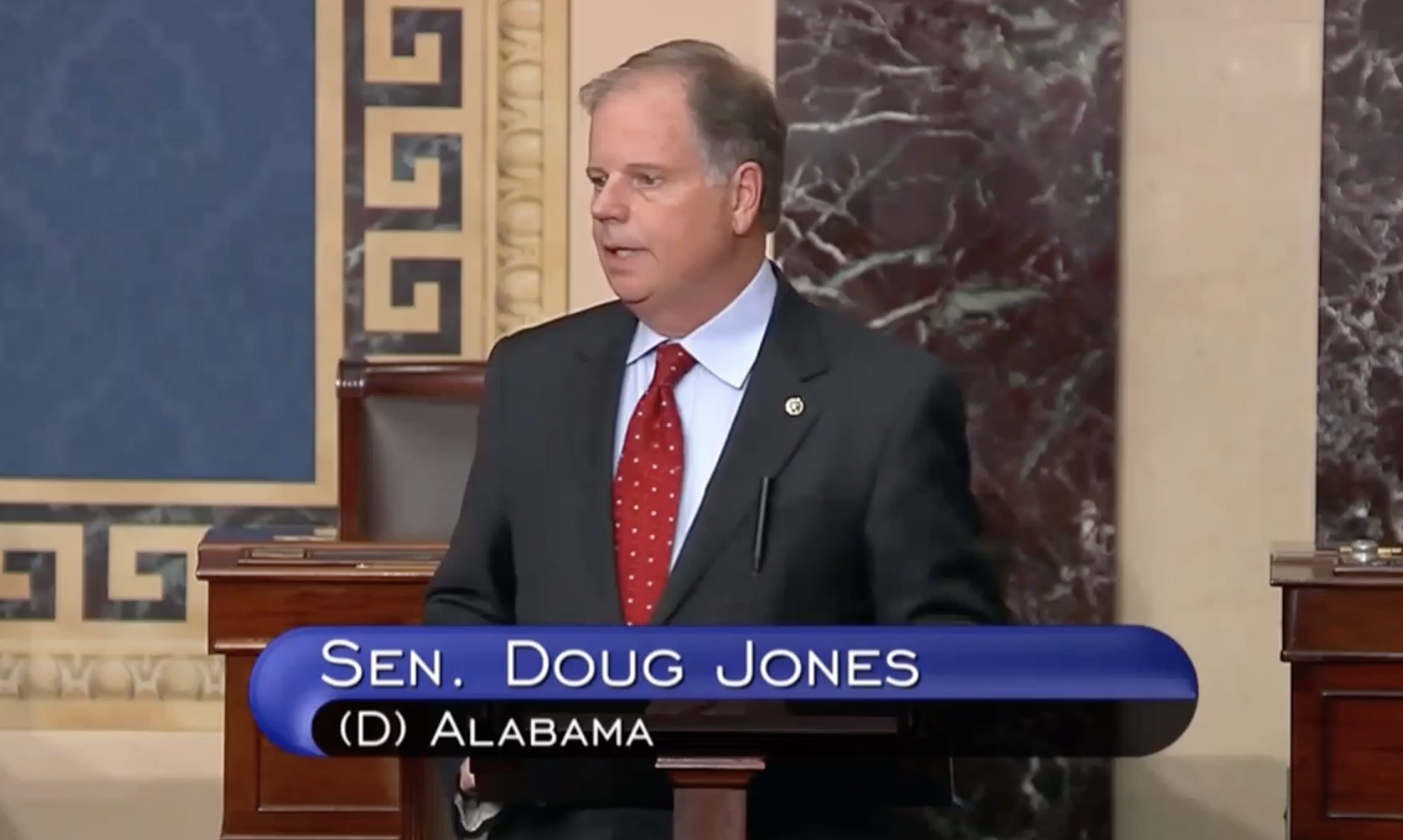 Alabama U.S. Sen. Doug Jones, D-Alabama, on Tuesday introduced legislation that would encourage investments in banks that serve minority communities.
"One of the biggest hurdles for minority entrepreneurs is access to capital," Jones said in a statement. "That's why this bill is so important. Increasing access to capital at the banks that serve minority communities will help expand financial opportunities for individuals and business owners in those communities."
Jones, a member of the Senate Banking Committee, in April urged the Federal Reserve and the U.S. Treasury to support Community Development Financial Institutions and minority-owned banks disproportionately affected by the COVID-19 pandemic, and he threw his support behind more federal funding for small community banks, minority-owned banks and CDFIs during the recent Paycheck Protection Program replenishment.
According to a press release from Jones's office, the bill would attract investments to those financial institutions by changing rules to allow "minority-owned banks, community banks with under $10 billion in deposits" and CDFIs to accept brokered deposits, or investments with high interest rates, thereby bolstering those institutions and encourage them to invest and lend in their communities.
It would also allow low-income and minority credit unions to access the National Credit Union Administration's Community Development Revolving Loan Fund.
"Commonwealth National Bank would like to thank Senator Jones for his leadership in introducing the Minority Depository Institution and Community Bank Deposit Access Act. As a small Alabama home grown institution, this proposal will allow us to accept needed deposits without the current limitations that hinder our ability to better serve the historically underserved communities that our institutions were created to serve. We support your efforts and encourage you to keep fighting the good fight for all of America," said Sidney King, president and CEO of Commonwealth National Bank, in a statement.
"The Minority Depository Institution and Community Bank Deposit Access Act is a welcomed first step in helping Minority Depository Institutions like our National Bankers Association member banks develop the kinds of national deposit networks that allow our institutions to compete for deposits with larger banks and to better meet the credit needs of the communities we serve. The National Bankers Association commends Senator Jones' leadership on this issue, and we look forward to continuing to engage with him on the ultimate passage of this proposal," said Kenneth Kelly, chairman of the National Bankers Association, in a statement.
A recent report by the Brookings Institute highlighted problems minority-owned businesses had accessing federal COVID-19 relief aid from PPP loans. Researchers found that it took seven days longer for small businesses with paid employees in majority Black zip codes to receive PPP loans, compared to majority-white communities. That gap grew to three weeks for non-employer minority-owned small businesses, the report notes.
The report also states that while minority-owned small businesses, many of which are unbanked or under banked, get approximately 80 percent of their loans from financial technology companies and online lending companies, fintechs weren't allowed under federal law to issue PPP loans until April 14.