Merrill suspends Senate campaign
On Sunday night at 8:00, Secretary of State John Merrill announced an end to his U.S. Senate campaign.
APR learned that Merrill recently spoke with Senate leadership, who encouraged him to suspend his campaign. "John has a bright future," said a D.C. source who spoke on background because they were not authorized to speak on Merrill's D.C. meetings. "Leadership felt John could best serve the party and the state at this time by stepping aside and waiting for another opportunity," said the source. "The primary is fluid and leader McConnell and the Senate leaders don't want an overly divided field that might open a door for another [Senator] Jones victory."
Merrill's statement is as follows:
For the past seven years, I have visited every county in Alabama, meeting with businesses and church groups, educators and farmers, as well as county and municipal leaders. I have worked hard to get to know our communities, their leaders and their needs.
For the past five months, I have made many of these visits as a candidate for the United State Senate.
I have spoken to tens of thousands of Alabamians about the future of our nation and our need to replace Doug Jones with a conservative Republican Senator who represents Alabama thinking and Alabama values.
Throughout this journey, Cindy and I have been thankful for the outpouring of support we have received. We are grateful for the old friends we reconnected with and for the new friends we have made along the way.
With the announcement by Senator Jeff Sessions on November 7th, the dynamics of this election have changed dramatically.
When I entered the race on June 25th, I, along with my family and closest supporters, saw a path to victory. We met our initial goals and had six months of successful fundraising. We actually led the third-quarter in fundraising for all Republican candidates.
With Senator Sessions' late entry into this race, we have come to realize that a crowded Republican primary only benefits Doug Jones and the out of touch liberal Democrats.
Therefore, after thoughtful consideration, much prayer, some honest discussions with my family and campaign team, I have decided to suspend my campaign for the United States Senate, effective immediately.
I am honored by the support and encouragement we have received, and I look forward to my continued service to the people in our state as Alabama's Secretary of State.
Print this piece
Sessions attacks Tuberville's views on China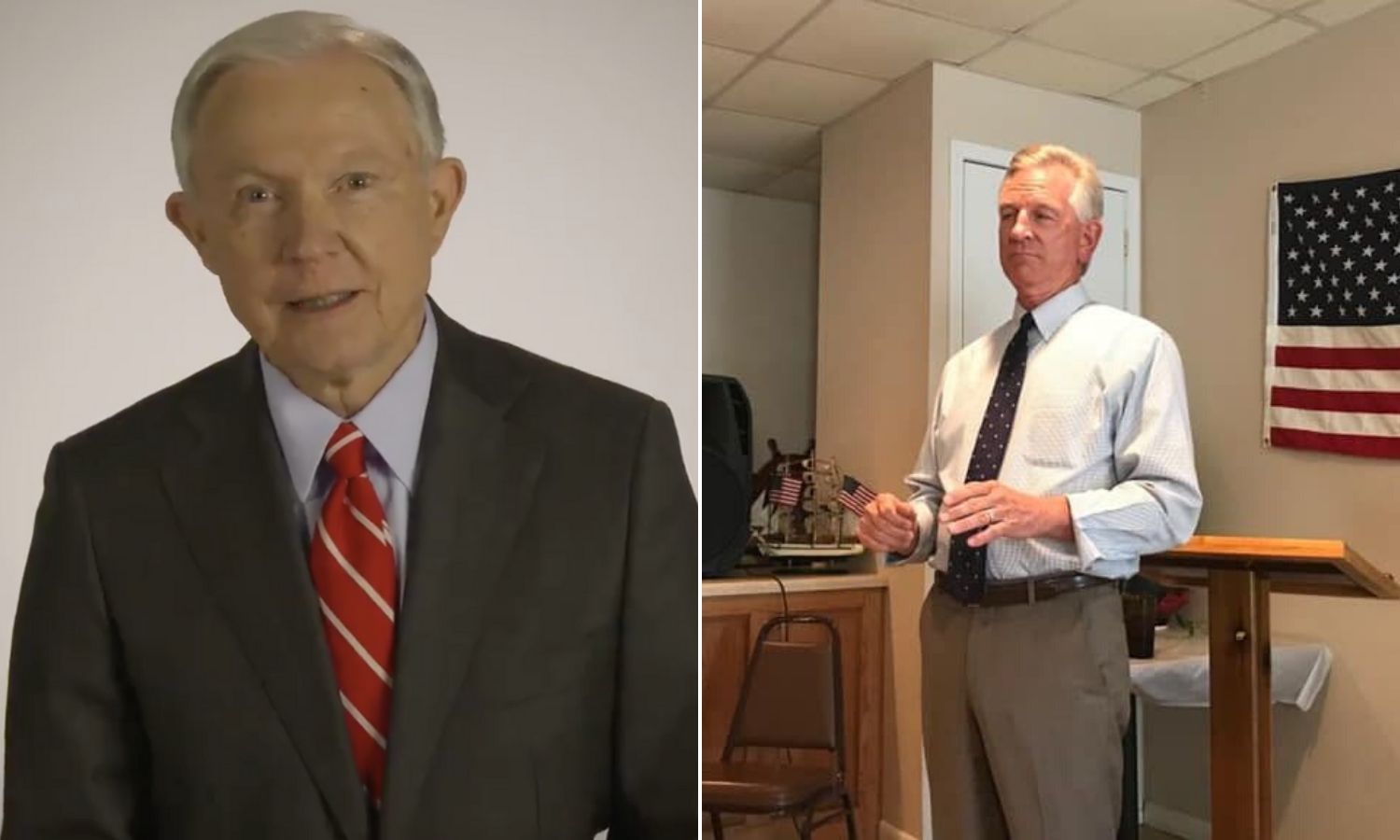 Former Sen. Jeff Sessions, R-Alabama, rolled out an ambitious, comprehensive plan to hold the Chinese government accountable for what Sessions called a cover-up of the coronavirus that has killed tens of thousands of people and devastated economies worldwide.
In an interview Thursday on the Matt & Aunie radio show on Talk 99.5 in Birmingham, for Auburn head football Coach and current GOP Senate candidate Tommy Tuberville expressed his views on China.
Matt Murphy asked: What do you see happening with China?
"Well, we can't worry about China right now…" Tuberville responded.
"You say you don't need to worry about China, but this came from China and our economy depends on China," Murphy asked on follow up. "Specifically how to overcome some of that dependence on Chinese goods and specifically in the pharmaceutical industry because right now we're dependent on the country that covered this up."
"Now we're seeing firsthand the results of letting everything go to China," Tuberville said. "The good thing about this is we'll have manufacturing come back and drugs and all those things….we're headed in that direction, just the simple fact that we can't control our own destiny. Everything's controlled by China. But that'll take care of itself."
During the show, Tuberville also characterized the Wuhan Virus, which has killed over 53,000 people and infected more than 1 million people across the globe, which then including over 1,300 people in Alabama, as "just a virus."
Jeff Sessions issued a statement critical of Tuberville on Friday in response.
"Amazingly, Tommy Tuberville said yesterday, 'We can't worry about China right now,"" Sessions quoted. "China is where the virus is from, and their deliberate lies hid the danger and resulted in a pandemic that never should have happened. We must take on China now and win, not run scared like Tommy Tuberville."
"There are over 1 million infected with the Wuhan Virus, and more than 1,300 in Alabama already," Sessions continued. "This is serious. But Tommy Tuberville said yesterday that 'this is just a virus.' What planet is he on? Tuberville is clueless. No wonder he's scared to debate me. We must stop relying on China for our critical medicines and equipment. I have a detailed plan to fix it. Amazingly, Tuberville also said yesterday, 'Everything's controlled by China, but that'll take care of itself.' Wrong! We must lead with action, this will not 'take care of itself.'"
On Thursday, a U.S. intelligence report claimed that China understated the damage that the coronavirus was doing in their country.
"Alabama's next Senator must be a leader who has the drive and determination to push a Congress that is too often unwilling to confront the critical issues of our time," Sessions continued. "I have proven my willingness and preparedness to lead from Day One. Tuberville is weak: all talk and no action."
Sessions is a former Senator, U.S. Attorney General, Alabama Attorney General, Chairman of the Alabama Republican Party, U.S. Attorney, asst. U.S. Attorney, and U.S. Army Captain.
The Republican primary runoff has been moved to July by Alabama Governor Kay Ivey (R) due to fears of the coronavirus. The virus is believed to have originated in Wuhan City, Hubei Province, China in late 2019.
As of press time, 10,943 Americans have died from COVID-19 including 53 Alabamians. 367,650 Americans have been diagnosed with COVID-19, including 2,006 Alabamians. At this point, only 240 Alabamians are confirmed hospitalized with COVID-19.
COVID-19 is the medical condition caused by a strain of coronavirus first identified late last year in Wuhan City, Hubei Province China, SARS-CoV-2. Since then it has spread across the globe infecting 1,346,566 persons that we are aware of killing 74,697 people.
The winner of the Republican primary runoff will then face Senator Doug Jones (D-Alabama) in the November election.
Print this piece